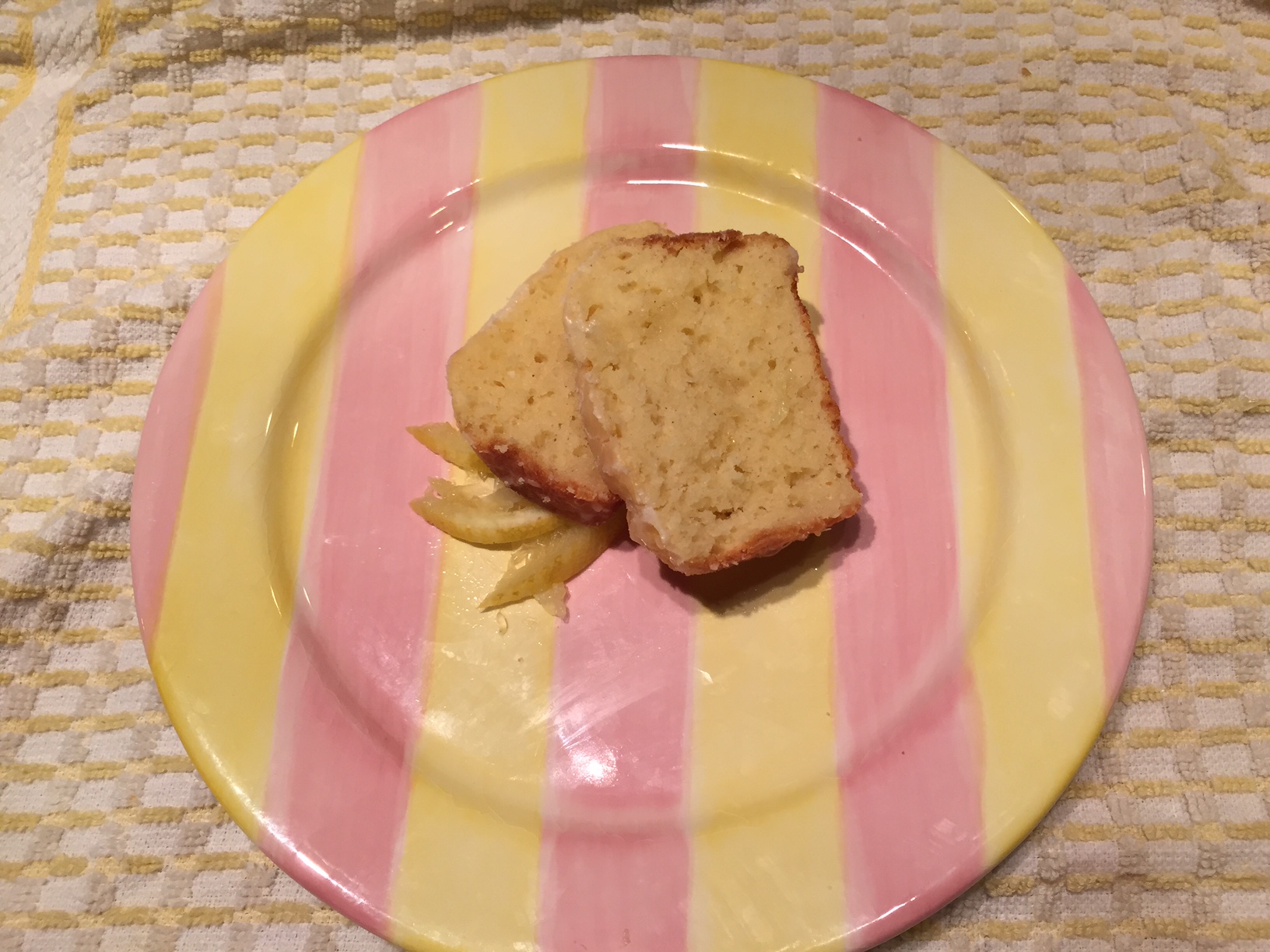 For the last couple of days, I have been drooling over the Simple Lemon Cake on the blog, Debt Free, Cashed Up and Laughing.  It looks so good.  I wanted to make it.  But, silly me, I did not know what SR flour was.  I am gluten-free, so maybe it was sweet rice flour?  I just didn't know, but that loaf looked yummy!  After waiting patiently, I got the reply that it was self-rising flour.  That made sense.  Well, sweet rice flour would have fit into my gluten-free diet better, but that loaf still looked really, really good.  I still didn't know what another ingredient was:  jelly crystals.  I wondered–pectin?  Who knew?  So, I asked again and it was…….Jello.  Sounded interesting, but I didn't have any lemon jello on hand and I wanted to eat that cake tonight!!
Once that answer was received, Patsy and I set to work changing the recipe entirely to make it fit the ingredients in our pantry, and to make it gluten free.    If you want to make the original recipe, go to her blog.  Or, try this version.  It's really good, too.  I save money every time I make my own gluten-free baked goods.  To buy one gluten-free muffin can cost a couple of dollars, minimum.   Even though gluten-free flour is expensive, it's way less to make my own.  I also had a lemon languishing in the refrigerator drawer that needed to be used.
Mini Lemon Loaves
2 Cups 1-to-1 Flour (from Bob's Red Mill)
3/4 cup sugar
1-1/2 teaspoon baking powder
1/2 teaspoon salt
zest of 1 lemon
1/2 cup melted butter
4 eggs
3 Tablespoons lemon juice
1/2 cup milk
Glaze:  1 cup powdered sugar
2-4 Tablespoons lemon juice (start with the 2 Tablespoons, and add more as needed to make a glaze)
Mix the dry ingredients together in a bowl, including the lemon zest.  Mix the butter, eggs, lemon juice and milk in another bowl.  Pour the wet ingredients into the dry mixture and stir until well blended.  Spray 3 mini loaf pans (4″ x 2″) with non-stick spray.  Divide the batter evenly between the pans.  Bake in a 350 degree oven for 30-35 minutes, or until cooked through and slightly browned on top.     When the loaves are removed from the oven, set them on a cooling rack.  Pour the glaze onto the hot loaves, still in their pans.  Let set for 10 minutes.  Remove the loaves from the pans, and finish cooling on a wire rack.  The glaze will be cooled enough to stay on the loaves.  Makes 3 mini loaves.  Keep leftovers in freezer.