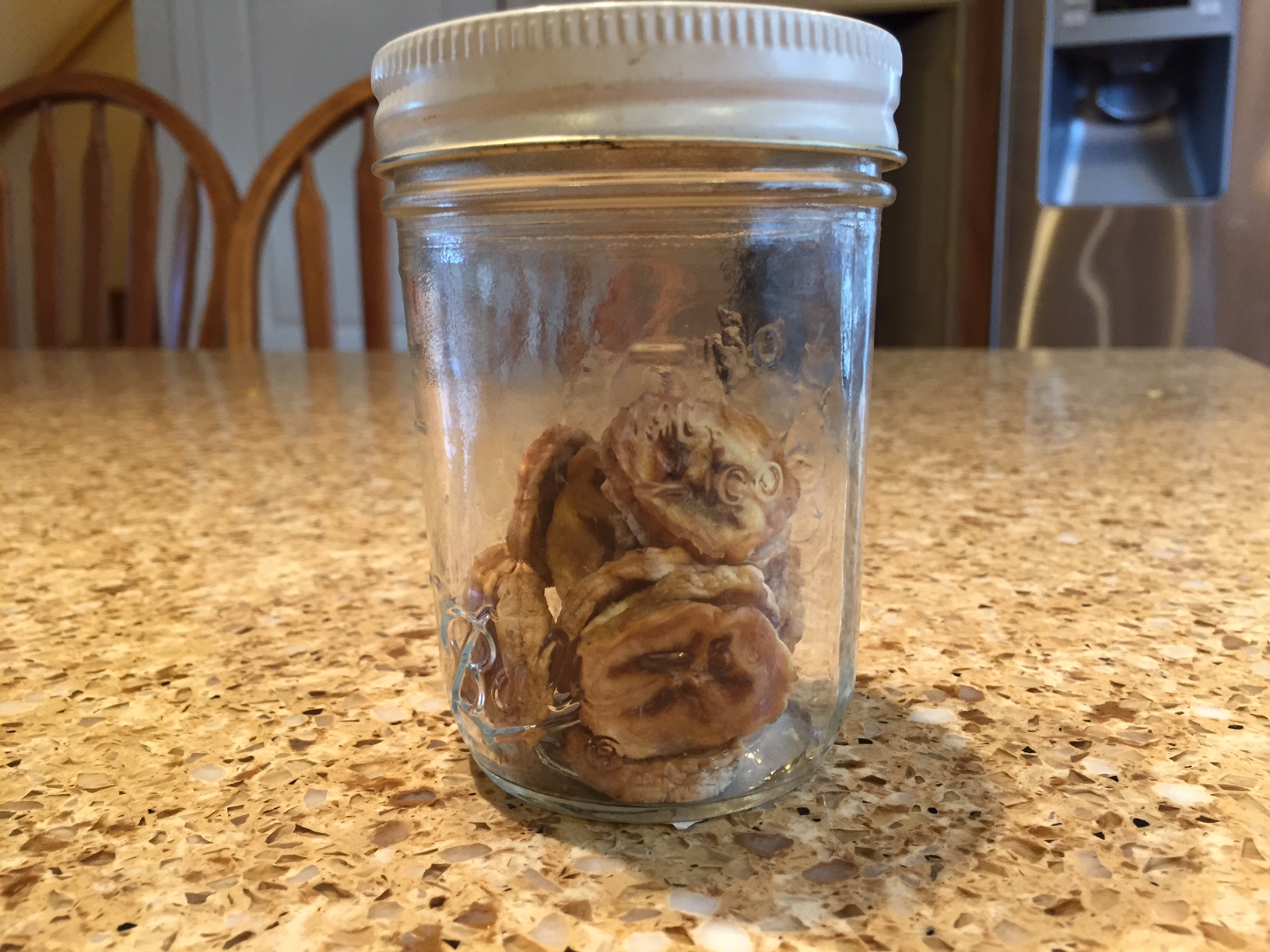 I'm still on a mission to use up things that need to be used up, instead of buying more.  These dried bananas have been in the cupboard since 2014.  They were still great.  I put them out for the kids to try at 4H and then showed them how to make more.
I used some quinoa that expired last summer–finished up the package.  I made a salad with it, using the leftover dressing Patsy tried out for me the other day.  I also used some feta that had been languishing in the fridge for a couple of months in that salad.
I used some crusts of gluten-free bread to make croutons.  I will probably grind them into crumbs for cooking.
I used some millet flour, sorghum flour, and cornmeal and had the 4H to make some gluten-free waffles.  This was in addition to the batch I made earlier in the week when I was testing the recipe.  I also finished up a very old package of flax meal from the fridge.  I was able to remove another package from the freezer and start using it.  It had been in there for at least 3 years.
My carrot-coconut bread turned out terrible.  It was dry, crumbly, and fell to pieces before we could eat it.  We ate a bit of it by squishing up a bunch of crumbs between our fingers and stuffing that ball of crumbs into our mouths.  We finally decided that sometimes you win–sometimes you lose–and we gave up and fed it to the pigs.  At least those ingredients went to some good use.
I pulled some lemon bread out of the freezer and served it.
I also got out a bunch of fish, tried out a recipe for some fish nuggets and had the 4H make it.  It was swai fish, which was very inexpensive, and ended up working well for the recipe.  I'm not familiar with this fish, but got the entire 2 lb bag for only $5 a while back, which is a pretty good price for fish.  It also used some corn flake crumbs I crushed up several months ago and have stored in a jar in the pantry.  It included home-made tartar sauce, which used some of the pickles from 2014.  They were a dill pickle, but had a little sugar in them, which we ended up not liking as well as our tried and true recipe, but they worked well in this sauce.
I took some bread and butter pickles from 2012 to a birthday party today, and they were devoured.  Home-canned foods last for much longer than 1 year, but I always use the oldest first, as they are nicer when they are fresher.