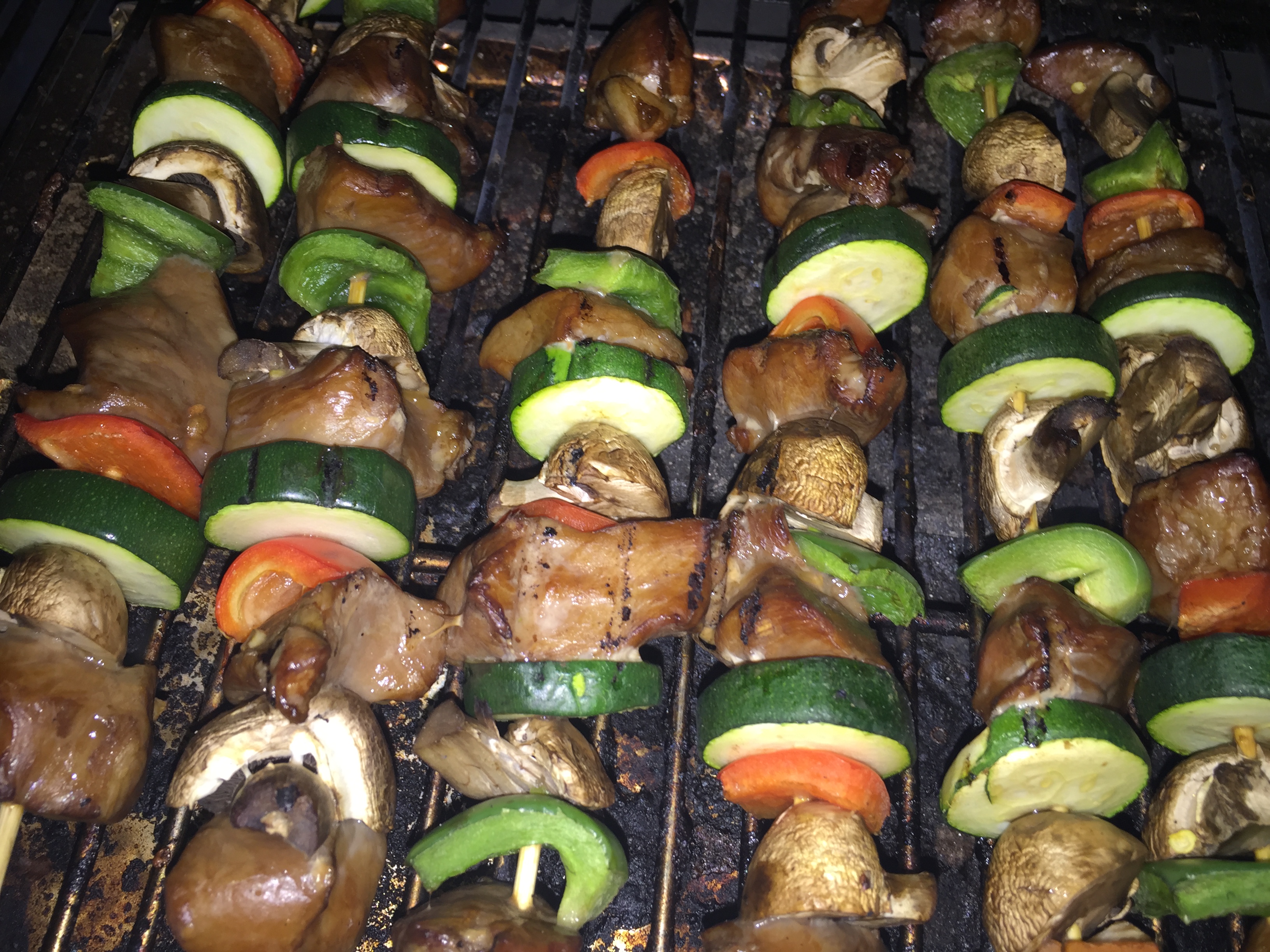 I'm a little late putting up my menu plan, but trust me, we have still been eating!
Yesterday, Rob made these barbecued shish-kabobs.  We had marinated some of the pork  he had purchased a while back for the great price (around here) of $1.27/pound.  Yesterday, he stopped at a fruit stand and got a few vegetables to go with the pork and this was the result.  I worked a lot yesterday, and was exceptionally tired for some reason, so it was very appreciated when I came home to a hot, cooked meal.  He paired it with cauliflower from the freezer, and some sweet potatoes he had grilled as well.  Yum!
Here's what I planned for the week.
Sunday:  We ate at my sister's as planned, and did some prep for the week.  We marinated the pork, and Rob cooked a ham on the grill.  we ate some that night, but most of it is for the week.
He used the packet that came with it, along with some brown sugar, water, and a whole Tablespoon of ground cloves for the topping.  Then he put it on the grill, in it's little foil pan, for 2-3 hours.
Monday:  Shish-kabobs, cauliflower, and sweet potatoes
Tuesday:  Soup.  I have some open broth that needs to be used.  I will probably make chicken-rice or turkey-vegetable.  Muffins or cornbread.
Wednesday:  Ham, potatoes, green beans
Thursday:  I'm asking Lovana to cook again, since we don't get back from dance until 6:30. She wants to do Mexican.  We have ingredients for many Mexican dishes, and so she can decide which one she wants to make.
Friday:  Leftovers.  If they are all gone, I'll have Rob barbecue something.
Saturday:  Green Split Pea soup, using ham broth and bits
Sunday:  It's my turn to bring a bunch of food to the family dinner.  My sister is so gracious and generous, and often just provides the bulk of the meal.  So, I was actually begging for a turn!  We will thaw 2-3 of the chickens Rob raised, and he will barbecue them up.  On Sunday, I will just warm the chicken up at her house.  I also plan to make potato salad or deviled eggs (the chickens are laying well now) and a berry crisp (lots of them left in the freezers).  She will make some lettuce salad or whatever she wants to go along with it.  My aunt will bring something as well–whatever we tell her to bring.  She loves coming, and we love being with her.  Since she has always been single, she loves to just bring a bag of salad, or chips, etc. because cooking large quantities is foreign to her.  The amount of people has been ranging from 12-20, depending on who can come.  This past Sunday there were 13.  As the day gets closer, I will have a better idea of how many people so I know if I should thaw 2 or 3 chickens.
I will have to say that the best part of Rob's job loss is the amount of extra time I get to spend with my family.  I know that things are always changing, and this arrangement is probably temporary, so I'm enjoying every minute of this time.