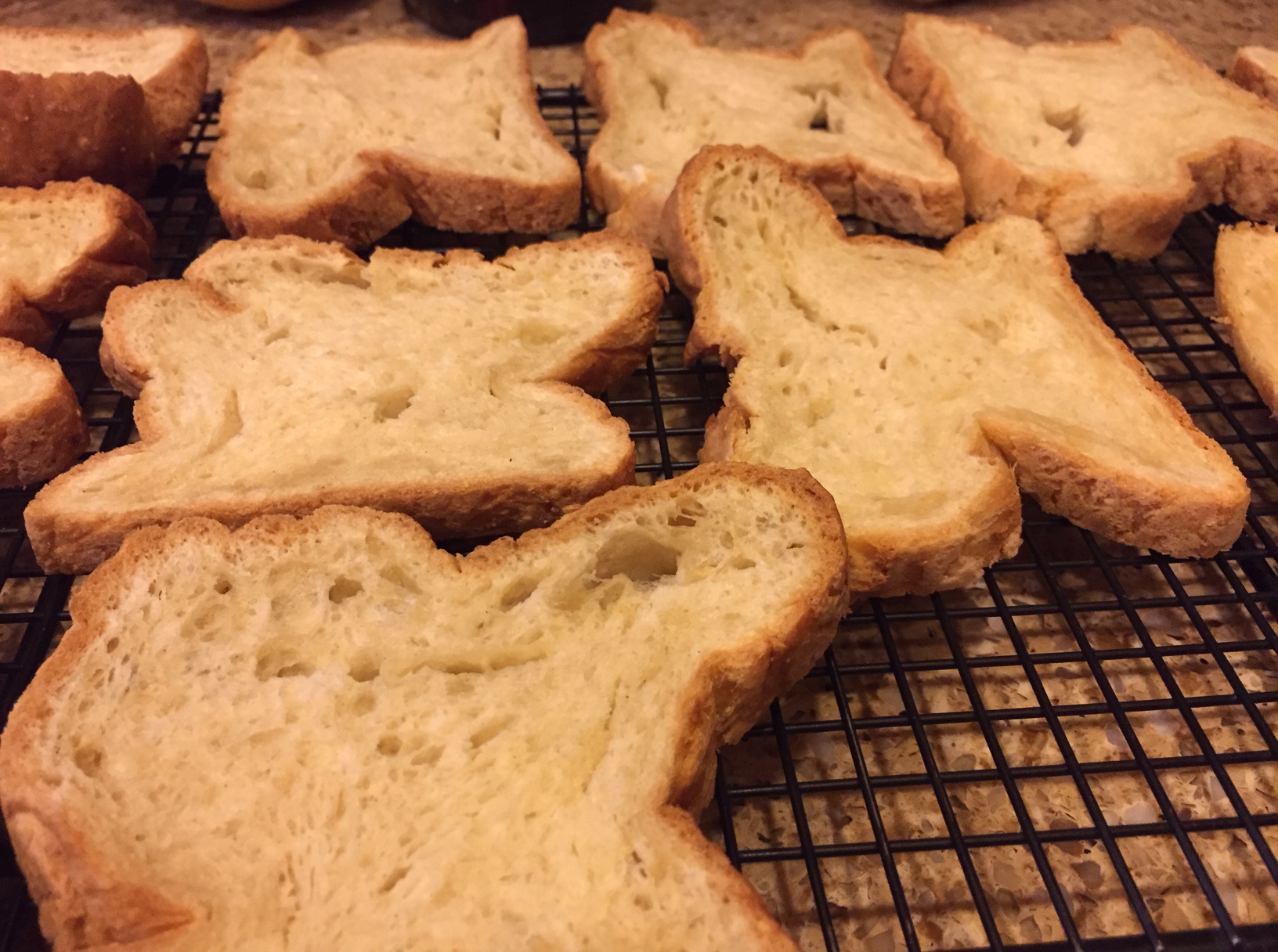 This week, I took a loaf of gluten-free bread from the freezer that was starting to get ice on it and turned it into gluten-free bread crumbs.  I thawed the loaf.  It was a little too wet from the thawed ice, at which point I decided to make it into crumbs instead of eating it.  I laid it out on the top of a cookie cooling rack and left the slices there for 2 days to dry.  Then, I broke the pieces into chunks and whirled them around in the food processor until they were crumbs.  I left mine quite large, like Panko crumbs.  They were still a little more moist than I wanted, so I cooked them at 250 degrees for 30 minutes.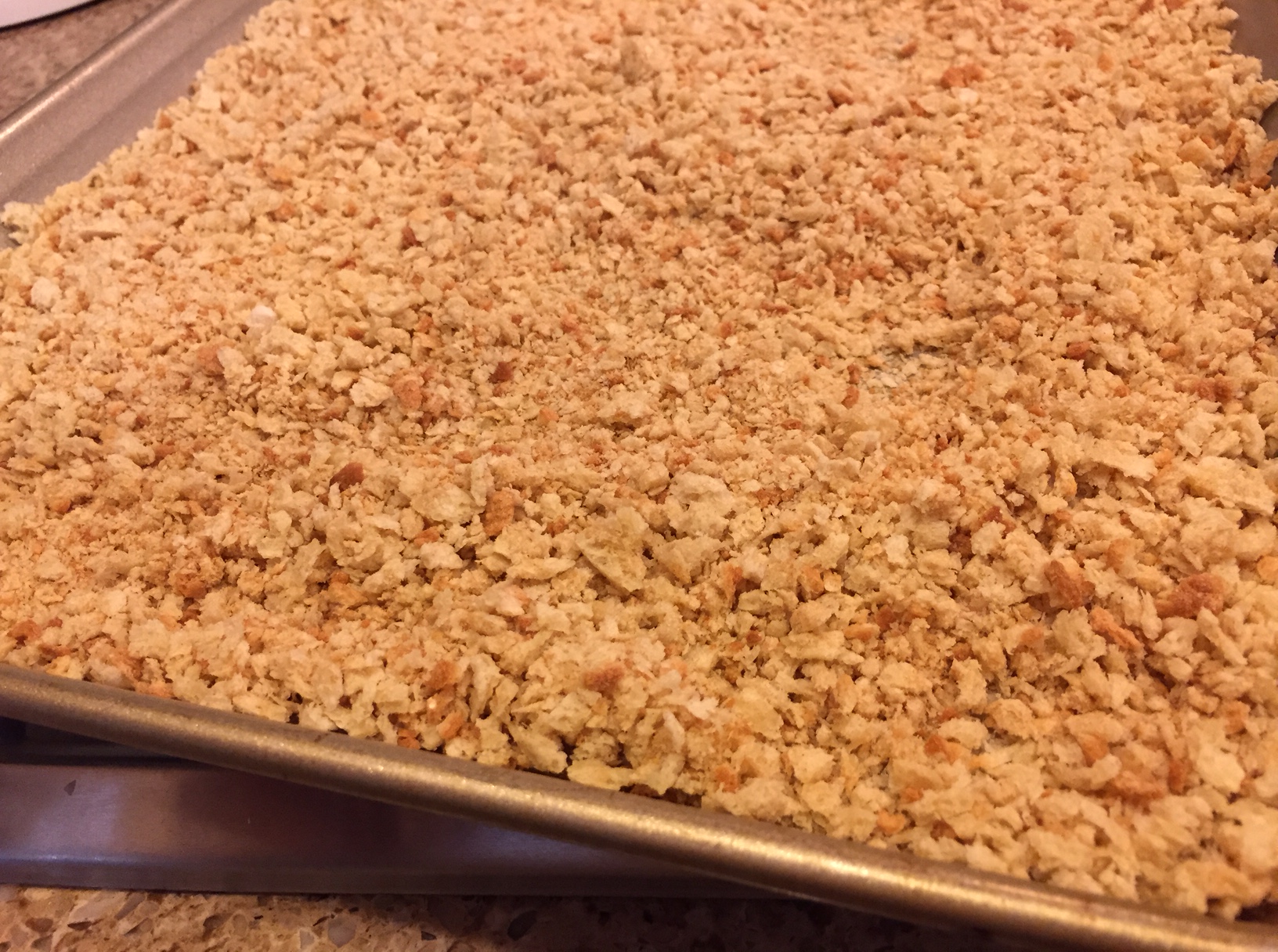 The entire loaf of crumbs easily fit into a quart-sized zip-topped bag.  I then froze the crumbs so they would last for a really long time.  I know they could be left out, but I prefer to keep mine frozen so they don't get rancid, or have a chance of molding if they weren't quite dry enough.
I continued my project of using up food. Since we are definitely putting the house on the market soon, I am now VERY committed to clearing some of it out.
We bought some plastic bins to start putting some of our things in.  We will fill them with non-essential items, packed well and put them in storage.  My brother-in-law has an empty semi-truck trailer he has offered to let us use for free.  There are 2 reasons for this.  1) To empty the house a bit so it looks nicer and is easier to keep clean while it is for sale. 2) Rob does not have a job, so we are not going to qualify for a loan.  So, we will have to sell this house, get the money, and THEN buy a new house.  This will leave us in the camper for a couple of weeks at least.  It will save us a lot of money if we can pack things into that trailer for free, even with buying a lot of bins so mice can't get into our more fragile things.  Rob got a lot of boxes from the grocery store and I am packing empty canning jars in them.  Moisture and critters won't bother glass jars.
We have made a hard decision to sell this place, but in the end, we should be able to buy a house free and clear, which will save us a lot of money.  That is the bright spot in this situation for me.  It will be much smaller, and probably won't come with property, but we won't know exactly what we will have to work with until we sell this one, so I'm trying not to think the worst.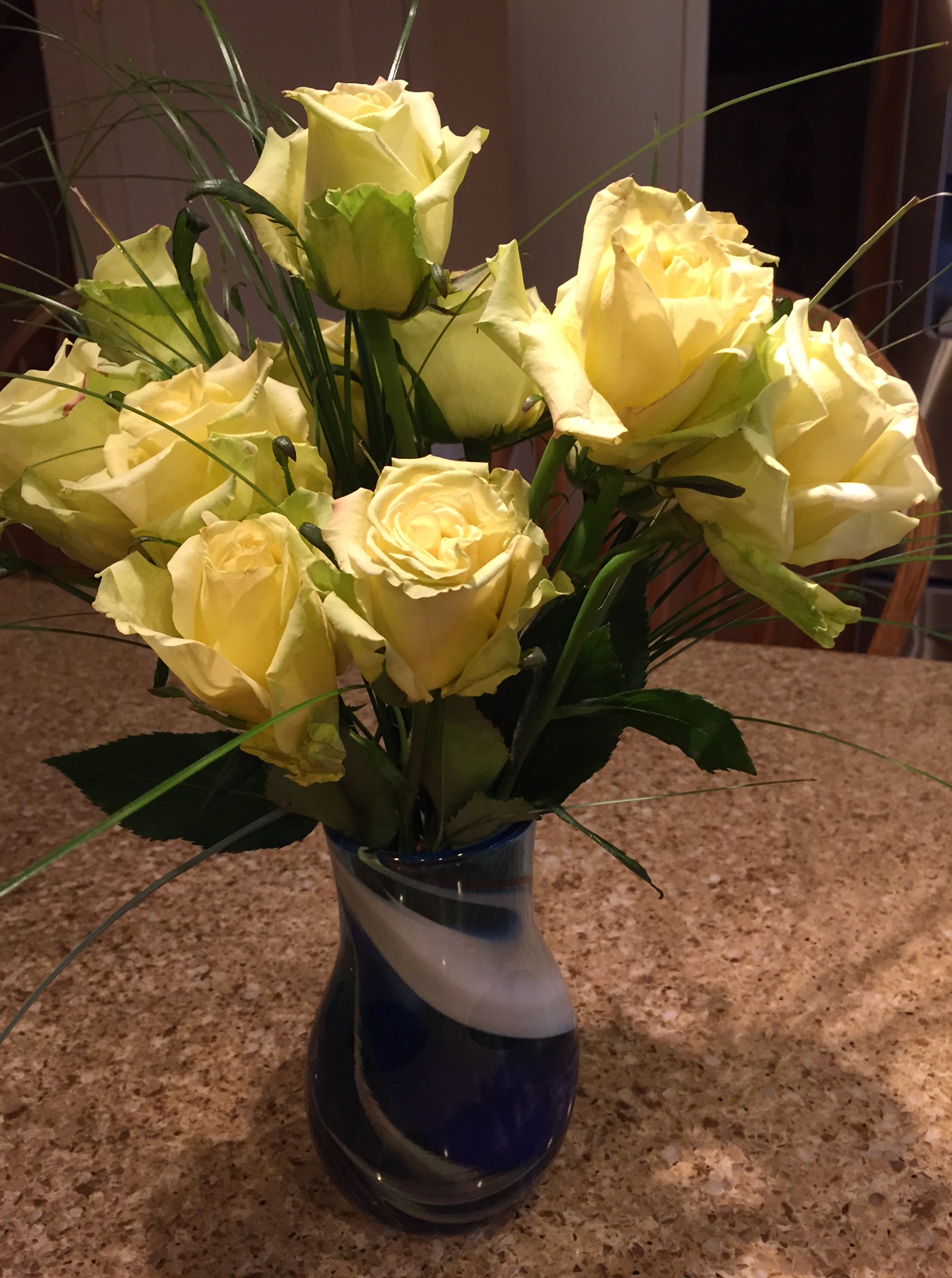 Rob got these flowers for free from Fred Meyers.  I trimmed off the "problems" that caused them to be free in the first place, and arranged them in my vase I got years ago from a glass blower.
I spent $51 at the grocery store this past week.  I was able to get 5 bricks of cheese (2 lbs), soda to take to the family dinner, salad ingredients, some milk, and some other things.  I was pleased with the amount of food I cooked from my storage.   I'm also pleased with the fact that my food is nowhere near gone.   We had guests on Friday, and ended up with 24 people at the family dinner Sunday.  (I did not bring all of the food, but did bring a bunch of it).  I love being able to entertain without worrying about a big grocery bill.
Rob went to an accountant this year, although he's been doing the taxes himself the last few years.  This is because we sold some timber and want to make sure the taxes are handled correctly. We don't want a costly mistake coming back to haunt us later.   The accountant told him we would probably need to hire a study done to determine the value of the timber when we bought the place.  It would be between $800-$1,000 for the study.  Then they would take the amount we sold it for, minus the amount it was worth when we bought it and the replanting fees, etc. and we would only have to pay taxes on the gain.  At the last minute, she mentioned that if he could come up with the original listing where the timber was valued for the sale, she could legally use that.  Amazingly enough, he had it in his files, and we were saved all that money!
We checked out library movies and books.  We've been watching t.v. shows on Amazon Prime.  I cleaned out the cereal cupboard.  It was full of crackers and cereal, some of which were just bits in bags.  People have already been eating those items up, since I put them right in front of their little fingers and eyeballs:)  We took a small walk along the Willamette river on Thursday while we were waiting for the girls.