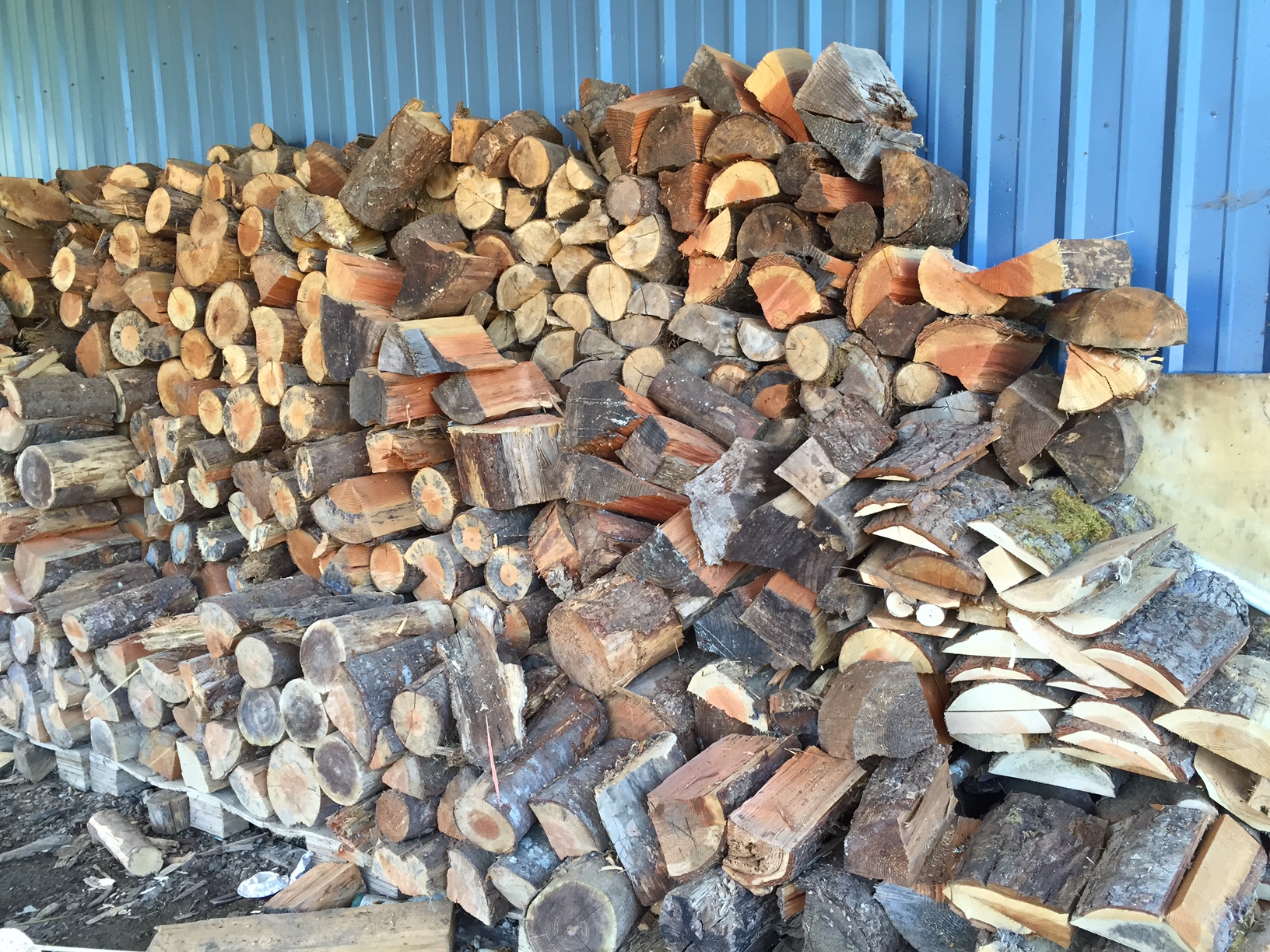 We had quite a bit of wood stacked up that we didn't use this winter to heat our home.  We've been working all week to move that wood over to my sister's house.  If our new house has a wood stove, we will use it.  If not, she and my brother-in-law will.  All of the wood we have was cut by us, split and stacked in places where we got a free permit, so it cost us labor and fuel to get.  It saved us a lot of money to heat with wood, so we are hoping we can do the same in our new home.  Time will tell, but at least we have some wood to use if we can.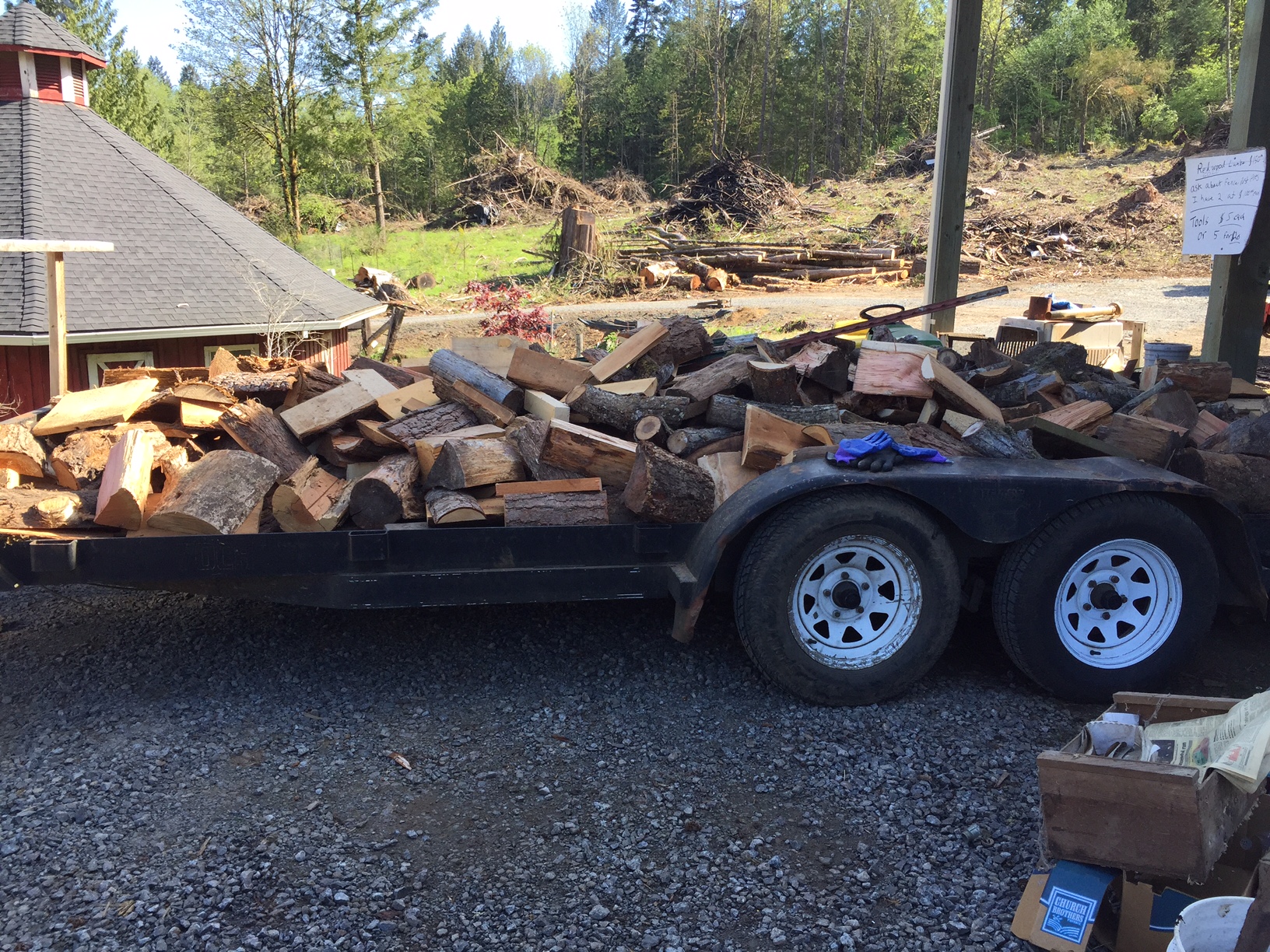 We just threw it on the trailer and unloaded it into a pile over there.  We have a lot of wood to cut on our property from the logging we did last fall, but won't be able to get it cut before we move.  So, we have been letting friends cut, chop and split it, saving them money.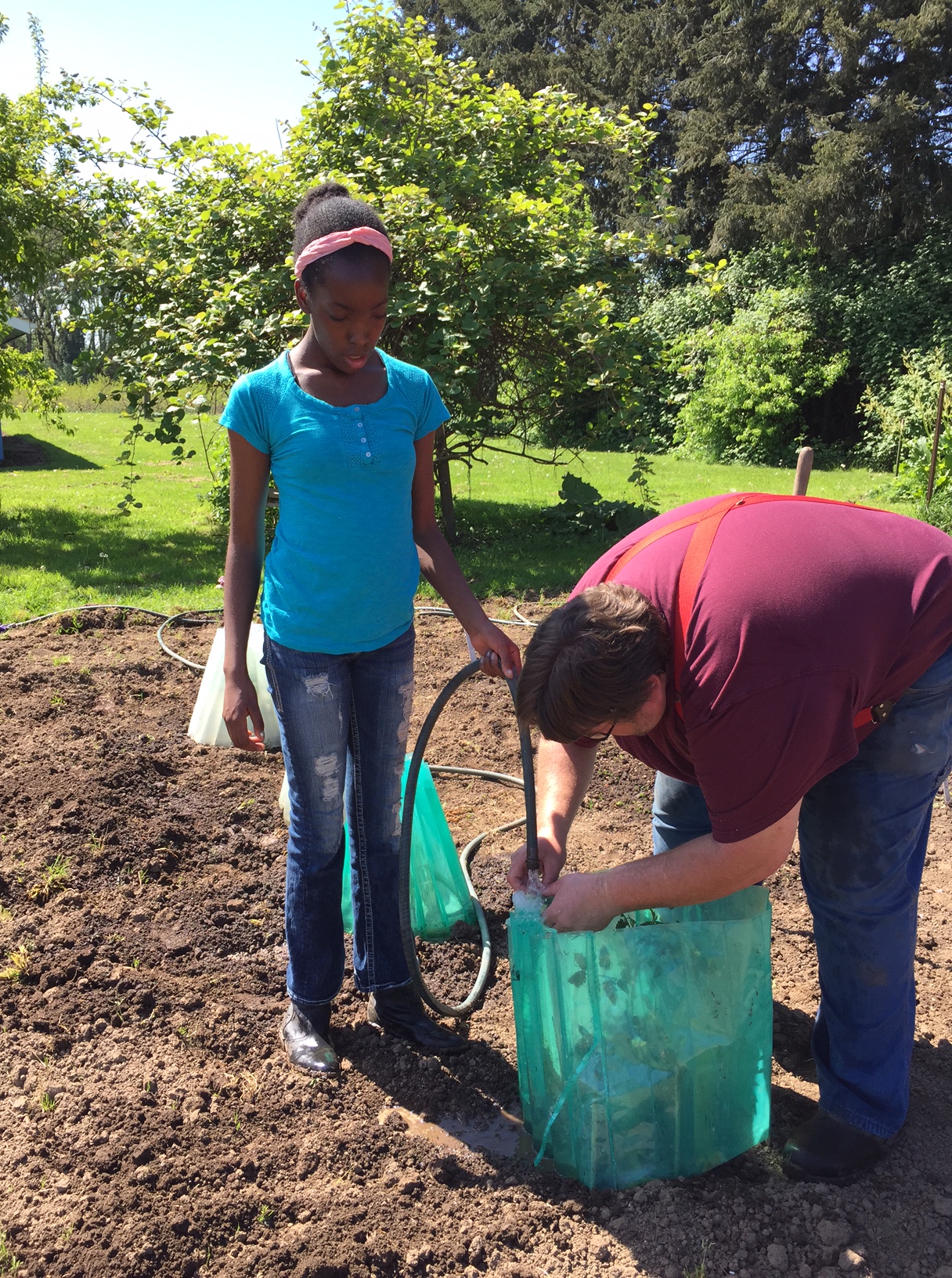 We worked in the garden at my sister's.  We got 4 large tomatoes for $2.50 each at a local garden store.  We took Walls of Water that we've had for years, and Rob and Ja'Ana cocooned them so they hopefully will survive.  I hoed, weeded and sprinkled slug bait around the plants that are growing and the baby lettuce, spinach, etc. that are coming up.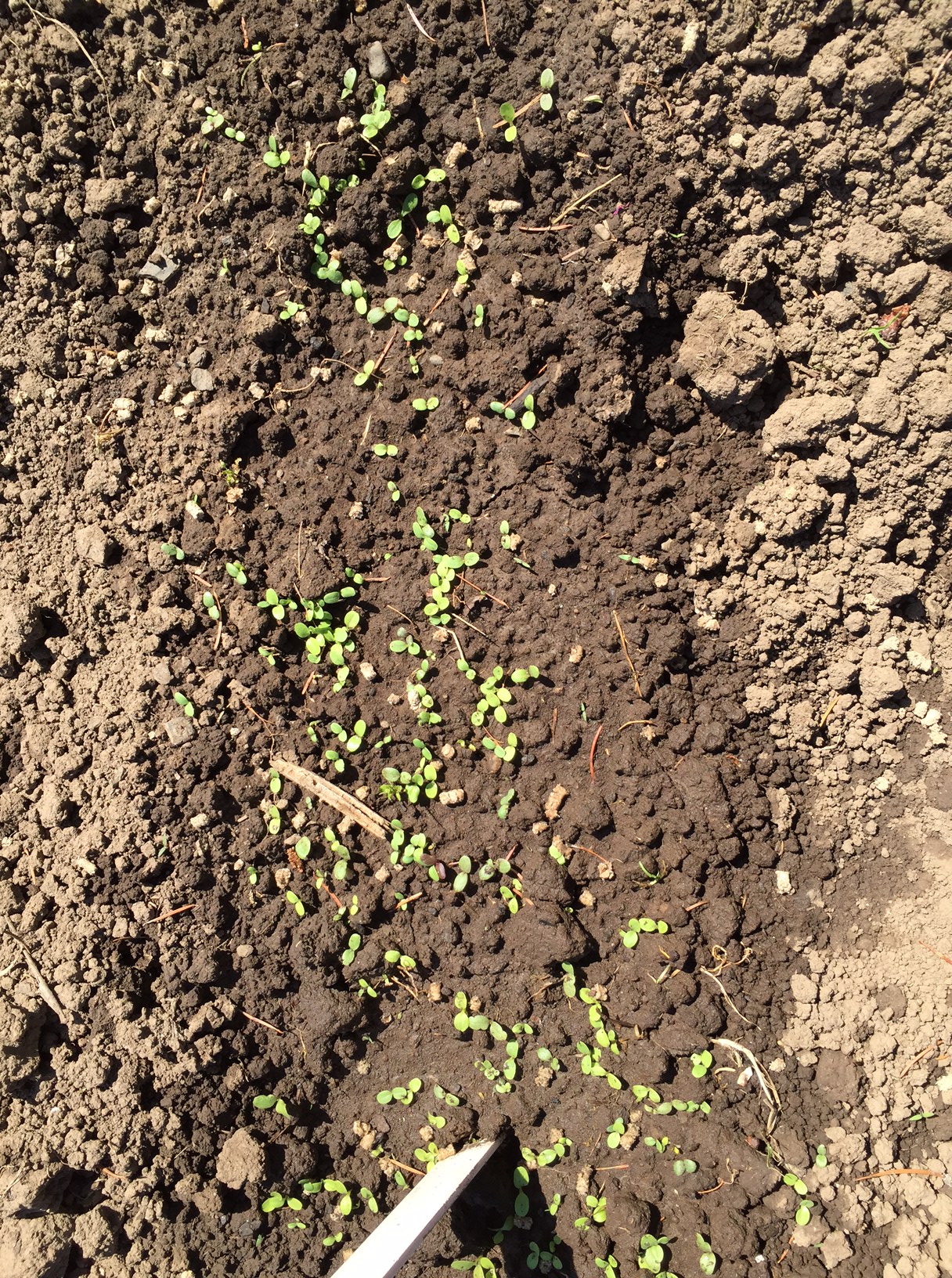 Every time we went over there, we did at least 2 things.  We moved a load of wood or other items, worked in the garden, Rob had an electrician look at where we are going to park the camper and made arrangements for the correct wiring so we will have enough power, and a few more things.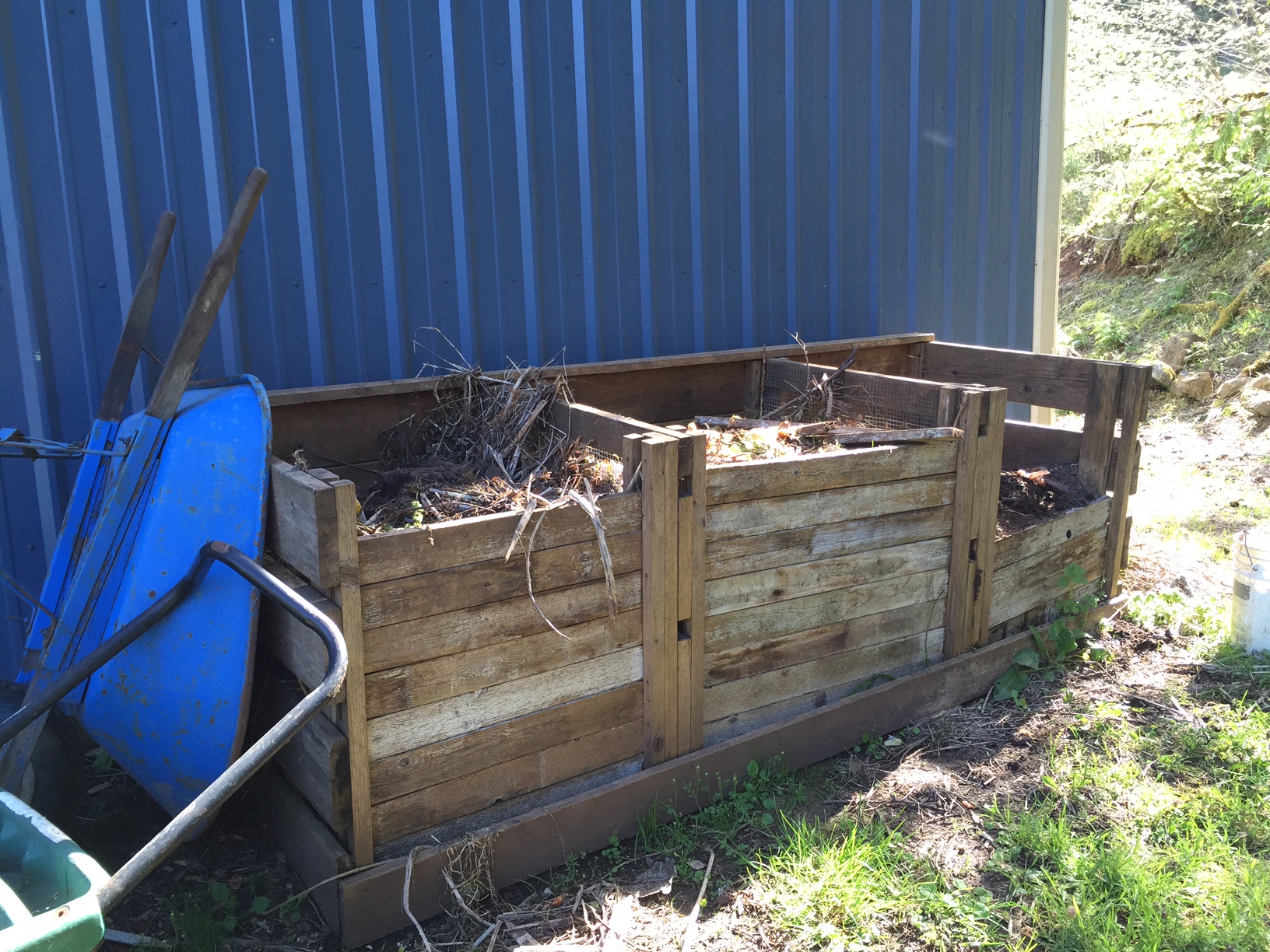 I've been slowly emptying the right hand compost bin into buckets and taking those buckets over to my sister's.  We put scoops under the tomatoes we planted, under all the cabbage and broccoli and around the onion starts.  Any extra was put around raspberry plants or just dumped into the general garden to be tilled in.  I don't know how much I'll be able to carry over that way, but I love using the compost I've worked so hard to make.
Rob had filled several feed sacks with barn cleanings from the chickens.  We took them over and sprinkled them where we will plant winter squash to improve the soil.  I had 3 bags of old coffee grounds for gardeners from Starbucks that I sprinkled on the carrot row.  Coffee grounds are  said to help prevent wireworms and I did see improvements when we used the grounds here.  There were a few carrots coming up, so I crumbled the grounds carefully on the row because I know more will come up and I don't want to make it hard for the tiny plants to pop through.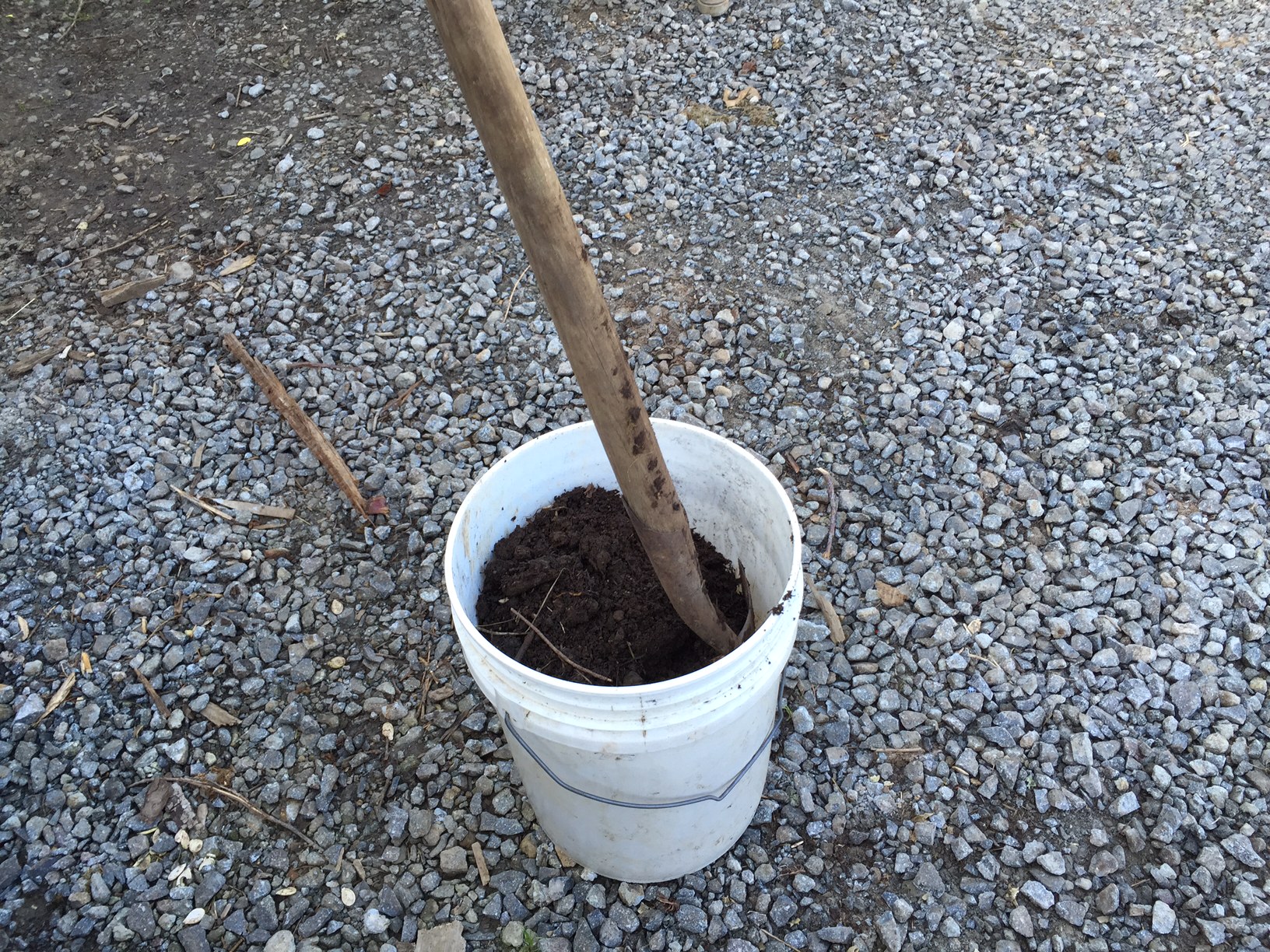 I had a friend from out of town visit.  We went to Costco together–fun!  I got my new glasses.  I'm delighted so far.  I can see great for 1/2 the price I paid last time.  I shopped for my sister, too, saving her gas.
I got some boneless skinless chicken.  We have been eating out too much, because things are so topsy-turvy here.  I hope it will help make fast lunches so we can eat at home more.  We ate all meals here today, which felt like a triumph.  Rob barbecued chicken and we have food prepared for tomorrow's Sunday family dinner.  I still have a few gift cards to use when things get down to the wire with moving, but want to save them until near the end now.  Rob did bring a picnic one night when we were working in the garden, so that helped.  I made a roast in the crock pot one day and we will have the rest of that in the next couple of days.
Both younger girls had orthodontist appointments.  We were able to change things so they were both on the same day to save gas.  (It's an hour away, one way)  They had an extra dance practice because a recital is coming up.  We were able to share a ride with a friend and save gas.They both had eye appointments this week, too.  They will both be getting new glasses.  Their glasses are covered by their medical cards.  Our children who we have adopted from the foster care system have always been given medical cards until they are 18 as part of the adoption assistance program.  We have supplemented that with personal insurance so they have been double covered in the past (except Patsy since she isn't adopted yet, so only has medical card).  So, we don't have to worry when our insurance ends, they will still be covered.  Lovana has insurance through her work, so no worries there, which is a relief.  Now, just us……but we'll work it out.
I got a medical test done while I'm still covered.  I've almost got everything done that will catch me up and give me a breather until we figure the insurance thing out.
My visiting friend wanted to try some Chinese 5-spice, so instead of her buying a bottle, I gave her a bit from mine.  I've only used it one time in the recipe I bought it for, so I'm more than glad to share.  I also shared some fish sauce I had. Once again, she has a recipe to try.