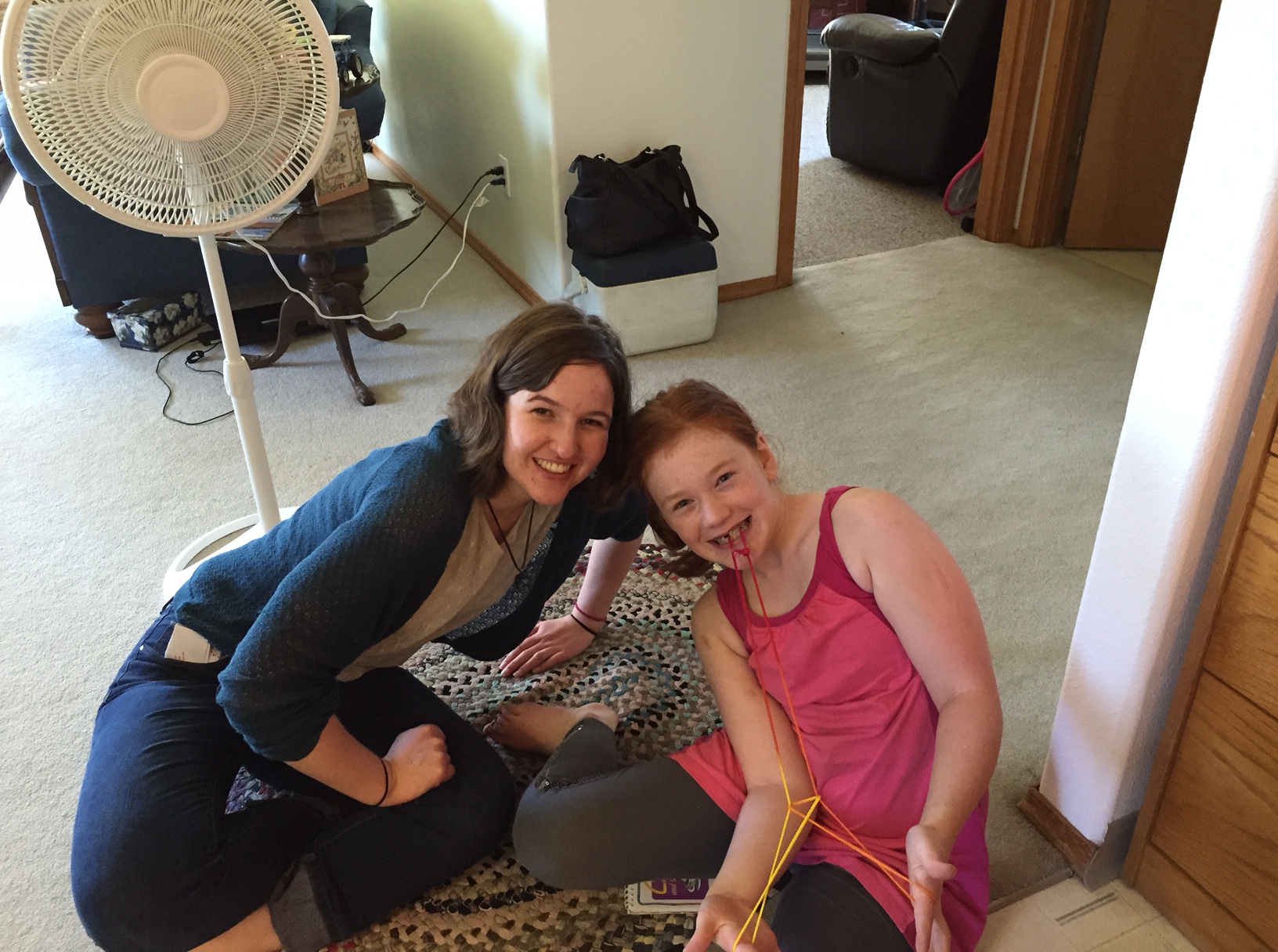 This week was full of packing, sorting, and gardening.  Still, we managed to have some frugal fun.  My niece, Rachel, dropped by her mom and dad's while we were over there, and kindly showed Patsy how to do some Cat's Cradle string formations.  In this picture, Patsy is making the Eiffel Tower with string and her teeth.  (I won't tell the orthodontist) 🙂 Patsy loves Rachel very much, and is in fact chosen to have Rachel as one of her new middle names when she gets adopted, so she was especially excited to see her.  In the car on the way home, she mentioned how glad she was that Rachel had come by.  I was glad to see her, too.  When the kids grow up, it's harder to get enough time with them.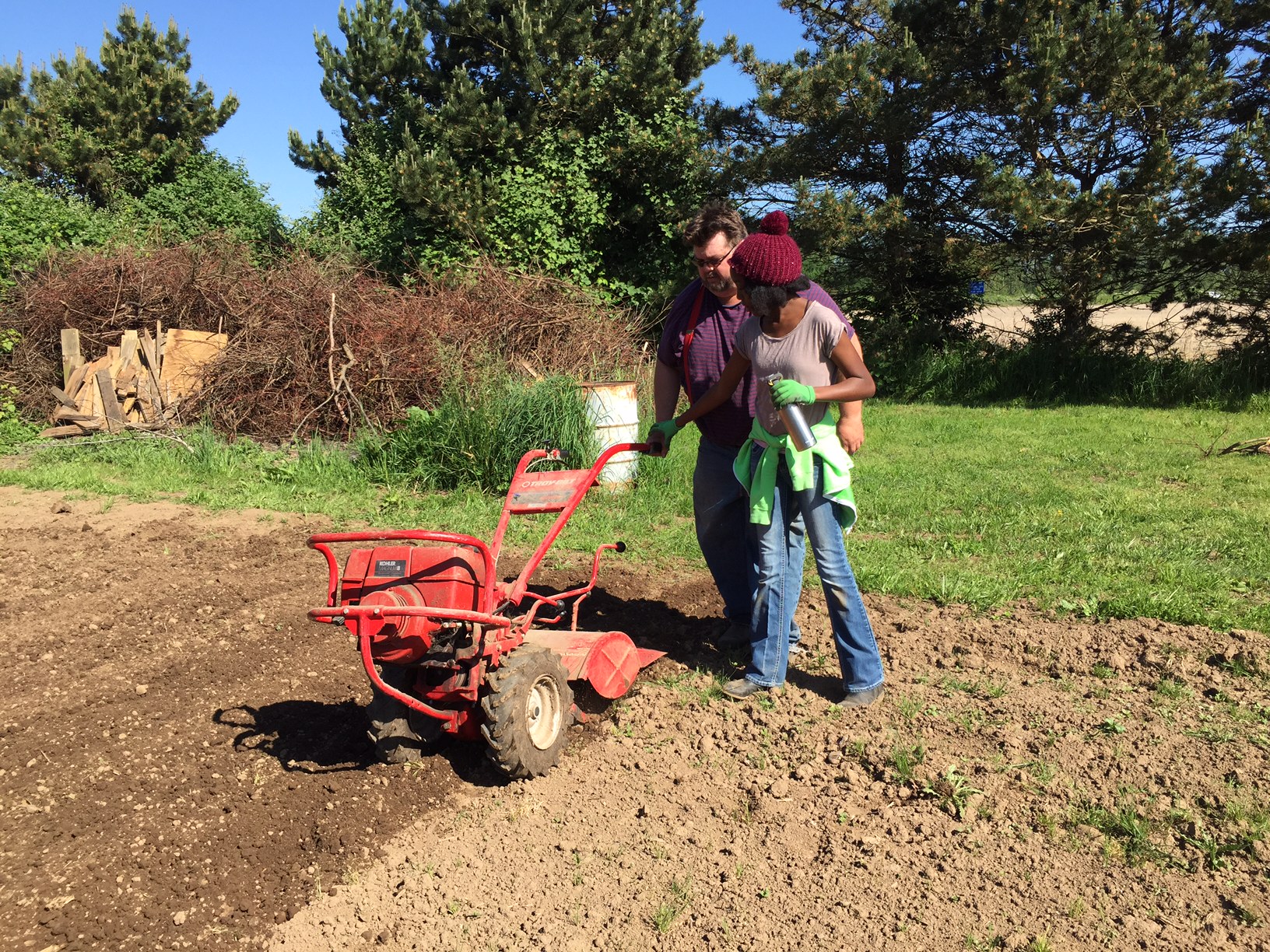 Rob taught Ja'Ana how to till.  We've had this tiller for over 30 years.  Rob tuned it up and replaced a filter.  We have 3 tillers.  This is the biggest.  It still tills great.  It's the one he uses when we have a large patch of ground to till.  My brother-in-law had tilled the garden once with the tractor, but it's been a while and it needed to be done again.  My brother-in-law also did some tilling between rows with one of the smaller tillers.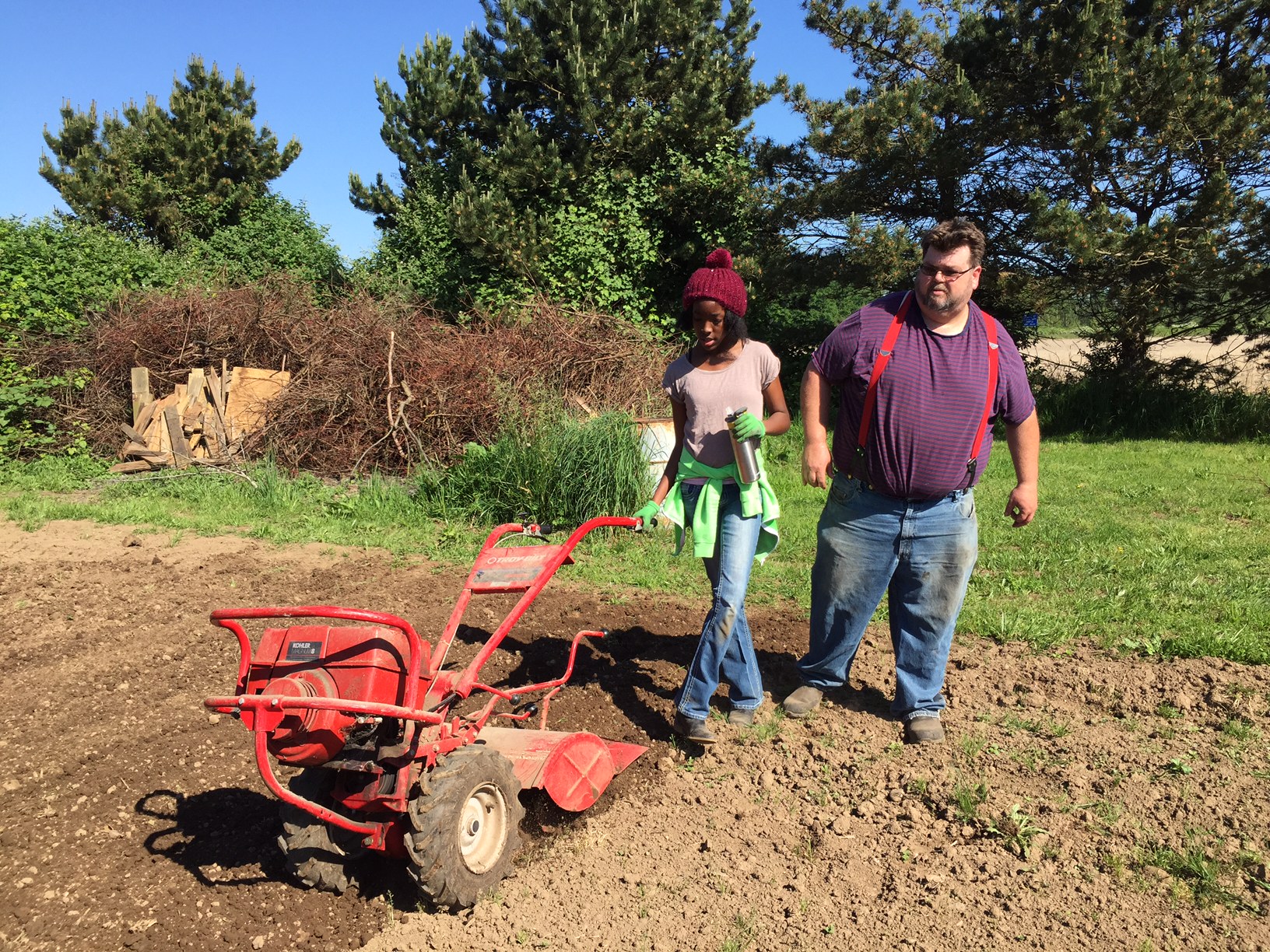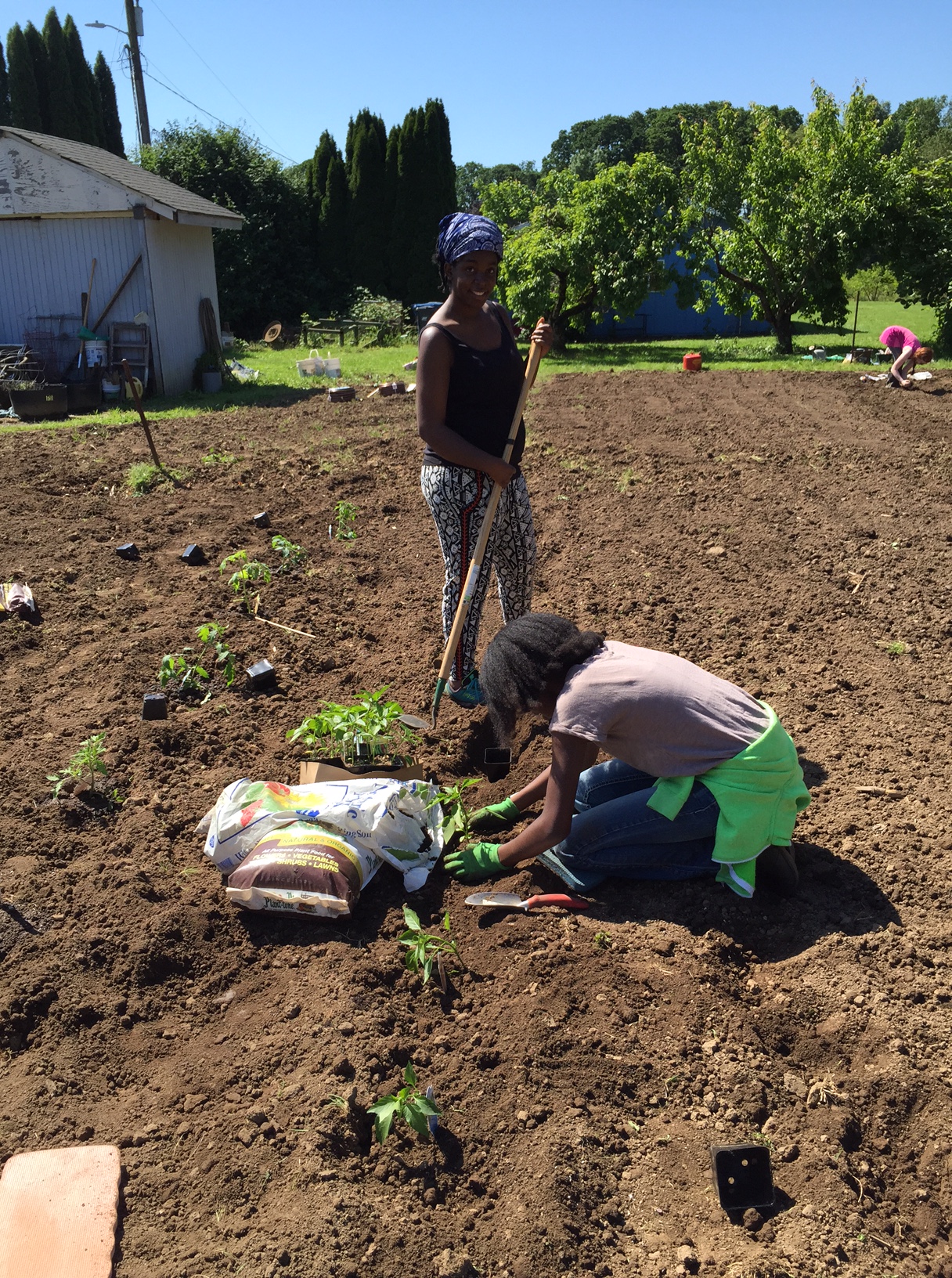 Lovana and Ja'Ana planted more tomatoes and some peppers. They put a scoop of compost from our house, along with some organic fertilizer we had on hand in the bottom of each hole.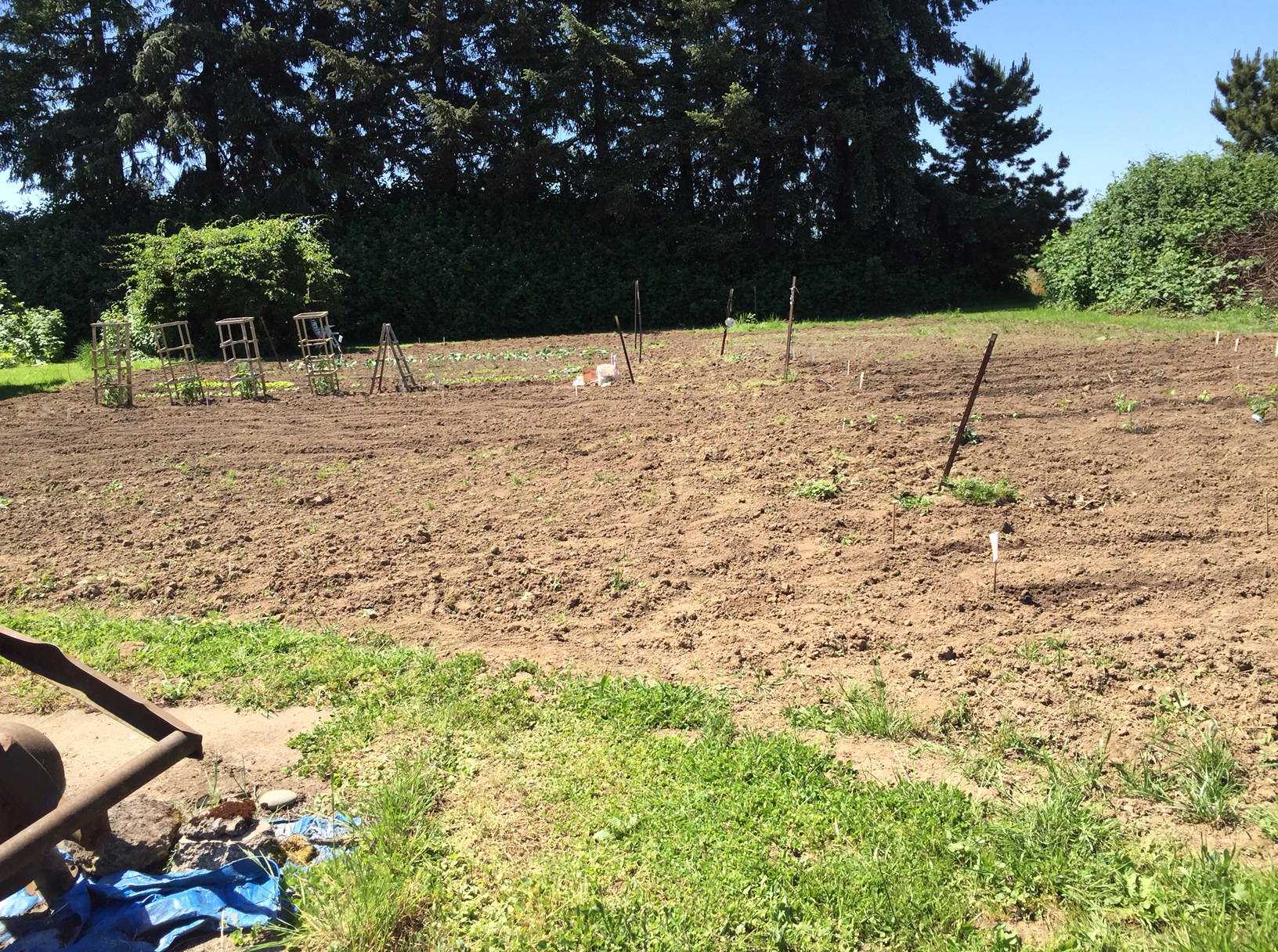 We planted green and yellow beans,tomatoes, peppers, Sweetmeat squash, Mammoth sunflowers, mixed flowers and zinnias, cucumbers, zucchini and other summer squash, Yukon Gold potatoes and removed the walls of water and caged those 4 tomatoes.  My sister will plant corn tonight when it cools off.  It got so hot, we stopped and ate lunch, and we went home.  The early garden vegetables are doing great.
We are going to have so much produce to eat, and some of the early items like spinach, boc choi and lettuce are getting close to being ready.
We made our mothers pots of flowers for Mother's Day.  We re-used some pots we had on hand from previous years.   We also had the soil already.  We were able to combine errands and pick up the flowers.
I took the rest of my un-needed home-school books in and got $90 for them from the used book store.  I got J's Biology curriculum for next year and a vocabulary.  I still had some credit from another time and used that, too.  (Biology is expensive, so I'm thrilled to have been able to get it) I have $40 left on credit there for another time.  If I never need to spend it, I can get a pay-out from them in cash, which I have done on occasion.
I made some basil salad dressing with the basil my aunt brought me to put in the windowsill when our house was being shown.  It was the recipe from the current issue of Taste of Home magazine and was delicious.  I did not have a green onion, so put a small regular onion in instead.  I think I forgot the lemon juice, but  it still tasted delicious.  It was far cheaper to make then to buy an equal amount of salad dressing from the store.
I've been using up more items from my storage in preparation for my upcoming move and have not had to shop in May so far for groceries.  I will have Rob pick up a few items tonight when he gets Lovana from work, though, but I don't need many.
I received a check from some work I did a while back and put it into my "fix-up-the-new-house" bank account.
We received a card in the mail with a $100 gift card in it from an anonymous person.  We are very thankful.  I set it aside with the other gift cards I am saving.  I plan to use a bunch more in a couple of weeks when we are in the midst of the move.