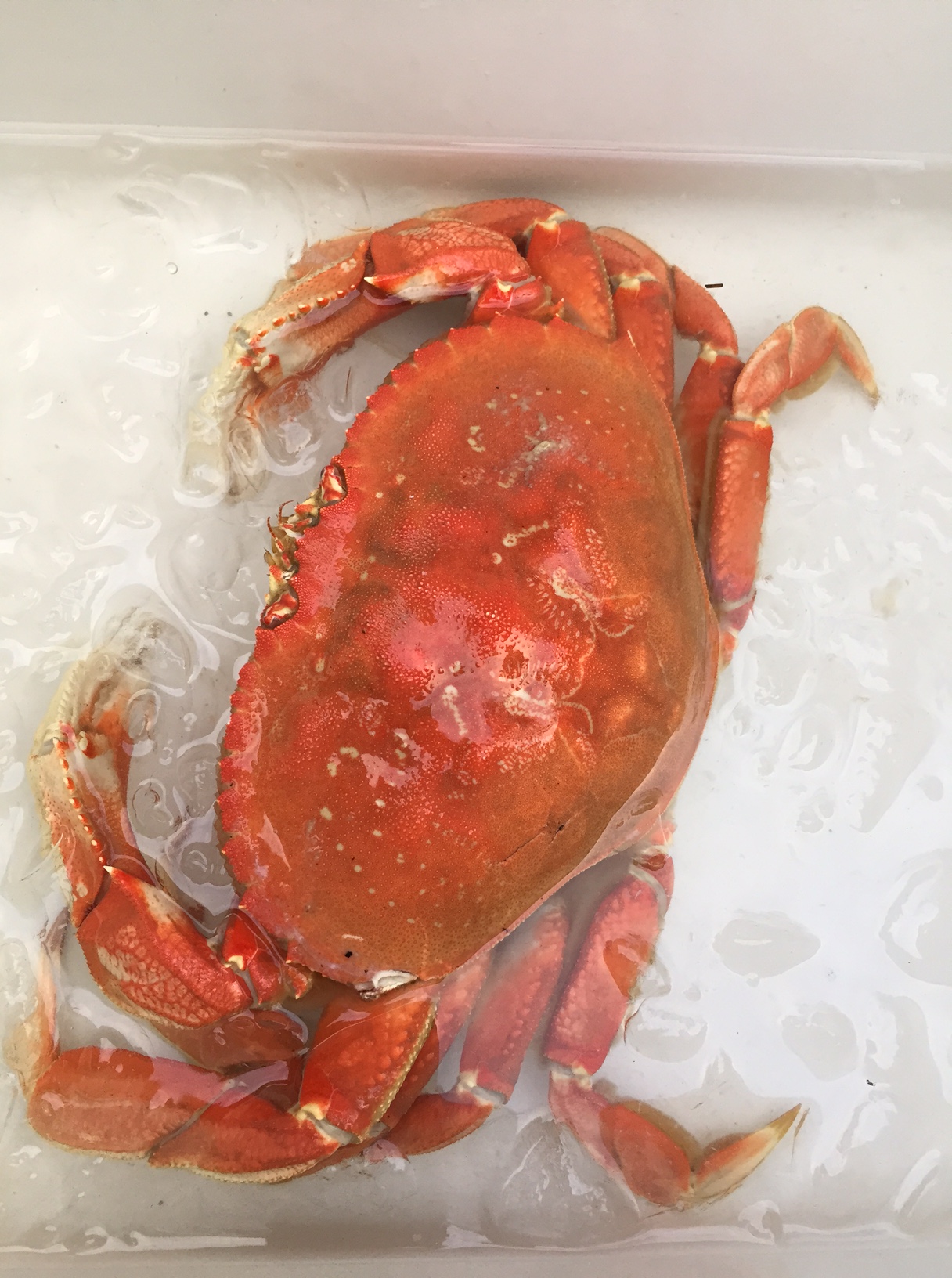 I feel like I'm finally getting adjusted to living in the camper and am ready to make some menu plans.  So far, I have been flying by the seat of my pants–eating and using whatever needs to be used next.  To some extent, I will continue to do that because space is at such a premium.  If there are any leftovers, they have to be used before I cook more food or there is no where to put it.  So, here's a tentative plan for the next week.
Friday:  We will eat the lovely crab Rob caught.  I will probably make Crab Louis with it, as I have lots of lettuce, eggs and Thousand Island dressing on hand. For dinner, I am making a small pork roast in the crock pot.
Saturday:  Pack a lunch for the road, as we are traveling back to the valley again, this time to stay at my sister's for 10 days.  For dinner, we will eat leftover pork roast and whatever garden produce is ripe when we get back, most likely lettuce salads.
Sunday:  I need to make a plan with my other sister for our family Sunday dinner.  For the evening meal, we will have something light, such as salads or leftovers.  If there are not enough, we can make burritos or tacos from frozen refried beans I have.  I need to put beans on to soak for Monday.
Monday:  I want to make a pot of refried beans in the crock pot.  I have all of the ingredients.  I use soaked pinto beans and water, jalepenos (or whatever peppers I have), and onion, and cook all day, then mash.  The onions and peppers add flavor, but not much heat.  I salt and pepper to taste.  My kids love them and will eat beans and cheese constantly.   Lunch:  soup  Dinner:  Beans, cheese and salad–maybe leftover meat if there is any left
Tuesday:  Chicken:  I made a new marinade this week and we grilled it at the beach.  It was so good, I want to make more:)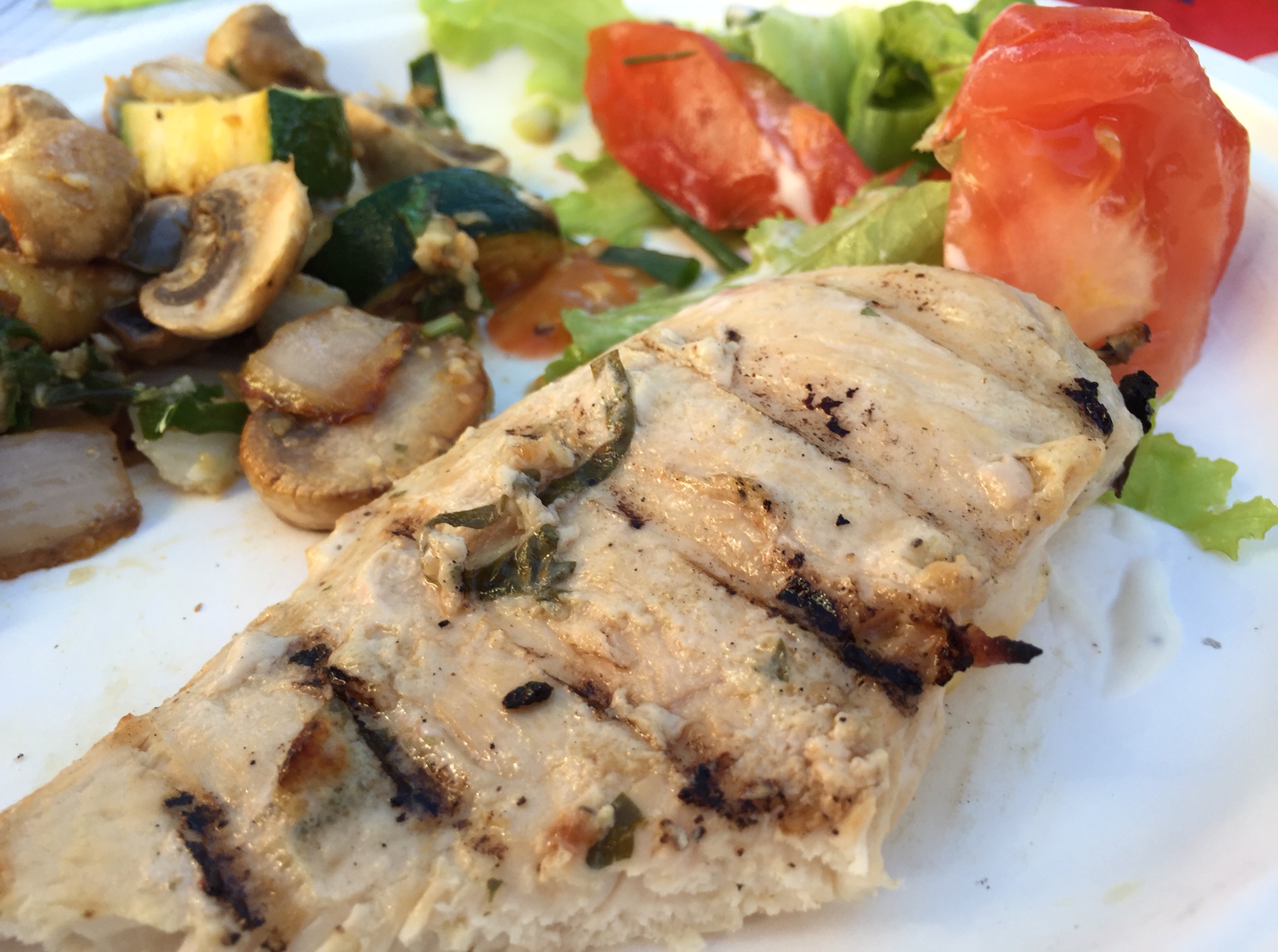 Wednesday:  Lunch:  leftover chicken, sandwiches or salads   Dinner:  trout, potatoes, salad  (we still have 1 meal of trout left from our fishing trip–frozen, of course)
Thursday:  Lunch:  leftovers or soup   Dinner:  grilled steak salads.  I saw a recipe in the Pioneer Woman cookbook I'd like to try.
This week will be busy, but not too busy–just perfect.  Ja'Ana is going to be a junior counsellor at a day camp, ran by the church we are attending.  She will need to be driven down to church (about 1/2 hour trip each way) every morning and picked up each evening.  That will mess with dinner, but if I have things marinading, Rob can barbecue while I'm driving, or I can cook while he is.  We are excited for her to have this opportunity, so it's worth the driving to us.  We also have a few appointments, but thankfully, not many.  I hope to work on the garden some more, and might pick some blueberries at an u-pick patch.  I will also be watering flowers for someone on a few days when I drop J off.  We will probably go house hunting some more as well.  This menu plan will help on those busy days.