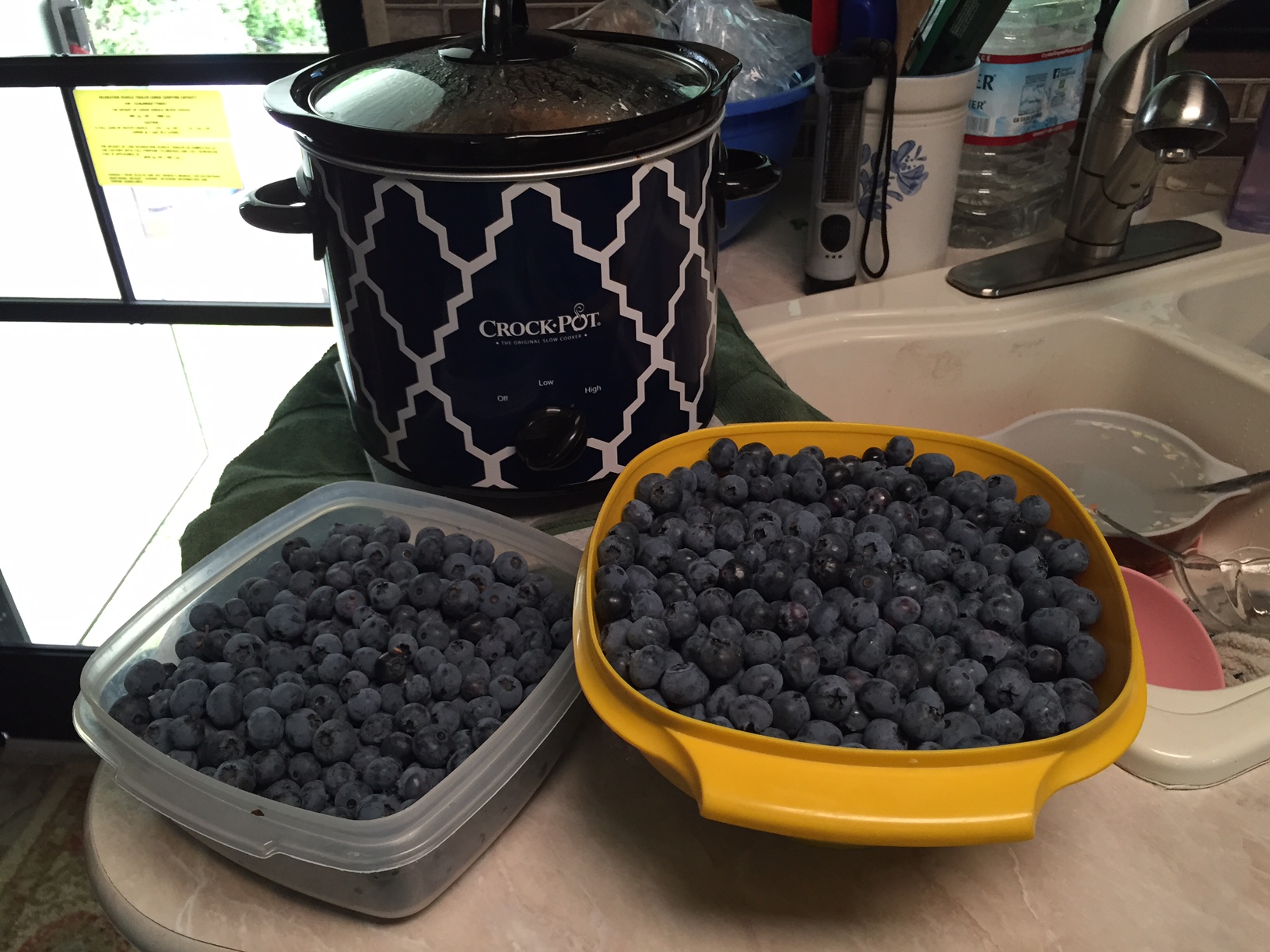 Patsy and I went with my sister to pick blueberries.  They were so delicious, only $1.25/lb, and are all gone now:)
I picked wild blackberries and made a crisp to take over to our friends' house when we went for dinner.
I made pinto beans in the crock pot, lots of salads from garden lettuce, sandwiches, packed lunches, enchiladas, omelets from eggs we got for 88c/dozen, and numerous quesidillas.  I am trying to keep meals simple.  We got invited to my sister's one morning for pancakes, a friend's for dinner, a potluck for the last night of J's camp where she was a junior counsellor (I took watermelon, cheese slices and crackers), and my aunt took us out for lunch after church today.
We did not get the house we bid on last week, and in fact got outbid by $15,000 (over the asking price).  So, you could say we saved $15,000:(  I spent 4-6 hours looking on the computer, have sent the real estate agent a list of properties we would like to see, and will go at it again this coming week.
Patsy and I went for a bike ride at Champoeg State Park.  I am happy to report I did not fall off of the bike, or have any other catastrophes.  (I would pretend I am teasing, but have done some crazy stuff on (off) of a bike in the past, so am trying to build myself up again after several years of not riding since we all have talents and that's not one of mine!!!!)  We rode over 5 miles.  We packed a lunch, and got ice cream at the historic store that was the 1/2 way point of the ride.  We also played a game of checkers they had on the table while we ate our ice cream.  Cute and quaint.
I visited with a friend while Patsy and her daughter swam at a local pool.
We worked in the garden.  We are still eating the same vegetables–snow peas, lettuce, beets, carrots, cilantro, basil, spinich, and the zucchini is just starting.  I am also looking forward to green beans soon.
We got library books, movies and borrowed 2 movies from a friend.  We watched one movie tonight.  It was called "The Finest Hours" and was about a Coast Guard rescue.  It had a little bad language, but kept us riveted to our seats as the men battled the stormy sea.