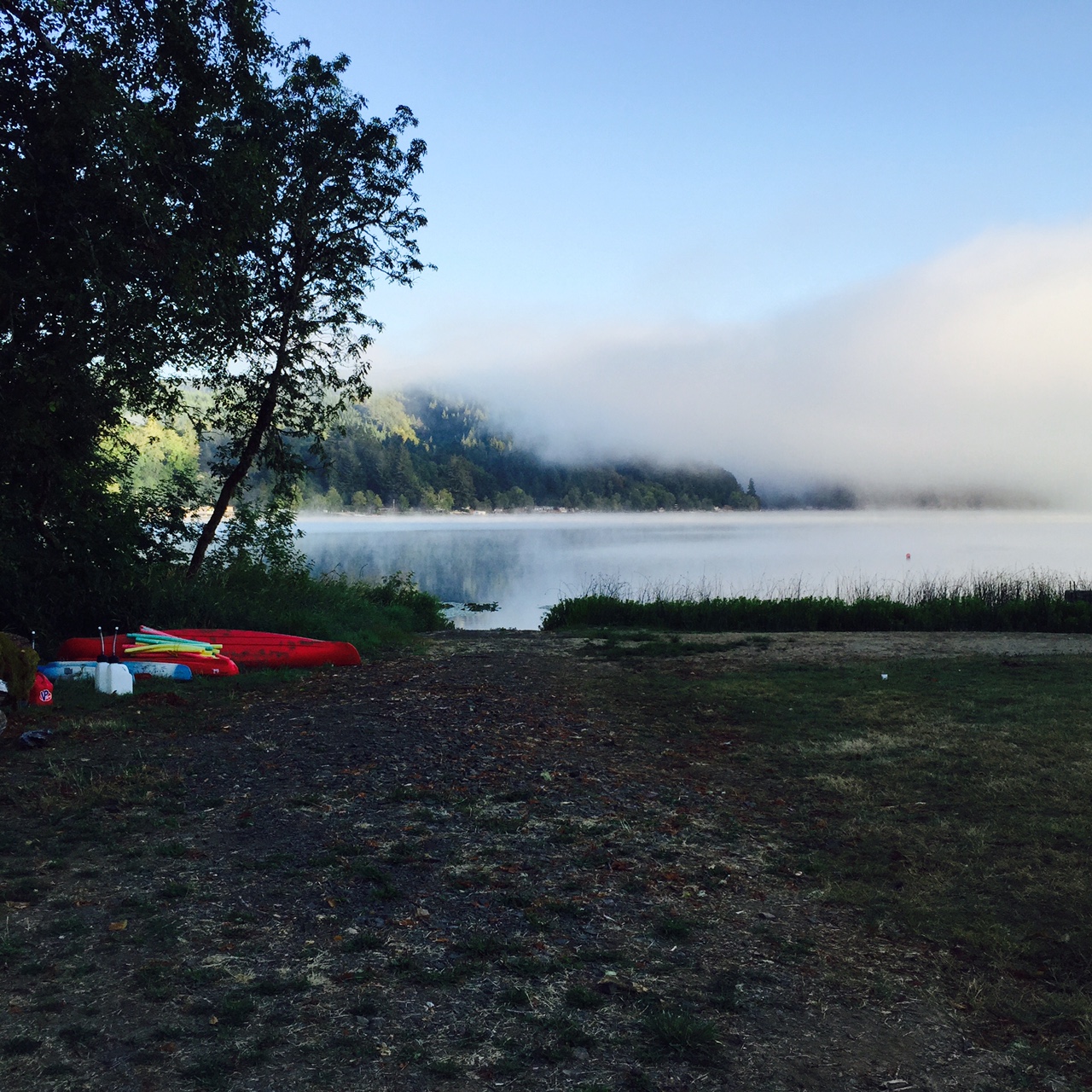 We returned yesterday from Triangle Lake, where we were cooking at high school camp.  It was a marvelous week for many reasons.  I had been to Triangle Lake when I was a child, as my mother had a friend who moved there. I dimly remember driving there with my mother, helping her friend move.  My sister remained friends with the daughter of the family, and spent at least one week with her during a summer or two.  So, I knew I had been there, but it was so long ago that I had no recollection of it other than a dim, pleasant memory.
My memories did not disappoint.  The lake was lovely, especially during the mornings, when a mist would rise over it, making it seem mysterious and serene.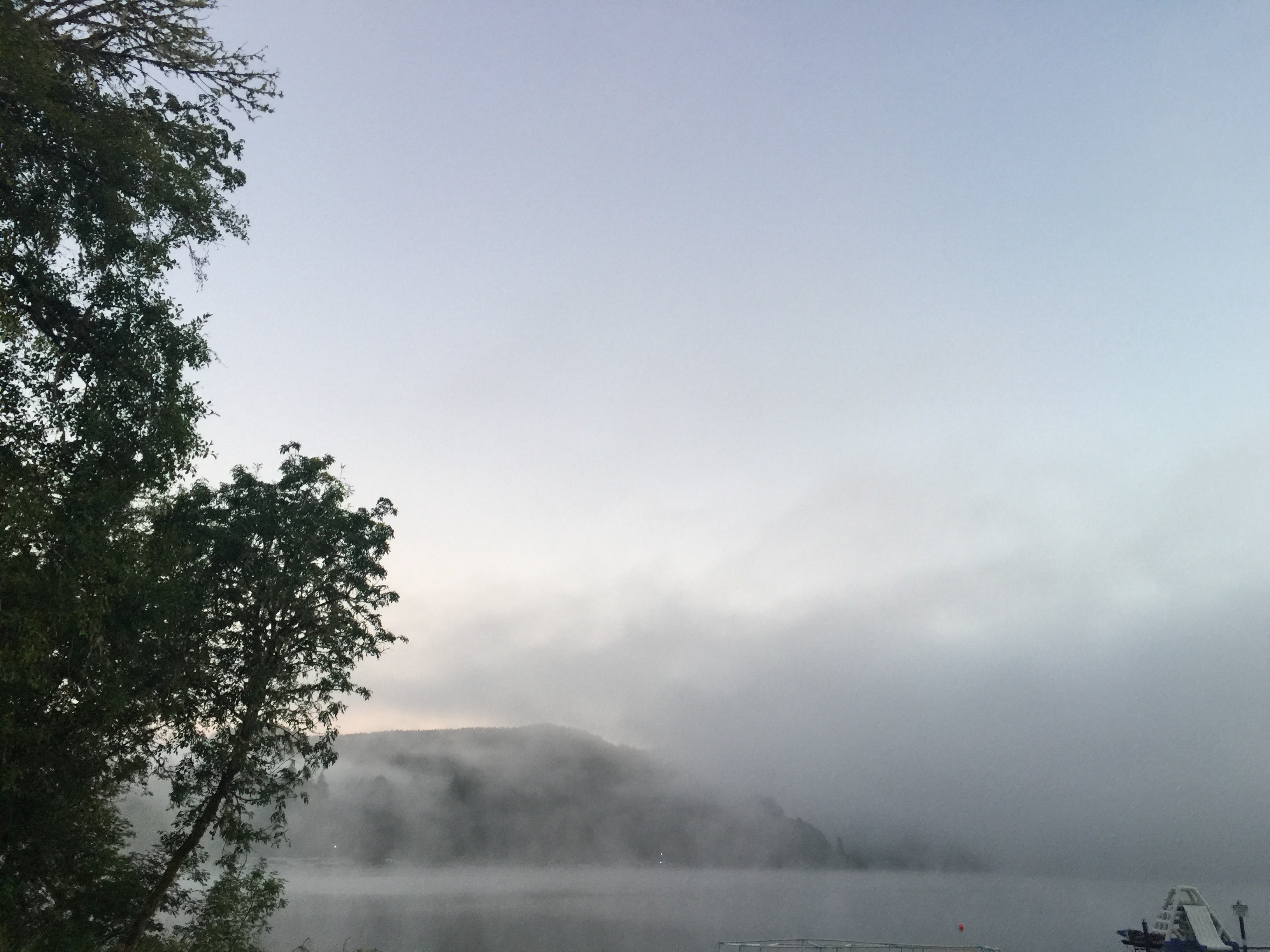 Just a few hours later, the lake was transformed into a bustling hive of activity as the campers filled the water with squeals and the sound of boat motors roared as they towed inner tubes full of laughing teens or an occasional youth trying to get up behind the boat on a surf board or water skies.  The lake is not private, but the camp was secluded on the back side, bordered with acres of forest.
This camp is more primitive than other camps we have worked at.  The kids slept in yurts, had their meetings in a large tent, and ate and played outside.  Many staff camped in tents and there were only 4 spots for trailers.  Thankfully, we got one.
Our job was cooking.  We were helpers, not the cook in charge.  She was an energetic woman named Maggie, and she had a wonderful menu, had done much ahead of time, and gave excellent instructions for all of us to follow.  My aunt and Lovana were cooks, too.  My sister and brother-in-law helped with the planning of part of the camp program, taught classes and counseled teens, and helped with cooking in their spare time.  Rob brought a large Traeger barbecue and used it daily.  The kitchen was equipped with 1 home kitchen stove, 2 regular ovens, a 3-sink system to hand wash dishes, a small ice machine, 3 freezers and a large refrigerator plus the regular-sized home-style fridge.  We were told to prepare for 120 people, including staff.  We fed between 150-160 people each meal.  It was literally a case of God multiplying the loaves and fishes, because we always had food for everyone.  The last person might have received a little different food than the first one, but no one went hungry.
They gratefully gobbled up everything we cooked–very gratifying and the best kind of crowd to cook for!  No one complained when we served vanilla pudding with whipped cream for the last breakfast, along with the other breakfast foods we put out.  Really the only things that had to be taken home were a few odds and ends, and some extra pasta and sauce from the last night's dinner of spaghetti.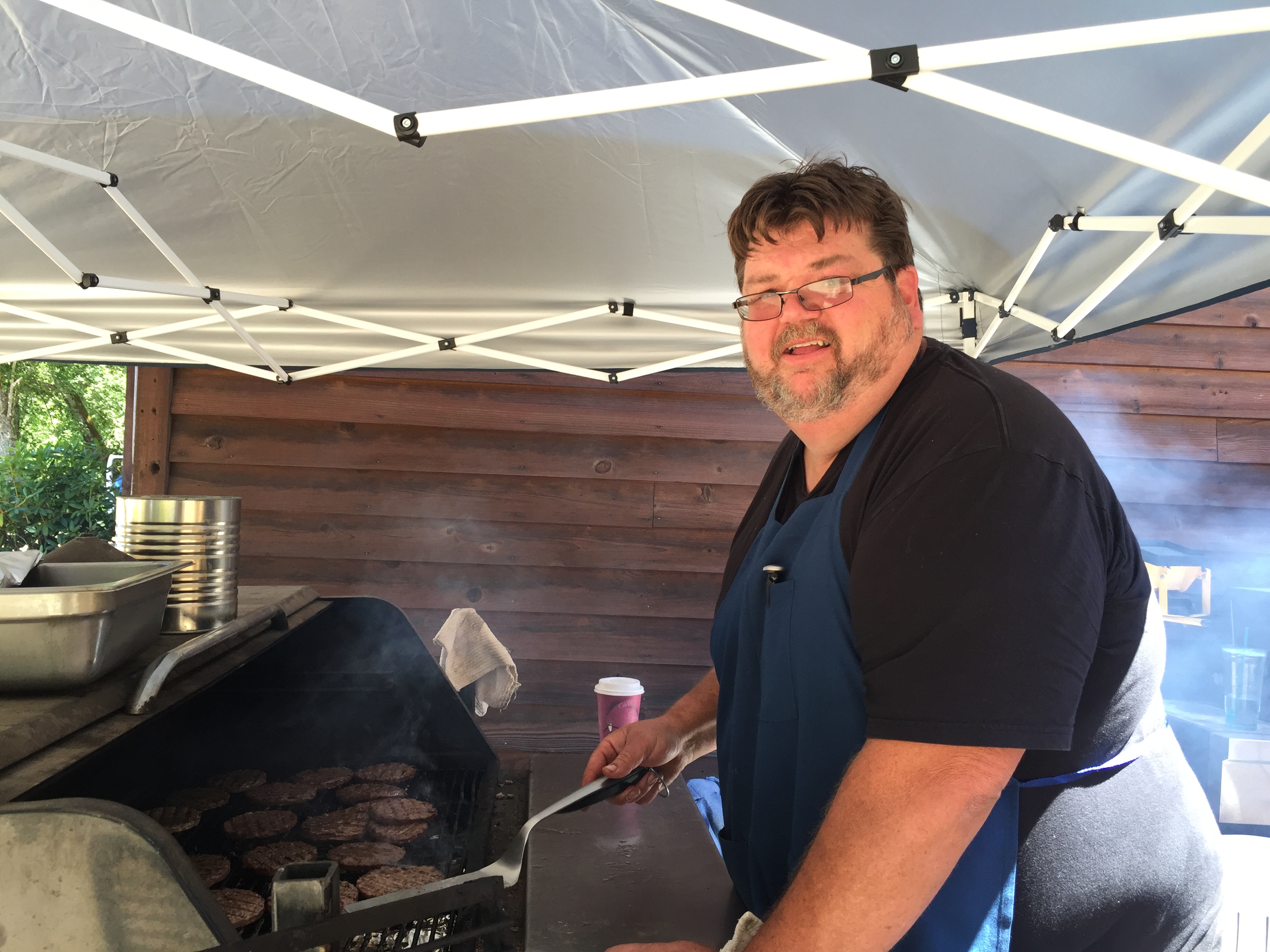 Because the kitchen was so small, the Traeger grill was our best friend, and Rob was everyone's best buddy:)  He grilled hamburgers, 80 lbs of chicken one night (they ate 60 lbs one night, and the other 20 was diced and used for quisadillias and salads), breakfast casseroles Maggie had made ahead, lasagnas (purchased), sausages, and more.  There were some grills there that had flat surfaces for cooking pancakes (twice), french toast, quesadillas and more.  When we used those, we appreciated Rob all the more.
The weather was quite warm and we got overheated easily.  Some of us were treated to evening boat rides at various times and it was so pleasant to cool down on the water when my turn came.  At other times, one of us would dash over to the camper and stand under the air conditioner vent for a few minutes, and then head back into the "sauna" to wash some more dishes.   Some of the braver ones jumped into the lake to cool off.  We actually had quite a bit of fun!
We offered a gluten-free option each meal, and much of it was naturally gluten-free anyway.  There were some dairy-free kids, as well, and we accommodated them, also.  There were a few other allergies, and so most of the food was served separate, i.e. all parts and pieces of tacos in separate dishes so each one could choose.  We served salad or mixed raw veggies every lunch and dinner and it was surprising how much of that the kids ate and how polite and thankful they were to us.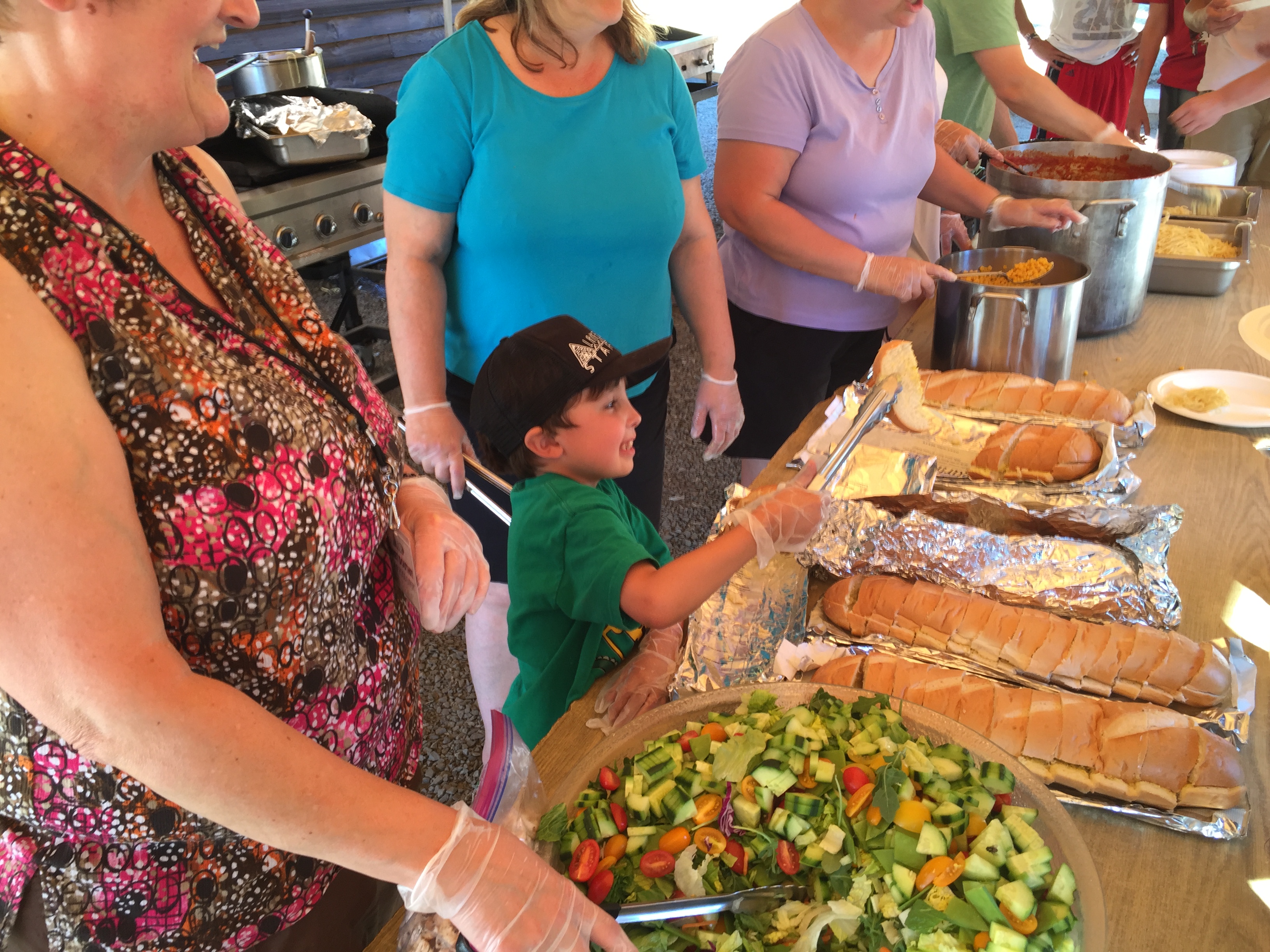 One evening, Jake, my nephew, took it in his head to help serve.  Problem was–the tongs were difficult and the bread slippery!  He manfully did his best, and the kids were very patient and amused by his antics.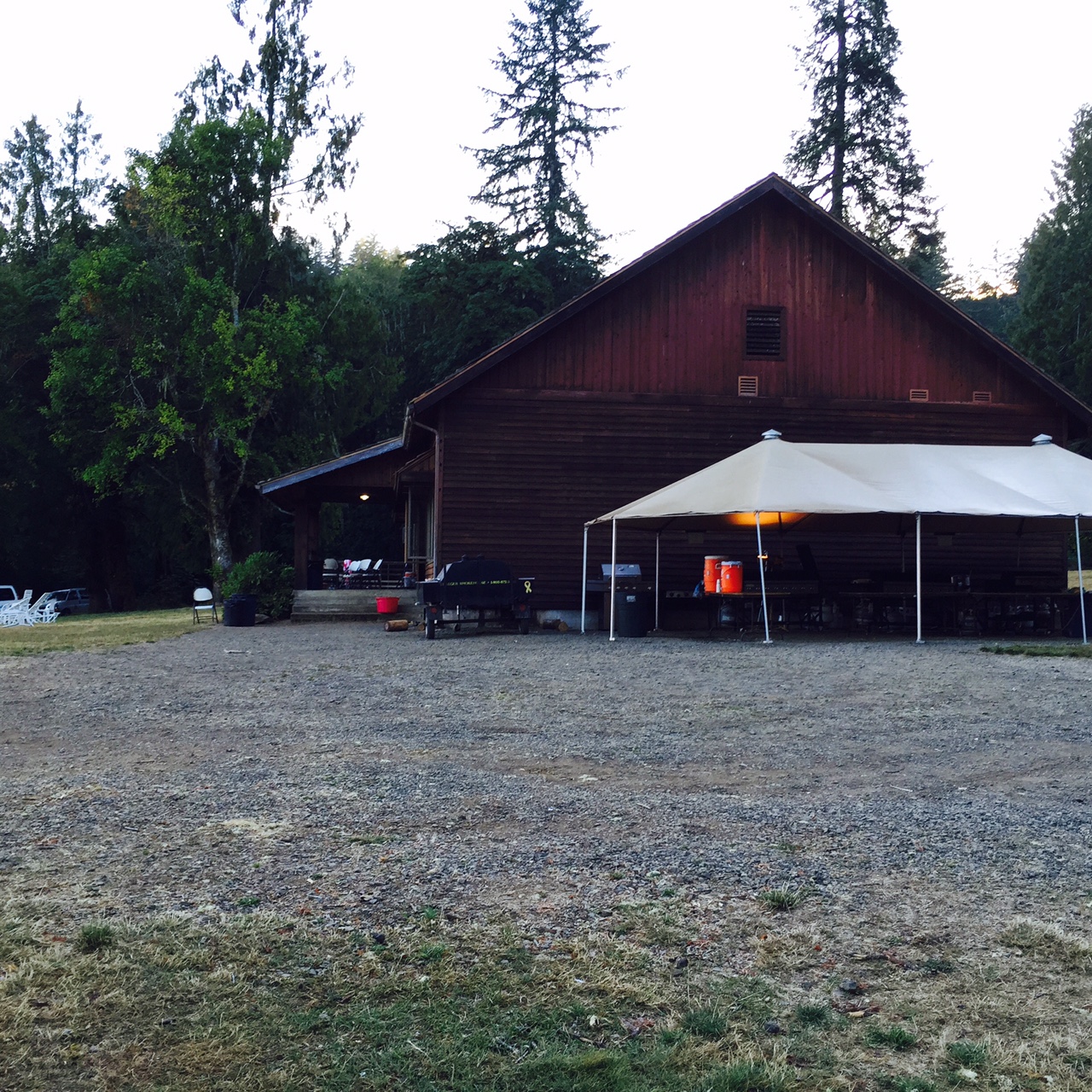 On Friday morning, we cleaned up said goodbye to Camp Eagle Cove.  It was a wonderful experience, and we are so glad we went.  It was a lot of work, but very rewarding and fun!  We don't know what our circumstances will be next summer, so are not making any plans to return at this time.  We can think of that later.  What we do know, is that we will always carry the memories with us from another stop on our Summer of Adventure, and they are good ones.