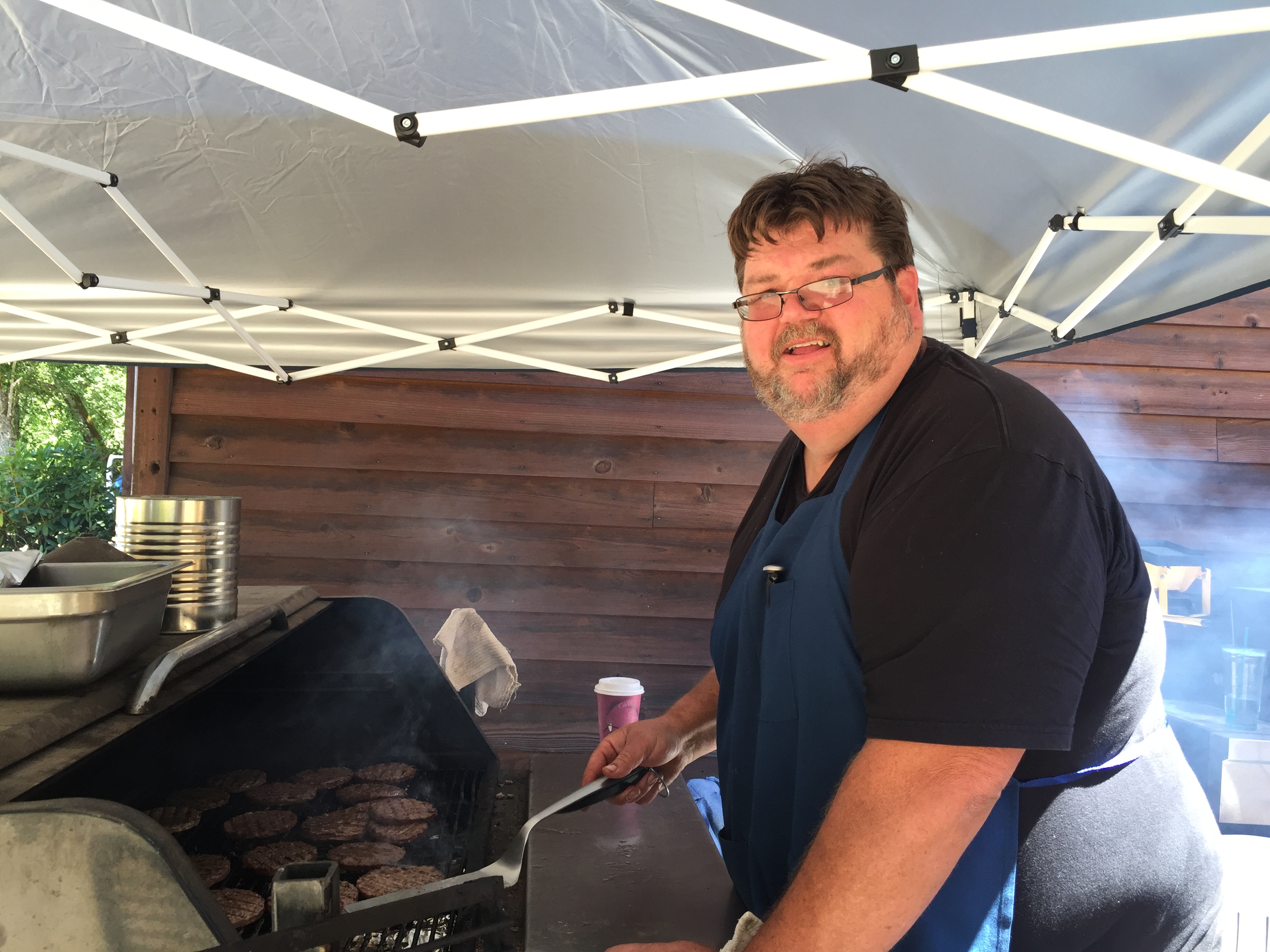 Time for Rob to hang up his barbecue tools and paint brushes, at least until the weekends! He was called late yesterday and he got a job!  He started today.  It was pretty crazy, as there was no orientation, no training yet, he just plunged right in.  He was thrilled to get started, but nervous.  This is a complete change from his previous job.  Complete.  He spent quite a bit of time wondering exactly what he was supposed to be doing.
So, 80 job applications, 10 interviews and………..that's what it took!  On Friday, after the latest interview, the vice principal called and said they had a strong interest in him, but that the HR department had a problem with him having worked in one place so long previously.  So, we just didn't know what to expect all weekend.  Rob responded by hurrying up and finishing the canning cupboards "just in case."  Good thing he did:)
He will be working as an assistant in a special needs classroom.  He will be working primarily with one certain child, assisting him so he get through his day.  He has 6.25 hours of work per day.  When the child is sick, he will have to go home, too.  He will not work during the summers.  So, those things mean we will have to continue to be very creative with our money.  Still, we think we can make it, when combined with the other job.
On the other hand, he will have insurance for all of us.  He will have a retirement plan for the first time, ever.  His other job had none.  At our age, any retirement piling up will certainly be better than none.   He will have the school holidays off to spend with the family.  He will have the summers off so we can volunteer at camp again if we want to or go on mission trips, or maybe both.  We can go camping and he can assist me in watching our niece and nephew while they are off for the summer as well.  If we need for him to, he can pick up another summer job of some sort.  Also, they put him into the sub pool so that if the child is sick, he can possible sub that day in a different area and not lose wages that day.  And, his foot is in the door.  Later, there are positions with longer hours and he could try for one of those if we need more hours.  The way these jobs work is that he has to re-apply each year, because the needs change.  After 3 years, I guess he can keep the job, if it exists, without re-applying each time.  OR, they can move him around as they wish if his existing job vanishes.  Complicated, but one step at a time!  Although that part is not going to be fun, once he has his foot in the door, we've been told it's much, much easier to get re-hired than it was to get hired in the first place.
Like I told him, "you only have to do the first day once."  He made it through the first day of many good days to follow.   I am very happy for him.