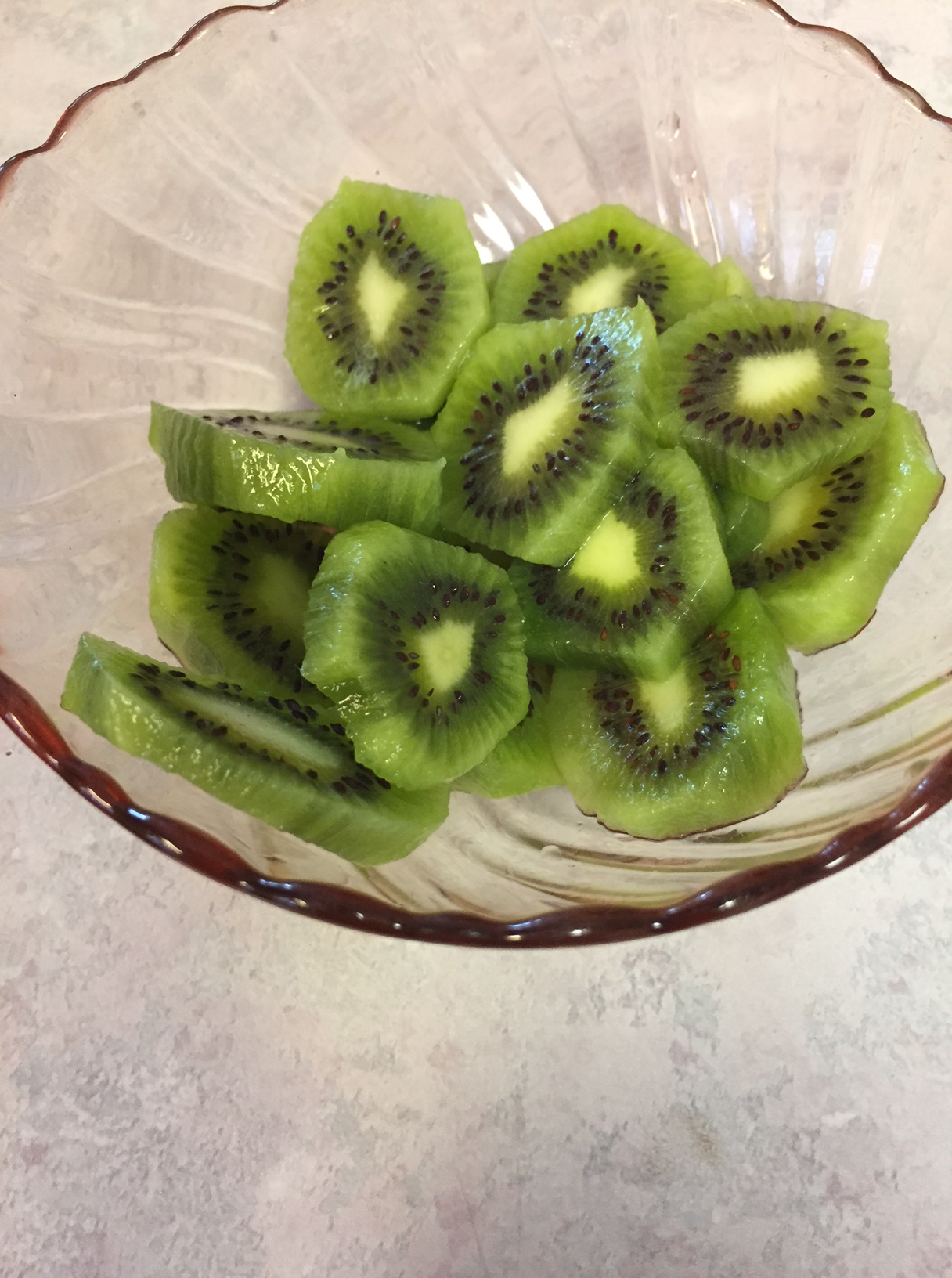 My husband, Rob, came home from my sister's farm the other day with a small bucket 1/2 full of kiwis.  They were from her kiwi bushes, which had a bumper crop this year.  She's been keeping them in her garage!   It took a little while for them to ripen up all the way, but today at lunch, we enjoyed a whole bowl of tasty slices.
I cooked enchiladas using turkey frozen at Thanksgiving.  I made Mandarin chicken one night.  I'm using lots of canned and frozen items right now.
I had a really good time experimenting with my new InstantPot that I received for Christmas.  I made whole grain rice in it, using up several bits and pieces in the bottom of bags–so it was all colors.  I also made refried beans and had them in the freezer within 1-1/2 hours from when I started.  That was nice.  I think the rice still took about the same amount of time, but it was nice to push a button and be able to walk away, shower, do my hair, etc. while it cooked.  I'm sure I'm behind the times, but I had not seen one of these before, and I'm really excited about learning to use it.
We made smoothies several times with frozen berries from our freezer.  Since I did not preserve by canning or freezing last summer, everything must go!  Everything in the cupboard or freezer is over a year old now,  but still fine.  The smoothies were great!
I used frozen raspberries to make the mini cheesecakes again, this time for our family birthday party we are having tomorrow.  I will buy 1 small carton of berries to garnish with, but I'll get them in the morning so they are super fresh.  When I tasted the sauce (juice from berries thickened with cornstarch and sugared) it tasted a lot like the raspberry syrup we have canned in the past.  Next time, I may just open a jar of that.  I have several I need to use.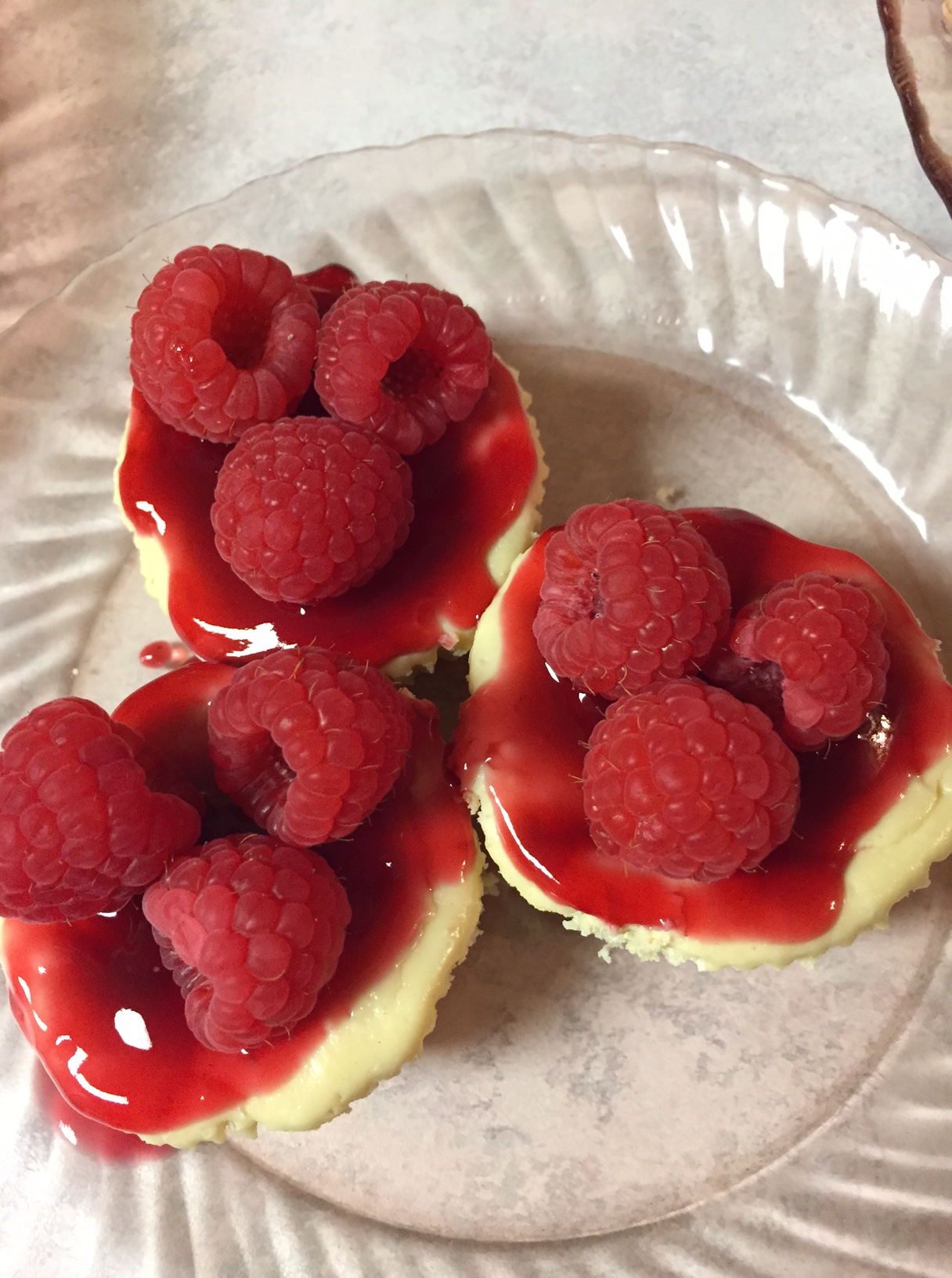 I didn't need many groceries this week, so I waited until Friday and then just bought the very few things I needed.  I am trying to empty out the fridge a bit from all the holiday food before filling it up again.  I had more time to cook this week, as both Rob and I were on vacation.  Tonight, for New Year's Eve, Lovana decided we should have a family party at home, so she and Rob ran in and got some ice cream and chips and a Redbox movie.
While I was at the outlet mall with the girls on Tuesday, I bought a couple of things to perk up my wardrobe for really good prices.  I am being really careful to not buy too many things since I don't have anywhere to put them.  But, since I am using fewer clothing items over and over again, they are showing signs of wear and tear more quickly than when I used to have more clothing items in my much larger closet.  I was given gift cards and $ for Christmas, so I'm looking forward to shopping later for a few more things.
I've been spending some of my extra time this week crocheting.  I've been experimenting with a new-to-me kind of yarn.  It's Lion brand and is called Scrubby Sparkle.  The large green "lime" on the left turned out to be a big surprise.  I picked up a direction sheet from JoAnn's when I bought the yarn.  I thought I was making a small scrubby for washing dishes.  Instead, after following directions, it turned out to be as big as a dishcloth.  So, I looked up a pattern on the internet and made a few scrubbies as well.  The multi-colored ones are done with 1 strand of white Scrubby Sparkle and one strand of leftover Lily Sugar 'n Cream yarn from the dishcloth.  I love that I found something to do with the little bits of yarn that are always leftover.
Michael's was running a really good sale on the Sugar 'n Cream yarn, $1.50 a 2 or 2-1/2 ounce skein, so I went and got a big bag full today.  That's the best price I've seen for a long time around here. I plan to make quite a few dishcloths in the upcoming months.  Yesterday, I also bought a 3-pack of blank dishcloths using my 50% off one item at JoAnn's.  Because I live in town now, it's easier to just stop in and get 1-2 things.  I love to do embroidery and people enjoy getting towels for gifts because they can always use another towel:)  I love getting the towels themselves on great sales.  So, whenever I'm in the store and have no other use for my coupon, I get a pack of towels.
We were able to go for dinner at some friends' house on Wednesday.  It was so good to spend time with good friends.  It's harder to see people because we have moved out of our previous area.  So, we were delighted to make it work this week.