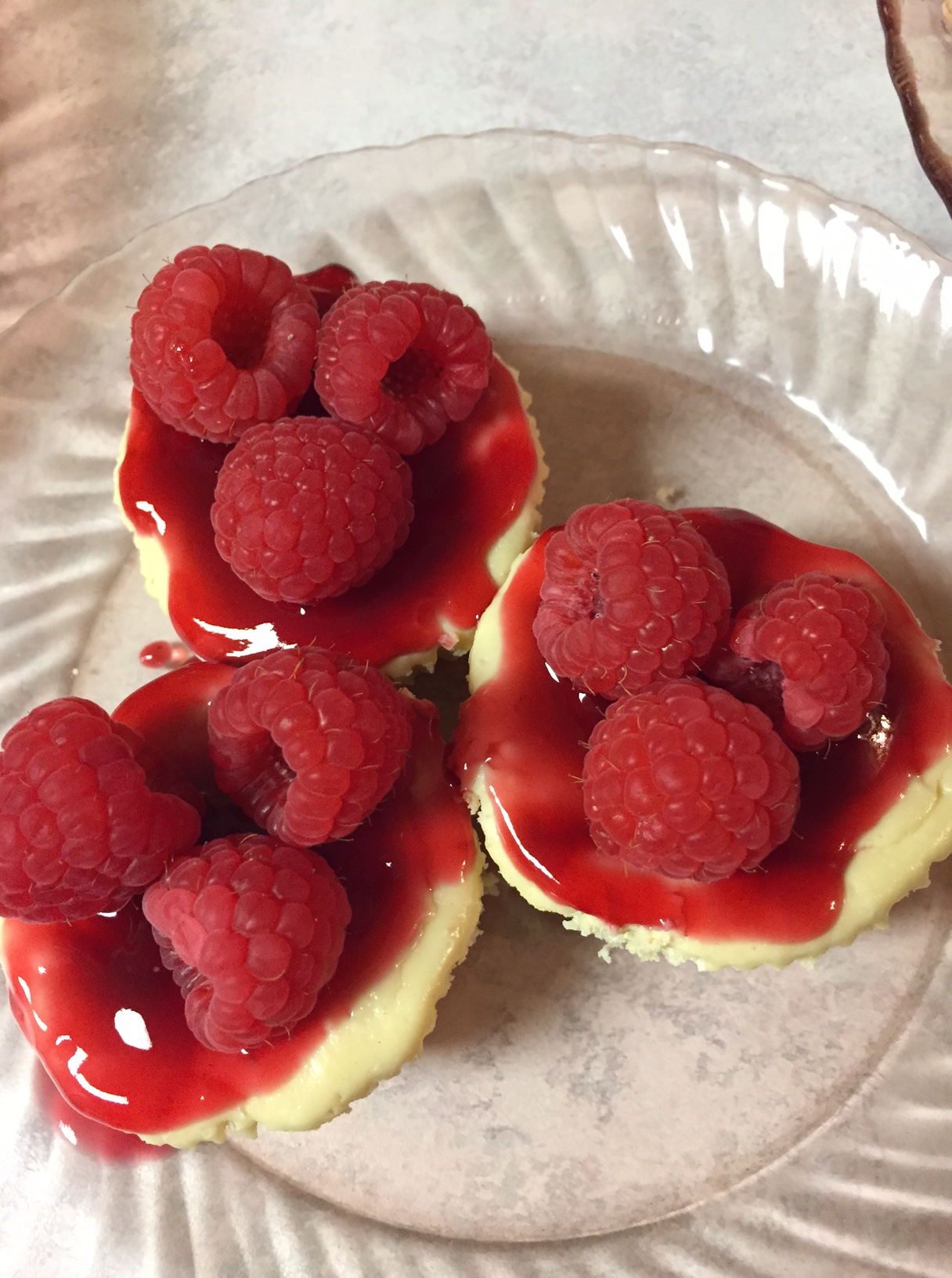 I changed a recipe from p. 148 of the December "Cooking Light" magazine to make it gluten-free and more economical.  It came out great!  We enjoyed these cheesecakes on Christmas Eve and also at a family birthday party on New Year's Day.  Because I bought a tiny little carton of raspberries in the winter, the cost was much higher than it would be in the summer when I have berries growing.  That being said, I did cut the cost by making the sauce from frozen berries instead of buying 5 cups of berries as suggested.  They were from my garden at the old house.  I'm not even sure how many of those $3 cartons I would have had to buy to get 5 cups!!  I plan to grow a mint bush, as I did at my old house, to garnish these in the future.
I bought 1 package of foil cupcake liners from JoAnn's.  There were 24 in the package and I used 1/2 each time.  Apparently there is a special pan with removable bottoms, but I don't have one, so I took the 2nd option and used a muffin tin with those liners.  I removed the liners when I served the cheesecakes.
This recipe was more time-consuming than I normally make, and had a very festive feeling for the holidays.  I think I will make it many more times, especially during the summer when I can grow my own berries.  I also plan to try it with other toppings.
Crust:
3/4 cup Bob's Red Mill One-To-One flour
2 Tablespoons powdered sugar
1 Tablespoon granulated sugar
5 teaspoons cornstarch
1/8 teaspoon salt
3 Tablespoons butter, softened
1 Tablespoon canola oil
1/2 teaspoon vanilla
Mix the dry ingredients in a bowl.  Add the butter, canola oil and vanilla and mix.  I stirred it with a wooden spoon, smashing the butter against the sides of the bowl until it was mixed into the flour mixture and looked like course sand.  I did have a few lumps of butter that were a little larger than grains of sand, but it still worked. Then, I took my tablespoon measuring spoon and divided the mixture between the 12 muffin tins lined with the foil liners.  I then pressed the mixture down into the bottom of the liners with the back of the spoon.  Bake at 325 degrees for 10-12 minutes, or until lightly brown.  Cool 10-20 minutes.
Filling:
12 ounces Neufatchel cheese (less fat cream cheese—1-1/2 package), softened
1/2 cup sugar
3/4 cup light sour cream
1 teaspoon vanilla extract
2 large eggs
2 teaspoons Bob's Red Mill One-To-One flour
Mix up all the ingredients, until smooth.  They recommend a mixer, which would work very well, but I used a wire whisk and a spoon.  The cream cheese needs to be extremely soft for that to work, though.  Spoon into the liners on top of the crusts.  I used my gravy ladle and it worked great.  Bake at 325 degrees for 20 minutes or until just set an slightly puffed.  Cool, then refrigerate until ready to serve.
Topping:
1 quart-sized ziplock bag of frozen raspberries, thawed in a strainer so the juice drains out, or equivalent fresh or purchased berries
1/2 cup sugar
1 Tablespoon cornstarch
36 fresh raspberries (1 small carton had plenty)
Mix the juice and sugar in a saucepan and bring to a boil, stirring to dissolve the sugar.  Keep at a low boil for 2-3 minutes.  Mix the cornstarch with 1 Tablespoon water and stir into the hot mixture.  Cook about 1 more minute until mixture thickens.  Remove from heat.  Cool completely.  When ready to serve, spoon sauce over the cheesecakes and decorate each mini-cheesecake with 3 raspberries and a sprig of mint.  I stored the cheesecakes and topping separately in the fridge and put them together right before serving.  When our family could not eat 12 in one night, I only assembled the ones we needed and made up the others as wanted over the next few days.
I think they would be good with blueberry compote over the top, and can think of several other good combinations I want to try.  Thankfully, we have lots of family parties, so I know I will have many opportunities to experiment!