We went to a few garage/estate sales yesterday.  One of our finds was this box of Yahtzee score cards for 50c.  They were from the 1950's, if the copyright was any indication.  They didn't even have extra boxes to give a person 100 extra points for extra Yahtzees rolled.  We just marked the bottom when that happened.  (When you play with my niece, Michaela, if happens more than you would think!)  It made her very happy when I  brought them to her today.  She loves that game and often has me play 5 or more rounds with her in an afternoon when I'm spending time with her.  Lately, on Sundays, when we go back to her house with her and work on the noon meal, while her parents help with the high school class, she's been roping Rob in for games.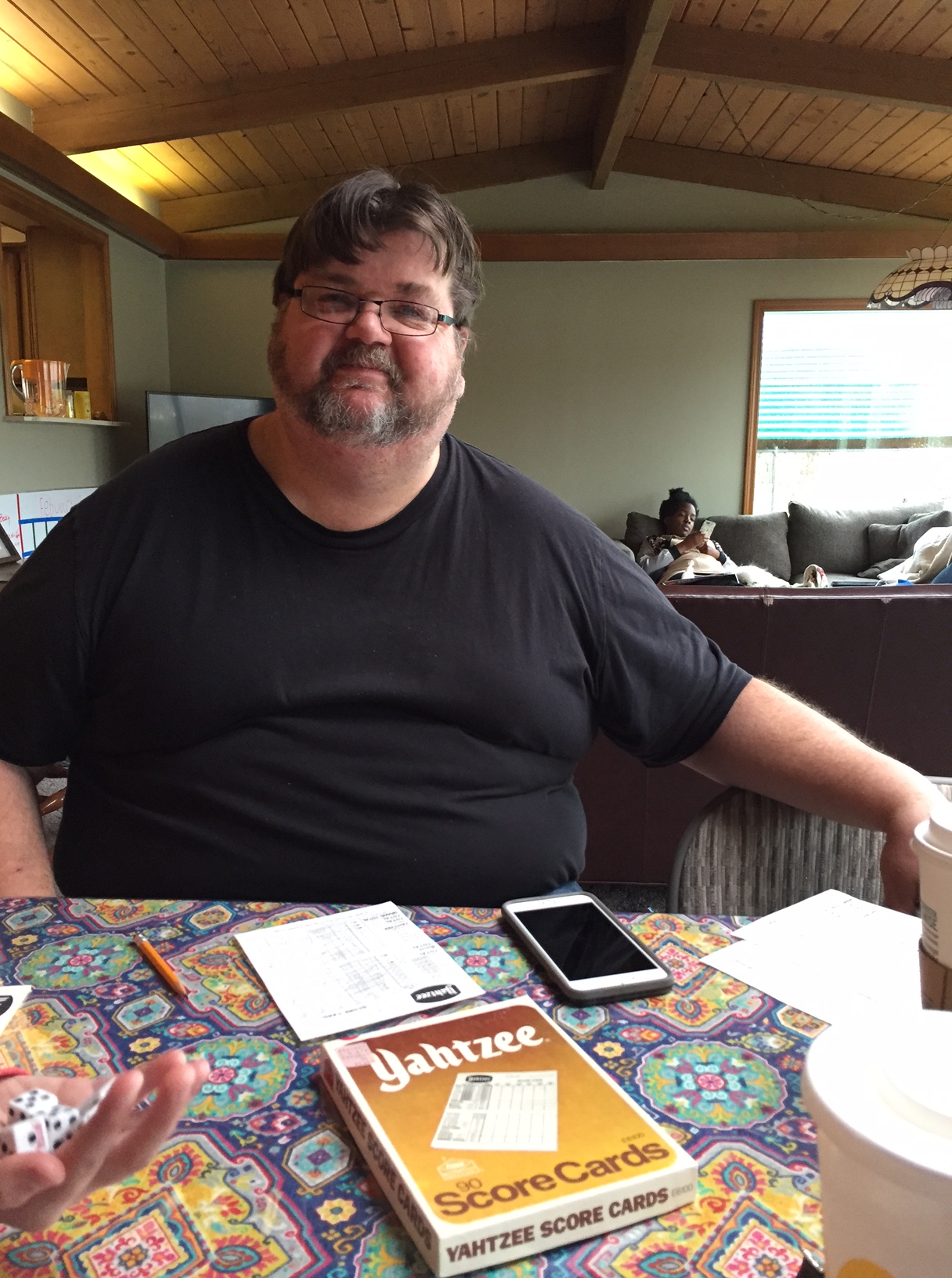 She's very persuasive and got him to play 4 or 5 games with her today.  I played part of them, but not all.  Seriously, she will play for hours with those score cards–worth 50 cents, for sure.
I also got a Tupperware container for a quarter for Rob's lunches, another lunch pail for when his bites the dust, some knitting needles for Ja'Ana for 10c/set, a game for Patsy and a few books.  Jake was with us, and scored some toys from the free box at one sale.  He was happy.  I got a few skeins of floss, and an already hand-embroidered set of pillowcases for just a few dollars.   Since the entire pile we got was $6, and my pillowcases were only part of the haul, I'll say $3 or $4 for the set.  I got a very new-looking air popper for the camper for only $3.
I went to Costco and bought bulk items, including  ziplock bags (3 sizes), 25 lbs of sugar (for $12 something), t.p., shredded cheese, lemon juice, a rice/quinoa blend, butter, 1/2 and 1/2, and some more groceries.  I like buying in bulk.  Then, I finished up at Winco with things like a bag of potatoes, some produce, etc.  I could have bought large bags of produce at Costco, but I no longer have room in my fridge and camper fridge for the huge bags of lettuce when I add that to the other items I purchased.
We made lots of good meals at home, including tuna/hard-boiled egg salad sandwiches, Teriyaki chicken for Sunday dinner (using up all the frozen odds and ends of chicken pieces in various bags together with 1 pack of hindquarters I bought at Wince), roast beef, and muffins.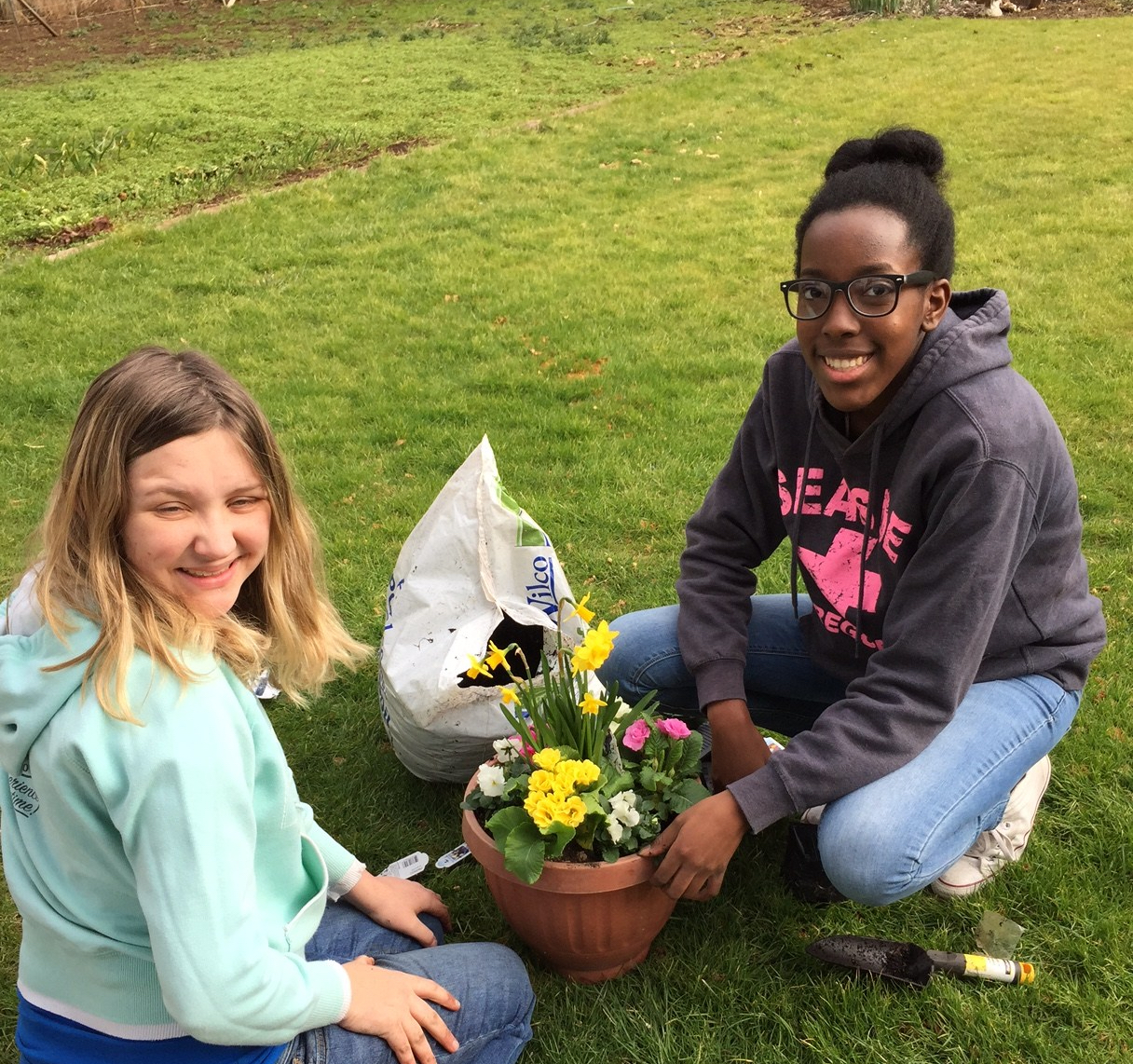 The girls planted this lovely pot for Alissa's Mom's birthday gift from the family.  We used a pot we had and the girls chose the plants from a local farm store.
Tonight, as I type this post, I have 3 teenage girls sleeping in the living room.  Ja'Ana, Alissa, and friend Kim are all going on a hike with the youth group in the morning, and decided to start the fun tonight.  We had Jake all afternoon, but got the added girls after church tonight.  Jake is asleep in Lovana and Ja'Ana's room, and Patsy in her own. Michaela wanted to stay home.  She likes her home, own bed, etc. very much.  We got some of the $5 Little Cesar pizzas and they were all delighted and acted like we'd sprung for steak and lobster (in fact I think they were more pleased with pizza than they would be with the lobster, anyway!).  I love activity in the house, and we love kids, so…… (I also love to cook for a crowd, but this was quite impromptu, so hence, the pizza)  It makes me happy that it takes so little to make a kid happy.
Lovana has a new job and it involves staying 5 nights a week there, and 2 night a week here.  She is helping with in-home care for an elderly woman.  She is trying it out for 1 month to see if it is too much, or not.  We will all know in a few weeks.
I took Jake and Patsy to the library.  I checked out books for myself and returned some so as to not incur fines. (Let's just say fines are something I happily pay when I forget–it's a good cause, and sometimes I get busy and forgetful–but I'd rather be prompt and turn things in).
Rob got a set of sheets for our bed at Bi-Mart for only $15.  We don't expect them to last very long at that price, but it's been difficult with only one pair.  It's lovely to have a set in the washer at this moment, while Rob is asleep in the bed.  We know we have at least one more set, but it's still nowhere to be found.  I've not done well with my goal of unpacking one bin every weekend.  I want to get back on track with that, as there will be a rummage sale at the church in June, and I can donate extras to a good cause, or have a garage sale in the spring if I get to it–I probably can do both.
I started putting some items in the camper for future camping trips.  If I freeze a few items, or put non-perishables in there now and then, it's not such a sticker shock when we get ready to go camping.  Often when we camp, we don't shop while we are there.  Occasionally we do, and it's usually to replace a often-used item if we use up the last bit.
Rob got the bulk of the tax information gathered and will drop that pile at the accountants after his dr. appointment, several errands, etc.  When he gets a day off, he fills it with all those things he never gets to.  He also is taking the small car, and combining several errands to save gas.
I hope you have a great President's Day.  We plan to!