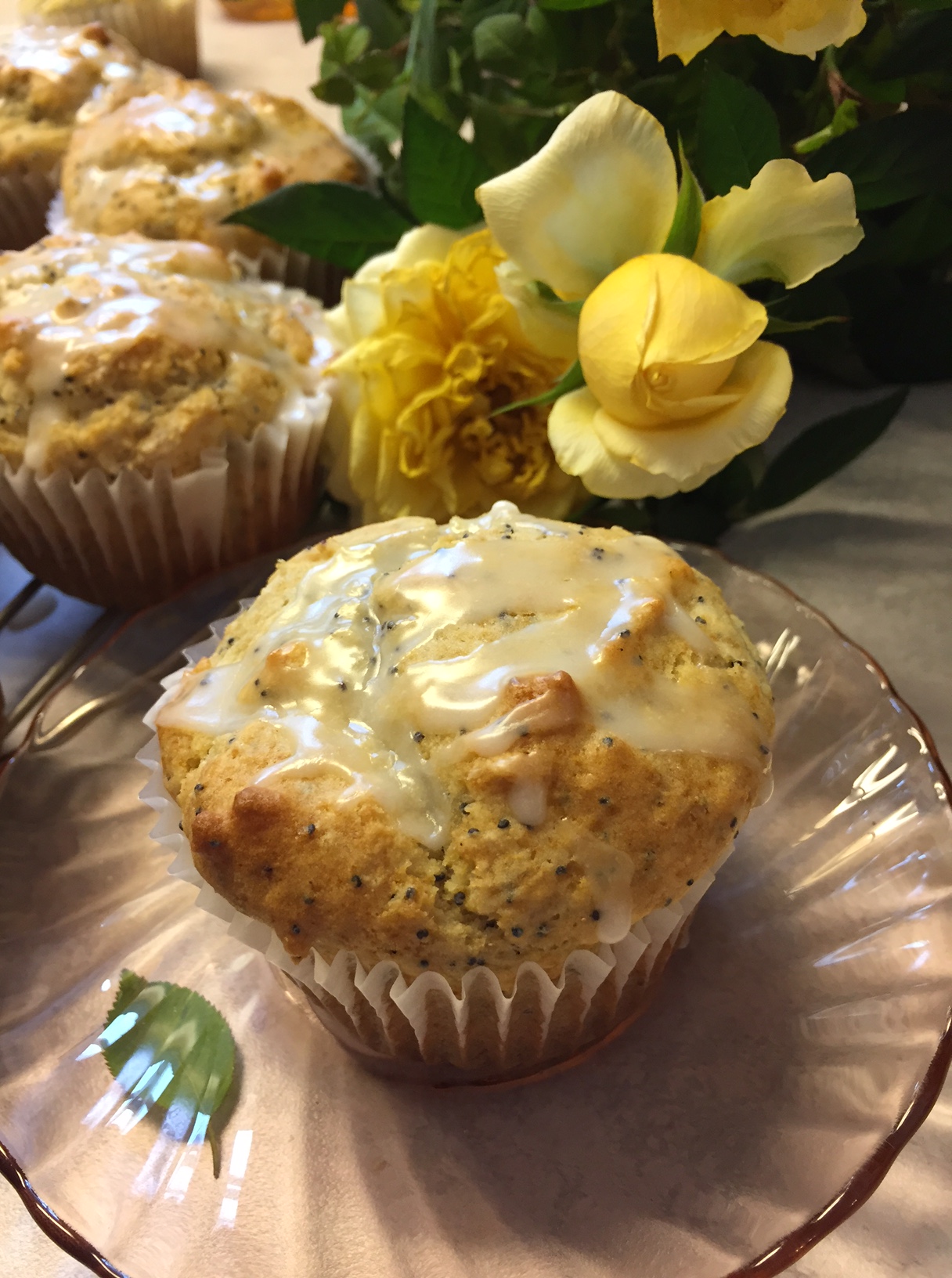 A reader asked me to post a good muffin recipe. Of the muffins we have made lately, we liked this one the best.  I started with a recipe I used to use frequently before I needed to go gluten-free.  Ja'Ana made it as it was, substituting gluten-free flour for the all-purpose flour.  It was quite dry.  Today, we tweaked that recipe quite a bit, and are much happier with the results.  Here's what we did:
Dry ingredients (mix together in a large bowl):
1-3/4 cup Bob's Red Mill 1-1 gluten-free flour blend
1/2 cup sugar
2 Tablespoons poppy seeds
grated lemon peel from 1 lemon
1 Tablespoon baking powder
1/2 teaspoon baking soda
1/2 teaspoon salt
Wet ingredients (mix together in a small bowl):
1/2 cup milk
1/3 cup oil
1 container (6 oz) lemon yogurt (about 2/3 cup)
2 eggs
Stir the dry ingredients together until mixed.  Make a small well in the center of the dry ingredients.  Beat the wet ingredients together and then pour them into the well in the center of the dry ingredients.  Mix together.  Put into 12 muffin cups that have been lined with cupcake wrappers or sprayed with non-stick spray.  Bake in 350 degree oven for 16-20 minutes, until golden brown.  Remove muffins from pans and place on a cooling wrack.  Make lemon glaze and drizzle on top of warm muffins if desired.  We have eaten them many times without glaze. Let them continue to cool until completely cooled.  Freeze any muffins you are not going to use immediately, then remove from freezer, thaw on counter or in microwave,  and enjoy.  Makes 12 muffins.
Lemon Glaze:
1/2 cup powdered sugar
2-3 teaspoons lemon juice (I just squeezed juice out of the lemon I used for the lemon peeling until a nice consistency was reached)
Stir powdered sugar and lemon juice together until the glaze is able to be drizzled on to the muffins.  Start with a small amount of juice and add more until desired consistency is reached.  If you put in too much juice and it is so runny and just slides off the muffins, add a little more powdered sugar until it thickens up slightly.  If you have to spread it like frosting, it is too thick and you need to add more juice.