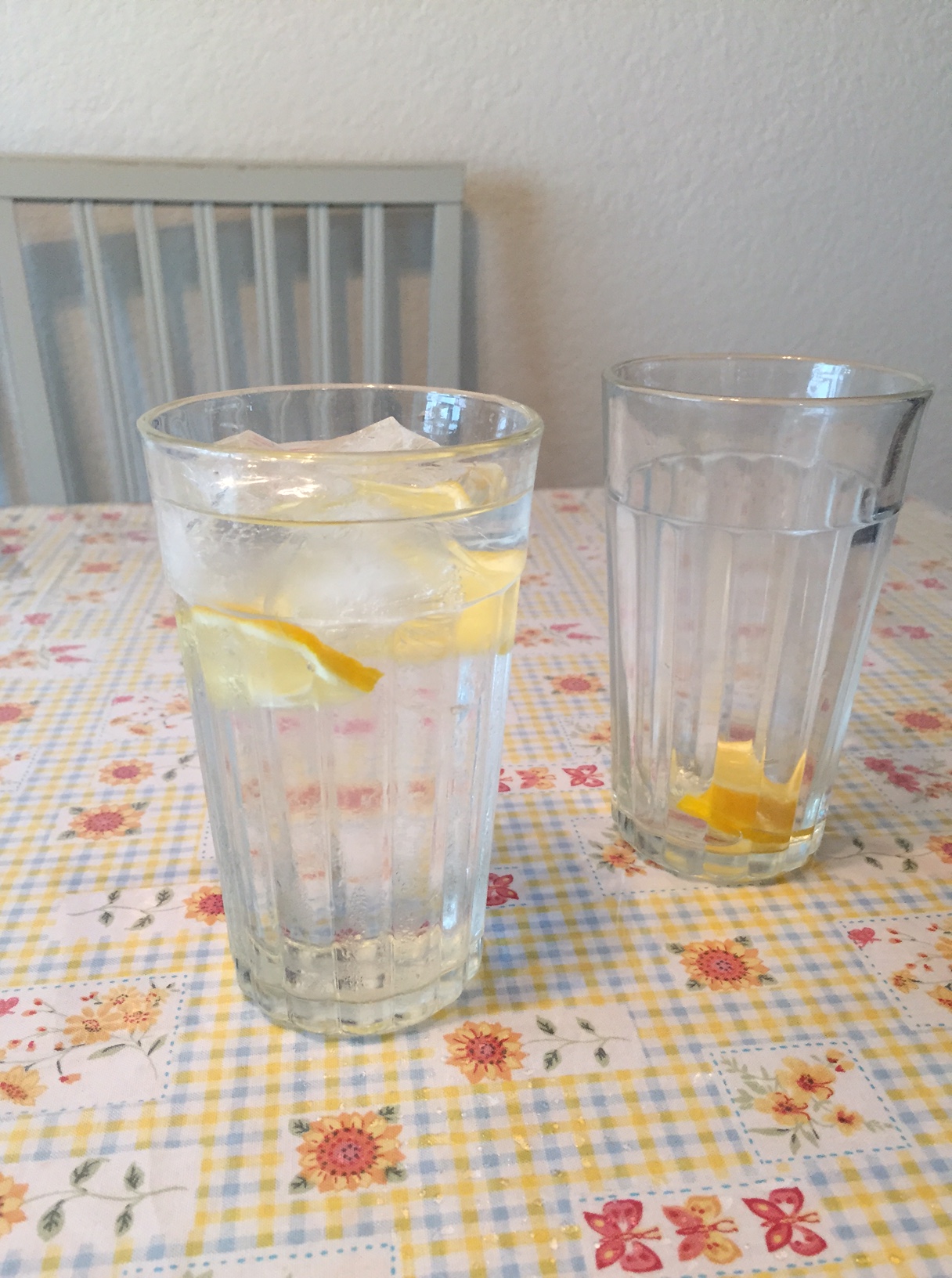 Whew!  What a busy week this has been!  I've had several refreshing glasses of lemon-water, and boy did they hit the spot.
On Monday, we had a snow day.  It is very rare to have one of those at all, especially this late in the year.  Although we had 4 inches, it was pretty much melted by 1 o'clock, and we were able to go do some errands.  Since my husband had the day off, due to the schools being closed, we took the opportunity to head up to Portland (about an hour away) to pick up some paper cups. They were given to us to use.  There were a lot of them (several cases) and we are going to have plenty to share with the youth group at church.  A friend has been tasked with cleaning out a warehouse, and these were in there.  Some are a bit "shop worn," but most are in plastic packages, and can be easily sorted.  We were happy to get them, and happy to get a time where we could use the several hours it took to pick them up.  He needs the warehouse clean by a certain time, so it was get them or lose them.  Some of the items in there will be burnt or thrown away if a home is not found for them, but it looked like he was making good progress finding homes for things.
I was able to stop by the mall after picking those up and get some clothes, using gift cards I've had for quite a while.  I didn't have a lot of time, as Rob dropped J and I off and took Patsy and Jake to Toys R Us to keep them busy, then kept them in the van until we finished.  He has the patience of a saint, but, we still hurried.  We got some things Ja'Ana needed desperately, and a few tops for me.   Mine are getting so worn because I wear the same ones over and over.  It's nice to have some new ones.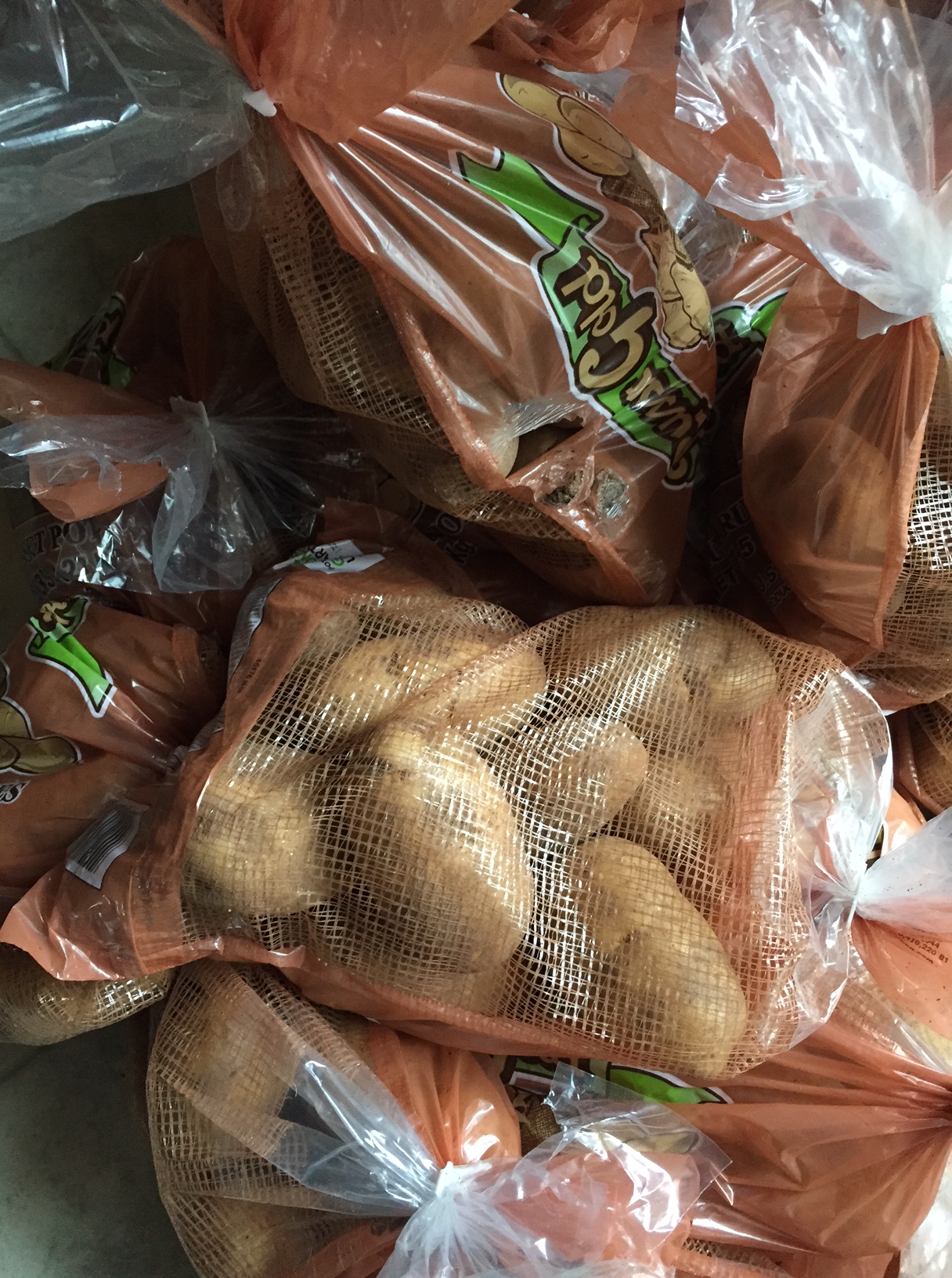 I will post about this week's grocery challenge on Monday night or Tuesday, but I will say I was very happy to get potatoes for 10c/lb.  Rob had found them last Sunday night, and got a few.  I went back Tuesday morning and got 100lbs.  Needless to say, we've had a lot of potatoes this week.
We had some friends drop in from out of town, and were able to easily feed them lunch with what I had on hand. I had a couple of hours notice that they were going to eat with us, so I just thawed out some more ingredients for tacos.  We had tacos several times last week.  I cooked a chicken last night.  It was a nice change, although I will say tacos are one of everyone's favorite foods and I don't get protests no matter how many times we have them.
Jake and Patsy enjoyed some art activities this week.   Before Christmas, I got one of those little art kits with several items in it for $3.50 at Michaels.  The quality is not high (and the markers are already drying up), but neither was the price. They've been using it a bit, and yesterday, they painted.  I'm not sure if Jake has painted much with watercolors before, but he wanted some "water" for his current Lego boat to float in, so I gave him a piece of paper and he painted some.  He enjoyed it.  Patsy painted and drew for a long time, even after he went home.  One thing she enjoyed is some watercolor crayons my niece, Rachel, sent along when she cleaned out.  I had some card stock, and that is what I gave them to paint on.
I also read aloud to Jake several times, re-reading last week's library books.  Since I keep them at my house, he is learning to look forward to hearing the current ones when he comes over. I read part of a chapter book to Patsy.  We started it last summer in the camper, and it came to light when I was doing some cleaning, so she wanted me to read it some more.  It's an old Trixie Belden book from my childhood, and she likes it.
Both Patsy and Jake built Legos for quite a while.  Patsy listened to library books on c.d.  She worked on her sewing project, a skirt, for a while one day.  We went to the YMCA and exercised while both girls were in their dance classes.  On Friday night, Rob took Patsy and Jake swimming.
This is the last scheduled overnight for my nephew, Jake,  for some time.  I've had several occasions to keep him over the last month, but now will go back to my regular schedule for the most part.  I've enjoyed the extra time with him.  Last week, I ended up getting Michaela, my niece, from school one day, as she was sick.    She watched the movie Cars, which we own, until her daddy picked her up when he got off work.
Ja'Ana was able to go to a movie night at church, which was fun for her.  She was able to clean house again for money that is put into an account at church towards her summer church activities.  She is earning money for both camp and a mission trip.  My mom came for lunch and Ja'Ana and Alissa made soup for her to practice their cooking. (They make soup almost every time, and it's almost always potato- cheddar.  They made some broccoli-cheddar as well this time. There's a theme here.  Let's hope I never run out of cheese.  Good thing Grandma is a good sport!) I also showed them how to make a simple cornstarch chocolate pudding, using the microwave.  The recipe is from my "More With Less" cookbook, which I've had for years.
Our tax refunds both came already.  They came super fast, so we were delighted.  We've got good plans for the money.  One thing that we will do is get some maintenance done on the van, as well as new tires.
Our power bill went down by about 25%.  It was really high last month, and we turned a few things off, worked on shorter showers and lights off, and what ever else we could think of to cut it down.  The weather was slightly warmer and the days are getting longer, which all helps, too.
Rob had more dental work done, using our insurance, and now has his permanent crown from the tooth he broke.   Again, that is such a blessing to have dental insurance after so many years without.  Although we still have co-pays, they are so much less than we used to pay.   It's my turn this week to get my broken filling fixed.
Last fall, Patsy planted about 50-100 daffodil bulbs next to the sidewalk.  They were from my sister's yard, so were free.  They have started to bloom.  They are such a cheerful yellow.  There are many that did not bloom this year, but she spaced them nicely, and next year they will fill in even more.  I also have several other bulbs that came up and are blooming in the flowerbeds.