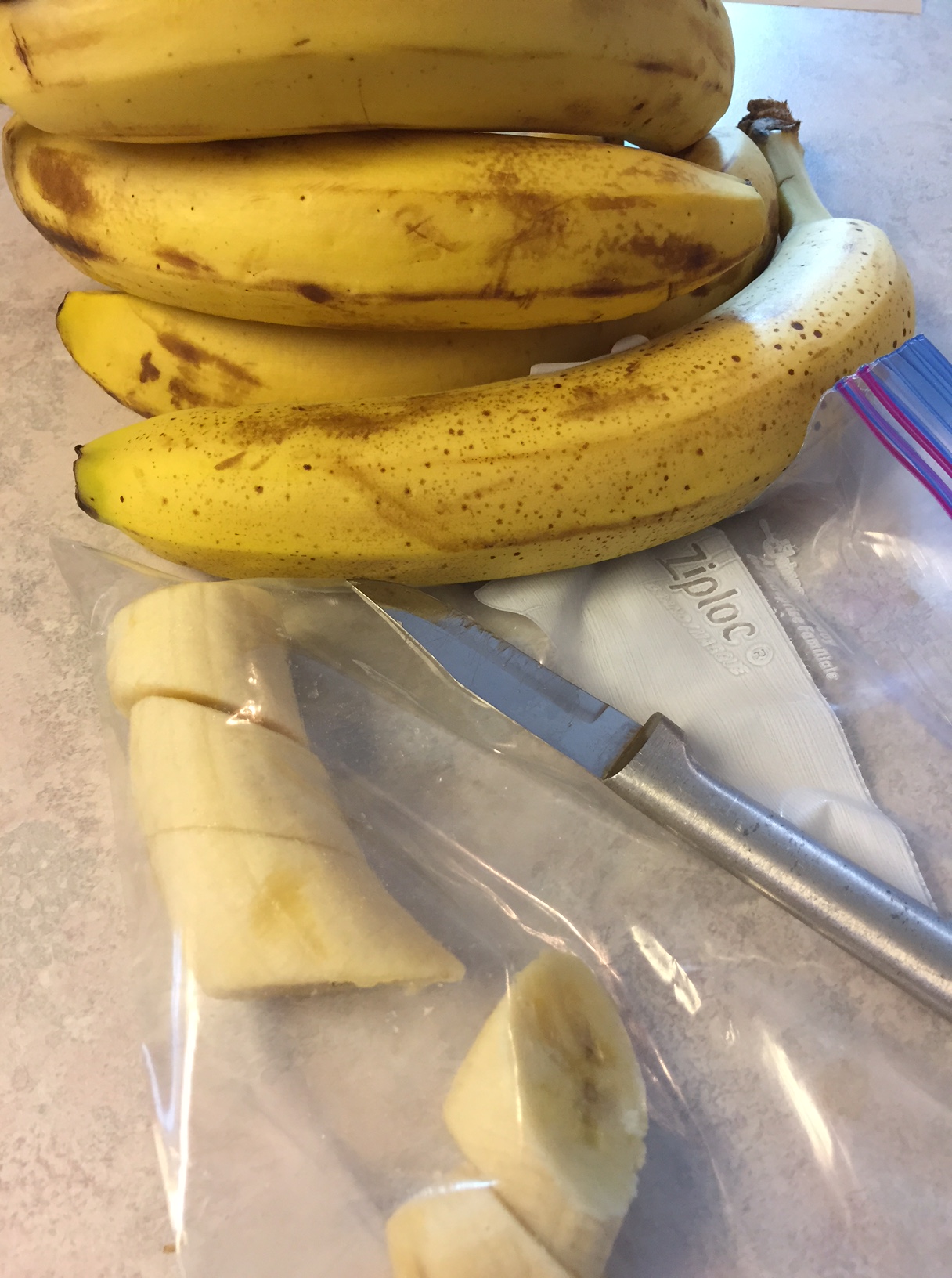 This past week turned out great with the pantry challenge.  I was able to use up quite a few things, and was actually able to re-stock some items.
So, on week 1, we spent $11.50.  We got some cheese and some 1/2 and 1/2.
On week 2, which ends tonight, we bought more groceries.  We spent $16, $18, and $4.50 at 3 different stores, totaling $38.50.  I'm not sure how, but that totals exactly $50 for the 2 weeks, a nice round number. So, since I put $50 in an envelope twice, I now have an extra $50.
I got lots of basics like celery, carrots, 1 head lettuce, 25 lbs potatoes, 4 tomatoes, 6 lemons, milk, 1/2 and 1/2,  6 bagels, 6 English muffins,  2 dozen eggs, onions, 40 tortillas, 3 apples, the bananas, and a few other things.  I hit a Friday sale at a store near my house and got 2 bags full of groceries, plus the bananas for the $18. Rob did Cash and Carry  for large packages of tortillas, onions, carrots and 1/2 and 1/2 for his $16 and the $4.50 was spent at a discount store.  He went in there to get some gum for the kids in his classroom and found the fabulous deal on potatoes.
The items that were put back into the pantry were frozen bananas–there was a bag of very ripe bananas at one store for $2.28 and I got it. We ate a bunch and I froze a quart bag for smoothies.  Rob came across potatoes for 50c for 5 lbs–10c/lb.  I had him grab 25 lbs and am now wishing I had said 50!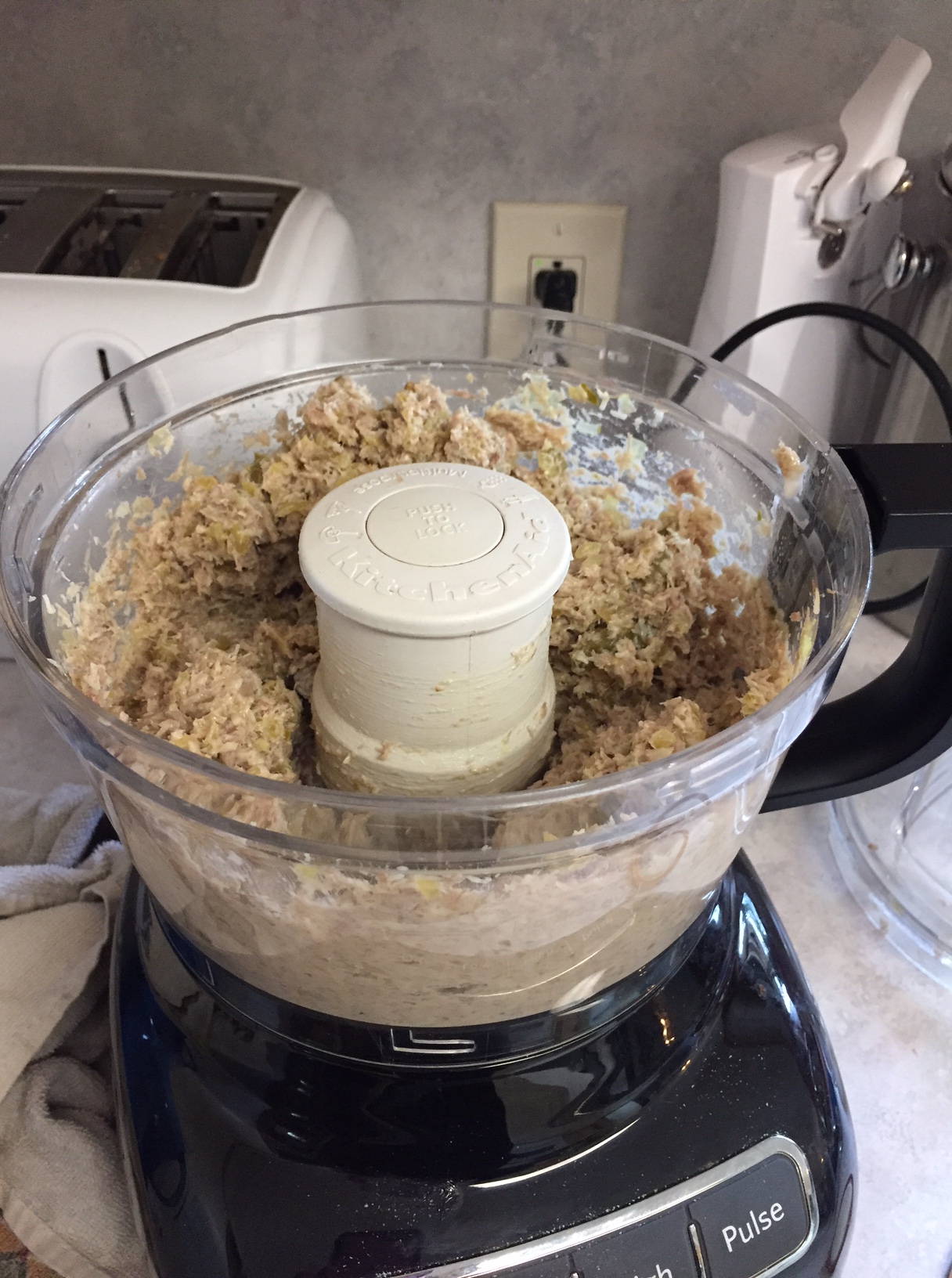 Meals:  There were muffins, cereal, eggs, some bacon and sausage for breakfasts. When Jake is here, he eats bagels a lot.  In fact, the entire bag I purchased on Friday has been eaten by him and some others.
Lunches:  I ground turkey with bread and butter pickles and Miracle Whip for sandwiches and we ate that several times. This was the end of a bag I found in the freezer. Rob always packs a lunch to work and he takes leftovers, sandwiches, fruit, crackers–whatever he can round up. He also takes coffee in a thermos every day.  Patsy packs a peanut butter sandwich daily, and takes fruit, etc. as well.  J and I ate a lot of soup, burritos and leftovers. I made rice and stir-fry on the day my mom came for lunch.
Dinners:  We ate a lot of turkey-rice soup, chili-mac casserole,  chili, a lot of tacos/burritos and refried beans.  We had pizza.  We ate broccoli, green beans, baked potatoes, rice, and lots and lots of beans.  Rob cooked some steak one day while I was gone.
Extras:  I made cookies and Patsy made Rice Krispie Treats for when we had company.  We had popcorn and corn chips.  We also used several odds and ends like partial bags of chips and crackers and the kids had some popsicles that were in the freezer.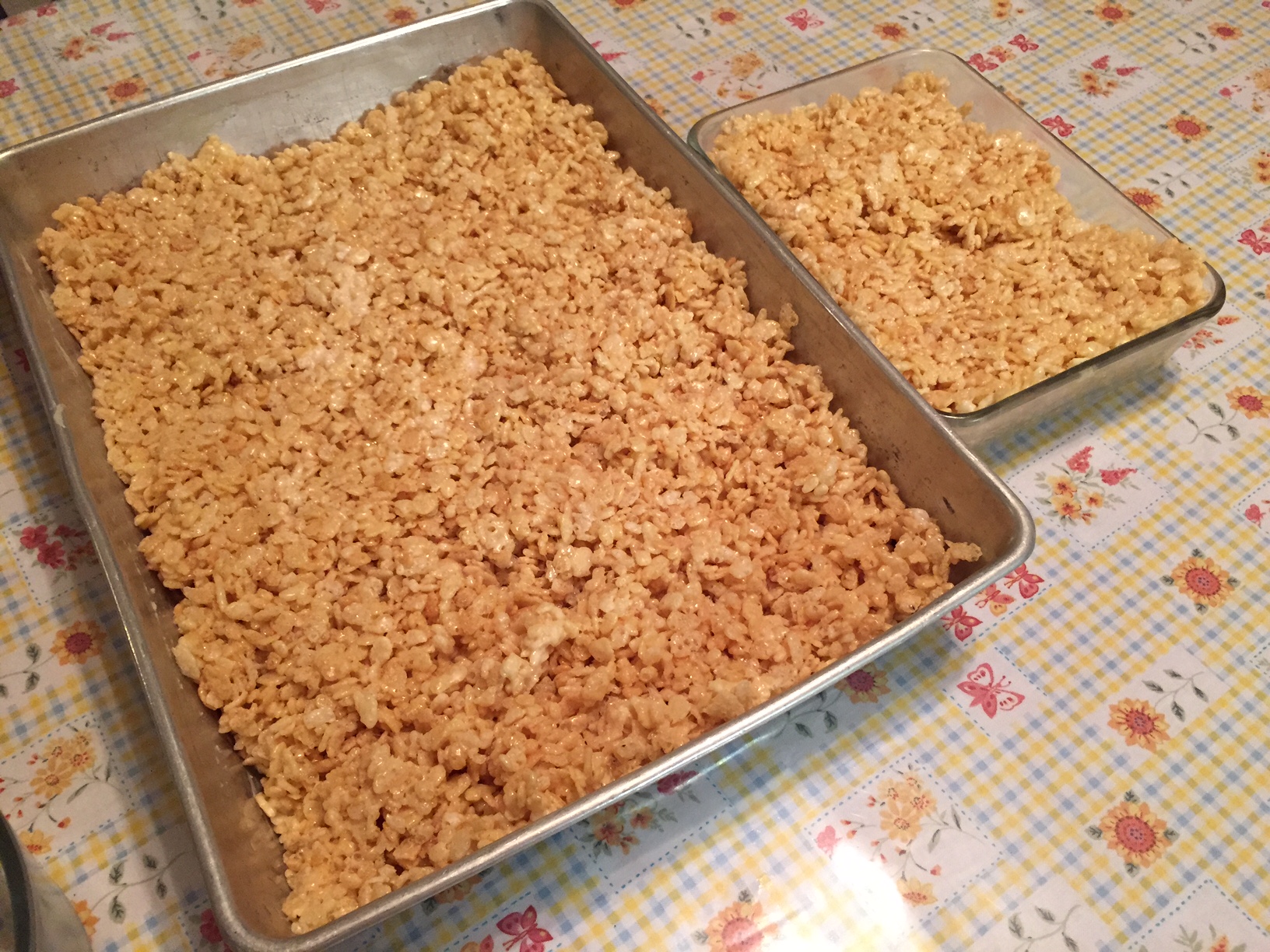 Items used:  Canning: Several jars of home-canned items including peaches, tomato products, green beans, pickles, salsa, jam, applesauce, and more.
Frozen:  hamburger,  steak, turkey from Thanksgiving, chocolate and white chocolate chips, butter, several kinds of peppers from 2015's garden in re-fried beans, 3 chicken tenders for stir-fry, frozen corn from 2015's garden, broth, bread, and more.  We carried in several loads from the freezers in the shop throughout the week.  I can start to see a little space in the freezers.
Pantry:  Several pounds of pinto beans, white rice, cereal, marshmallows, baking ingredients like gluten-free flour, sugar,cocoa powder,  etc., spices for cooking such as chili powder and poultry seasoning, gluten-free noodles, coffee, tea, hot chocolate (packets), corn chips, popcorn, peanut butter and more.
We had a church event. My sister was in charge of feeding 40-50 people.  She chose taco bar. I made a lot of refried beans as my contribution, and then enjoyed a taco lunch there. I made 2 crock pots full, and served them to our company as well as church, plus we ate them several times.  J and I ate over at my sister's house a bit, and we took a few food items over there.  My brother-in-law took J, me and Alissa (his daughter) out for lunch after our homeschool meeting on Friday (we finally had our 1st semester grade meeting).  We took Jake for happy meals a time or 2.  (This is a different fund than my regular grocery budget)    My mom came for lunch one day.  On Sunday, we had friends over and there were 13 of us in all.  We served taco bar for them.   We got the kids a burger and some fries one day while we were out and about.  The funds for that came out of another fund–entertainment, but I thought I'd mention it to keep things real.  Also, sometimes the kids pitch in for something they want that's not in my budget, such as french fries or a $5 pizza (which they promptly eat) and one day Jake's mom sent him with money so we could stop and get him something on the road since he had not eaten yet.  Lovana swoops in on the weekends and cooks enough food for the week ahead as she prefers to eat a certain way.  At her new job, she can eat whatever she wants while she is there, but this is the first weekend where she didn't cook it all ahead of time–just took a box of ingredients from here.  (From here being the pertinent  phrase in this case)
My point is, it all averages out.  If I serve 15 meals per day for 7 days, I am serving 155 meals per week, plus snacks.   I'm putting out ingredients for that many or more even though every one of us does not eat here every single meal.   I am using lots of pantry ingredients, and spending very little money while still stocking up a little bit, so I'm feeling very successful. I'm making a dent in my stockpile, while still grabbing that great deal on potatoes.   I have had to hold myself back from my usual habits of stocking up a lot when I find a great deal–but so far, so good.
I'm going to plan some meals for the week ahead in the next couple of days.  Until I get it done, I'm going to fly by the seat of my pants and plan one day at a time.  I have a busy week, so hopefully, I'll have some inspiration quickly when I do write the list out.  Until then, there are lots of tortillas and refried beans left:)