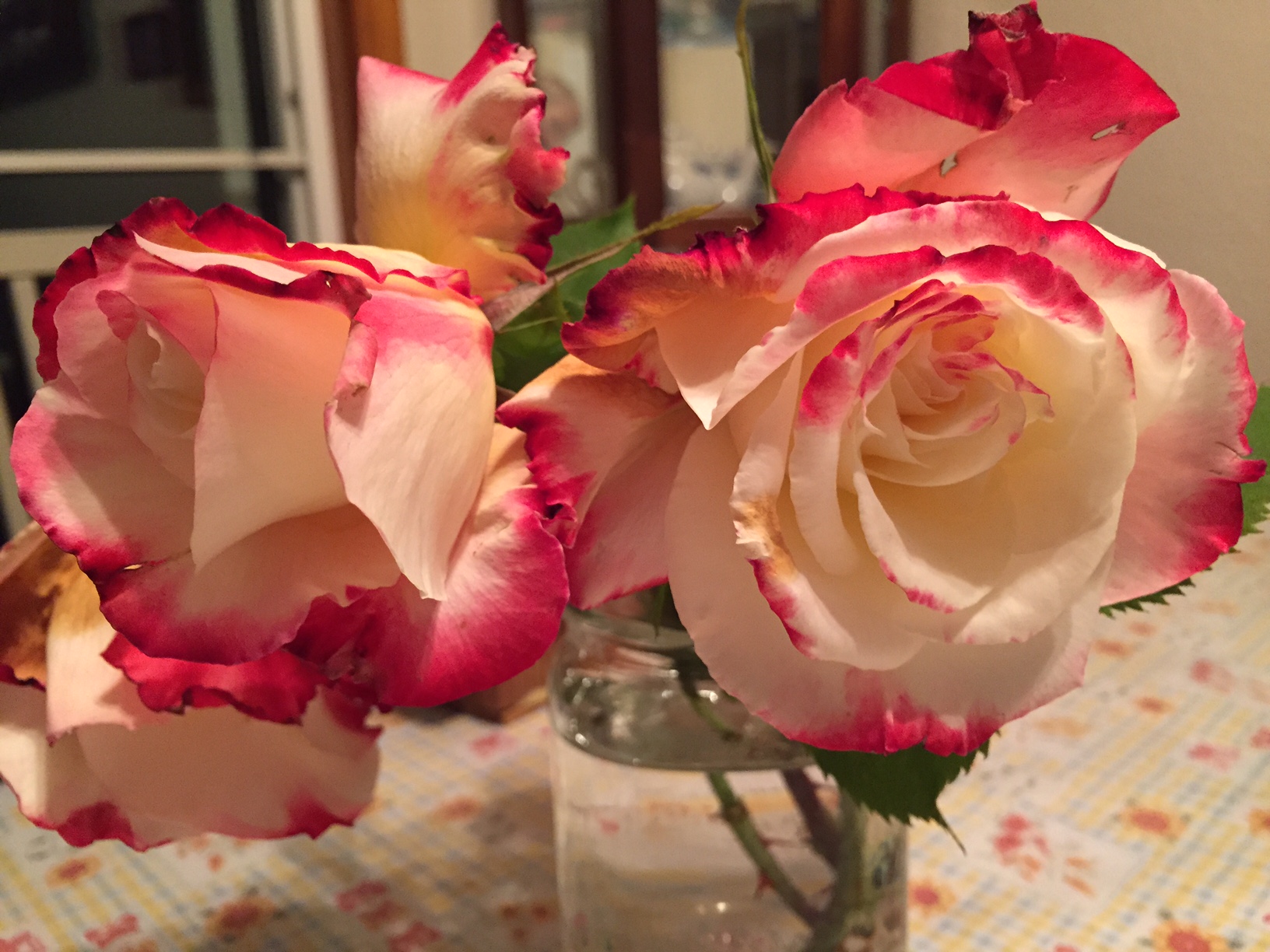 This was indeed a week of simple pleasures.  It was frugal, too.  We started the week by having Rob grill up chicken and pork.  We put it in the fridge to use for the week, and served it plain, with side dishes and also in tacos shells all week long.
On Tuesday,  Ja'Ana made some excellent pork in the crock pot as well.  Alissa made mashed potatoes.  Paired, they made a pretty happy meal:)  The pork was put in the crock pot with apple juice and a little honey, sprinkled with salt and pepper and 1 onion.  That's it, and it turned out so tender, flavorful, and delicious.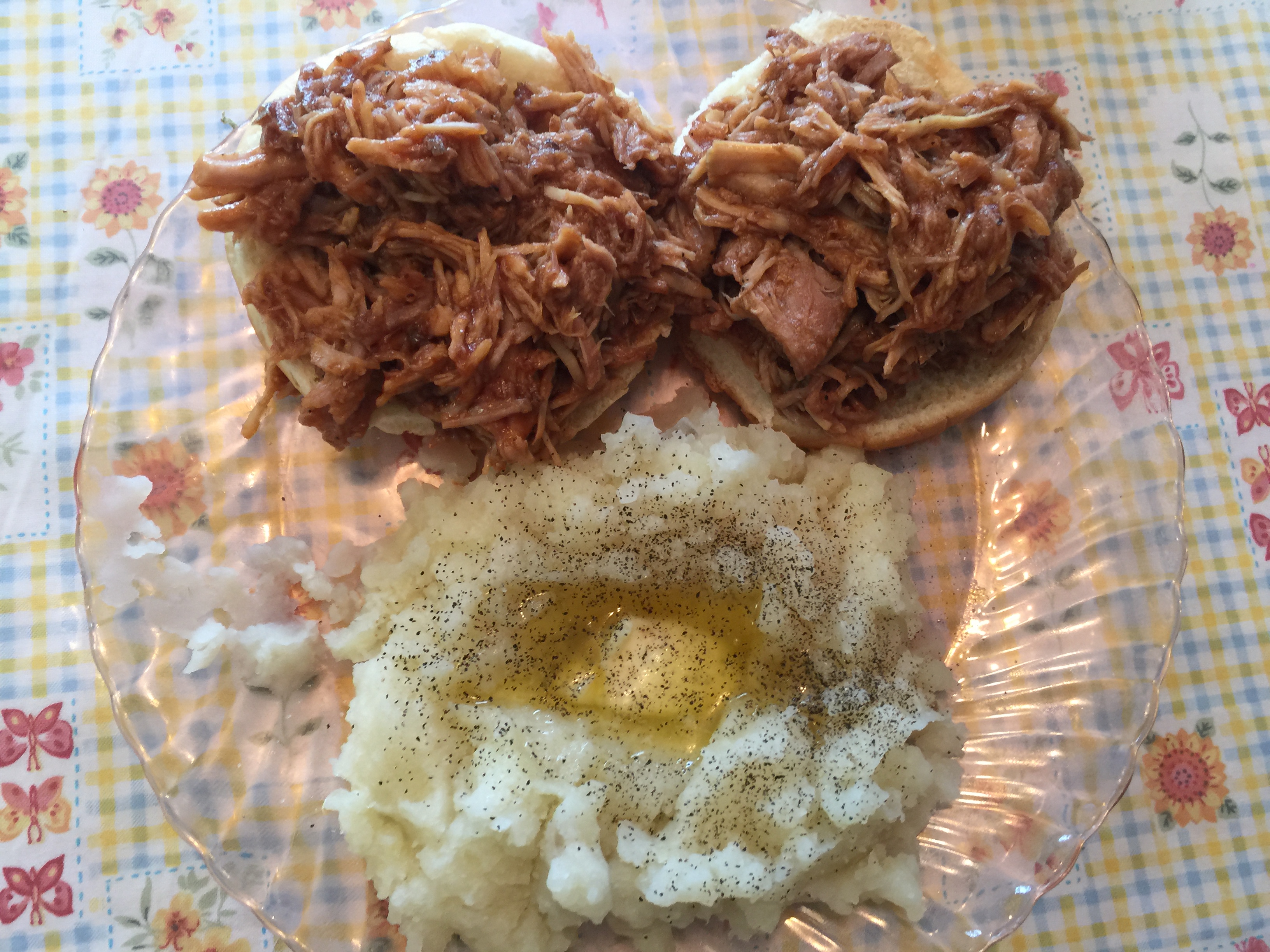 On Wednesday, my mom and aunt came for lunch.  My aunt brought the beautiful and pleasantly scented roses pictured above.  We had pork and chicken, herbed roasted potatoes and Marion berry cobbler.  We used the pre-cooked meat from Sunday, and Alissa made the potatoes and cobbler.
By Thursday, the weather turned sunny and gorgeous.  I took the home-schooled girls on a field trip.  They have a project going for Biology that involves some outdoor work.  We've been putting off all the experiments/labs that need to be done outside because it's been so rainy.  I can see we'll get them done now!  We went down to a park by the Willamette River.  While we were there, we enjoyed the view of the paddle boat that is docked, and gives tours, at the waterfront park.   There is more than one Sternwheeler boat in Oregon This one is the Willamette Queen.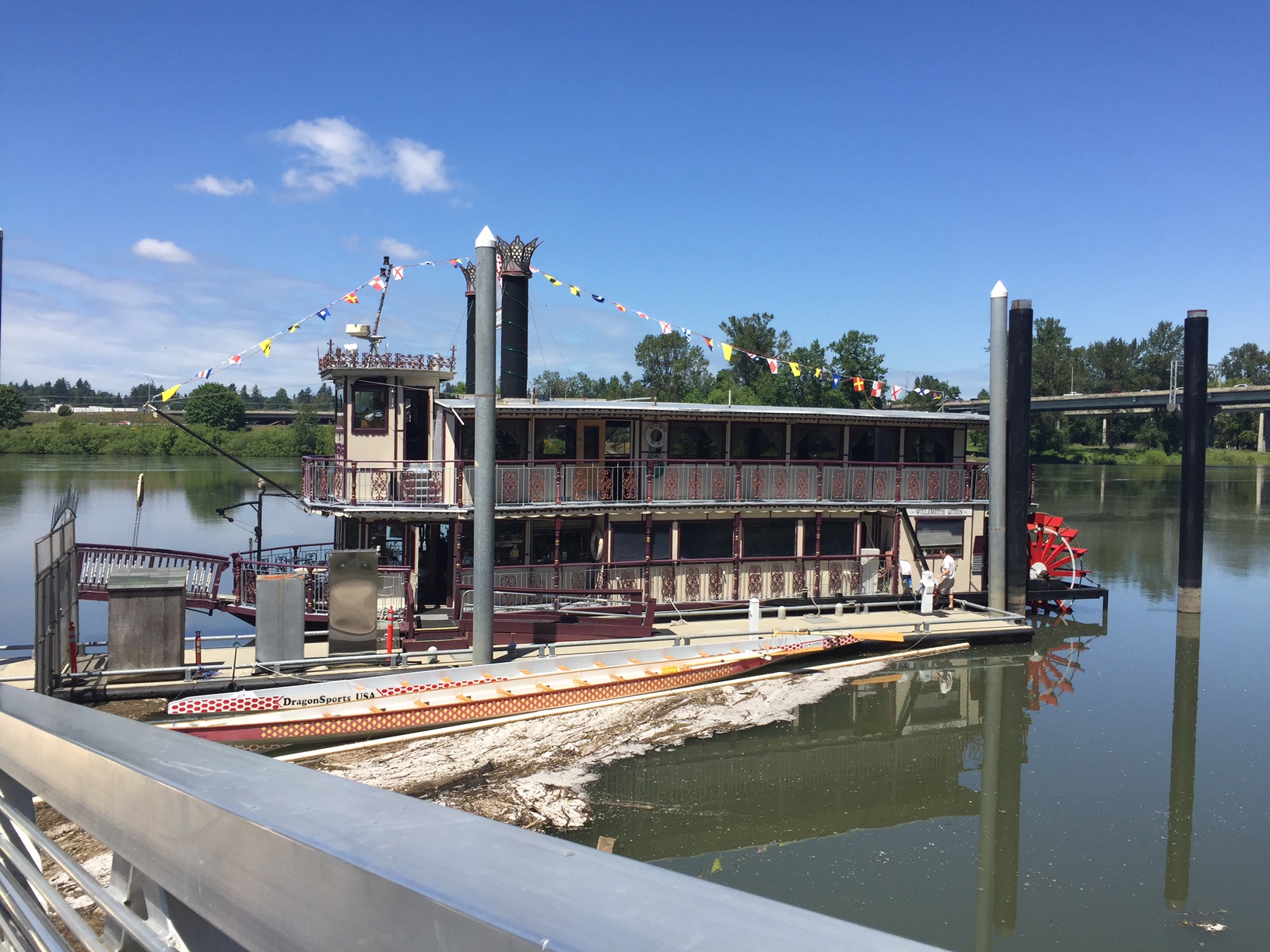 I was able to do a lot of yard and garden work this week.  I planted flowers, weeded, hoed, planted more veggie starts and seeds, and more.  My mom and aunt liked looking at my yard, and I ended up over at my aunt's later in the week to see how hers was coming along.  I went shopping a few times, looking for a hanging basket for my Mom that had begonias in it.  I didn't find one I wanted, but usually found something else that would fit nicely in MY yard:) 🙂    So, I got an empty hanging basket from my aunt that she didn't need and bought small plants and filled it.  I really like how it came out.  It's sitting in my yard now, and I'll get it to her soon.  (She reads this, but is totally in on the plan, so I'm not ruining her surprise!)
One of the most interesting things I have blooming right now is my rhubarb plant.  I never knew they could bloom so largely.  I have always cut off the blooms as recommended before.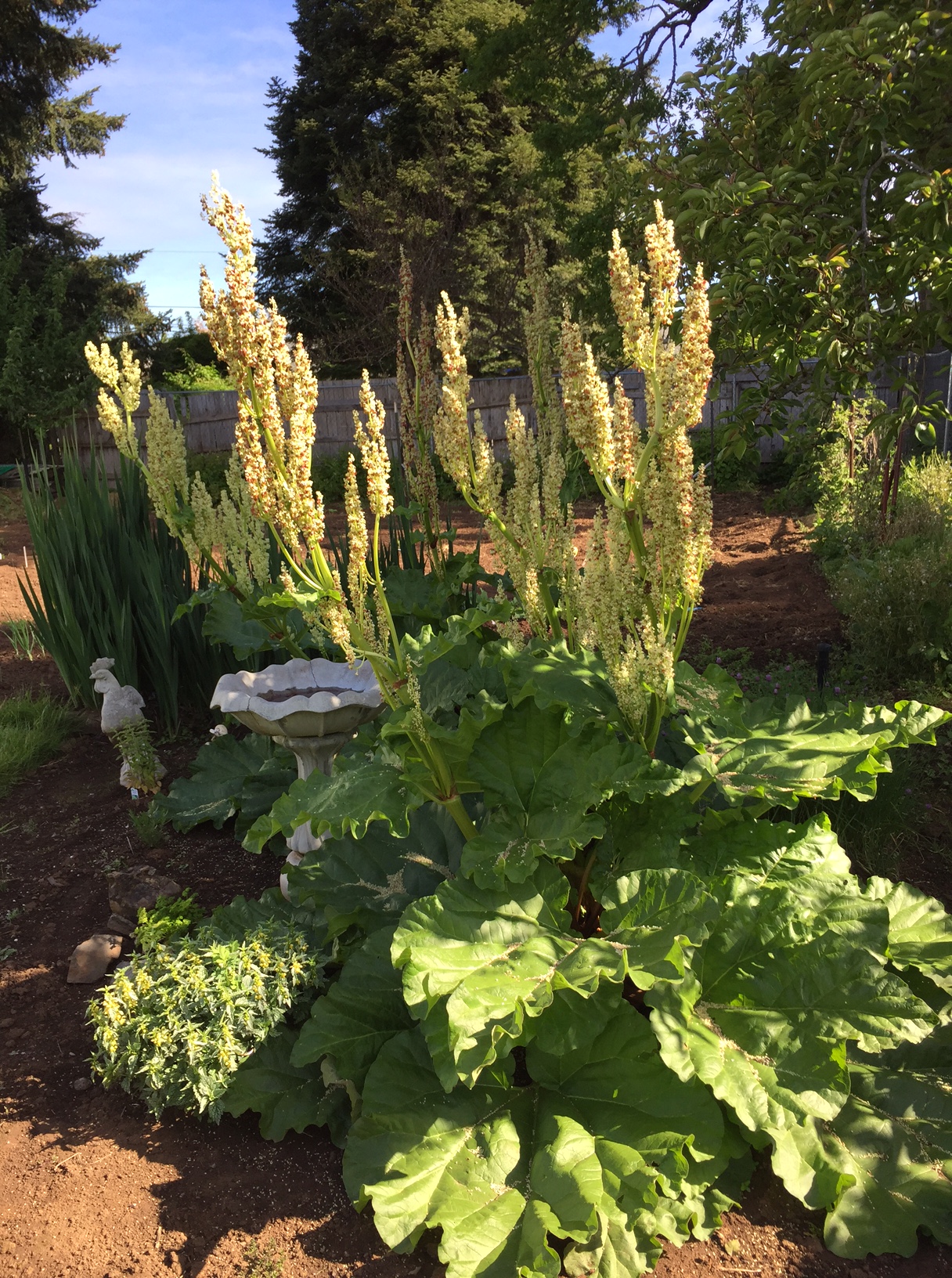 I got a bag of Ritz chips/crackers for free from my Friday download from Fred Meyers.  I also bought  a 1/2 price hydrengia.    It is quite small, but it will grow:)  I'll try to plant it out soon.
We found the orthodontist is ready to put the bottom braces on Patsy's teeth.  When checked, the insurance is going to cover 80% of them.  Thank you, Auntie Jan, for looking through all those insurance choices for us last fall!  (She helped us sort through SO many choices)  I knew she'd be the first one to be delighted after putting in the effort for us.  I knew we wanted to choose a choice with orthodontics, because I knew this day was coming.  We are going to have them put on in early June.  He had needed to work on the top teeth for a long time (3 years approx), because she had a tooth that had never come in.  There were braces, then there was oral surgery, a chain attached, the tooth pulled down, teeth straightened around the offender, and more.  I'm excited that we can move on with this project while we have dental insurance.
I took Jake to a park one afternoon for fresh air and exercise.  It was a LOT longer walk then he led me to believe, and I ended up carrying his scooter a long ways.  Thankfully, Rob was in the neighborhood (sort of) and came and got us when we were done, scooter and all, and hauled us home.
The girls are getting dance pictures done this week.  They looked great in their costumes for the upcoming recital!!!!!!!!!!!!!!!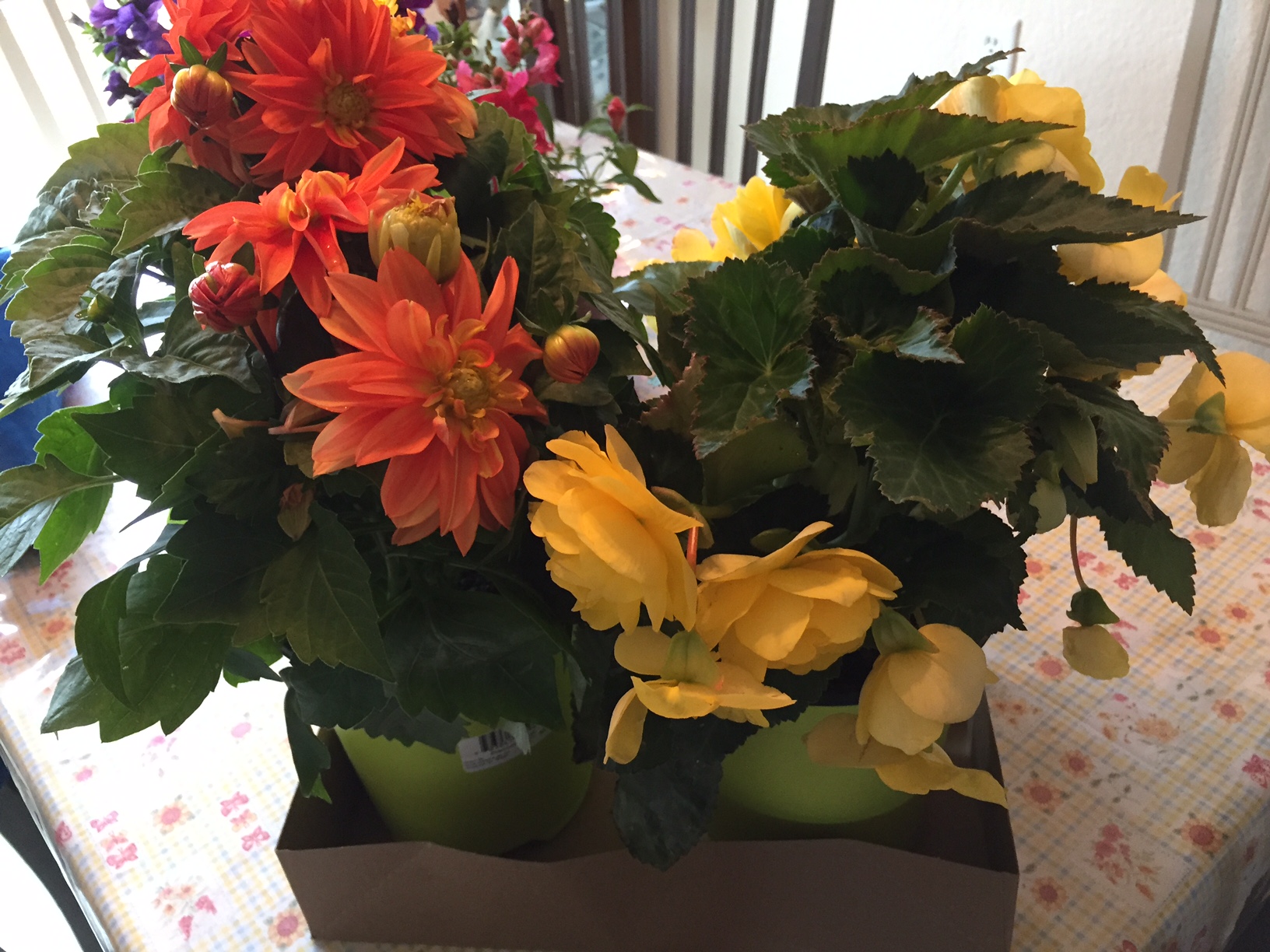 It's all about flowers for me at this time of year!  We bought those flowers for his mom.  This way, she can plant them wherever,   I hope your week went as well as mine did. What did you do?