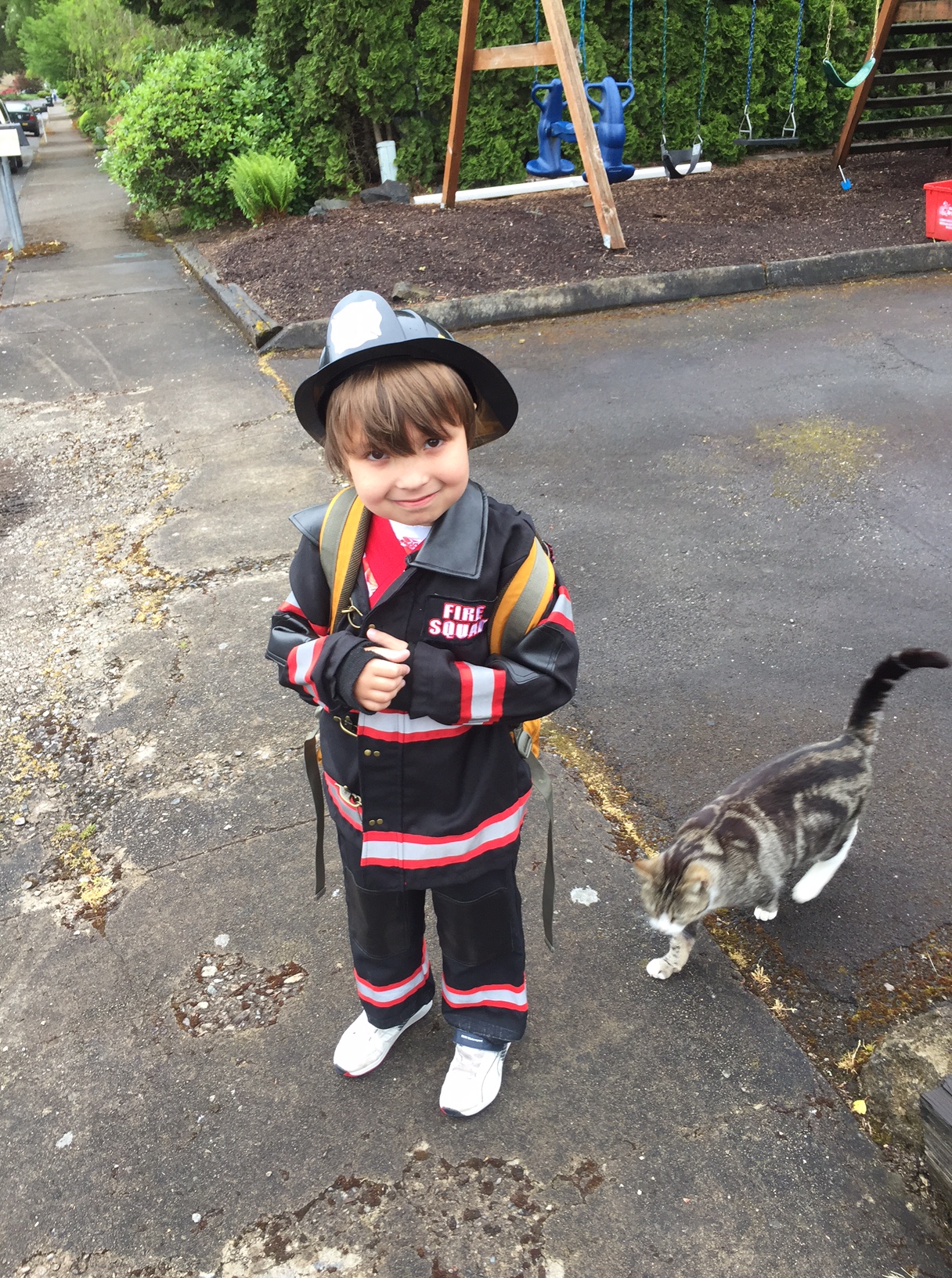 Jake wore his firefighter suit to school Friday.  He said it was super-hero day, and chose the fireman.  He knew it wasn't Superman, and asked if a fireman was a super-hero.  I said they were to me.  (He really, really wanted to wear that costume)  He changed during the day, but I thought it was adorable.
We had a crazy, wild week.  If you've been reading this blog for any time, you know that we are quite busy and active all the time.  This week made those weeks look calm and boring!  But, I'm here to say, we we able to keep it quite frugal throughout it all, while having lots of fun in the meanwhile.  I mean, how could I NOT have fun with such a cute fireman?
Monday, I did homeschool then went to work, as usual.  I made Sloppy Joes in the Crockpot, and left them cooking on the counter for the family.  I got home around 6:45, as usual, and gobbled some up, too.  One fun, frugal activity from Monday was taking Jake down to the river to throw rocks into the water.  I could not have paid any amount of money for the amount of fun he had doing that!  I've never met a little boy who doesn't like throwing rocks into rivers:)
Where Jake is concerned, the bigger rocks were better!
On Tuesday, we went to visit Harnet and Danite with my sister Rosalie.  This time, we met at a park on the Willamette River.  There were ducks and geese to feed, playground equipment, a picnic area, and more.  We kept it frugal by bringing food.  Each one of us 3 ladies brought enough for all of us–we had to chuckle at the amount of food there was!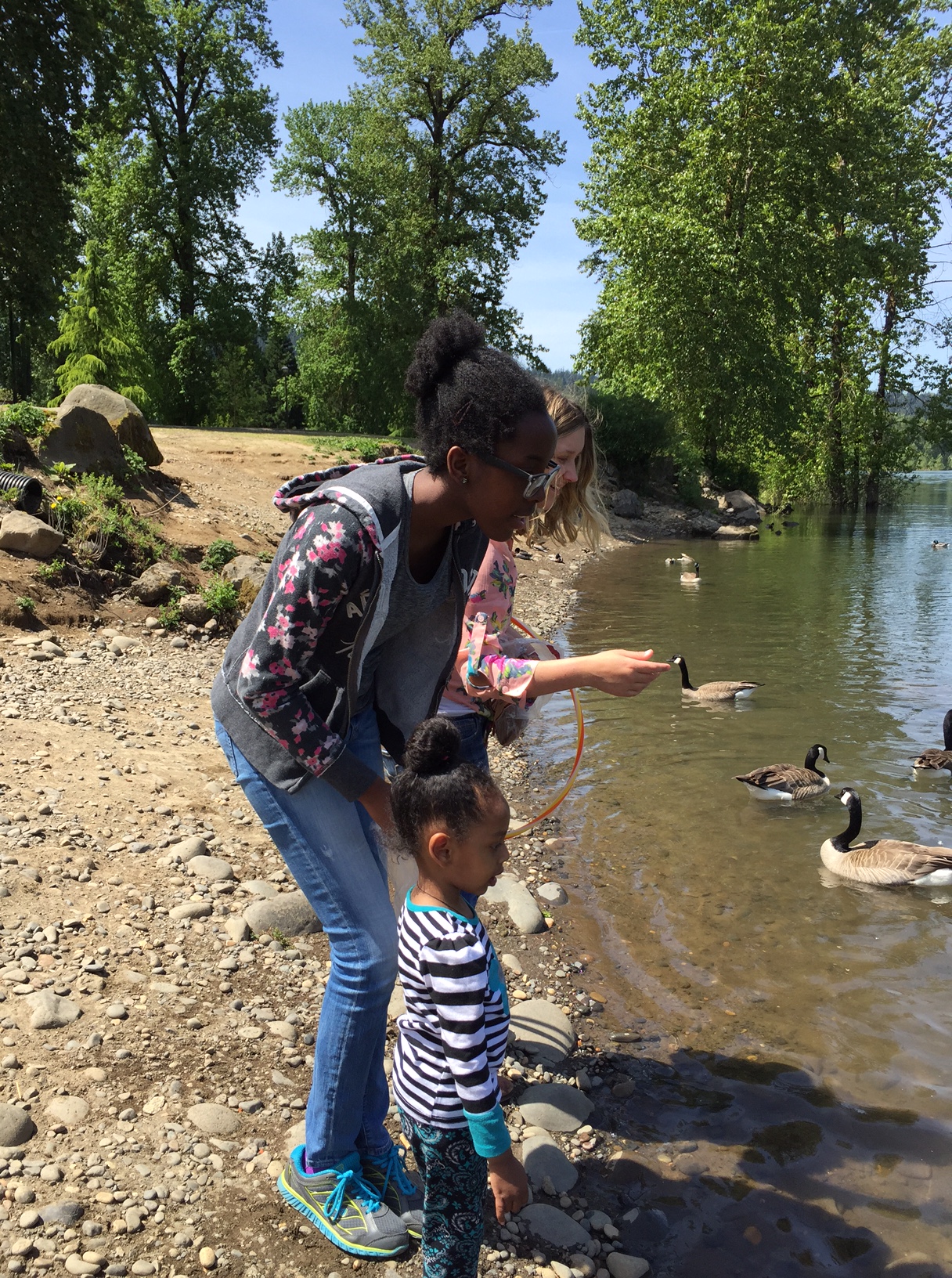 The girls are really loving getting to know Dinuite.  She, in turn, is loving them and often insists that they are coming, even on days they aren't.  Her mother, Harnet, is taking classes at community college, working on English and citizenship.  She is getting better and better at English each month and we can really tell a difference when we see her.
We kept it frugal and fun by taking a picnic, old bread for the geese and ducks, and simple, inexpensive toys to keep little Danuite busy.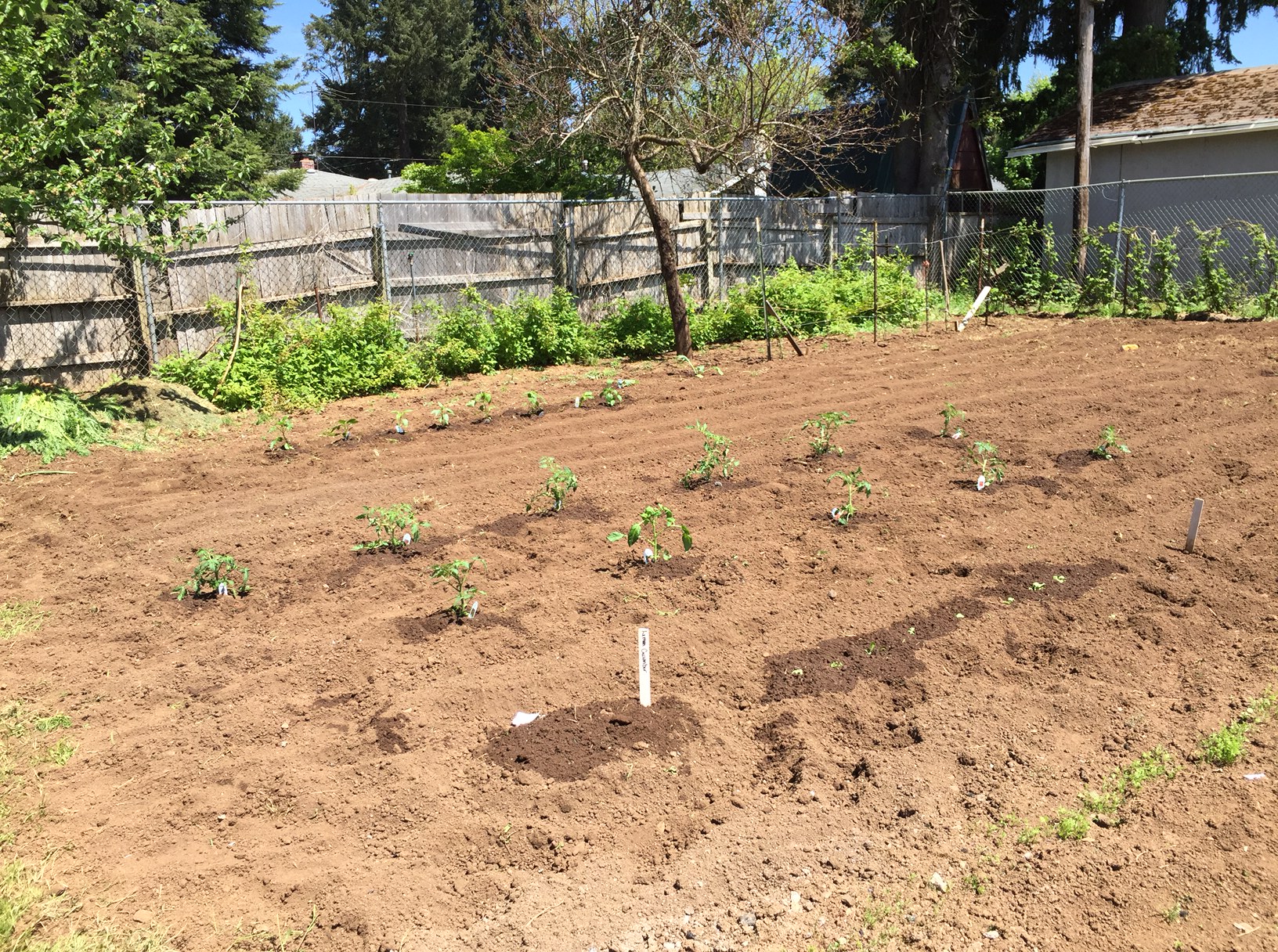 I started planting a few seeds on Tuesday night, but couldn't start until 7 because I was at work, so I had much more to do.  By Wednesday, I was getting nervous.  Rob had spent hours tilling it up and getting the dirt into good shape over the weekend and Monday evening,  and it was going to rain on Thursday.  The girls and I did some crucial bookwork and then ran to Wilco for some starts of both veggies and flowers.  I purchased only what I thought I could get planted before the rain.  The girls helped me and we got the garden planted, and even 1 flowerbed.  I finished late afternoon/evening once they had moved on to other activities.  I was so glad I did.  Once it started raining, it poured, and hasn't stopped since.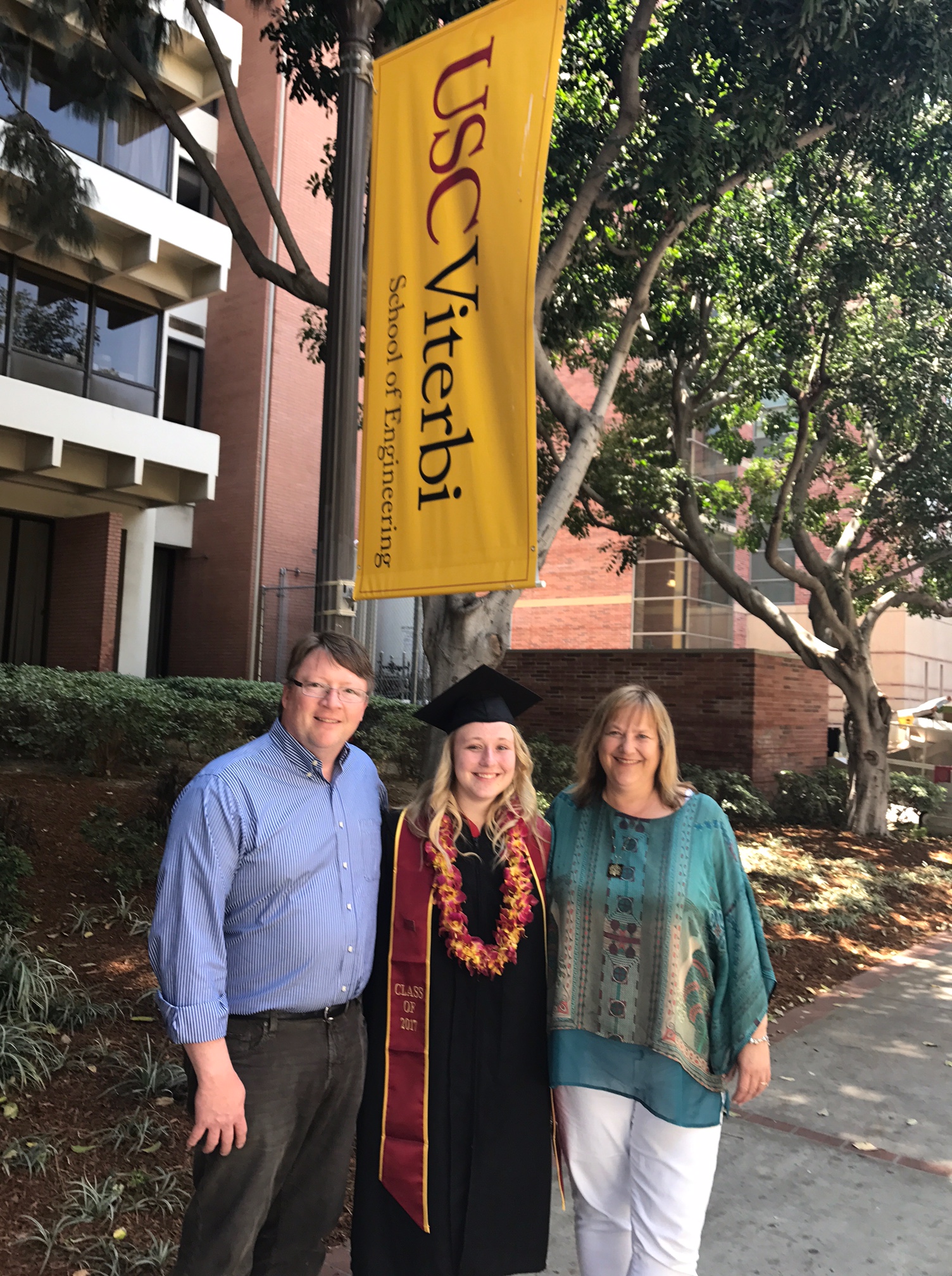 On Thursday, Gail and Ron took off for a few days to see their oldest daughter, our niece, Caitlyn, graduate from USC.  We took care of the kids.  I'm happy to say that we had a good weekend.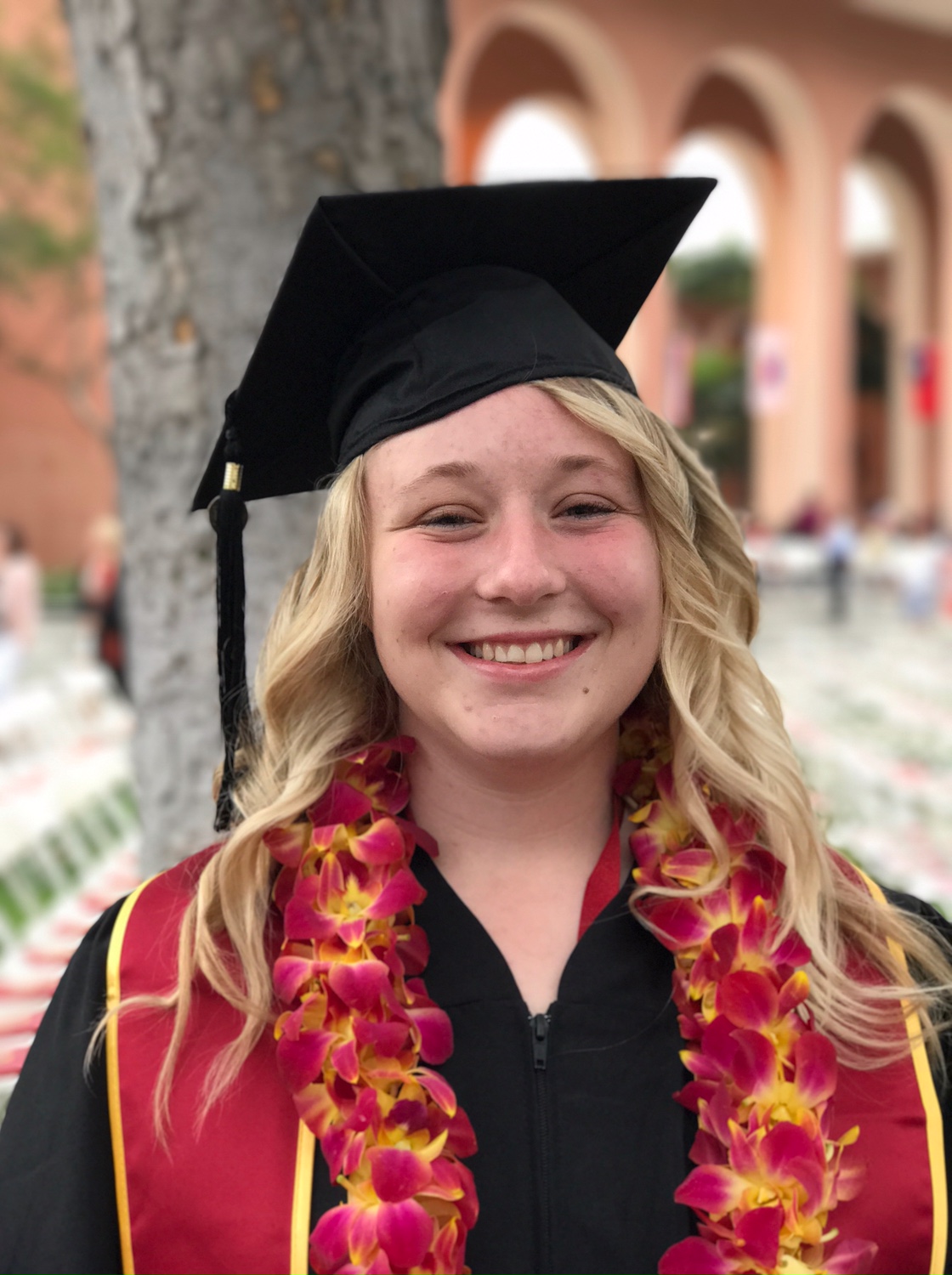 We are so proud of her.  Her degree from USC is bio-chemical engeneering–whew!  She graduates again at Biola University in a few days–she was in a special program between the 2 schools.  She will have 2 degrees now, one from each school.  Although I'm not exactly sure of the names of all her degrees, I am supremely sure that it was extremely difficult, and I'm so glad she's made it through.
I will say the weekend was a blur of cooking and cleaning.  Rob and I divided and conquered, and I slept over there 2 nights, and brought Michaela over here 1 night. She doesn't like to be away from home, so that was a stretch for her.  Jake slept at my house with uncle and cousins 2 nights.
Overall, I was pleased with the amount of cooking I did for everyone, and the lack of  eating out.  It did take a fair bit of planning to make sure we had everything we wanted at the whichever house we were at, but we stayed within our budget with the few items that were eaten out and used a lot of food from the grocery store to keep everyone fed and happy.  I feel like we had a good balance.  We did not pay for entertainment this time–no movies, etc.  We were just too busy with scheduled activities, chores and cooking.   It went well, and the children were terrific!  Now it's off to bed with me…I'm wiped out!  Fun, but tiring–that's for sure.