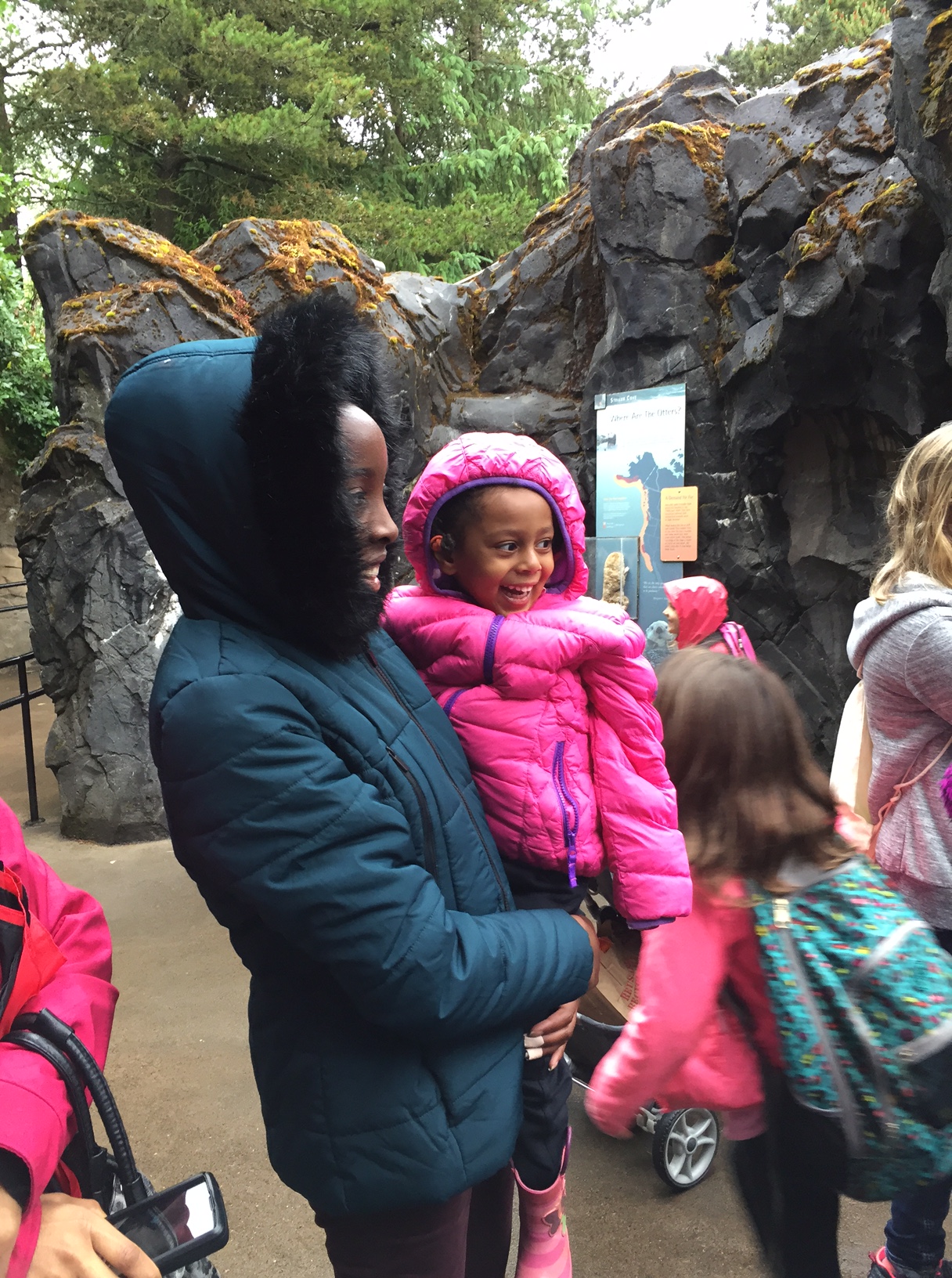 Today, there were 2 birthday girls celebrating at the Oregon Zoo in Portland,Oregon.  Both Ja'Ana and our little friend, Danait had their birthdays today.  J is 17, and Danait is 3.  We decided to have a celebration together and chose the zoo for the big day.  My sister, Rosalie, Danait's mother, Harnet, Alissa and myself all went along.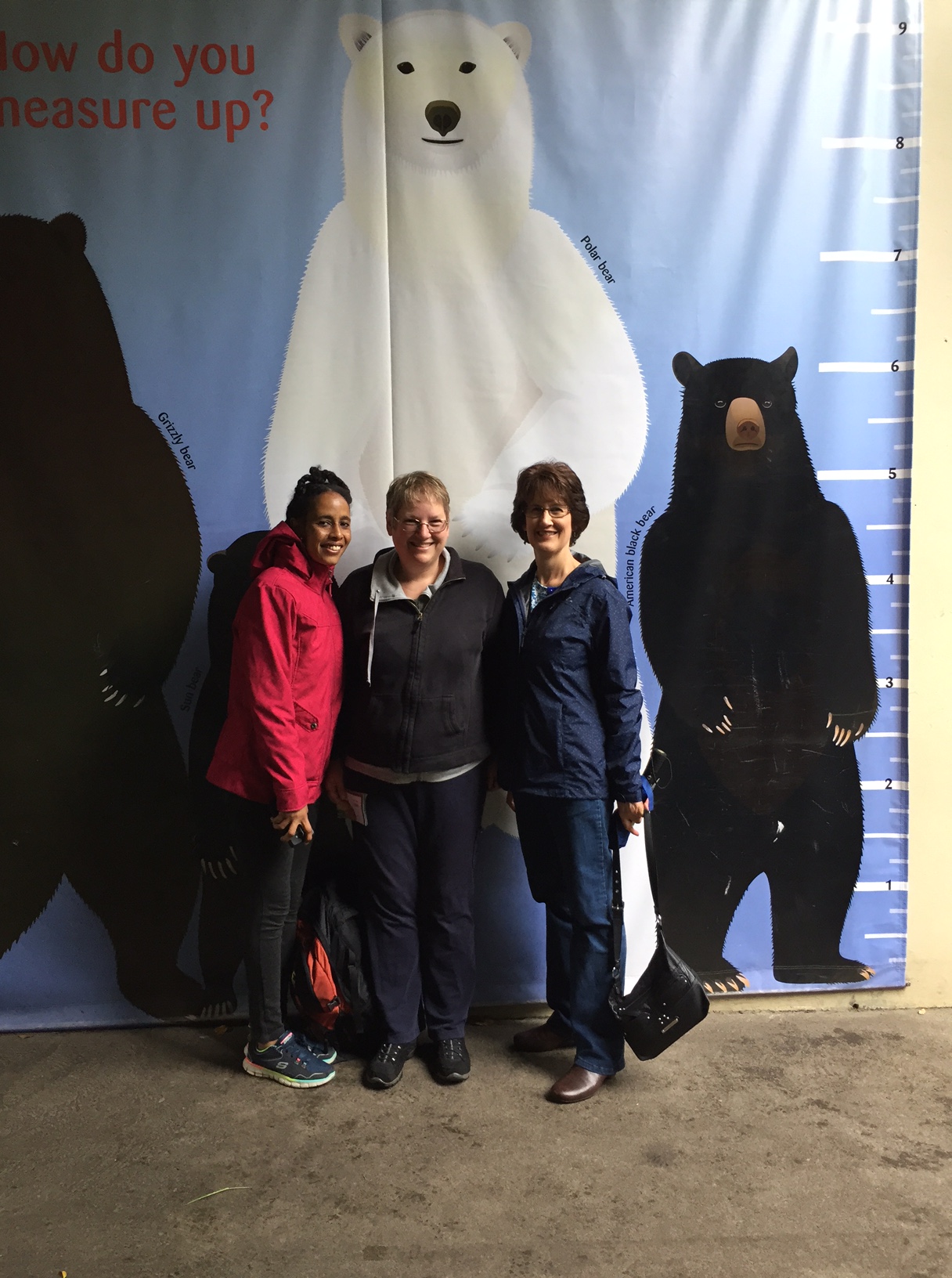 After several great sunshiny days, the weather man began to predict that today would include heavy rain, up to 45 mile per hour winds gusts, and cool temperatures.  Rosalie and I debated the issue and decided that we needed to go anyway, even if we didn't stay too long.  When a little 3 year-old is promised animals, she needs to have animals.  The big girls would have done something else without blinking an eye, but cheerfully agreed to give it a try.  Our plan was to dart from covered area to covered area, dodging the raindrops in-between and holding big umbrellas over our heads when needed.  We did decide not to pack a picnic as planned, but instead to buy lunch at the little cafe, where we would be assured of a roof over our heads while we ate.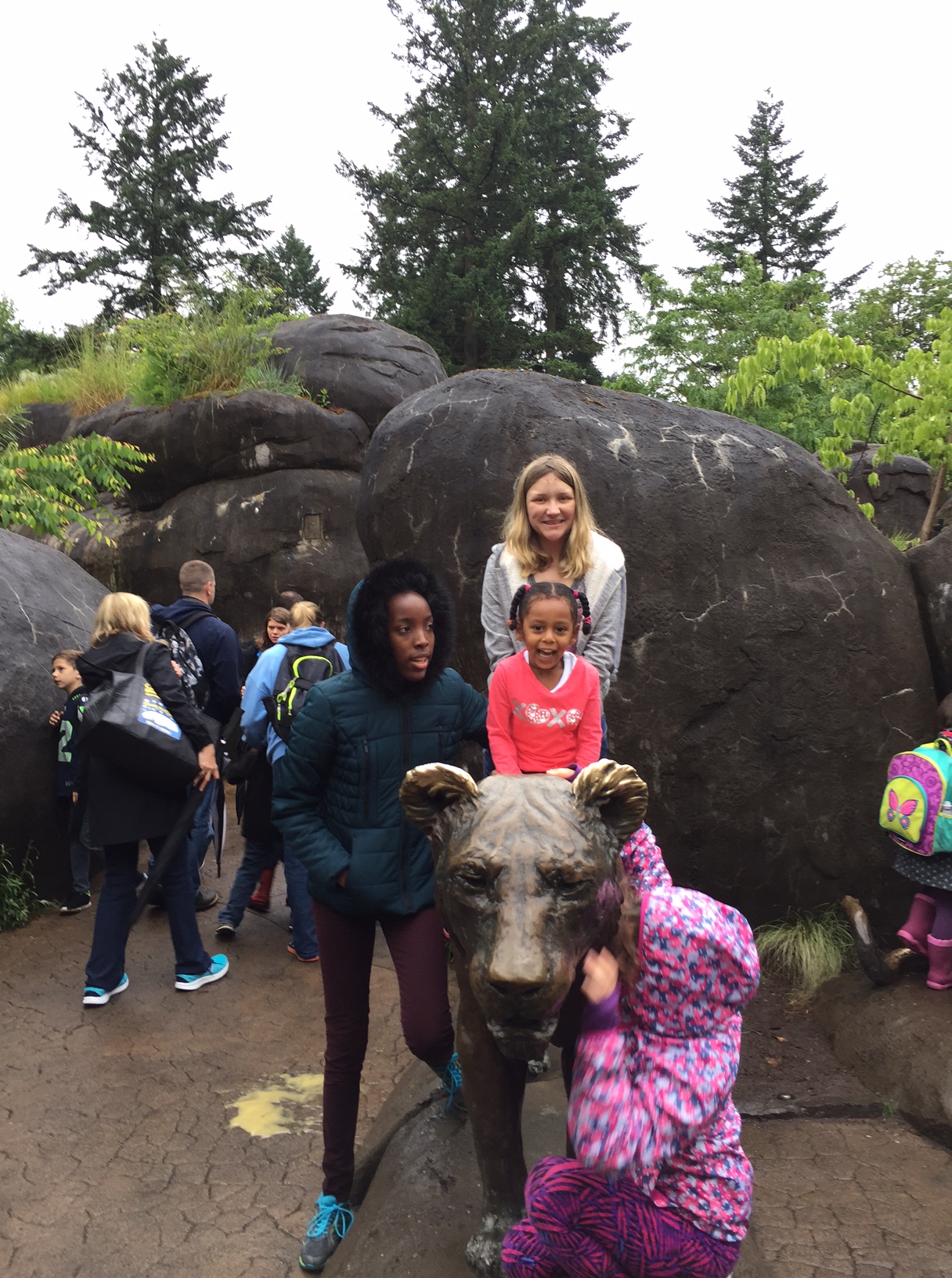 We had a blast!  The rain held off until we were eating, praise the Lord!  We chased after a very excited little girl, who was enthusiastic, to put it mildly, to see all of the animals, but especially the monkeys.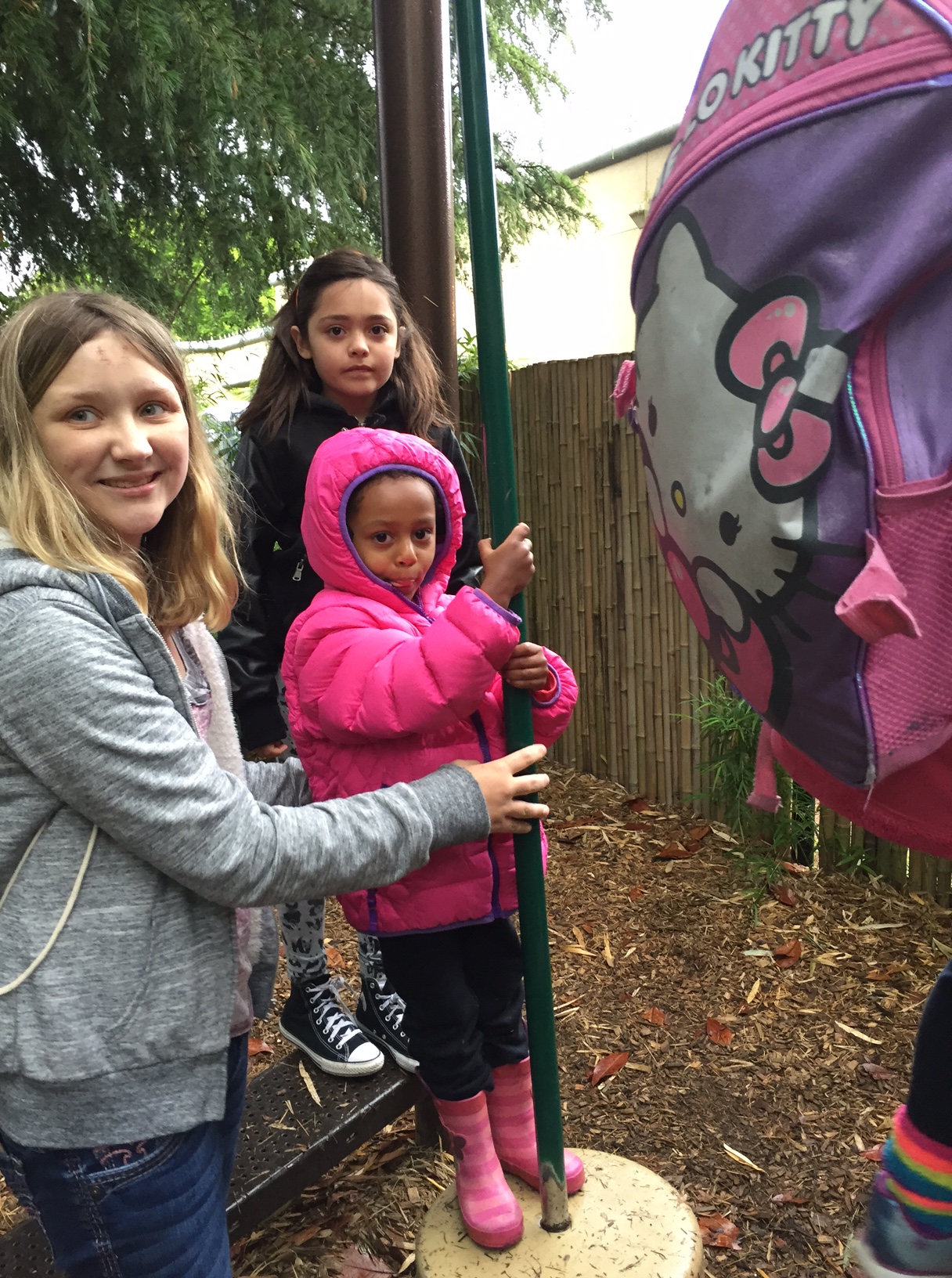 She loved climbing on this toy, as long as Alissa helped her stay on.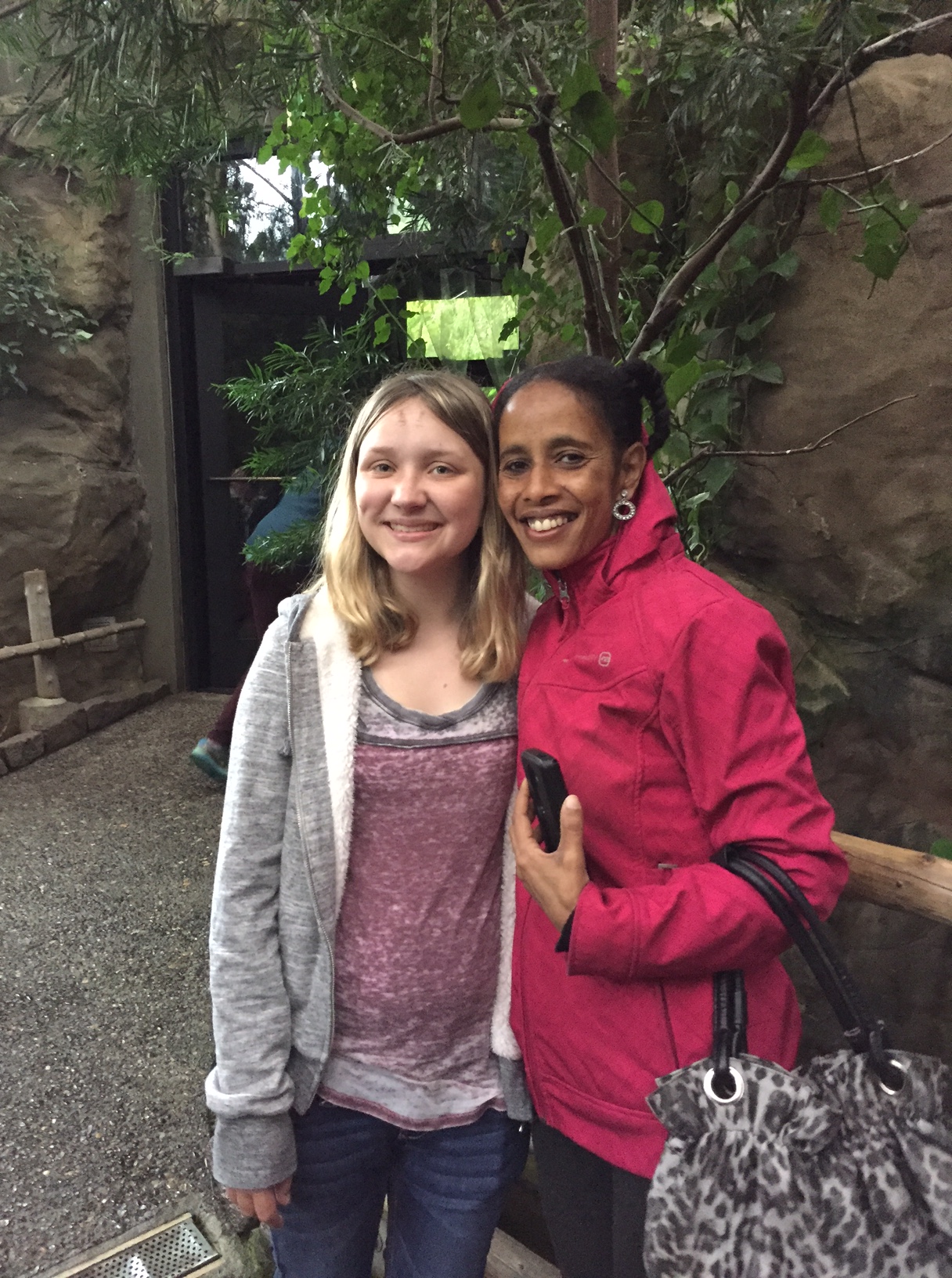 Harnet sure appreciated how much the big girls helped chase little Danait around.  That child is quick.  She reminds me so much of Ja'Ana when she was little.  Harnet is so kind to the girls, always telling them how much she appreciates them playing with Danait, and how she wants Danait to grow up just like them.  What an encourager!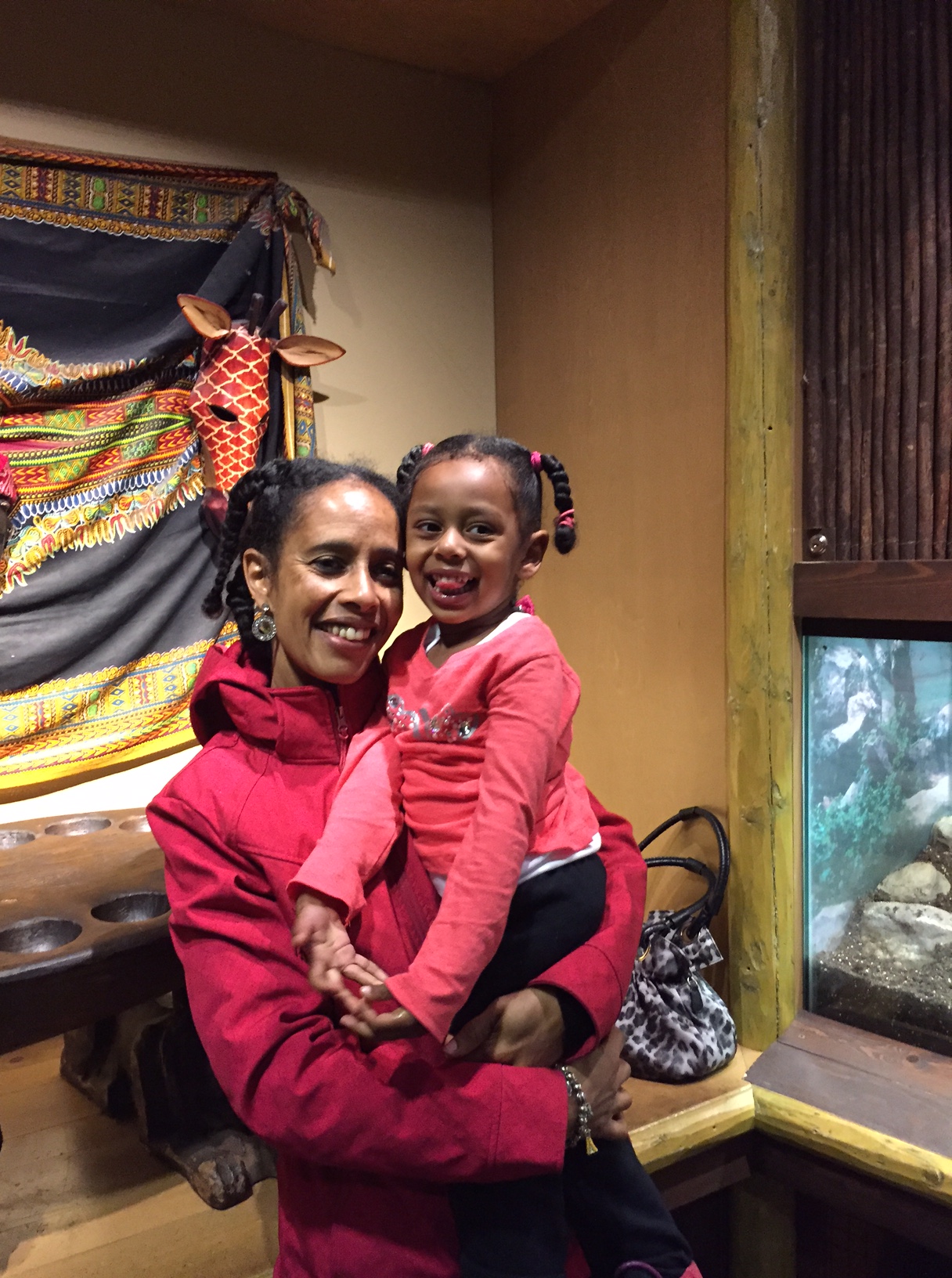 They enjoyed the African exhibit a lot.  The giraffes reminded Harnet of her home in Africa, as they had them there.  The elephants and lions were also a hit, but little Danait wanted to see the monkeys the most, and watched them for a long time.  They obliged by throwing their food (some kind of leaves and fruit) around after taking a bite or two, and jumping around a bit.  So exciting!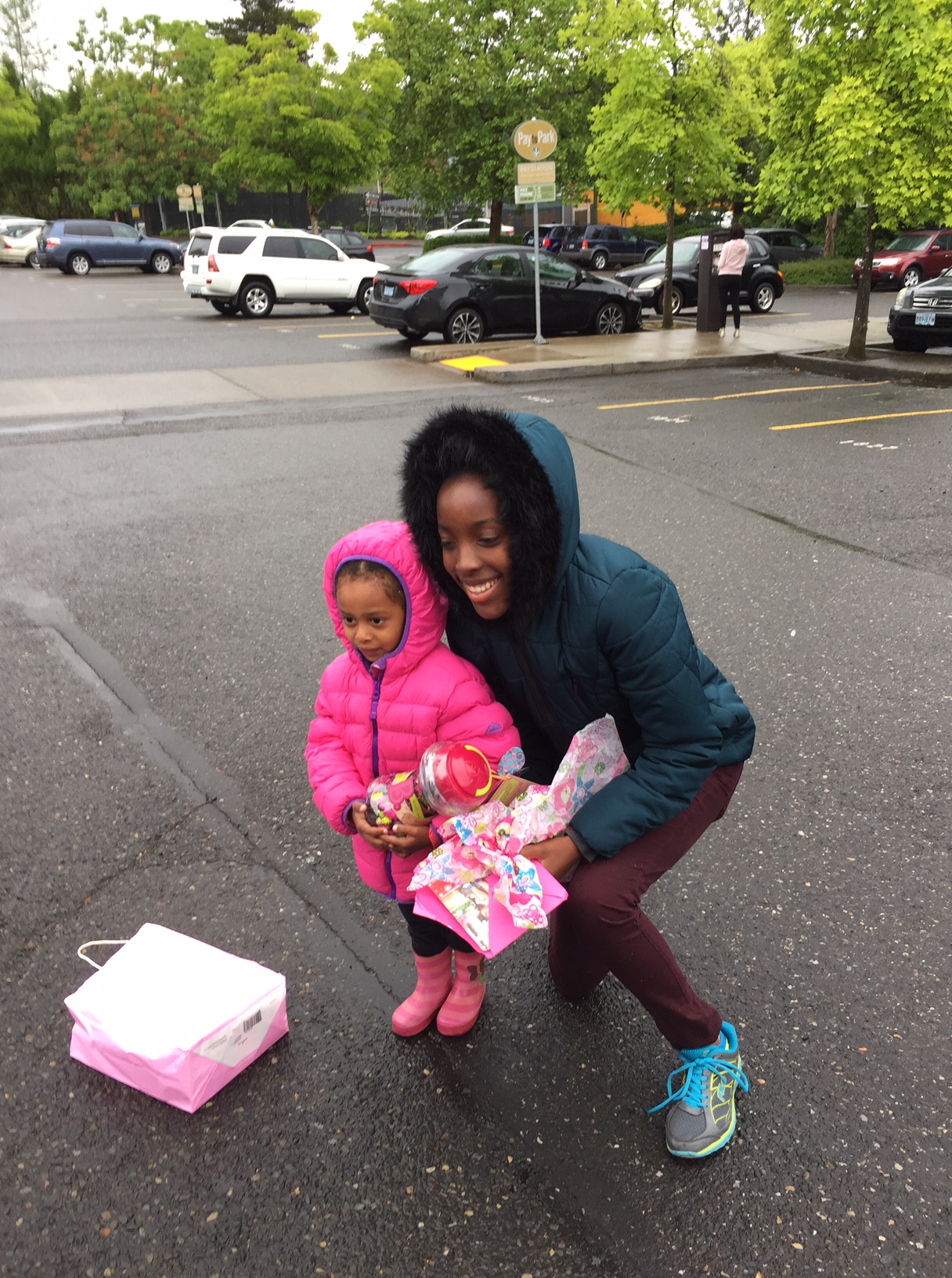 It was a great day and both girls had a great birthday.   It was so special that they could spend it with each other.  Little Danait loves Alissa and Ja'Ana and often says "they coming' mama, they coming'."  Even when they aren't.  Then she will pout because they aren't.  Of course, the big girls think she is adorable, and who doesn't love to be looked up to and adored right back!  We 3 ladies had a great time visiting, laughing and watching the girls have fun.    Once it started pouring rain and the wind picked up, as the weatherman had promised, we finished our lunch and headed for our respective homes.  Both Ja'Ana and Alissa had driver's ed drives this afternoon and evening.  Ja'Ana drove all the way there in the rain, on 2 freeways, and home again through rain, a huge traffic jam, and windy conditions.  I was so proud of how she is doing with her driving.
Rosalie went back with Harnet to her house so they could work on making appointments, and other things that needed to be done.  Sometimes Harnet has Rosalie make phone calls for her, to make sure the person on the other end understands exactly what is needed.  Her English just keeps getting better and better–I can really tell a big difference in the few months I have known her, but sometimes, she just wants a little help.   Rosalie is really good at that kind of thing.   We are already making some plans for summer.  Once we get Harnet's school schedule, we will made another date to do something together.  It will be fun.
I'm glad we had such a fun time, because Rob and I are taking Jake, Michaela (niece and nephew), and Patsy (daughter) on Monday.  We have a zoo pass, so want to use it as much as possible.  We are planning the trips so that everyone we take will get in on the pass, so we have to take a few at a time.  The other 3 were all in school today, so were feeling left out until I explained that we would go Monday and NOT take Ja'Ana and Alissa.  Just them.  The big girls are going to the beach with the youth group on Monday anyway.  So, it's all good.  Tomorrow is Rob's last day of school and then he's out for the summer!  Yea, and double yea!!!  Let summer begin!