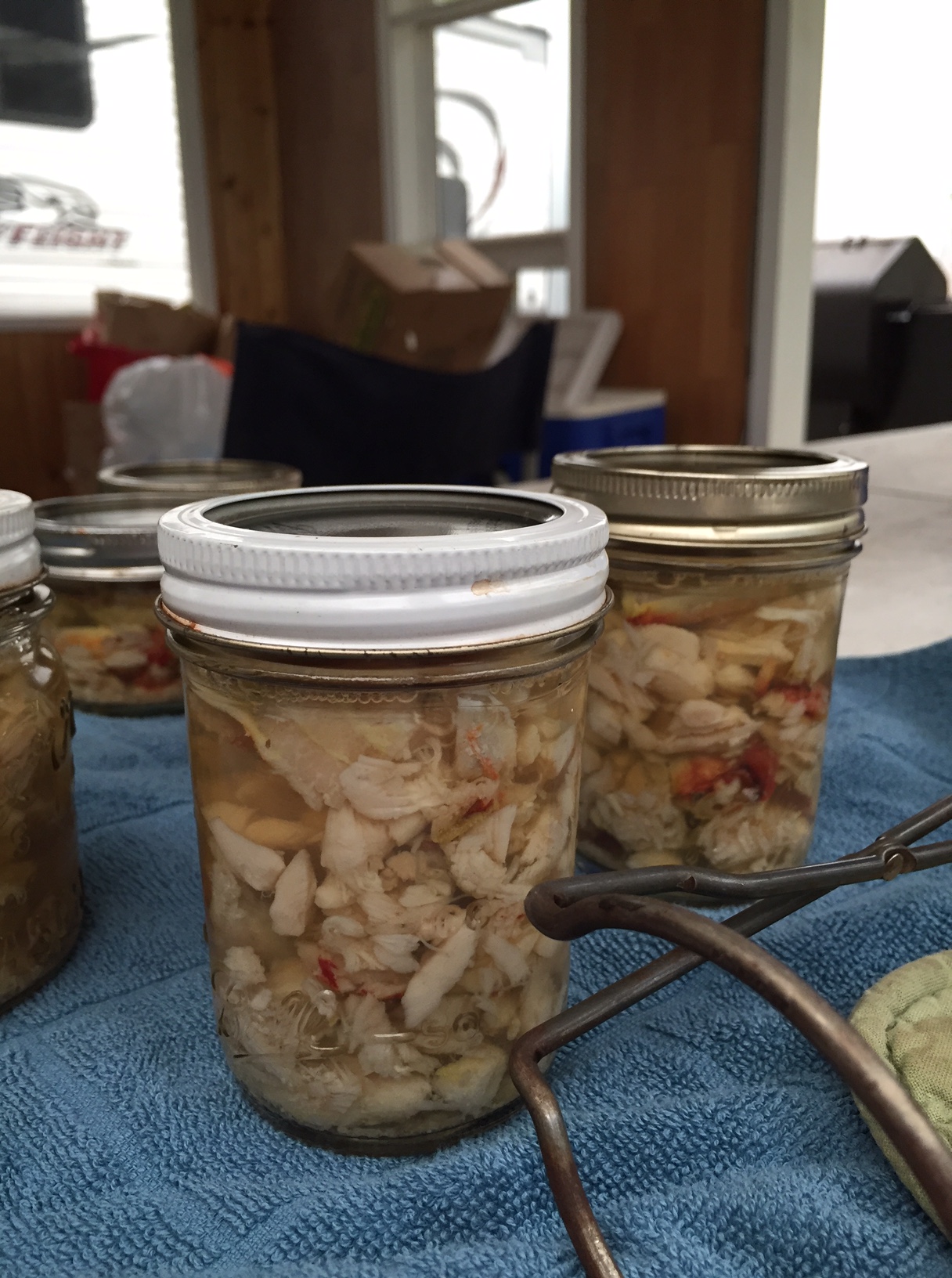 There's a first time for everything, and I have successfully canned crab for the first time–today!  After our extremely successful crabbing trip this weekend, I knew I had to preserve it somehow.  Even after dropping crab off at several places on our way home, there was a lot left.  I only had 2 full Ziplocks and 1 with a little bit in it, but these crabs were the biggest I've ever caught off a dock!  What fun:)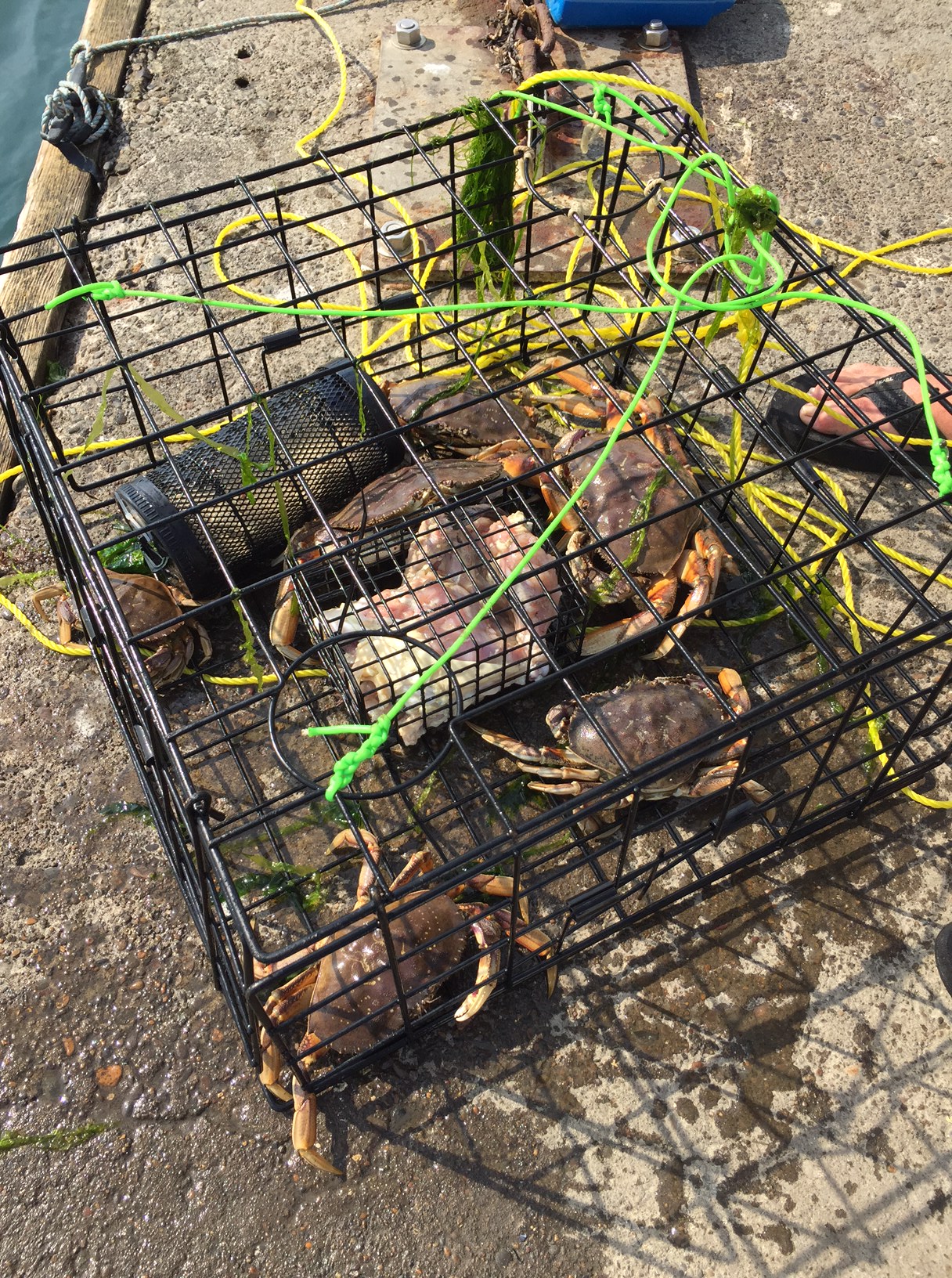 We used cheap, frozen chicken, fish bones, and some leftover turkey we had brought to eat, but used for bait instead.  After pulling the traps, we measured each male crab and kept any that were big enough.  We threw a handful of rock salt into the pot with the water and added the crabs.  When the water came back to a boil, we cooked them for 20 minutes.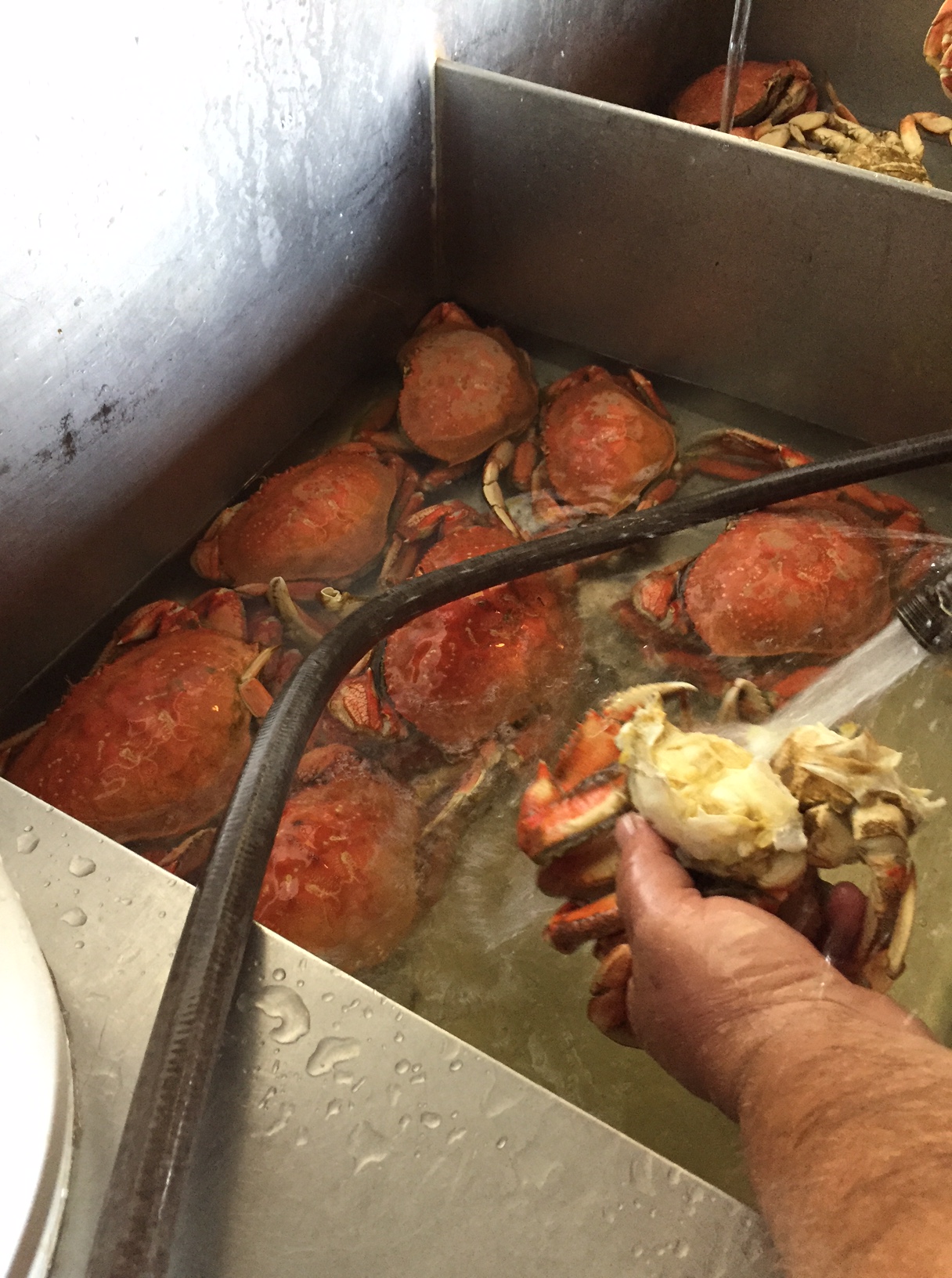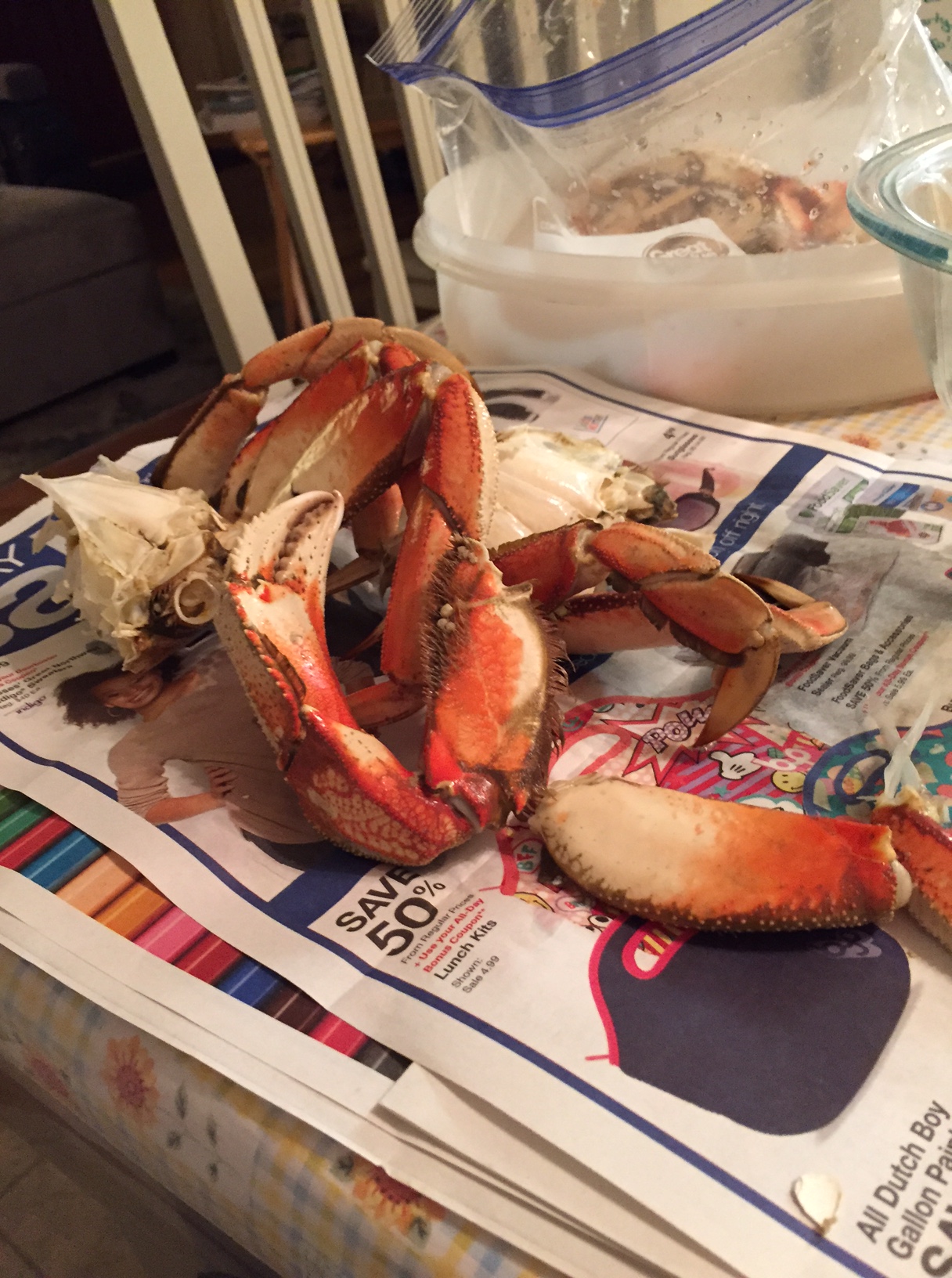 We cooled them as fast as we could, using cold water then ice.  Rob cleaned them as soon as they were cool enough to handle them.  After that, they were stored in the fridge until we went home. We carried them home in the closed cooler, in Ziplocks.  Then the cracking began.  I used a fork and my hands.  They worked well.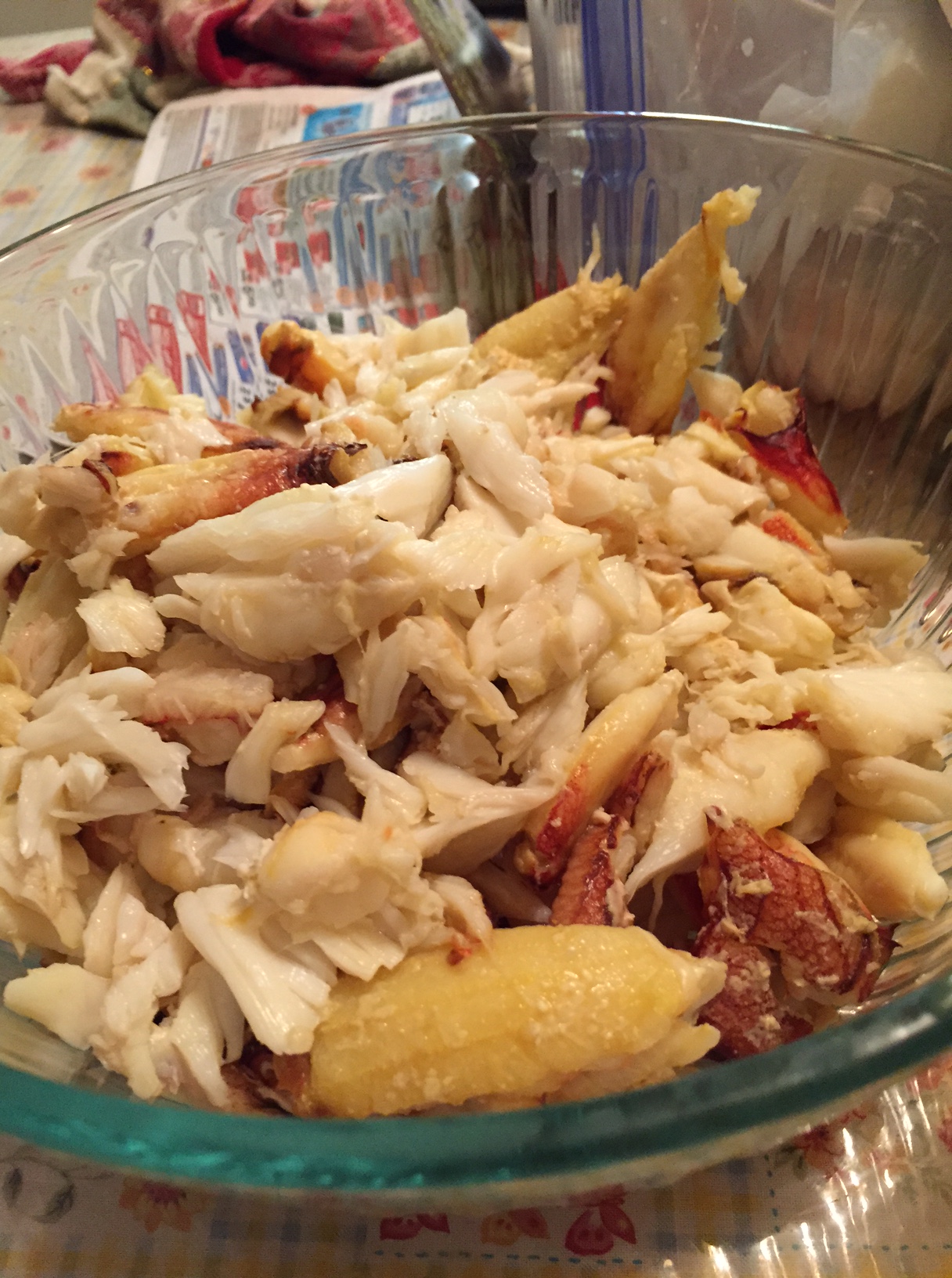 I followed the directions in the booklet "Canning Seafood" that I got at the Extension Office.  The crab went into 1/2 pint and 1/4 pint jars.  I then added a tiny bit of salt (1/4 inch in the 1/2 pints, a pinch in the littler ones). It also called for 1-1/2 teaspoons white vinegar in each jar.   Then I filled the jars up with very hot water from my Insta-hot.  The lids and rings went on and into the canner they went.
After Rob got home from work, he sat and watched the pressure cooker for 70 minutes at 11 lbs. of pressure.  We always have someone sit and watch the pot, so they can make any adjustments needed to keep the pressure steady and at the correct level.  Now that we are doing all our canning outside, on the attached, covered porch, he was able to barbeque dinner at the same time.  I prepared the food, and he grilled it–basil chicken, rosemary potato squares, and a grill basket of zucchini and mushrooms.  Win-win!
I ended up with 7-1/2 pints and 3–1/4 pints of crab. I have no idea of how I'm going to use them yet, but crab cakes come to mind.  I'm delighted to have such a delicacy canned up, and added to my pantry.