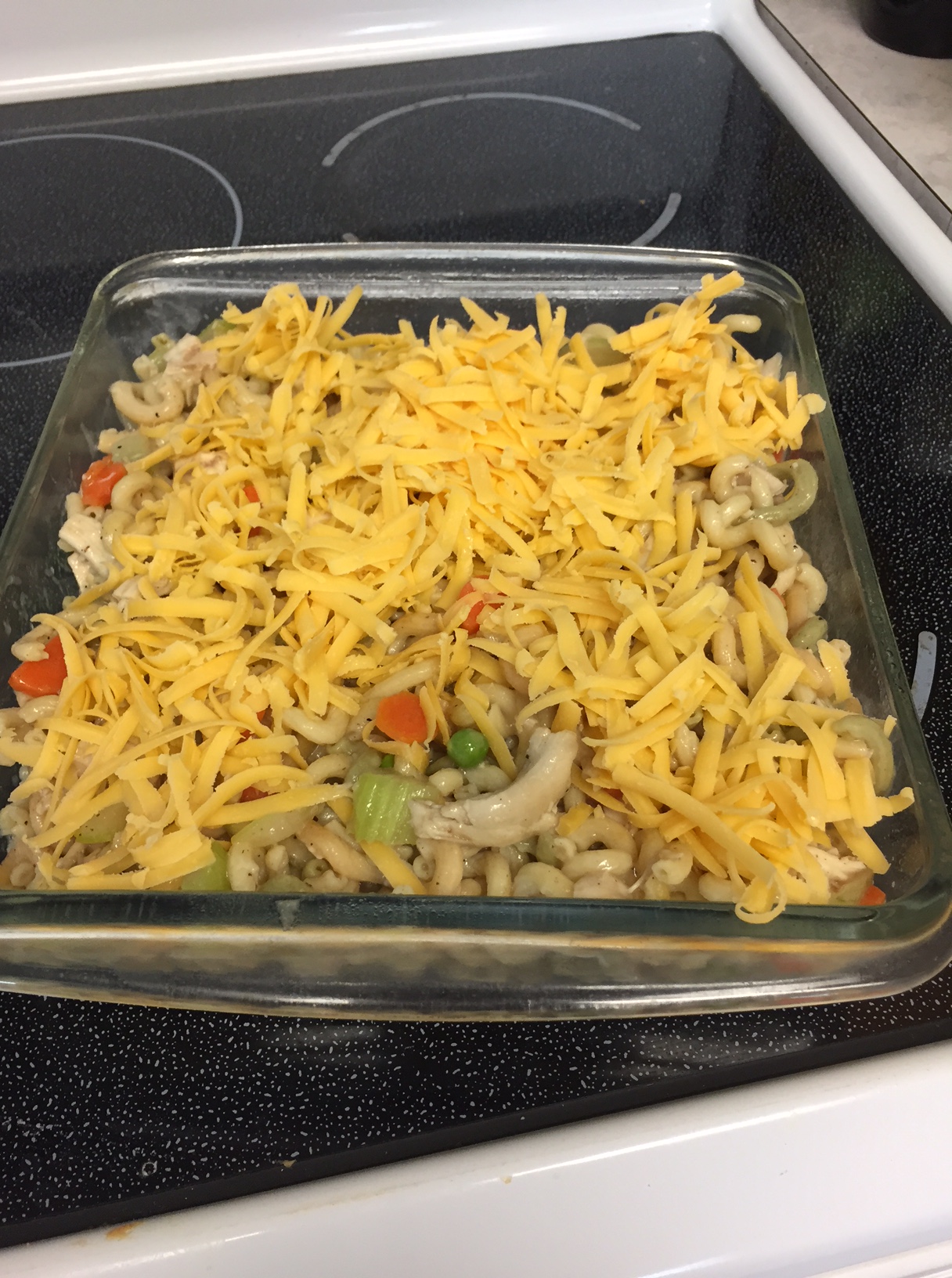 Last weekend, I cooked so much food!  I roasted 2 chickens and made broth, which I canned most of.  I also had leftover roast beef and a few other things still in the fridge and was able to pick a few things from the garden.  My main focus this week was to use that up since I had gone to all the work of cooking it.
Monday:  Each person chose leftovers for dinner.  I had roast beef and veggies.
Tuesday:  Chicken-noodle casserole.  I used cooked chicken, carrots, celery, onion, noodles, and a home-made white sauce.  I used rice flour to thicken it, and gluten-free noodles.  I topped it with cheese.  I picked a few peas from the garden.  There weren't enough to serve as a side dish, but enough to give this casserole some color.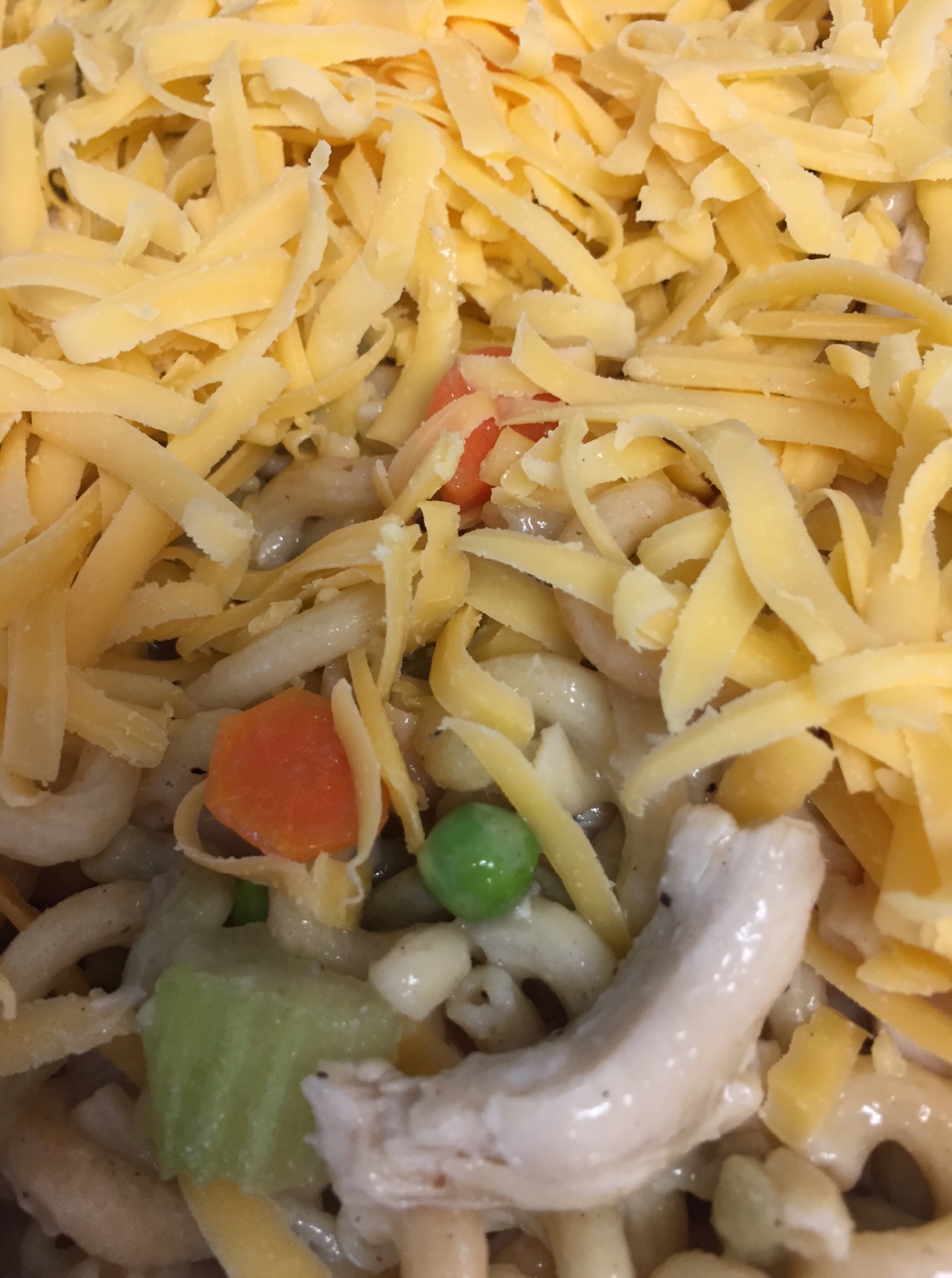 Wednesday:  We had sandwiches.  I had a package of lunchmeat, and we used that.  I made pesto that day, so for mine, I used a toasted, gluten-free bun spread with pesto, piled with lunchmeat, tomato and topped with cheese and baked in the oven until the cheese melted.
For lunch that day, my mom and aunt come over and Alissa made cheesy-potato soup and Ja'Ana made coconut shrimp with peach-lime dipping sauce.  We have enough frozen shrimp for her to make it one more time and so I froze her coatings.  There was a lot left and as long as no one eats them raw (who would eat bread crumbs or coconut and crumbs anyway around here?), and they are kept frozen, they can be finished up with the rest of the shrimp.  She will just need to crack another egg.  I had purchased this bag of frozen shrimp at Grocery Outlet a while back and it was a really good deal.  ($5/lb) Sadly, when I went back for another bag, they were gone.  I'll keep looking.  I like to have some around for the holidays or other special occasions, but it doesn't last long, and I have to get a really good deal to feel like buying it very often.
Thursday:  Orange chicken.  The recipe I found used snow peas, and I'm getting more of those right now from the garden so wanted to use them.  The sauce was basically  cornstarch-thickened orange juice with soy sauce and ginger, and I juiced 2 oranges I got in a reduced bag with 2 grapefruits at Fred Meyers–they needed to be used.  I used other juice to make up the cup I needed, as I don't have any orange juice on hand right now.  I added some Manderin oranges to it.  I made and ate it at lunch time, left it in the fridge, and then realized that Rob ate potato soup for dinner instead.  Works for me:)
Friday:  Baked potatoes with toppings.  Rob made this.  He had shredded cheese, ham bits, cottage cheese, sour cream, butter, salt and pepper as choices.  I made a lot of white rice in my Instant Pot this morning, so that's in the fridge for tomorrow, minus the small amount that was eaten for breakfast.
Saturday:  I plan to serve the rest of that orange chicken with the rice.  I also may do tacos for the other meal.  There is still some casserole left and more potato soup.
For breakfasts and lunches we have had refried beans, cheese and chips, rice, cereal and leftovers.  It was an extremely low-budget week, when everything was averaged out, and I have not had to buy a single thing in the month of October yet.  I'm going to check the store flyers on line and see if there's anything that's on a great sale that I want, otherwise, I won't need to go for a few days anyway.
I'm fighting with a cold that we have generously passed around from family member to family member, so haven't felt like cooking much the past couple of days.  I will figure out a few things to cook tomorrow and Sunday for the week ahead, as I am on the mend. I have frozen spaghetti sauce, STILL, and want to make lasagna, STILL.  Maybe this week:)  I've said that for the past several weeks!