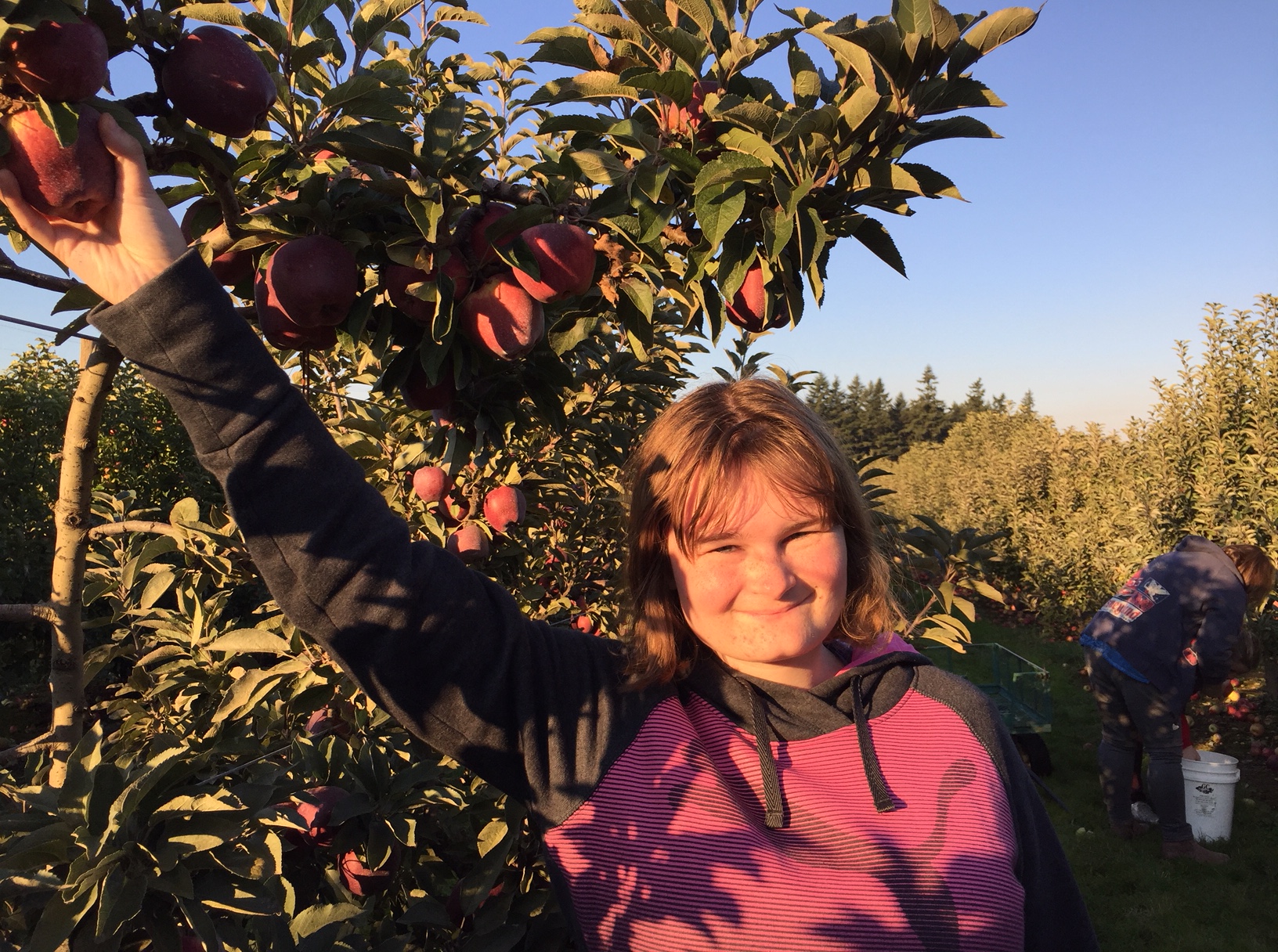 We finally made it to the apple orchard to u-pick some apples.  My sister and I and niece, Caitlyn, took Michaela and Jake out to a nearby farm.  The trees were loaded with apples, so everyone picked to their heart's content.  Michaela especially likes Red Delicious, so she stuck to that row to pick her apples.  They got some apples for a youth group event and themselves, and I got a bucket for us.  They were very reasonable–$12 for the large bucket-full, around 50c/lb.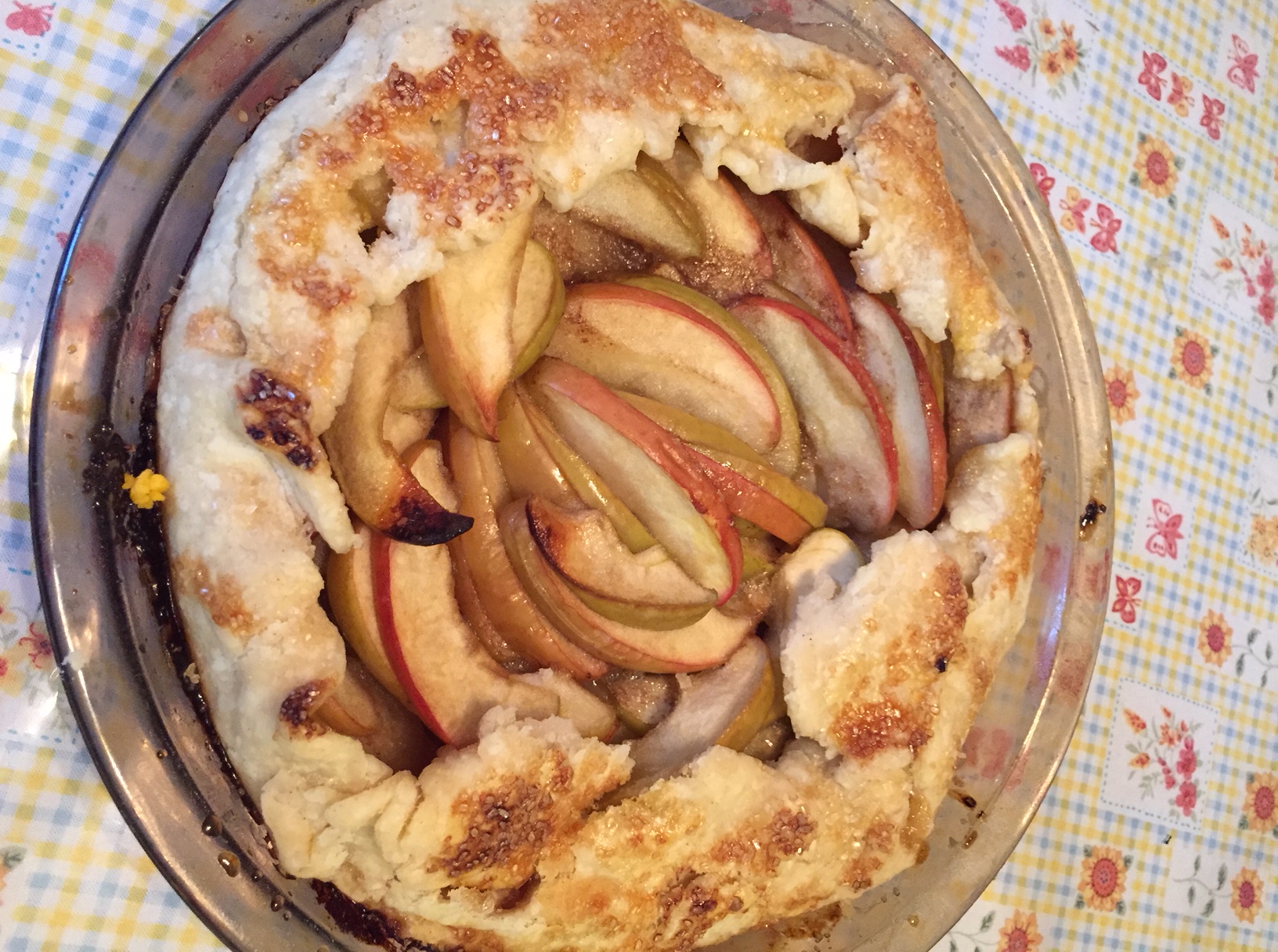 Ja'Ana and Alissa each made an apple galette from some of the apples.  I'm having several recipes tested by them, or myself, in anticipation of Thanksgiving.  I'm trying to figure out a good gluten-free pie crust recipe, and the second one was much flakier and tastier than the first one, so I think we are close to perfection:)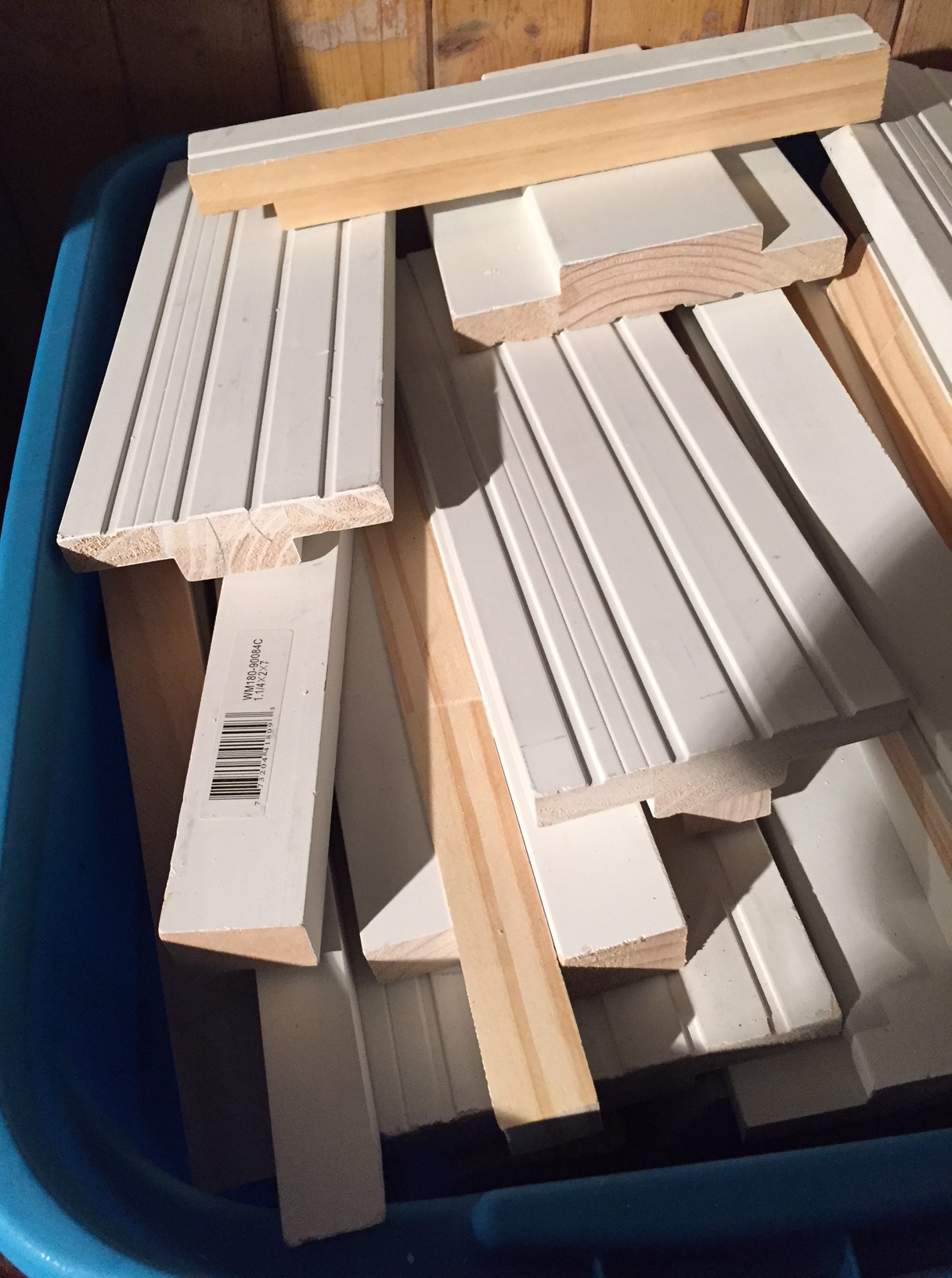 There is a business in town that puts scraps out in tote bins for people to take for free.  When we checked this morning, the bins were full.  We grabbed as many as we could stack up in the very back of the van, choosing the larger ones because they are easier to handle than the itty bitty pieces and Rob can cut them down if they are too long for our stove.  A couple of other people were also collecting—one man for fire wood like we were, and a lady for pieces for her son to make bird houses out of.   This is the second time we have collected wood from there, and it works very well when first building a fire in the morning.  Also, some of the pieces are large enough to burn for a while, extending our firewood supply.  All 3 groups of wood-gathers were really friendly and cheerful to each other, which was so nice.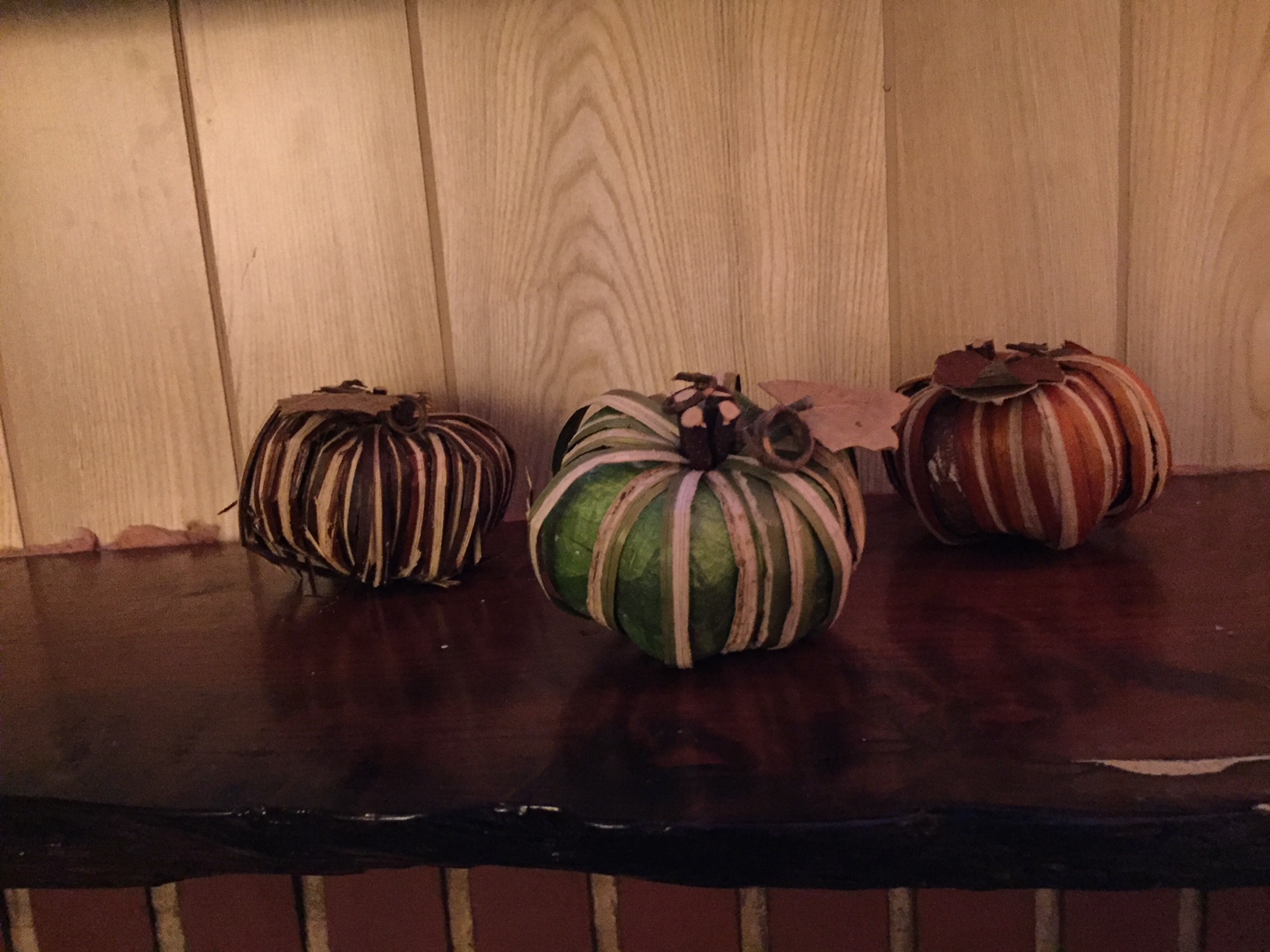 Even with the extremely windy and rainy conditions this morning, we found one garage sale.  I got these little pumpkin decorations for $1.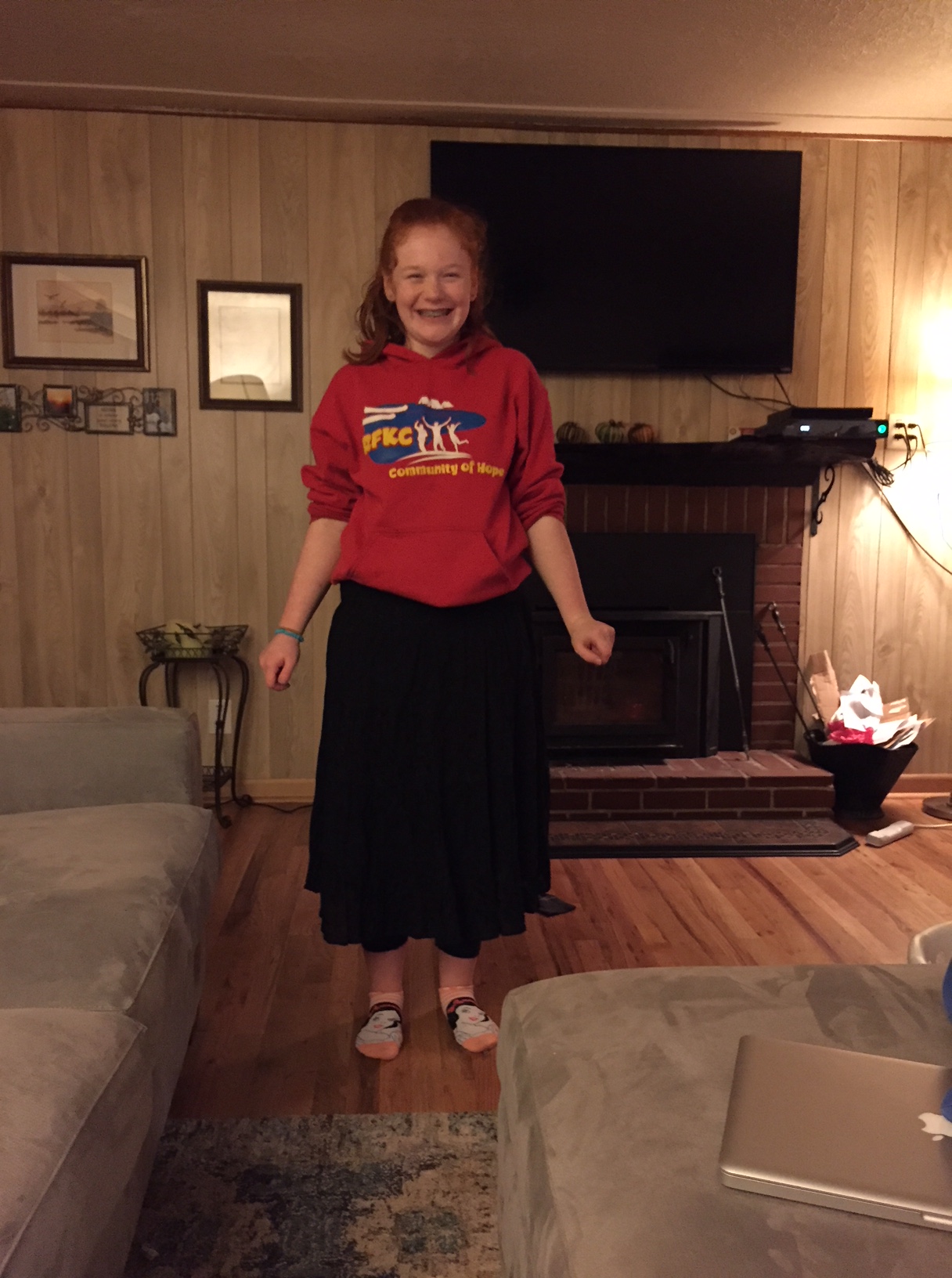 We found this skirt for Patsy for $2.  We also got games for $1 each and a few other items for just a few dollars.  I think the people were wanting to sell things quickly–as the man stated, "We didn't WANT to have a garage sale today, but we are moving next weekend."  Yikes!  No pressure there:)  Glad it wasn't me.
On Friday, my sister, Rosalie, Ja'Ana and I went to see our friend, Harnet.  She made some of her wonderful coffee for us, as well as yummy Eritrean food.  I took lots of pictures this time, so will be posting the coffee-making process soon. She is such a good hostess, and always makes us feel so welcome.  When you enter her house, there is a smell from the beri-beri spice she uses.  After I went home, the scent lingered on me, and I felt warm and comforted every time I smelled it.  It is hard to explain how much she makes me fell welcomed, and loved, and it's interesting how I'm beginning to associate that smell with comfort and warmth.    She had gone to great trouble to make me gluten-free injera bread–she used sorghum and teff flour, which was served with the lentils she always makes, along with a chicken/beri-beri/egg dish and a beef chunk dish.  She had cooked extra because she knew it was Rosalie's birthday and wanted to surprise her with a little party.  I was asked to bring cake and balloons, and to keep it a surprise, which I did.   We had a fun, relaxing day, with lots of good conversation.  She and I had a good chuckle about the other night when she called me up for homework help, and it took me a little while to understand what she wanted from me.  (I was getting mixed up thinking the sample problems she was reading to me were true, and not examples, but I finally got it–and I was so proud of myself–it was pretty funny!)  Rosalie and I made a few phone calls for her, gathering information she needed, and we studied citizenship questions because she is working hard towards that goal.  Oh boy!!! Some of those questions are hard, and there were a couple that I was super happy to see had answers on the back, because I didn't know the answers!  Thankfully, I knew most of them, and tried to explain the historical facts as we studied.  We plugged along, and I can see she has been studying.  There is another lady who helps with that project, but she is eager to get in all the practice she could, so Rosalie and I quizzed her for quite a while.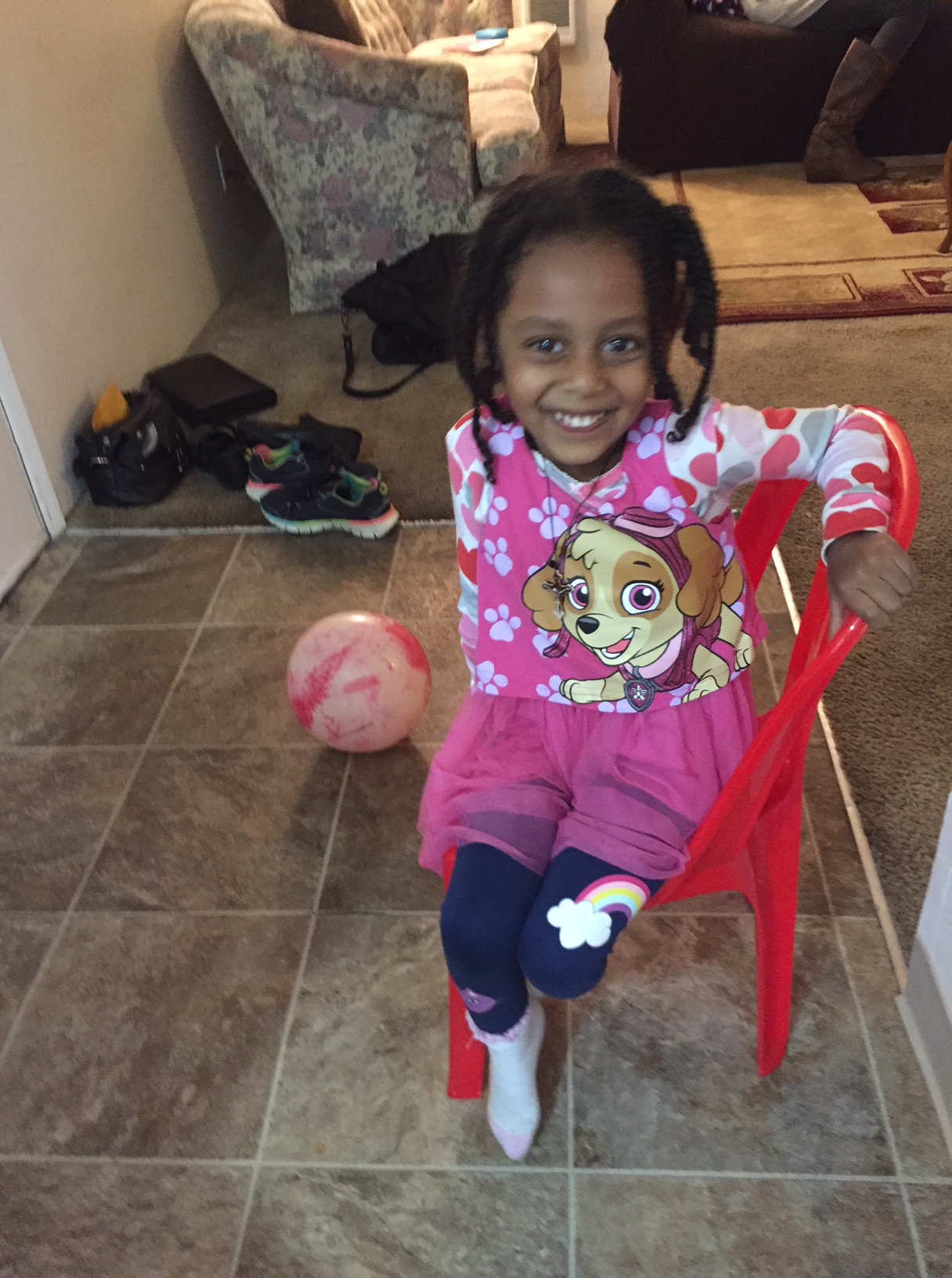 Of course, we had a blast with the little princess:)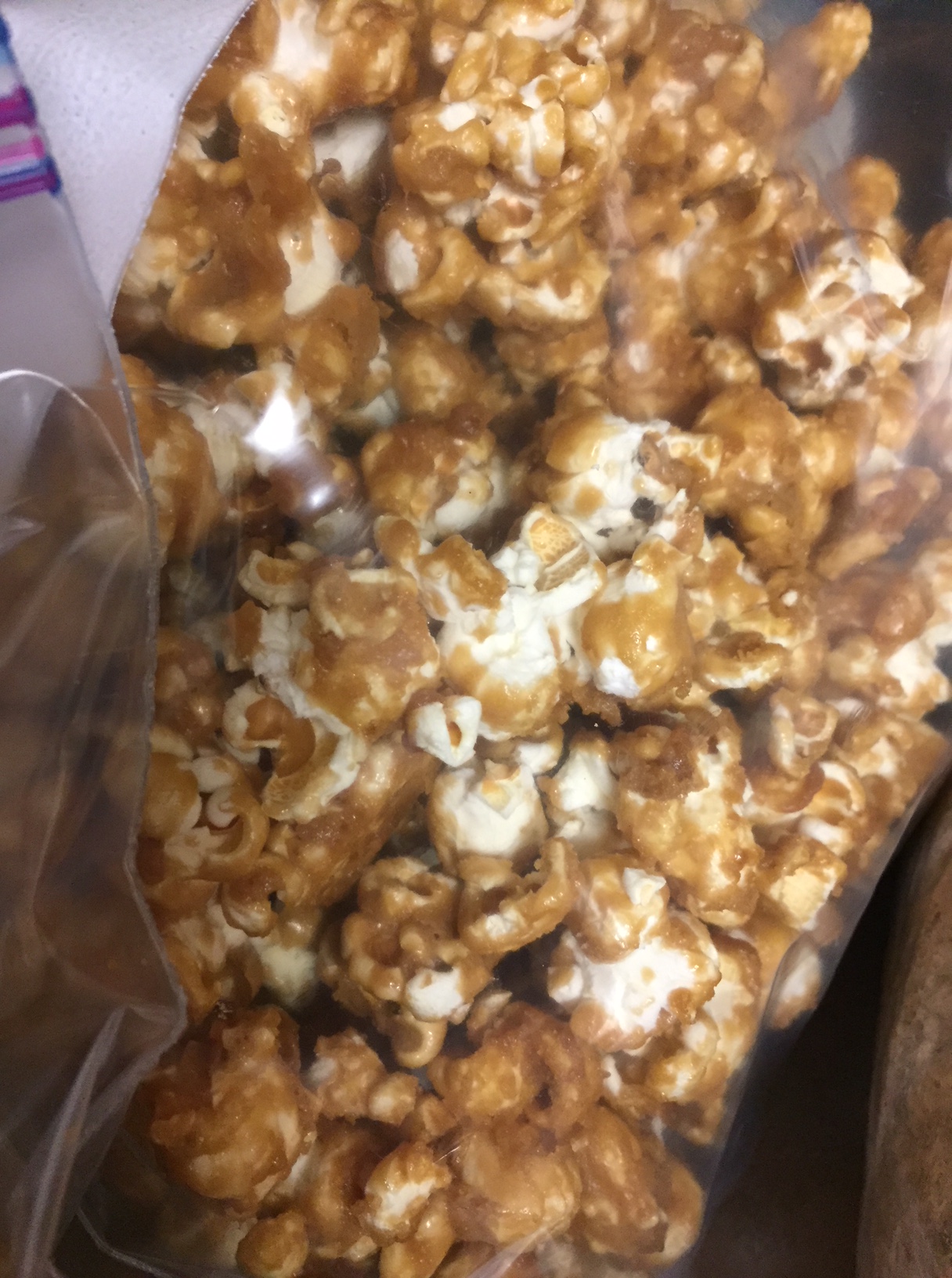 Lovana and Patsy made a lot of caramel corn for our family to eat, and for the 4H bake sale.  We were not able to help at the sale this year, as we usually do, so we just dropped our contributions off.  It tastes so good.  We make it almost every year, and it sells well.  It has become a fall tradition for our family, as well.
So….we went through a LOT of butter between the caramel corn and the 2 batches of Double Chocolate Loaf Cake and pie crust we made this week.  Luckily, the local store had it on sale for 2/$5.  Rob and I each bought 2, the limit, so we are back into business with butter…at least for now.  I still want to find it for $2/lb, but $2.50 wasn't too bad.  They also had Bandon cheese (owned by and just like Tillamook Cheese) for $4.99/2 lb. loaf.  So, we got those, too.
I spent my grocery money for the week and a little more.  I'm a bit baffled at the eating habits of the kids right now.  Everyone is hungrier than normal.  Everyone is eating things they don't usually want to eat.  They are NOT eating the things they normally want to eat.  Hmmmm.  So, I've had to buy extra of certain things, and other things I bought are just sitting there…..one of life's mysteries:)  I would say chili (like the whole batch was gone in a flash this time–it was even going down the hatch at breakfast time), tacos (that one is normal), tortillas, tons of milk, caramel corn, tuna fish, sandwiches, butter and cheese are right at the top of the list of desired items right now, so…how nice dairy products were on sale.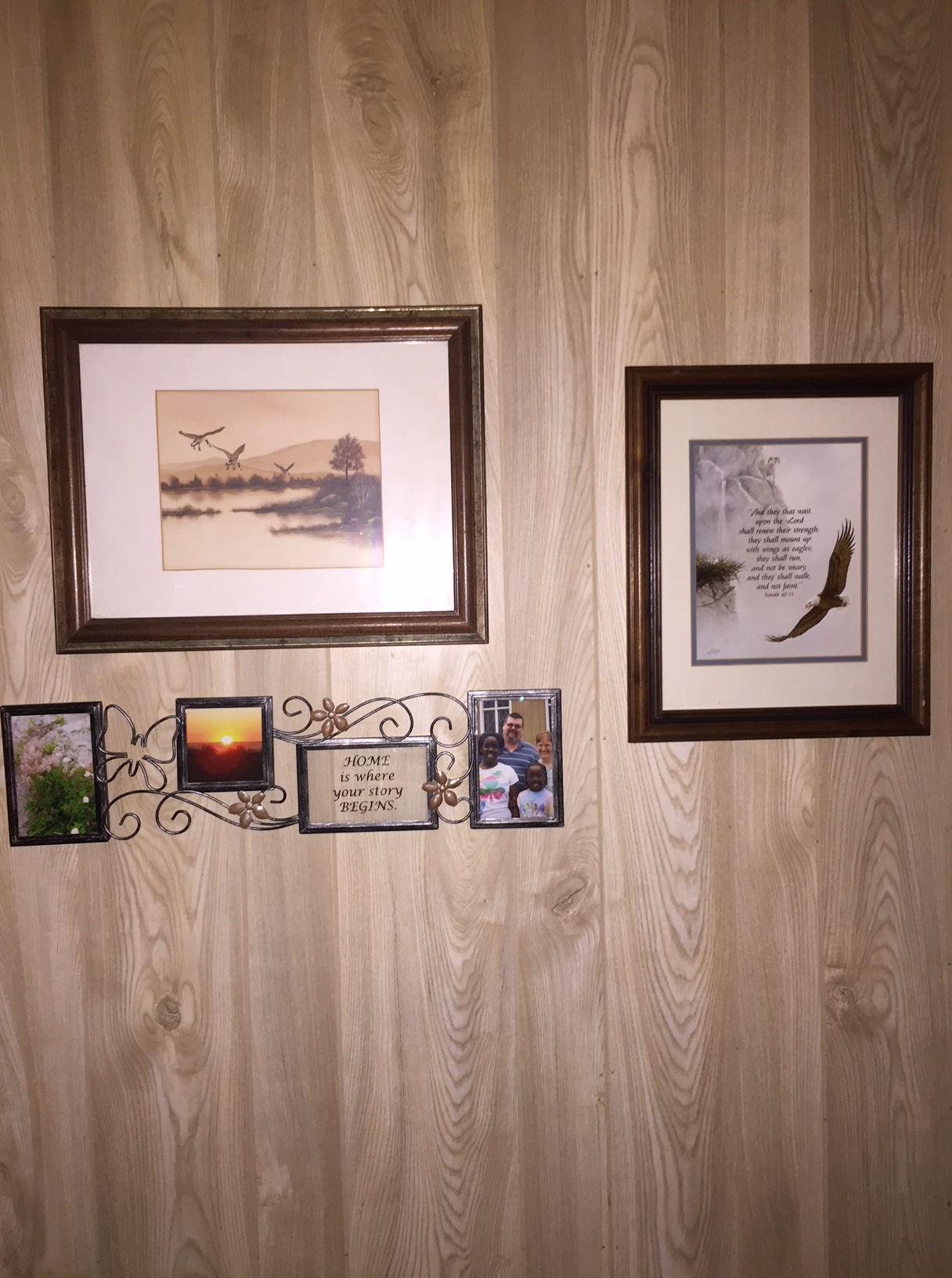 I was able to arrange several pictures we found when cleaning the shop last weekend.  I want to put new photos in the lowest frame, but that will be done in time.  Rob and I have some other ideas to make the living room more functional, and are working on implementing them soon.  It was nice to be able to use some things I already had to make the living room look better.  I was also happy to pass on the 80's pictures of the little goose girl, and several others that were not longer my taste.  So, they went off to Goodwill, along with a bunch of other items.  It's nice to have what I want out of those boxes and have the rest go away!
Rob worked on the bath-tub drain today.  It gets clogged with the girls' hair.  It is better now.  He also replaced the caulking behind the kitchen sink.  Whatever the previous owner used was not the right caulking.  It has become increasingly moldy, both under, and beside it and recently started to crack.  It looks SO good tonight–all dry, nice and white, and NOT moldy!  He has also been hanging pictures up for me whenever I find one I want to hang.  All of these home repairs save us money, as well as make things nicer for us here in our home.
All in all, it was a pretty satisfying week.  How did your week go?