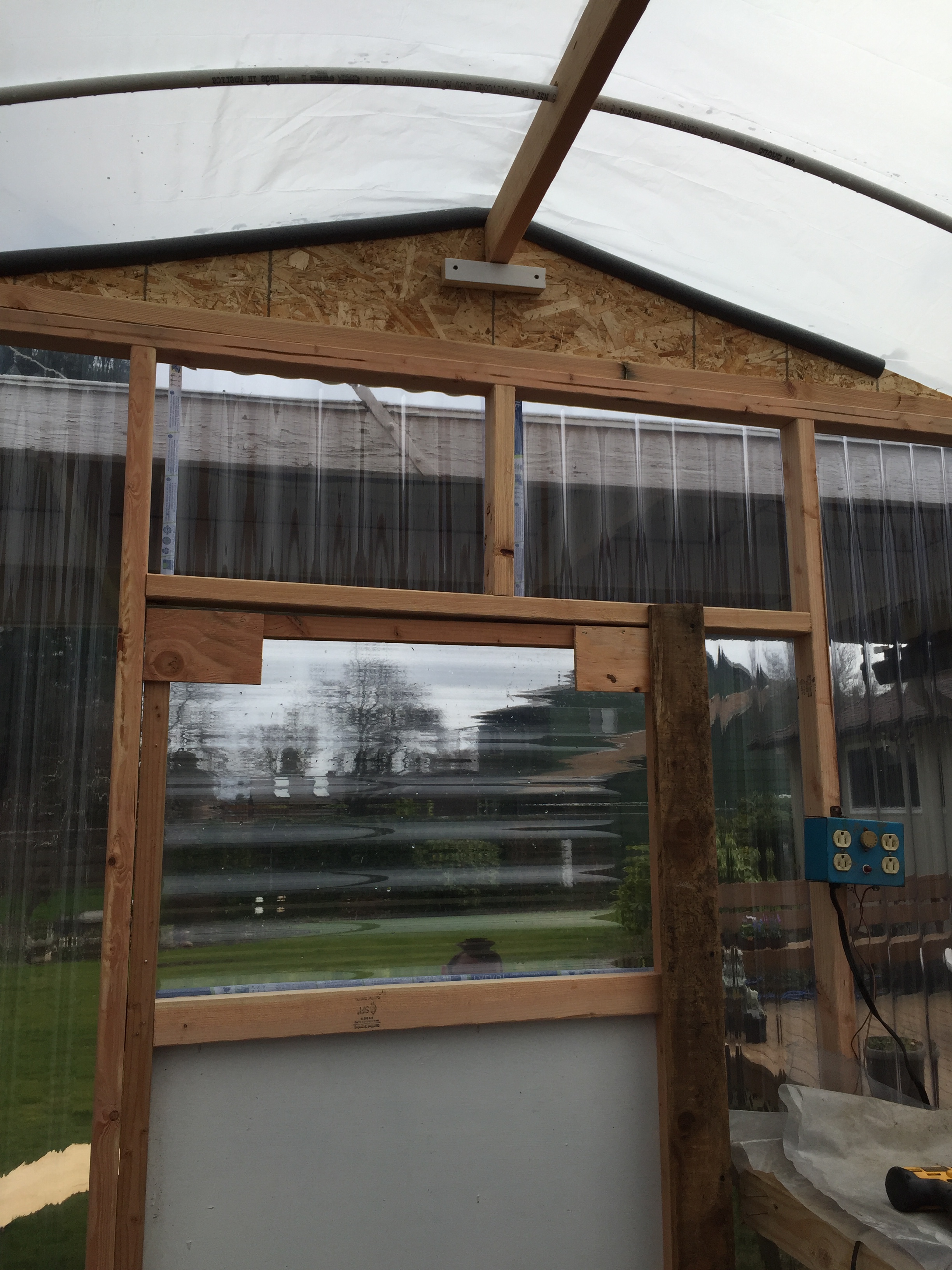 Of course, the biggest garden news around here is that Rob has finished the greenhouse! I have been busily planting little seeds, and now am waiting for them to come up.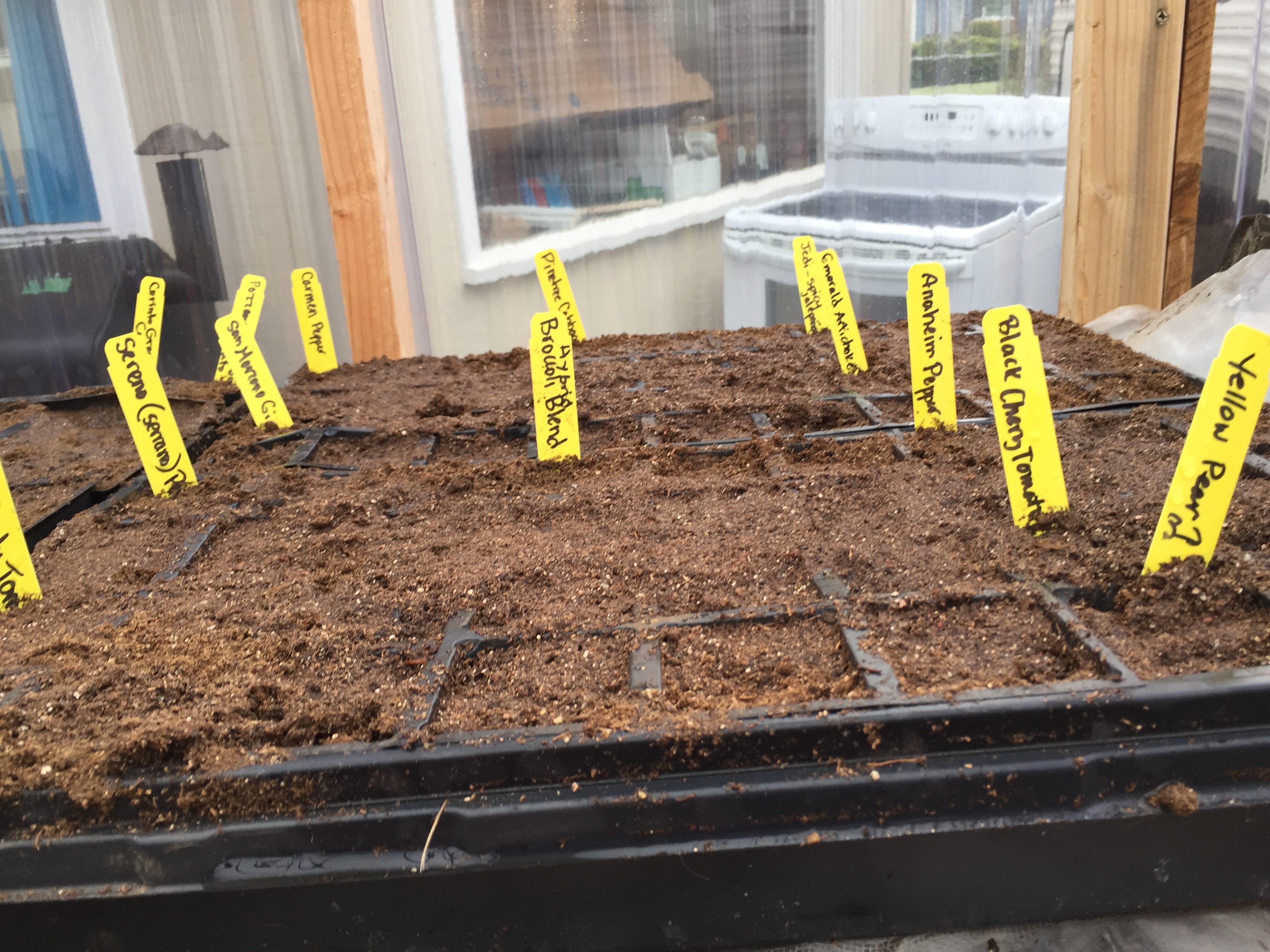 I have planted: Carmen peppers–a long, Italian sweet pepper that turns red quickly.  I get these from Johnny's.  I freeze these for winter and use anytime I would use a green or red pepper.  They ripen quickly, which is a must in my climate.
Anaheim College 64 peppers: a mild, Mexican pepper to use where green chilies are called for.  I use in my home-made salsa, and I freeze them.
Jedi peppers:  a slightly spicier jalapeño, salsa, chili, stuffed, poppers, etc. (new to me this year–from Johnny's). I dice and freeze jalapeños for use throughout the year. This variety is new to me.
Sereno: A quite hot Serrano pepper for salsa.  That's all I use this one for.
Italian Pepperoncini:  I grew these several years ago.  They are seeds from Territorial, and were not what I was expecting–the kind you get pickled in jars.  Instead, they are skinny, squiggly peppers with a nice flavor, and just the tiniest kick to them.  I froze so many, and used them in chili, sloppy Joes, spaghetti sauce, and more.  We really liked them, so am delighted to have them again this year.  My frozen mix was lovely, as I just chopped up the green, yellow and red peppers and mixed them in the bag.  They were different colors because they were different degrees of ripeness.
Willamette tomatoes: This is an old favorite that my parents grew in my childhood, and I continue growing.  It's great for eating or canning.
San Marzano Giagantico:  This one is new to me, but looks like a large-sized paste/sauce tomato.  I like to make things like tomato sauce, and like the less watery ones for that.
Chocolate Cherry: Little brown-red cherry tomatoes.  They have a really nice flavor.
Yellow Pear:  I've been growing these yellow, pear-shaped cherry tomatoes for years.  We like them to snack on, and in lunches during the fall.
Pinetree Cabbage Mix:  I love this one from Pinetree and have grown it many times.  There are many, many kinds of cabbage mixed in one packet, so you get red ones, green ones, pointy ones, round ones, and so forth, all in one packet, which is fun and saves money over buying several separate packs.  I start them in the greenhouse and then plant out a balanced mix in the garden when they are bigger.
Hybrid Broccoli blend:  This one is also a favorite, from Territorial.  The broccoli matures at different rates, so gives me a crop for a longer period of time.  Then, the side shoots keep us going for a long time after I pick the main heads off.
Emerald Artichoke:  This one is new to me, but I planted 6 seeds, and we will see how they do.  We love artichokes and rarely buy them.
Patterson Onion:  This one is a yellow storage onion.  It's supposed to be similar to Copra, which is the one I usually grow.  I plant the little seedlings out in the garden when they are larger, and in the past have grown enough to last the entire winter.
Red Bull Onion:  This one is a red storage onion.
I planted a little basil, and a small amount of lettuce mix.  I also planted 1 cell each of a greenhouse tomato and a greenhouse cucumber.  If they grow, I will plant them in pots in the greenhouse and see what happens.
We have a heat mat under them, and I water them every day.  They were planted in the super fine started mix, and will all need to be transplanted into growing mix later on.  Rob will get grow lights up this weekend, to keep them from getting spindly.  We don't have any heat in there, but have a small space heater we can put in there, if the temperatures drop. The cabbage, broccoli and lettuce will be planted out in early spring, as they can take the cold better than other plants.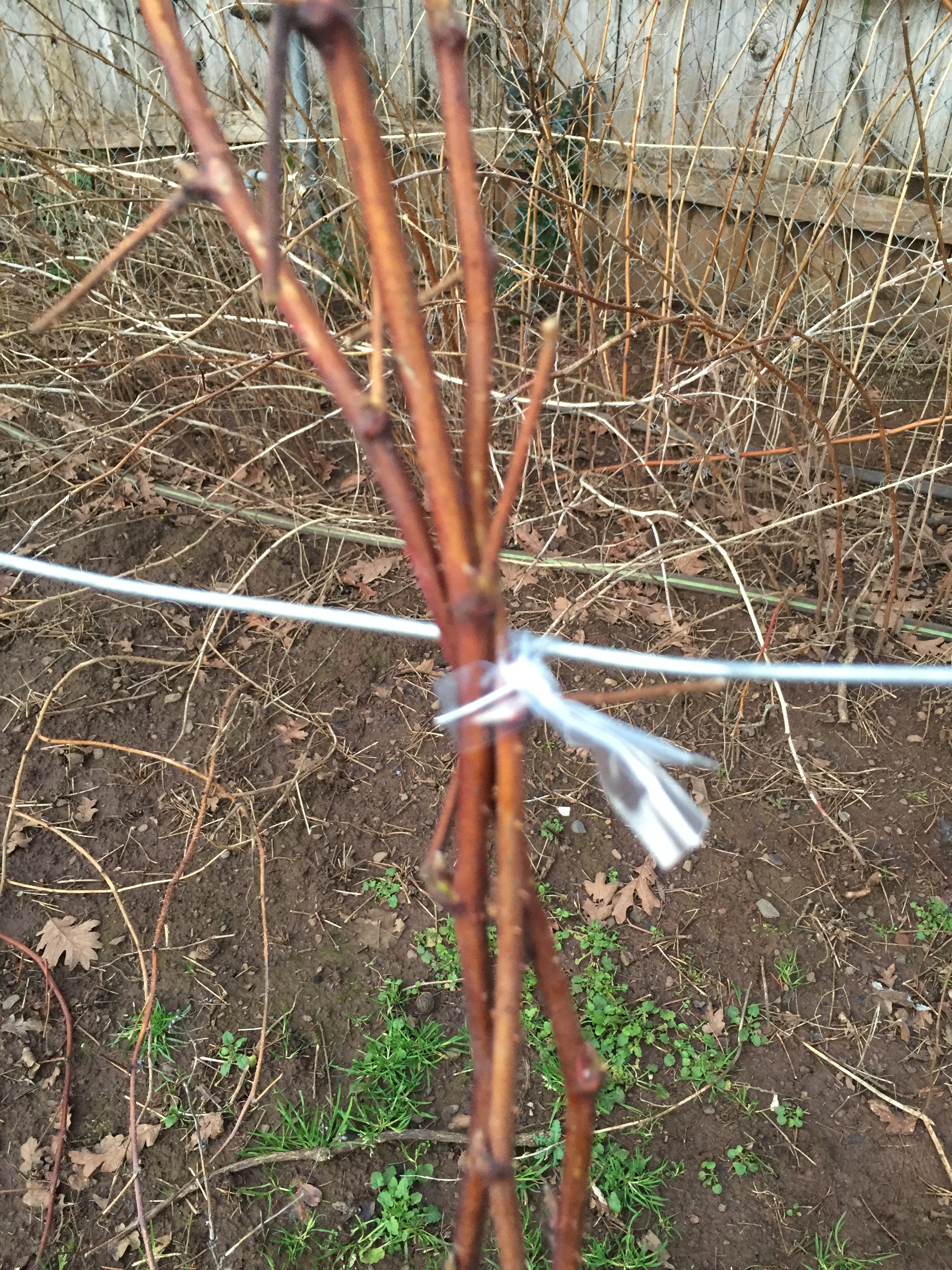 I've been tying up the raspberries.  On the few June-bearing plants I have been babying, from our old place, I used the biodegradable, stretchable twist ties I bought.  On the Everbearing ones that were here when we moved in, I used baling twine.  That first fall when we moved in, these berries tasted terrible, so I planned to remove them once my other ones got going.  Last summer, they were delicious, so they got another chance!  We will see how they do this year.
I read quite a few articles on the internet about the Everbearing ones, and there were 2 choices. 1) cut them completely off and I would get a crop late summer or fall. OR 2) Trim out the old canes from last summer, and cut off the tips of the canes that had fruited last fall, and I would get an early summer crop and a fall crop.  I decided to try #2.  I am almost done.  I have cut out old canes, and trimmed the tops.  Now, I am tying the canes loosely in bunches at their bases so they will be more controlled this year.   They got pretty wild last year!  I tightened one existing wire from the old owner for more support, but need to work on that some more, as there are a couple more wires I can tighten.  Over time, the wire has gotten pretty loose.  Then, my plan is to tie up the bushes with more twine as they grow.  I still want to give them a little fertilizer, as well, before I mark that job off as finished.
My mom told me to check my chives, as hers were growing.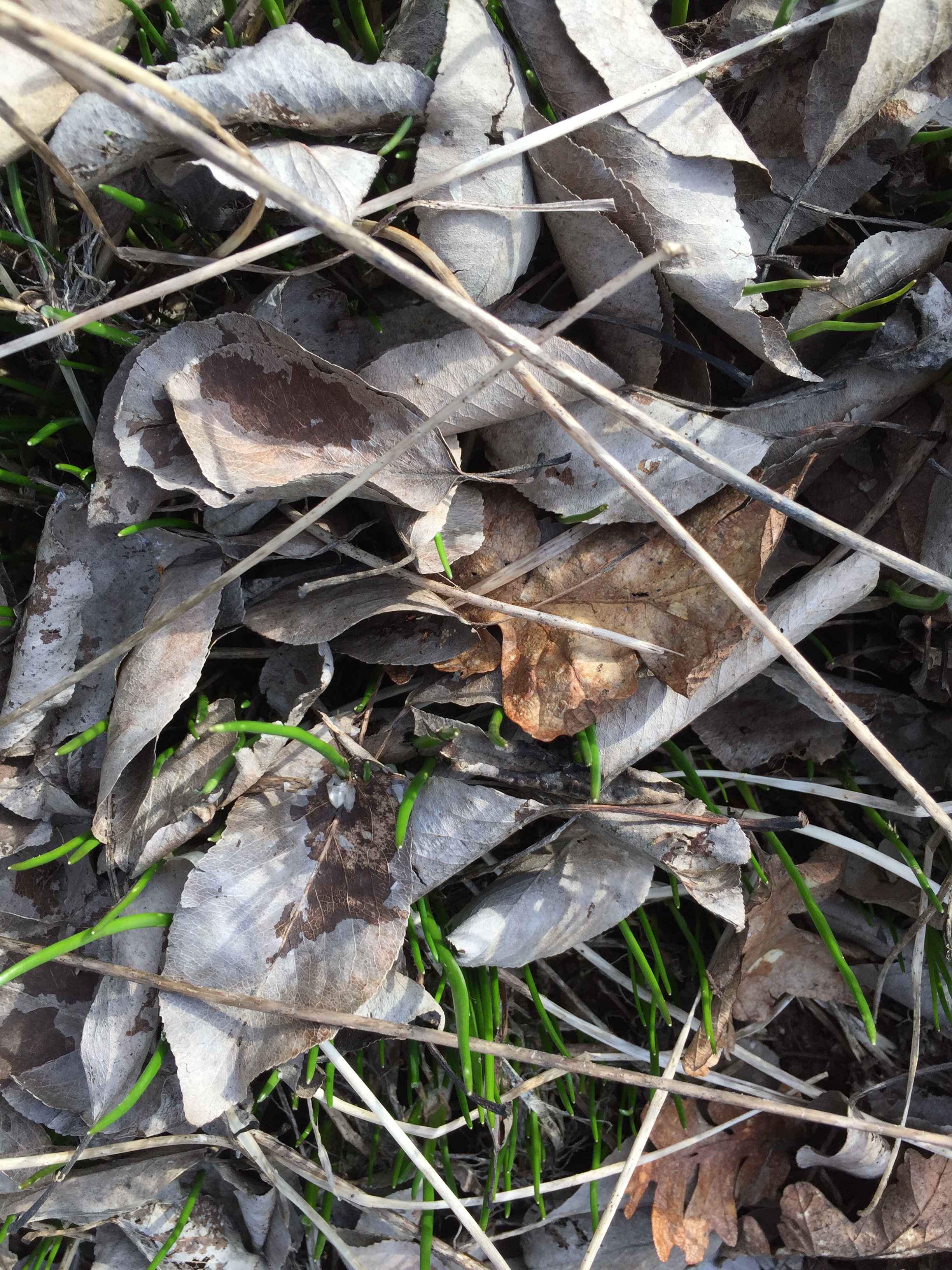 I found them!  I removed the leaves and….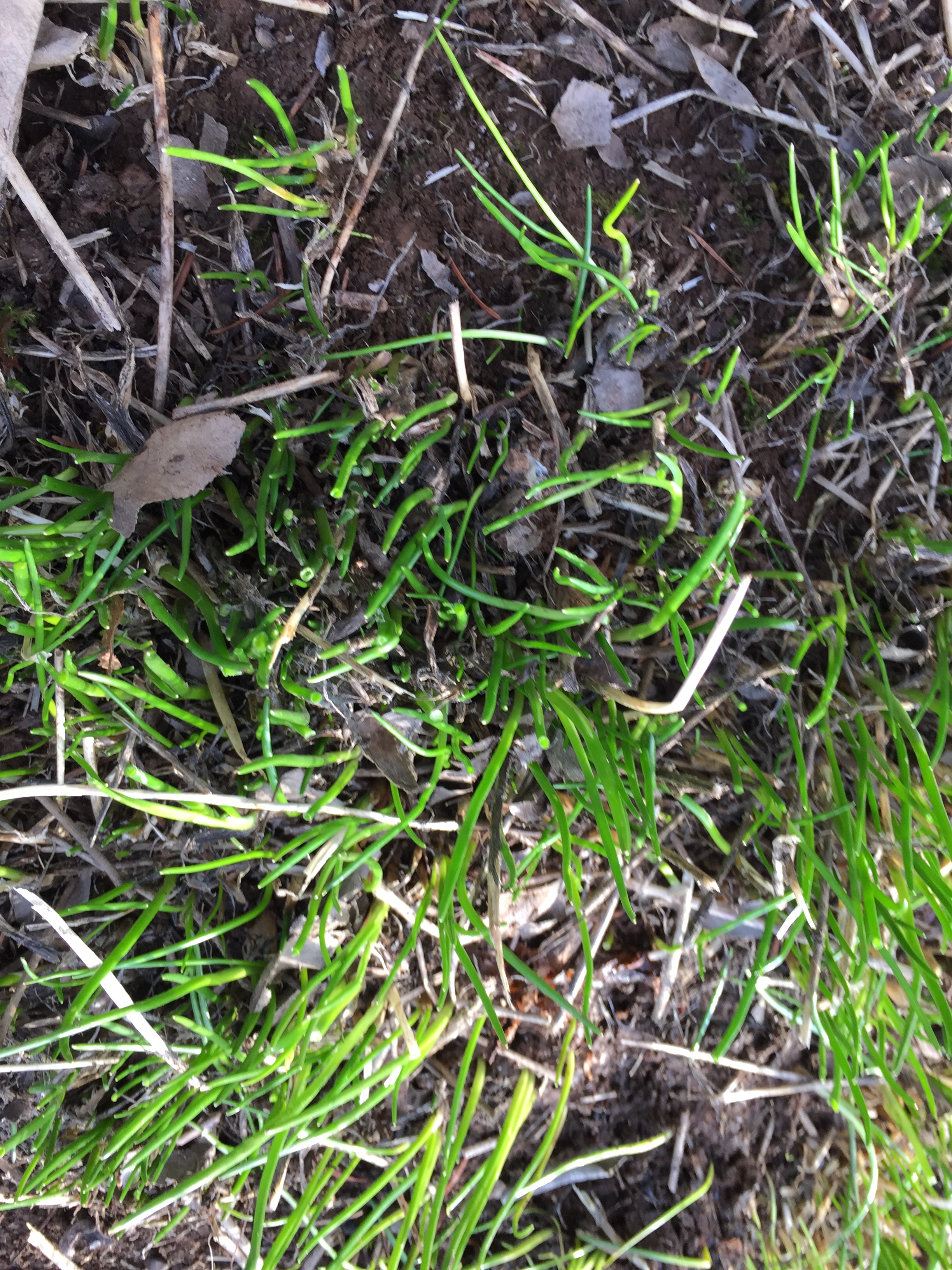 We will be eating chives!