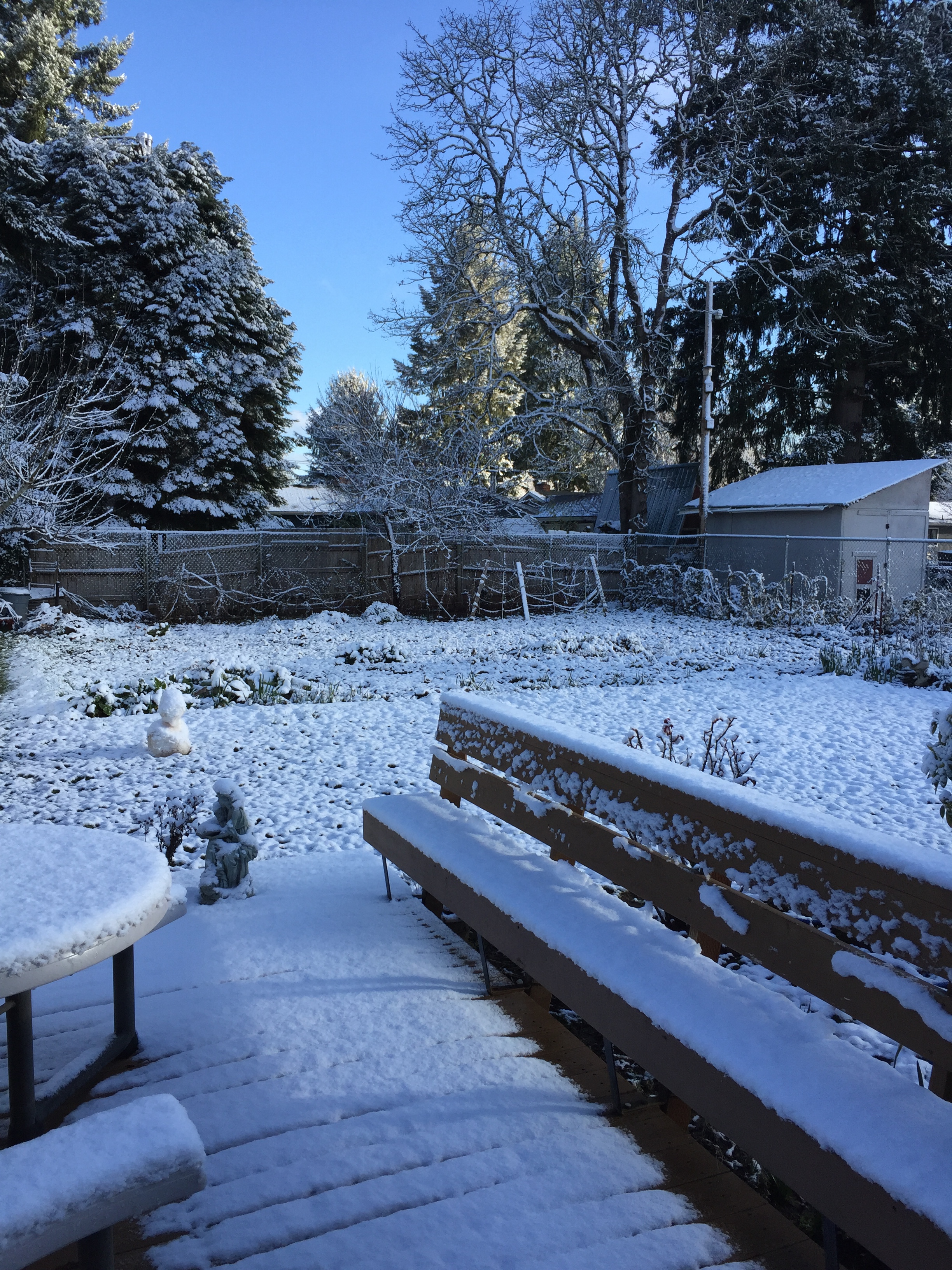 We've had snow 3 times this past week–twice over an inch and a half, and once, just a skiff.  Crazy!  It's been such a mild, spring-like winter!! There was not enough on the roads to close school down, so neither Rob nor I missed any work.  We only get paid when we work, so we were able to enjoy the beautiful sight of snow without any of the inconvenience that usually comes with it.  In fact, on Thursday, when I took this picture, we were the only area that had much snow.  When you went even a few blocks, there was basically none.
Despite the thrills of excitement we all feel when it snows here, since it is so rare, our week went pretty smoothly.  Monday was a holiday, and I sewed.  I watched the Olympics several times.  We also did some cast iron cooking.  We are testing out some recipes for an upcoming 4H class we have been asked to teach.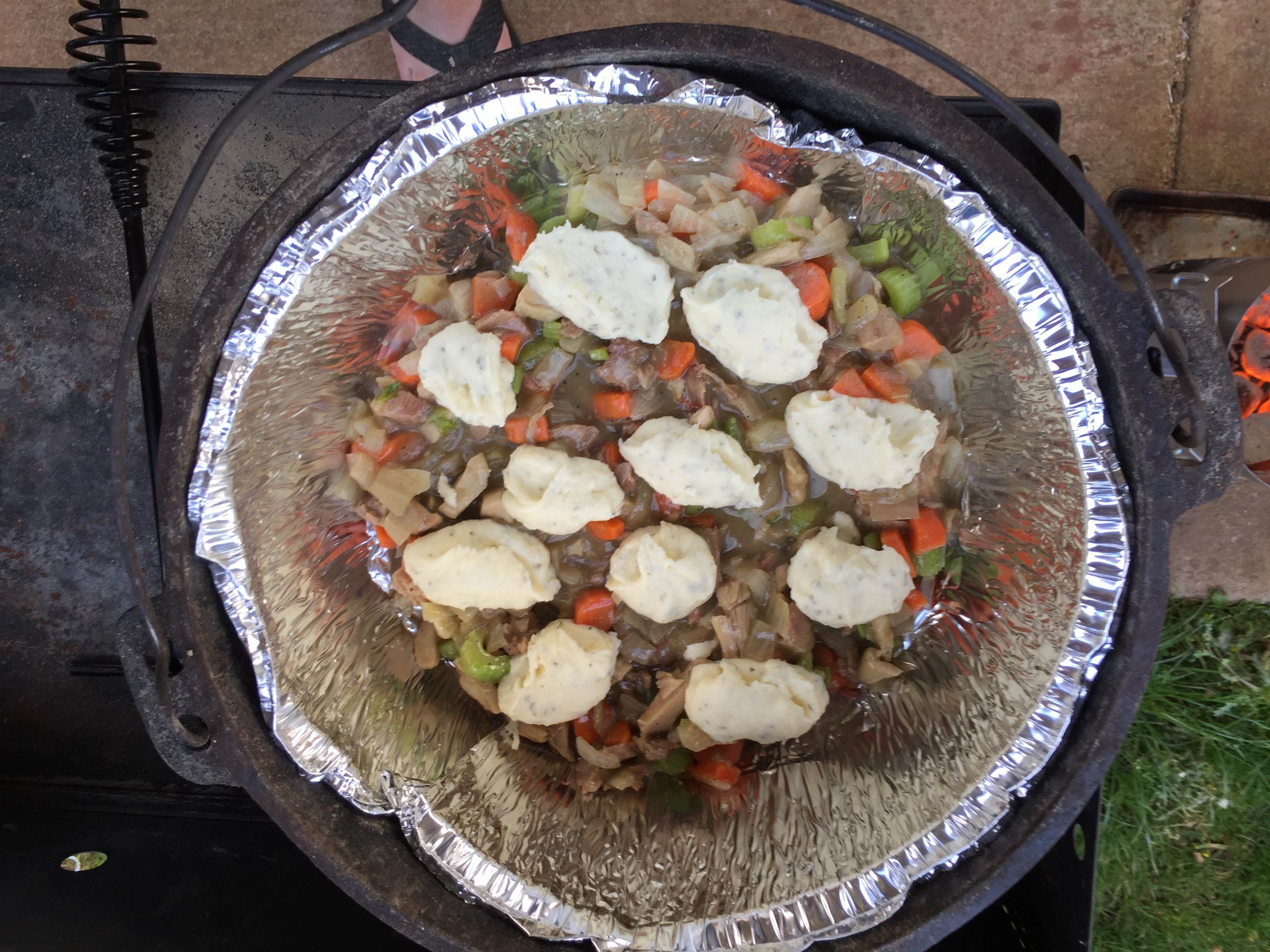 Chicken pot pie.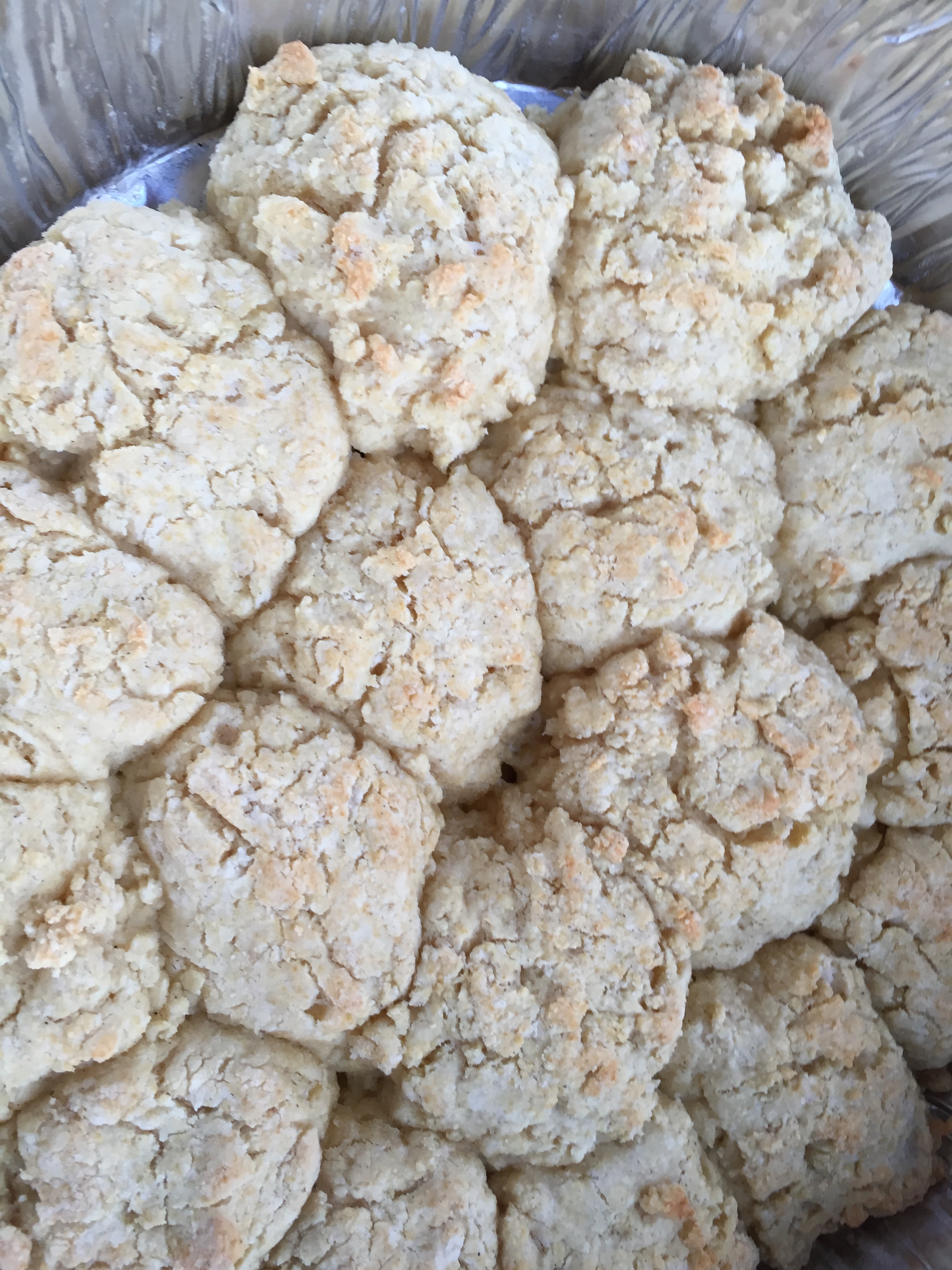 Gluten-free biscuits.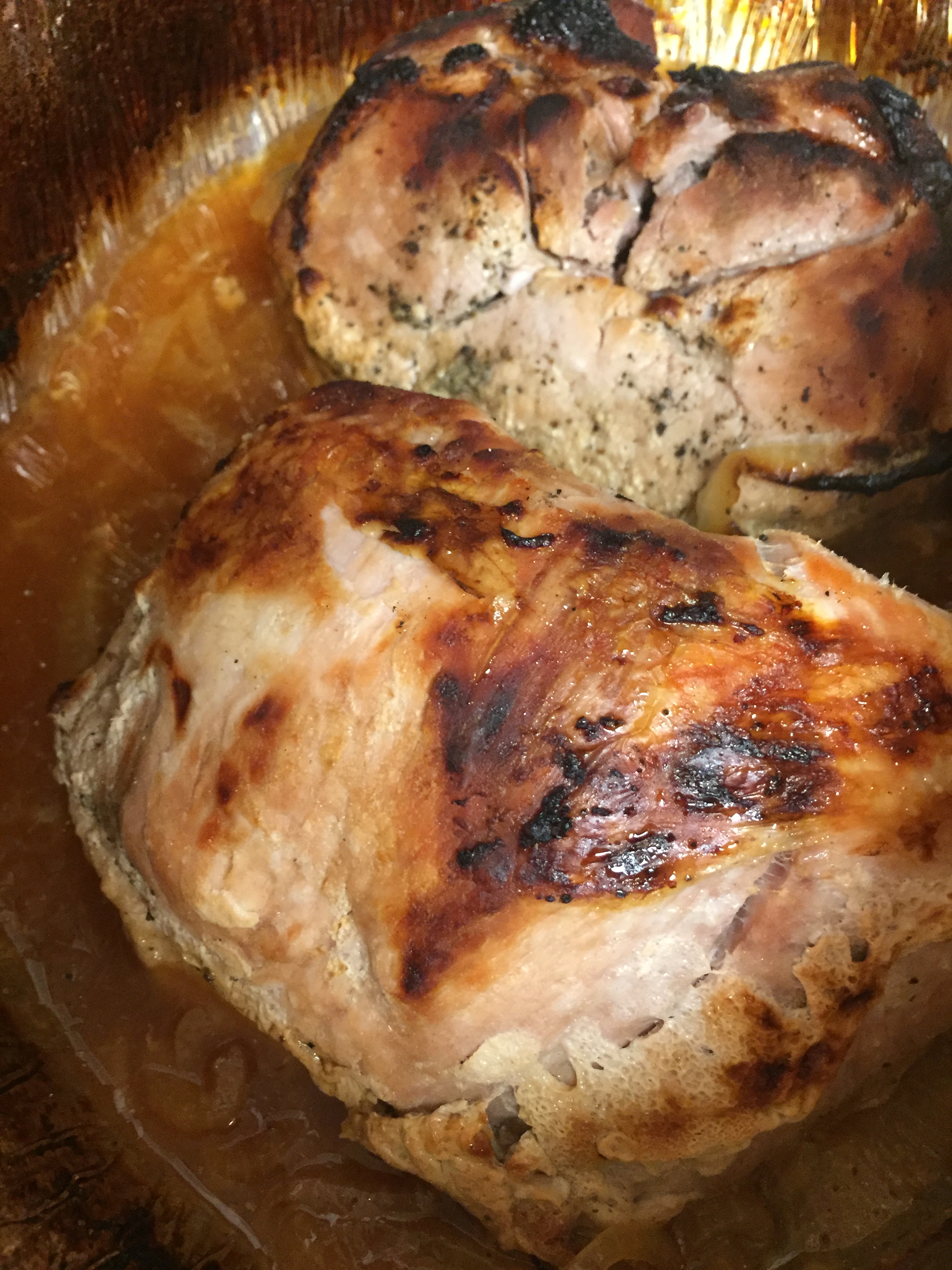 Apple cider and onion pork.
They were all good, and we had a fun time testing them out, and got good food to eat for the rest of the week.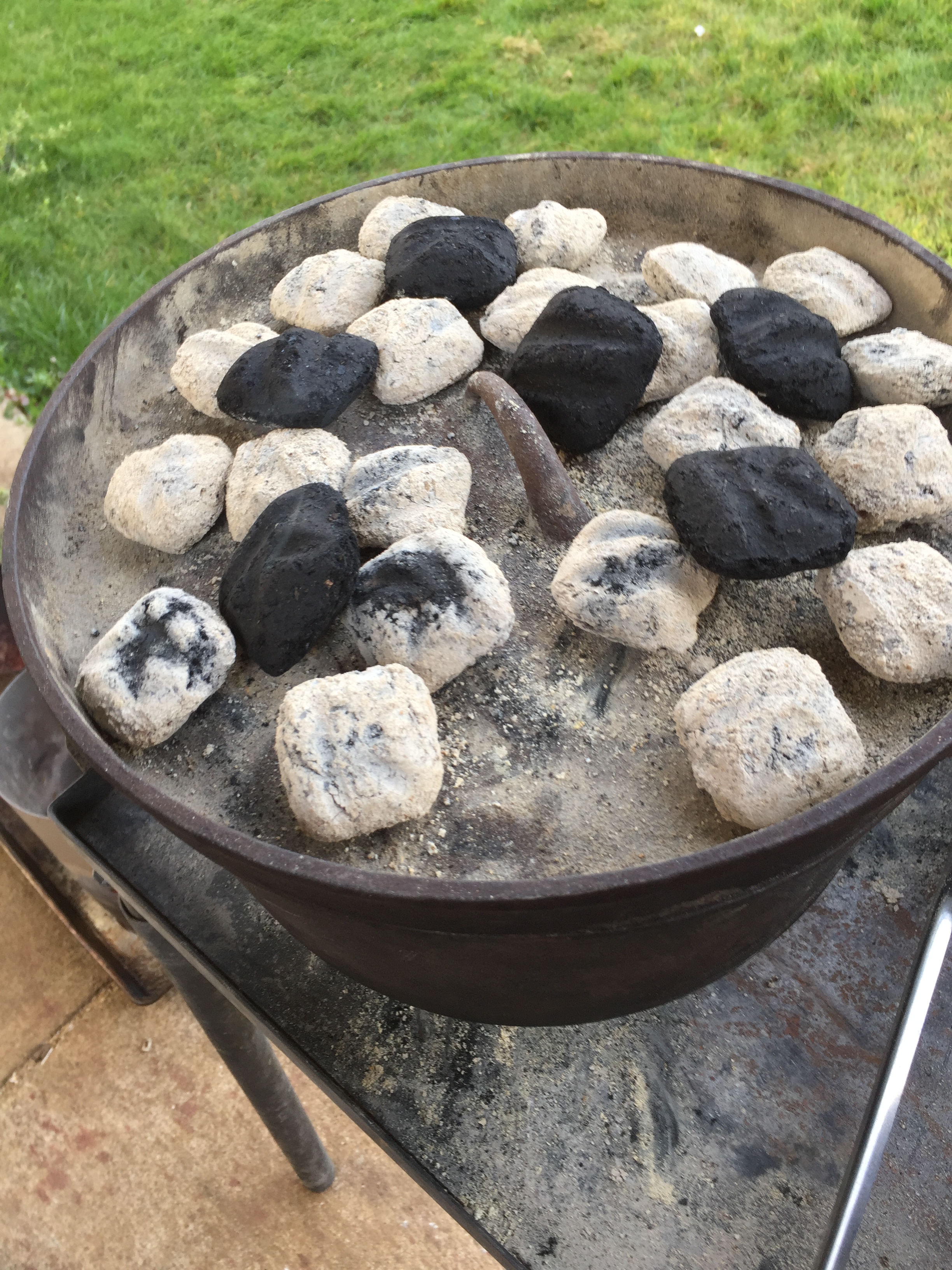 You can bake in a cast iron kettle quite nicely if you put coals on the bottom, place the spider cast iron pot on top, then put coals on the lid.  We were delighted with how the things came out.  It does take practice, though.  We actually got too many coals on the pork, and it was super brown (slightly burned) on top,  but was still good.  We used liners, because we are going to do this at a class and it makes it easier.  I prefer the flavor when they are cooked right down in the cast iron, but this makes clean-up a breeze. The class is for older youth, so needs to be more advanced than the stew in a pot, roasted hot dogs, etc. that we have done before for younger kids.  I hope to practice a little more.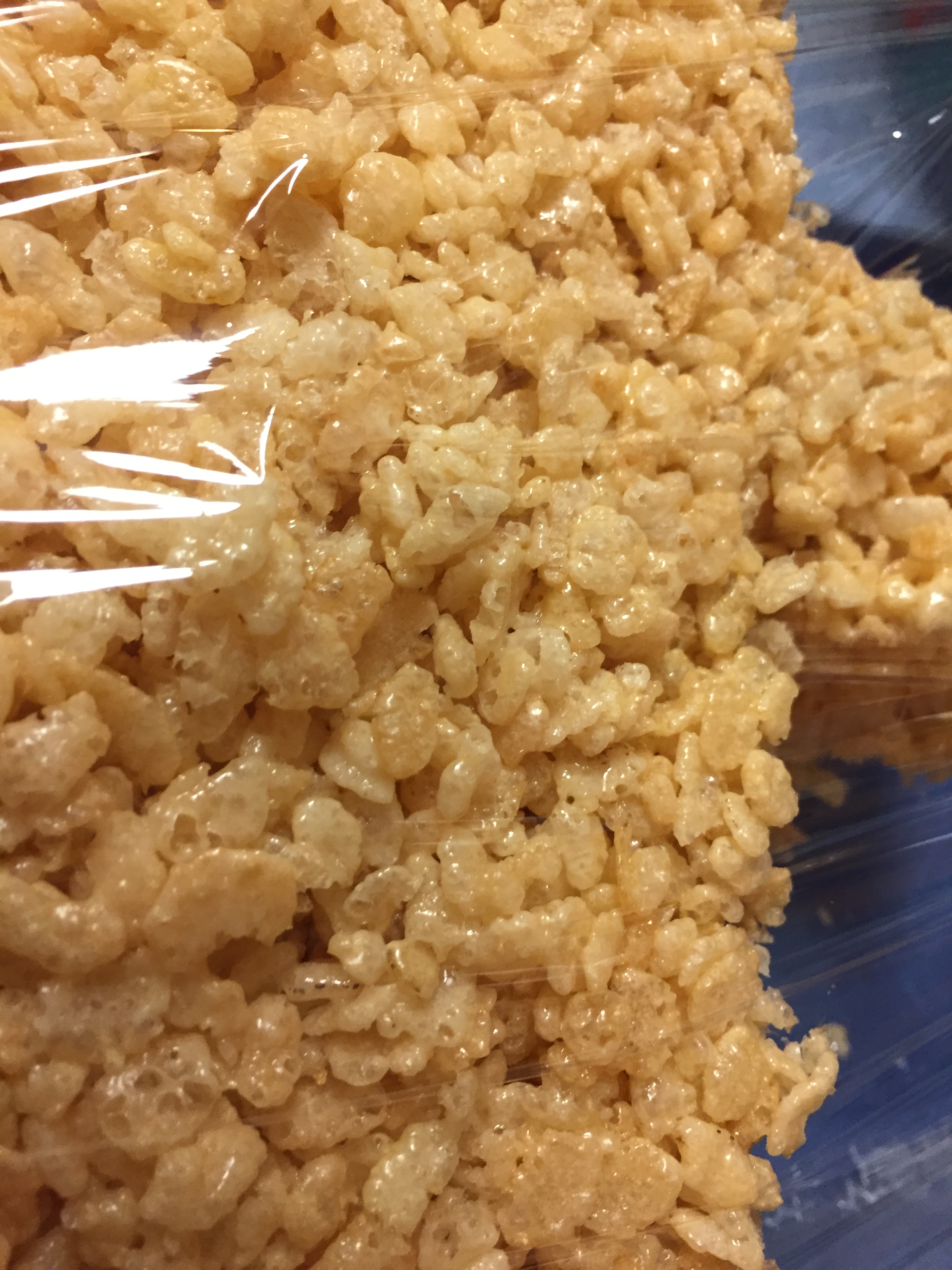 We also cooked Rice Krispie treats, (Jake was here for the weekend), pizza, salad, several baked potatoes with cottage cheese on top, and I bought a $4.99 chicken from Costco when I was there.
I spent a lot of time Friday shopping my way from store to store, getting the best bargains.  I had the time to do that while J was in her house-cleaning job for 2 hours and I didn't want to come home.  I shopped at Grocery Outlet and Fred Meyers while she cleaned.  At Grocery Outlet, I got 99c gluten-free cookie mix, a little produce, and a few other things.  I was able to pick up all my Friday Freebies at Fred Meyers and get a substitution for the one I had not been able to get twice before.  I got the Cliff bar easily. There was an extra freebie of yogurt on my app this week, and when read carefully, you could choose between a single yogurt or a 2-pack.  Of course, I took the 2-pack. I got more cottage cheese, as it's really been on sale lately and people are eating tons of it.
Then, I got J and we went over to Safeway, where I had coupons from my aunt for 99c sugar(2) and $1.99 butter (2). A free cream cheese showed up on my app, so I got that.  We chose herb flavor.  We also got Oreos for $1.99, and a very few more things.  I don't go there much, so haven't won very many items on the Monopoly game they are playing there.  On this trip, J helped 2 elderly ladies get sugar from the bottom shelf, in the back, so they wouldn't have to crawl down on the floor.  They were very thankful for her kindness.   At check out, one of them gave J her Monopoly tickets.  Another lady who was standing there did too.  I got my few, and we left.  I was surprised to see, when opened, that we won a bottle of aspirin, a bottle of salad dressing, and a few coupons.  When Patsy stuck the tags on the game board, we won $5!  Wow!  So, I need to redeem those tickets.
Last month, I found I had  $100 left over from last month in my grocery envelopes when I went to fill them up again.  So, I decided to spend it at Costco on Friday, and got a few things I could use from there.  J is taking snacks to youth group Sunday night, and so we got one of those huge bags of corn chips, which she will put with the bean dip and salsa I got very inexpensively at Grocery Outlet.  Her snack will be way under $10 and I'm sure there will be some left.  (She says it ranges from around 15 to 40 kids, depending on the day or night, meaning she has no idea how many there will be, so better safe than sorry).  I got one of those cooked rotisserie chickens at Costco.  I wanted lunch, but there aren't very many things I can eat at Costco, so I just got that, ate some then, and saved some for later.  J had pizza.
Today, I had Rob pick up the Yoplait fridge packs of yogurt that were a Saturday special at Fred Meyers for $1.99/pack.  He got the 5 allowed.  That's 25c/yogurt, as there are 8 in the pack.  He and Patsy will burn their way through those 40 yogurts plus the 2 free ones I got.  I buy them frequently for a lot more than that!  He got the 99c cereal, too. (5) and some milk. It's a long story, but we had 2 Visa gift cards of $15 each.  He used them, and there is still a little money on one for next time.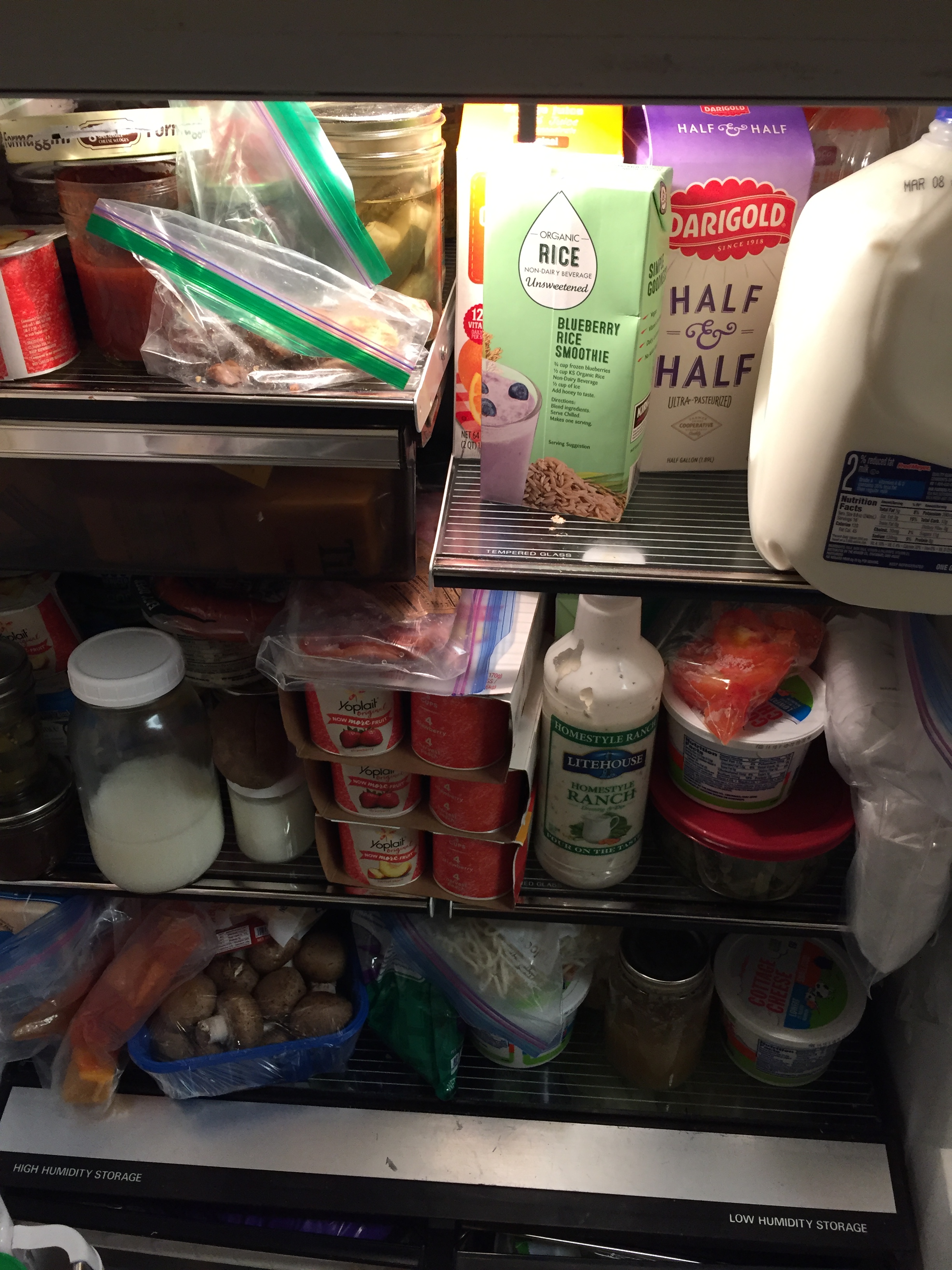 So, the fridge in the house is stuffed, as is the camper one.   I'm in a great place for groceries and grocery money for the month ahead.  We take grocery money from our mid month paycheck each time.  That's just working well right now.   I'm hoping to be able to skip a week of shopping this month some time, or at least only buy a few items one week.  We'll see how it goes.  I don't want to get over stocked and have things start to go bad.
Tomorrow, Family Sunday dinner is here.  At last count, there may be up to 13 or 14 young adults and kids here, with Rob, myself, and my aunt. We will see how many really show up.  Some of the friends may not actually be available.   I love cooking for a crowd, but since Michaela spent part of the weekend, and Jake the entire weekend, I want it to be easy.  So, I'm using some of the 50c/lb rotini I got last week with some canned pasta sauce.  I'm making meatballs from beef.  All of this will be in separate bowls.  I'm under orders from Alissa, my niece, to keep it separate. (I'm using regular wheat pasta for all of them, to save a bundle of money, and I have a little gluten-free for me.  The trick will be that I will wash the pan and colander myself to make sure it gets super clean, so the separate bowl idea works really well for me, too).  Then, I'll do salad with some of the 6-pack of romaine from Costco, and my aunt will bring chips and Oreos.  Simple, easy, and us aunties will keep our "spoiler of children" status:). I love it that they come, and bring their friends.  It keeps us all young and on our toes.
I took Patsy and Jake swimming at the YMCA today, and took 2 exercise classes this week.  I was very sore after Thursday's class, so stretched out really well and exercised a bit at home on Friday.  Jake joined me, pointed out how easy it was, tried to get me to put one leg on the ottoman, my head on the couch, wave my free arm around and kick my other leg up, like he did, but………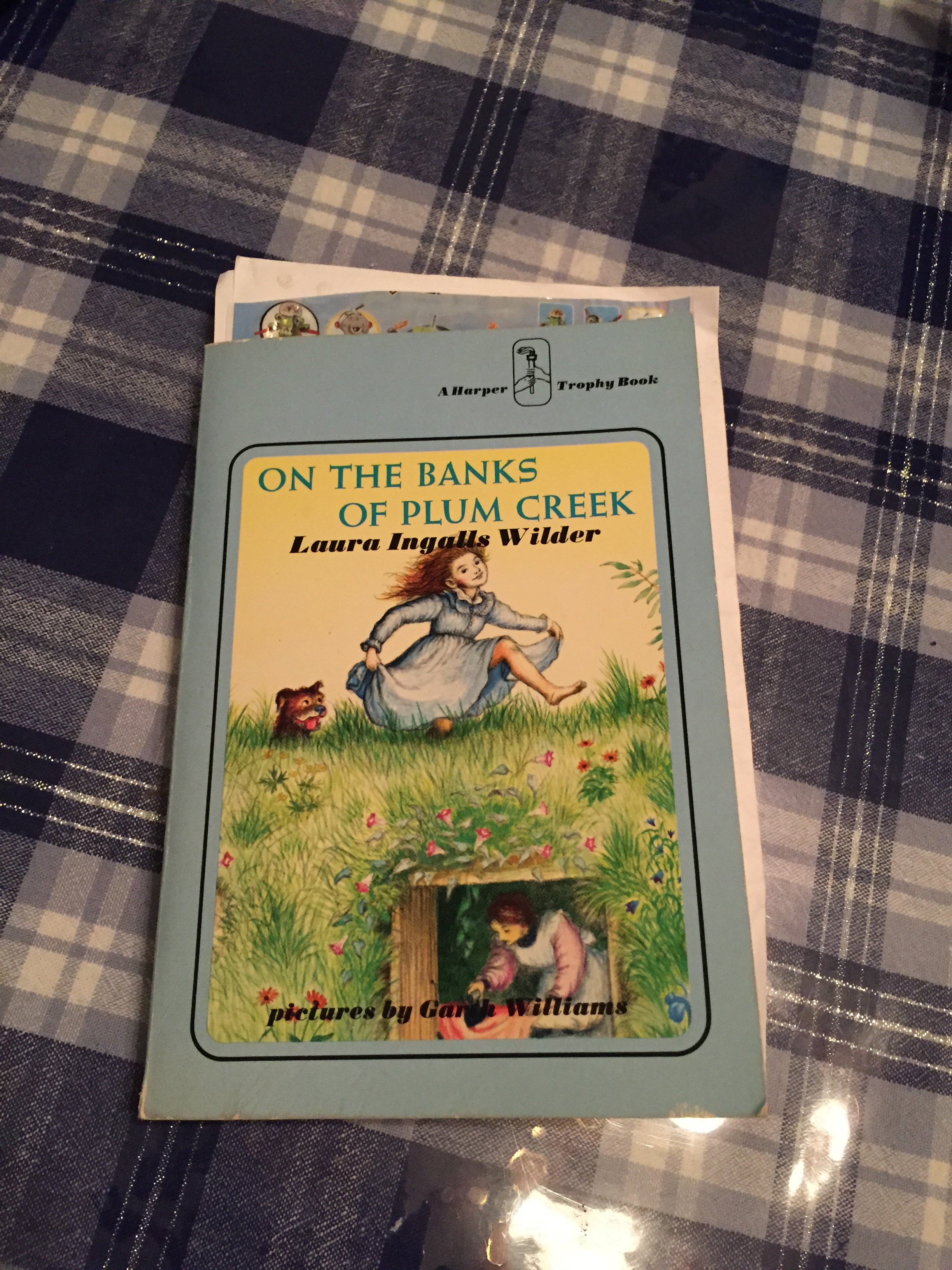 We have moved on to reading "On the Banks of Plum Creek."  He's enjoying "Good little Mary and bad little Laura" very much.  I know Laura portrays herself as a spunky, slightly naughty child in the books, but I was surprised when he started calling them that:).  In the very first book, Laura slaps Mary and gets in bad trouble.  He was appalled.   Kids are funny. He won't forget or stop thinking about Laura's naughtiness:).  Today, I dug out the original Little House on the Prairie movie, I think from the 70's, and he watched it.  He loved it!  Rob and he watched "The Apple Dumpling Gang" on Friday night, and he liked that, too.  He's really branching out.  He played with Legos we have, my treasure chest of Transformers and other toys, and the box of play food we've had for years.  He made meals for the Transformers, and us, and then the Transformers shot everything in sight:). We read a lot of little books, too, and he read to himself for a while.  I cooked him bacon and pancakes, and he ate most of a package of mini bagels.  My house is a train wreck, but at least everyone is clean, safe and happy, at least for the moment!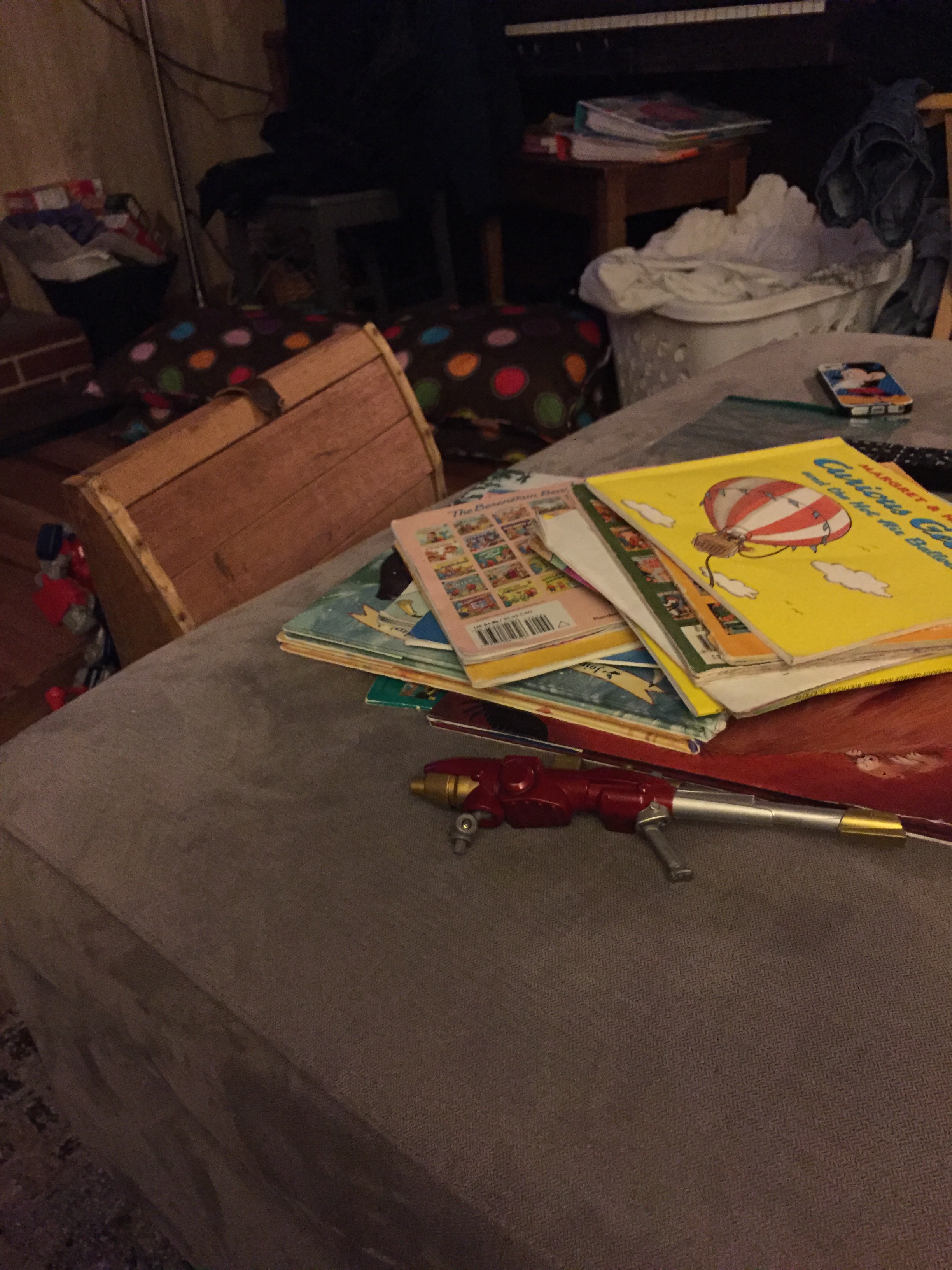 Michaela spend one night, and she was quiet, in her personal cocoon, at first, then watched tv with Patsy nicely, and slept in this morning.  Her older sister came and took her to Horses of Hope (she volunteers and grooms them, then gets to ride.). She liked that a lot.  I will get her back at 11 tomorrow, for her weekly after-church Coke, then lunch.  I would have liked to do something fun Friday night, such as take her swimming, but she would not leave the house, even though there were only snowflakes for about 1/2 hour, and they did not stick.  She is terrified of snow.  Still, she is doing quite well at coming over to spend the night more often and I'll try again another time to take her to the pool.
All-in-all, it was a busy, productive week, with the beauty of snow for part of it.  Now, though, that can go away as far as I'm concerned, and spring can come:). My baby plants are up and growing, and I have some transplanting to do that did not get done this weekend.  Maybe tomorrow…..Maybe not…but soon!