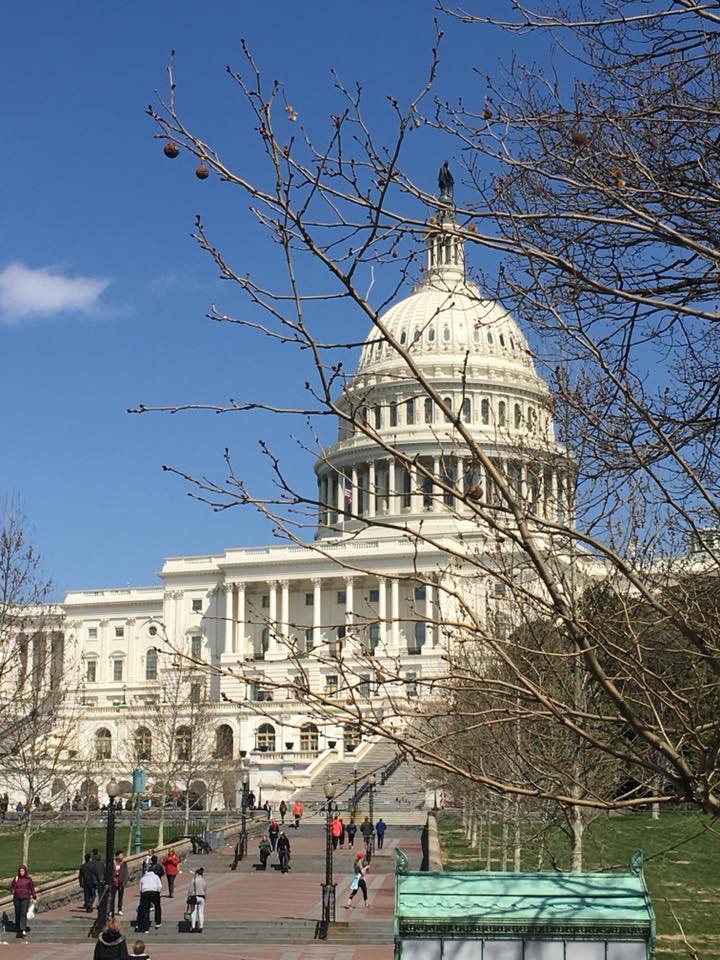 My aunt had contacted Representative Kurt Schrader's office to arrange for a tour of the White House, if we could get one, months ago.  His aide, Adrian, got us several tours.  We were so grateful.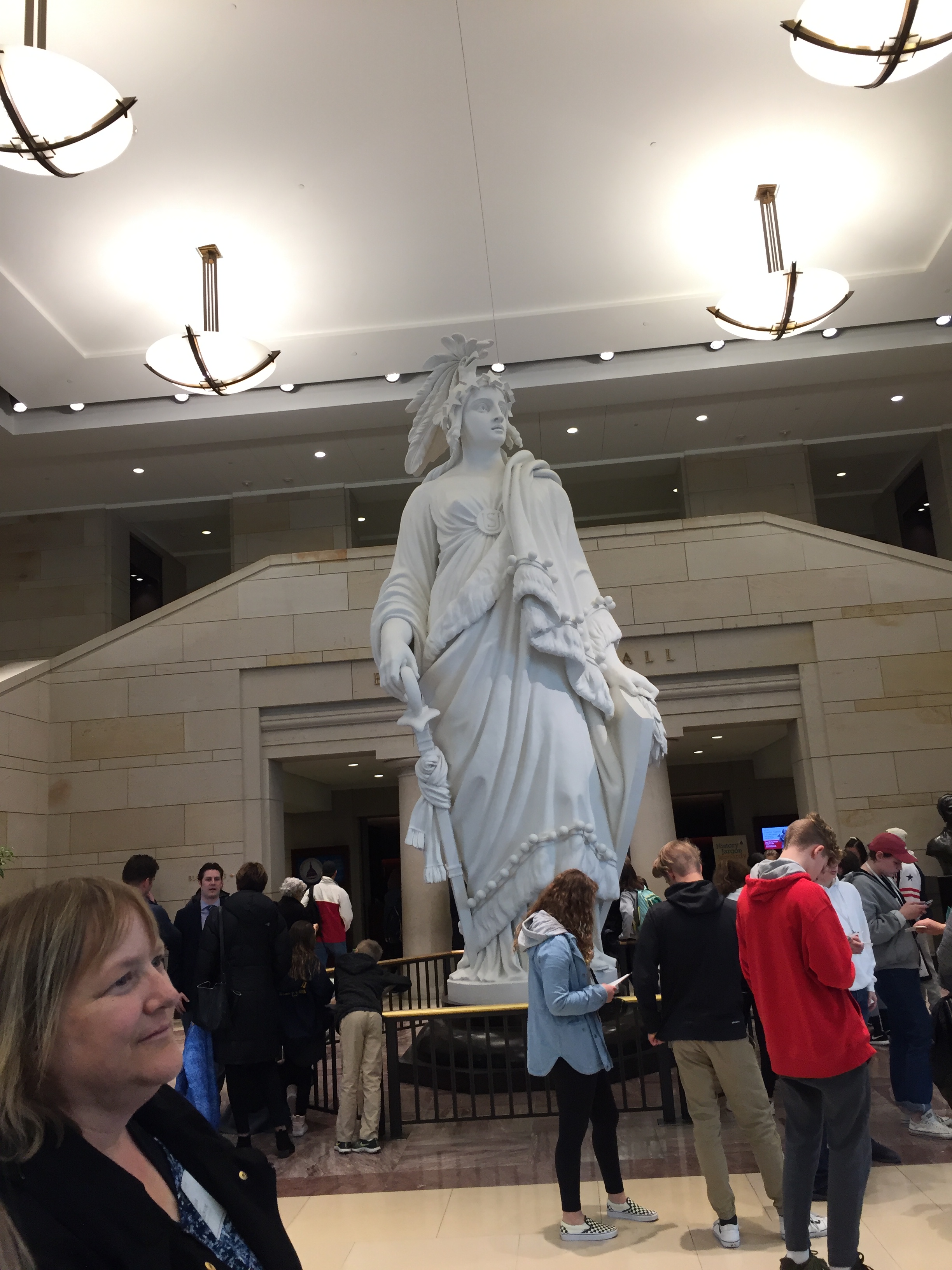 The Capitol Building was our first one.  We found our way to Kurt Schrader's office in a different building and were guided through underground tunnels by the aide, until we emerged at the Capitol Building.  Security was quite intense, and we were just beginning to get used to what would be our new norm–emptying all pockets, putting cell phones in little dishes, and going through the security gate.  There, we me another aide/intern(?) and he gave us our own tour around.  The other groups had around 50 people in them, and we had 6.  So, you can imagine, we could hear everything well, and were able to learn a lot on this tour.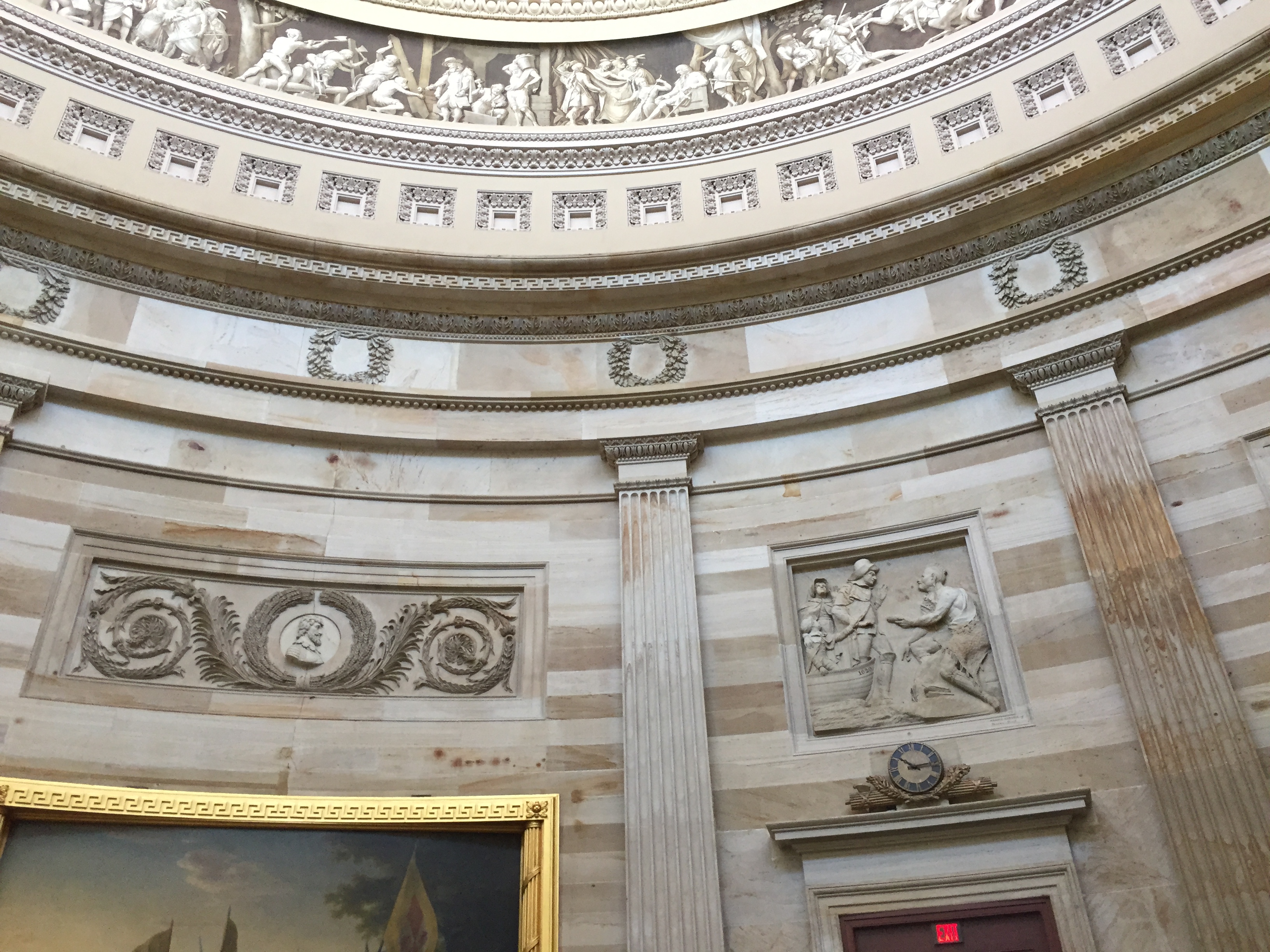 There were beautiful frescos on the walls and ceilings of the rotunda.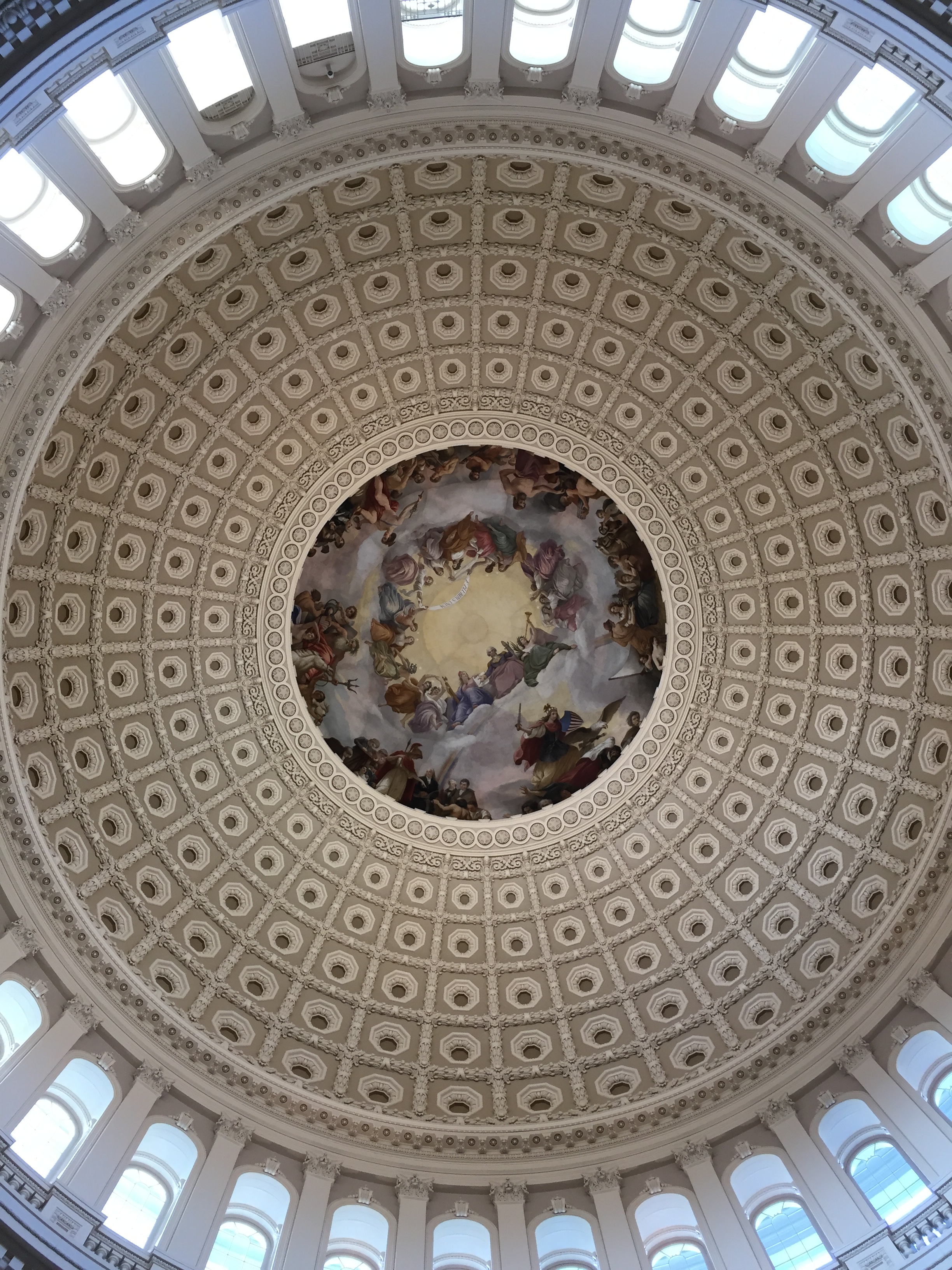 Looking up was breathtaking.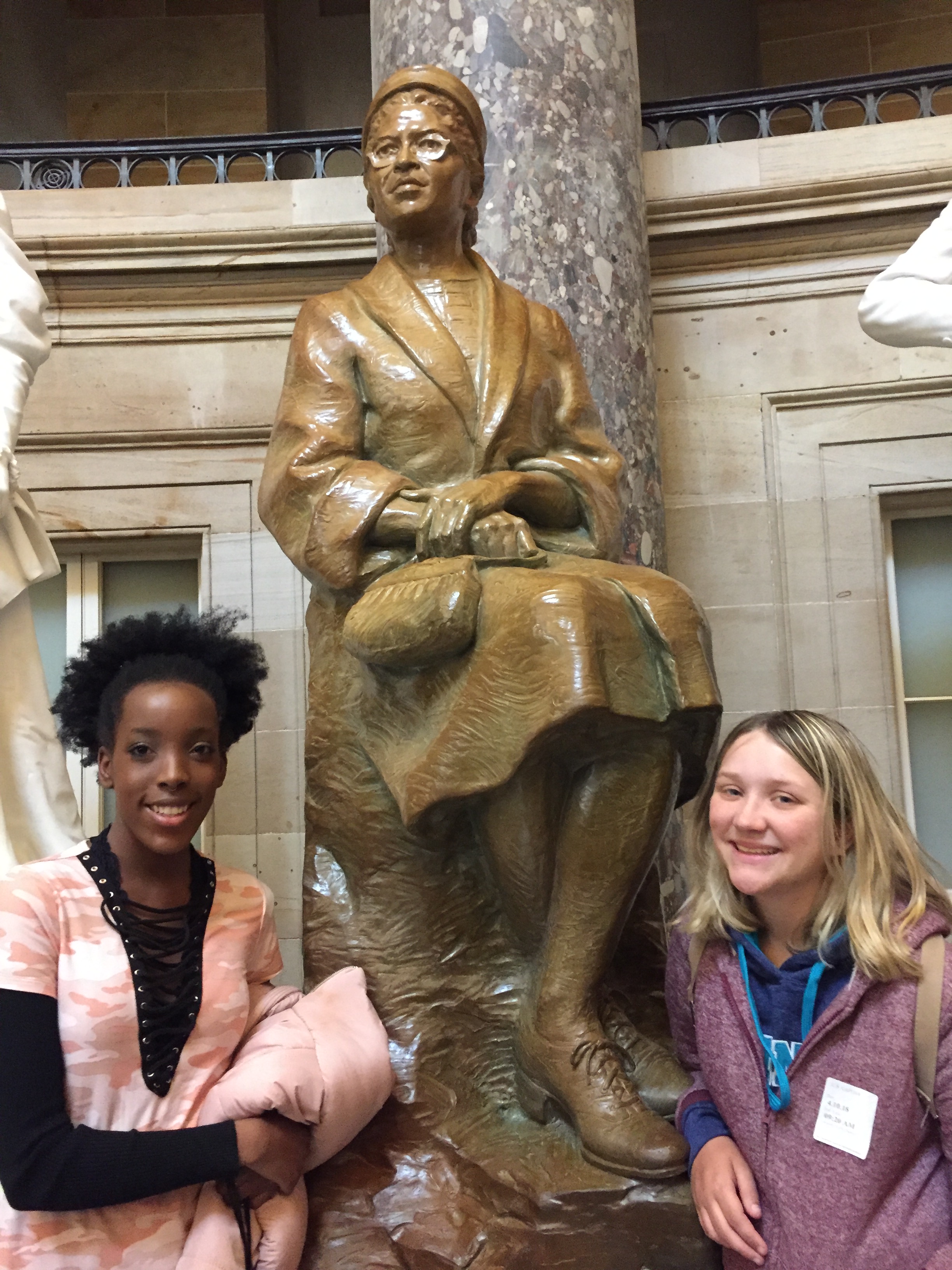 There were statues everywhere.  We were told about several of them, and allowed to wander about a bit, admiring which ever ones we wanted to see.  Of course, Ja'Ana ran over to Rosa Parks.  You may notice:  Rosa Parks is STILL sitting down!  We got a real kick out of that:)
After our tour, we went upstairs to the House of Representatives, hoping to see them in session.  After another round of security, and having to leave our cell phones and other personal items in a check room, we were disappointed to find out that they were out to lunch and would not be returning for more than an hour.  So, we enjoyed looking around in the required silence, and went downstairs to eat in the cafeteria.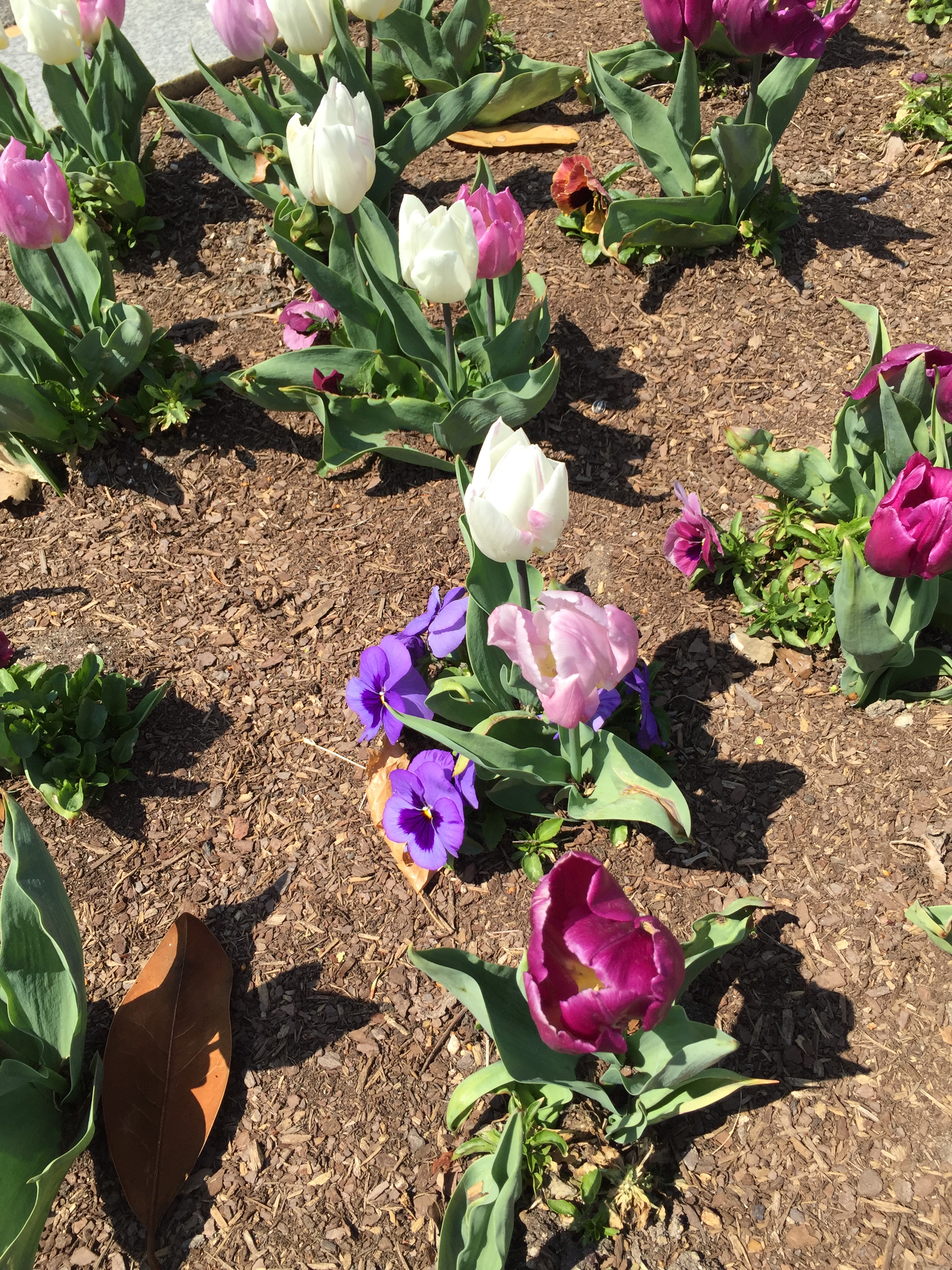 The flowerbeds were beautiful, and we admired them as we walked toward our next destination.  Our plan was to hop onto the "Hop-on, Hop-off" bus again, as our ticket was still good.  After running back and forth a bit, we did manage to catch up with the bus, and got on.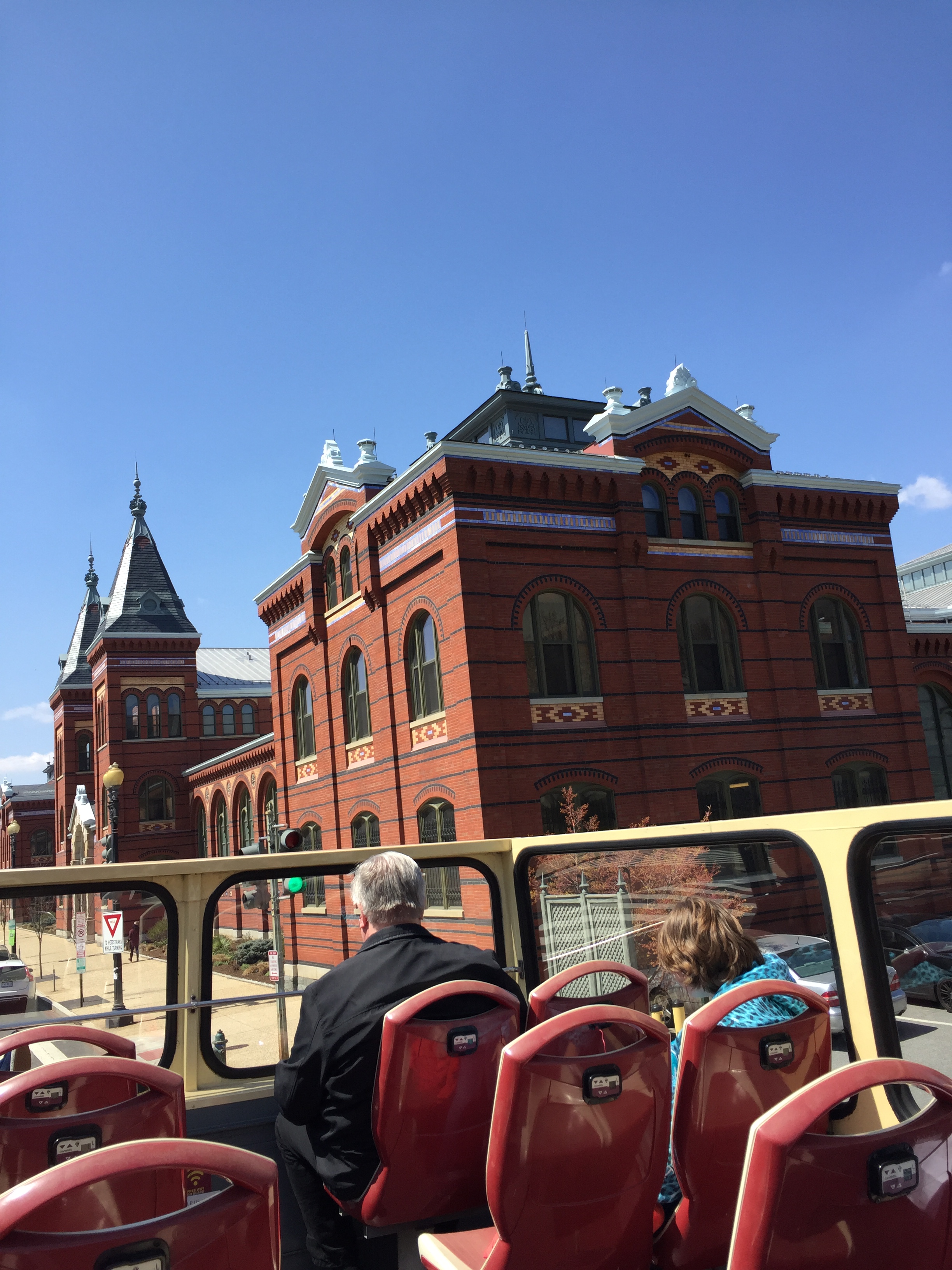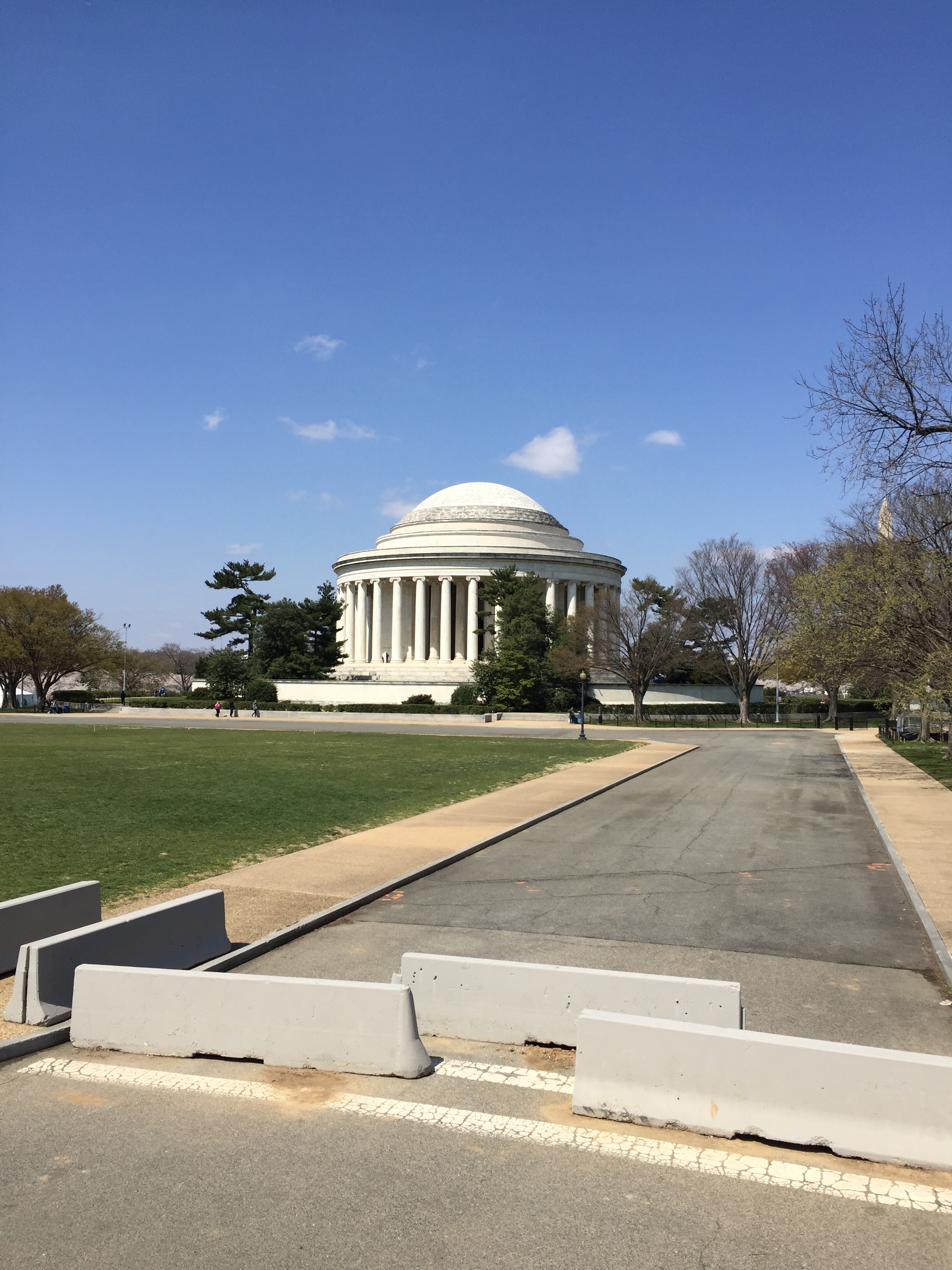 We rode past the Jefferson Memorial.  The Red loop was the one that would take us around the Tidal Basin, where many famous memorials were located, so we stayed on that one this time.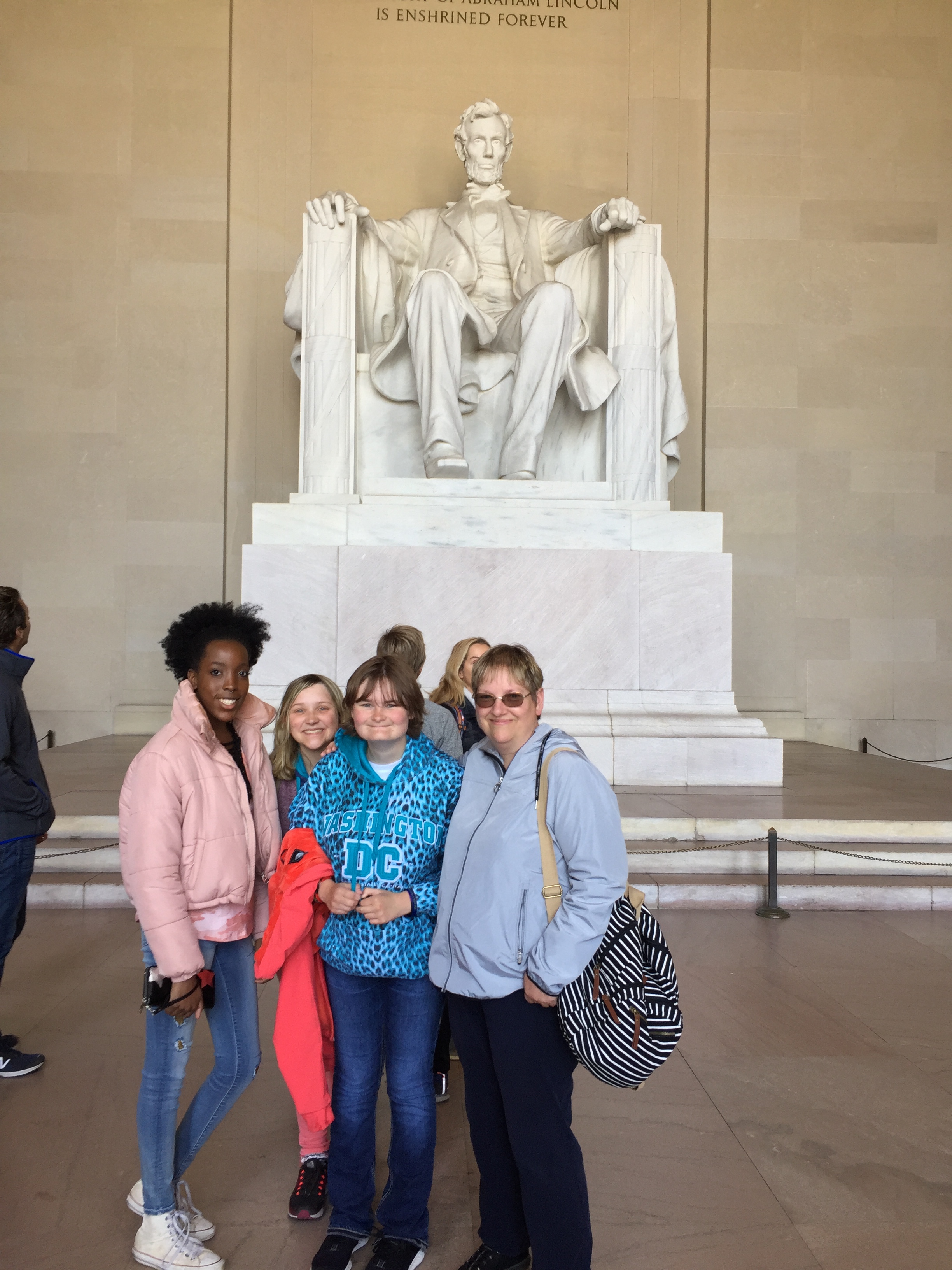 We hopped off at the Lincoln Memorial.  We all wanted to see Abraham Lincoln, but Michaela really, really was in love with everything associated with Lincoln, so we couldn't miss that one.
I was amazed by how big the memorial is.  I've seen it on t.v. and seen pictures, but it does not do justice to the amazing size of the entire structure.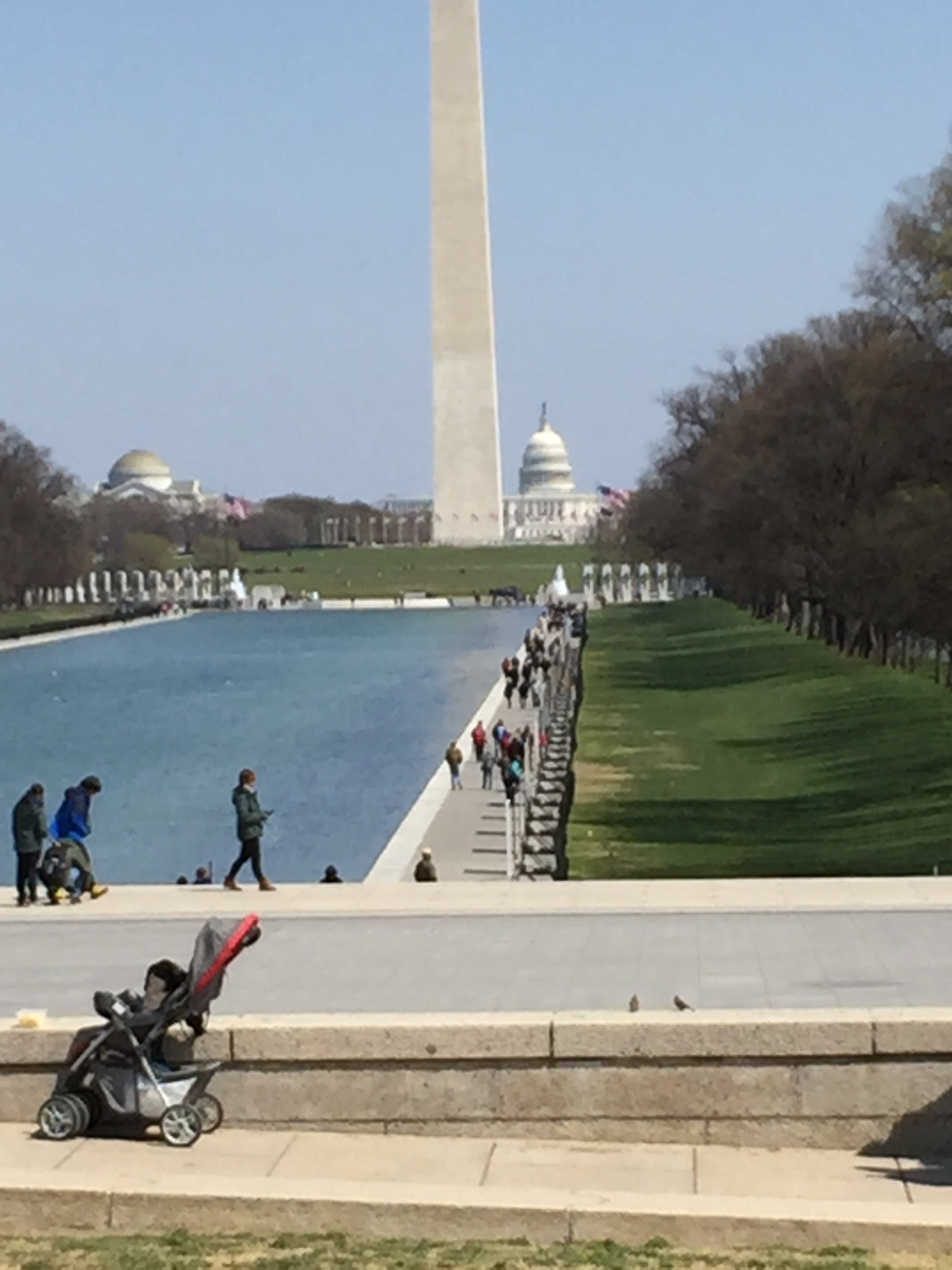 The view from the top was amazing, and of course, there were a few jokes from the girls about how we needed to run through the water like Forest Gump:). Thankfully, they restrained.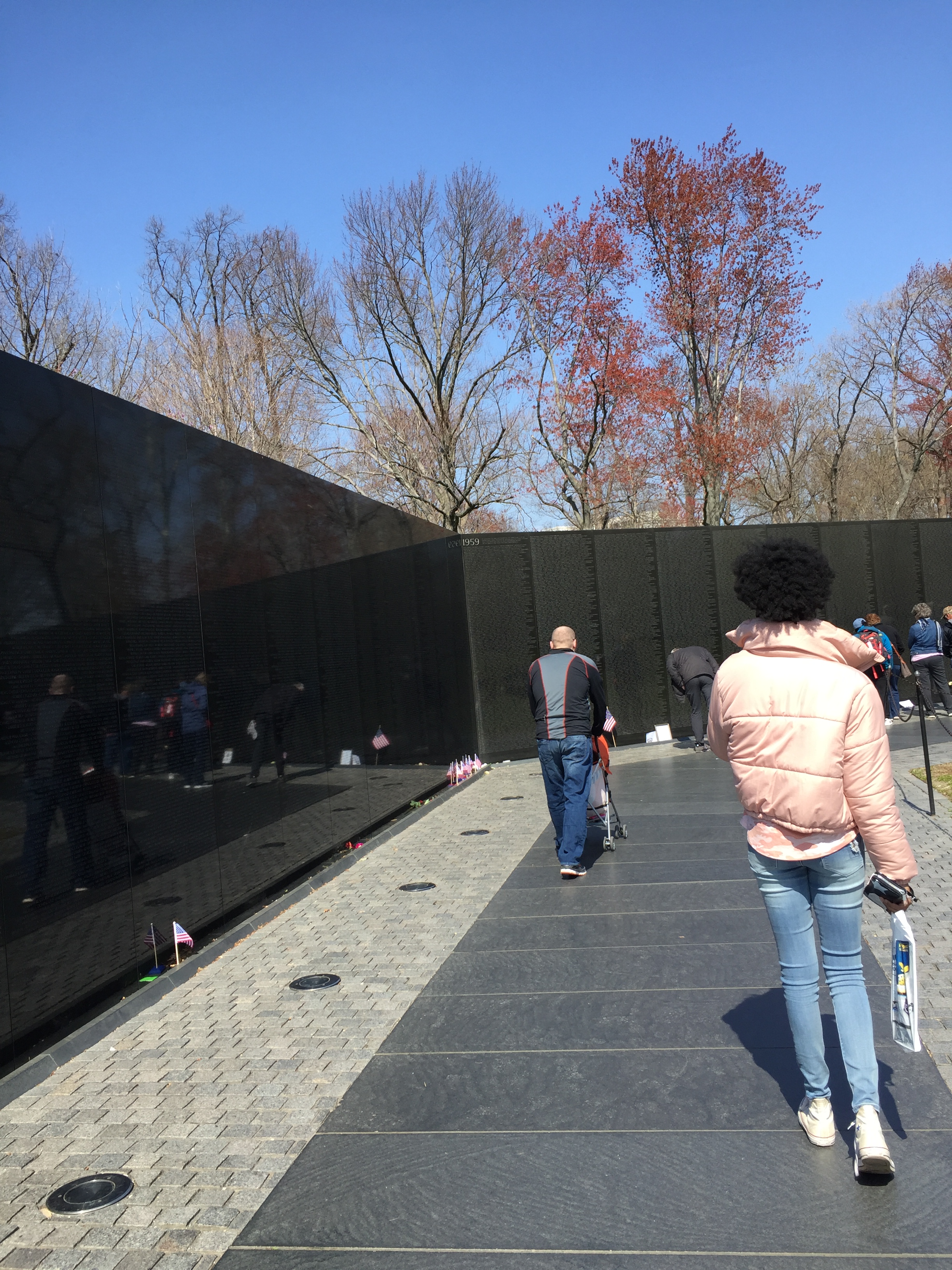 Then, we walked over to the Vietnam Memorial Wall.  For me, this one was more sobering because I was alive during this conflict.  I was very young, so it did not touch me very closely, but my aunt knew school friends who had gone.  So, it was a meaningful experience for all of us.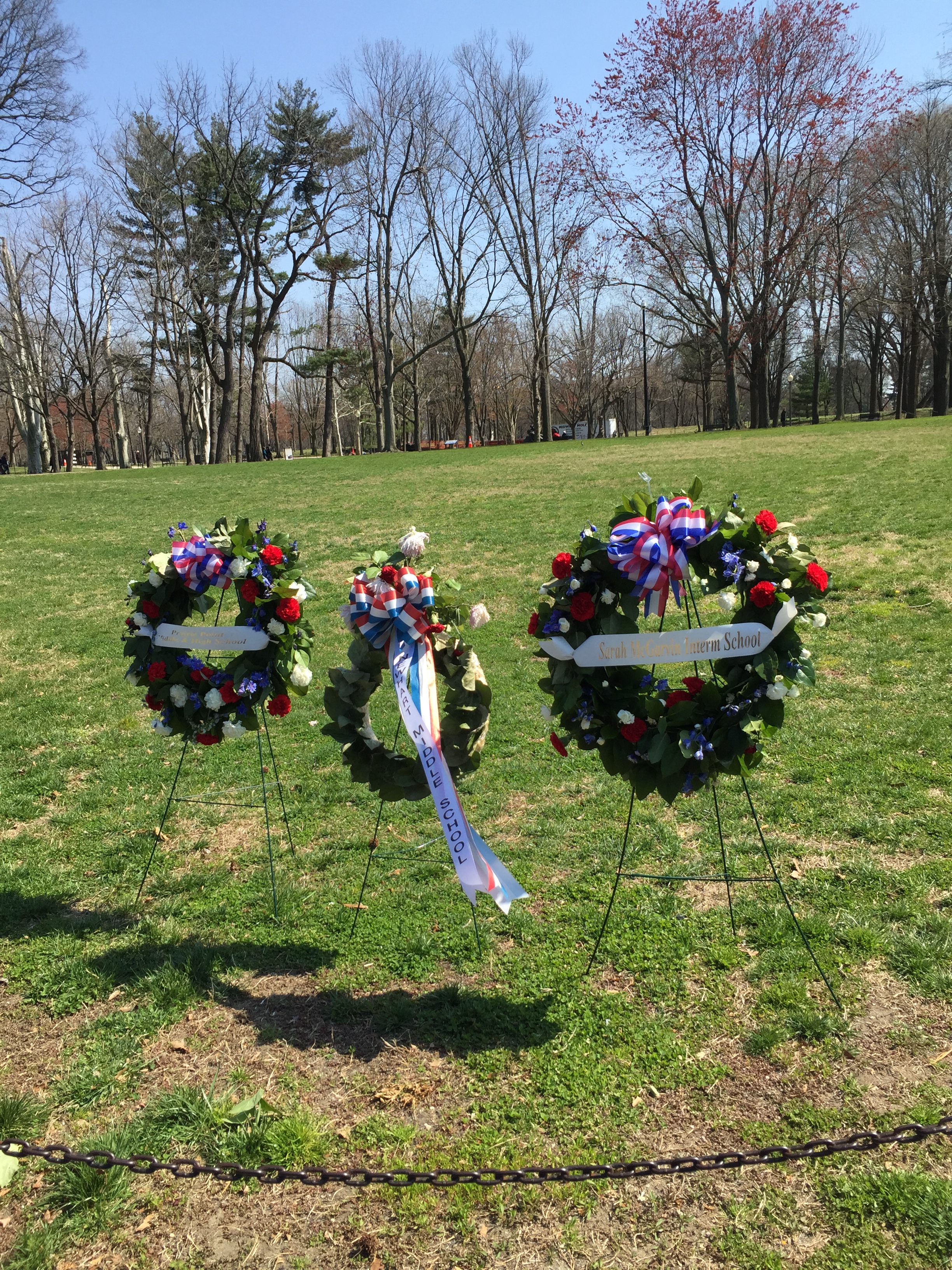 I saw that some schools had left memorial wreaths at the Wall.  I thought that was touching.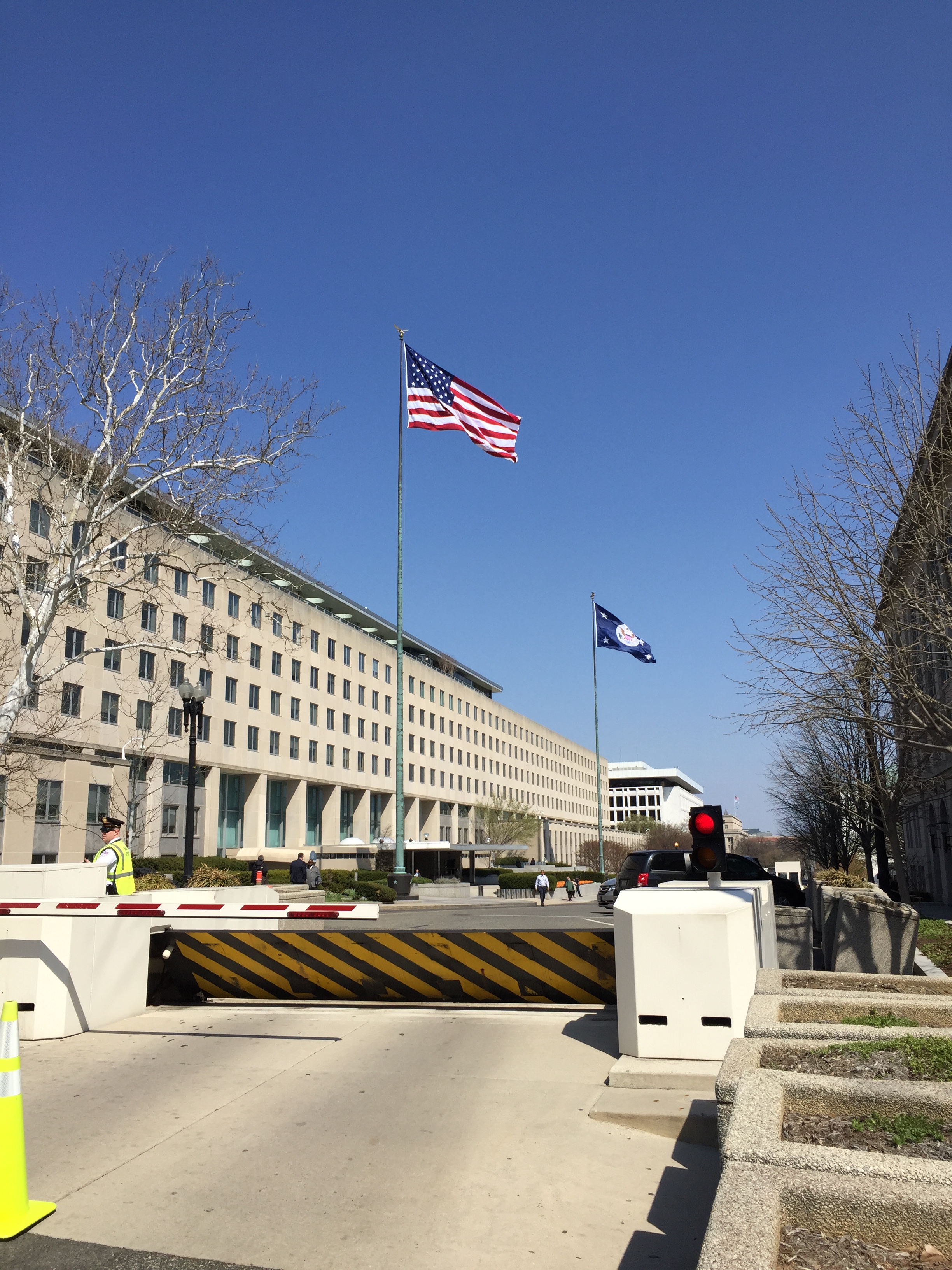 After a conversation with a very helpful gentlemen, who assured us that the Foggy Bottom Metro station was just a block or so this way, and 2 or 2-1/2 blocks that way, we set off walking.  It became a joke for the rest of the trip.  Those were the longest blocks I've ever seen.   We walked and walked and walked!   The route did take us past the State Department, and up a hill to the station.  We grabbed some lunch, then took the shuttle to the Kennedy Center, where we watched a play.
After the play, we took the shuttle back to the station and rode back to the townhouse, where we sank into bed and let our tired legs get a good rest.  The entire time, Michaela was still laughing because she thought the Metro station had such a funny name.  It was good to see her in such a good humor.  This may have been the day we got 17,000 steps.