Memorial Day dawned sunny and bright, and our troops were up early so we could be on our way.  REALLY EARLY!  On Sunday afternoon, Jake came home with us so he could spend the night, and go with us today on our outing.  I woke up in the night for a while, as I often do, and had just settled down to sleep when I heard a big thump.  I asked Rob what that was, and he replied in his sleepy voice that he had not heard anything.  I went to check on Jake, and sure enough, he was clambering back onto the couch where he sleeps, after falling out of bed.  I tucked him back in, and told him good night, none of which he remembered in the morning.  At 6 a.m., he was up and raring to go, so therefore, so was I:). We did the morning things….reading out loud, getting him rice milk, finding clothes, etc.  I wanted to make him bagels, but I had none.  I wanted to make him toast, but the bread was moldy.  I finally settled on a stale hot dog bun, which I toasted, and he ate.  I grabbed some food and threw it in a cooler, Rob gathered chairs and fishing supplies and drinks, all the while being asked if we could leave yet.  Jake rousted both Patsy and Ja'Ana out of bed and harassed them until they got into the car, then fussed because he didn't have as much room as he wanted in the back seat.  Finally, we were on our way.
We stopped in a small town on the way up Hwy 22, to buy Ja'Ana a fishing license, and to grab hash browns at McDonald's, which Jake gratefully ate as well. The juvenile fishing license is a great deal–only $10, because she is not quite 18.
When we got to Detroit Dam, I asked Rob to stop.  We did not know you could drive over it, so Jake, Patsy and I jumped out and started walking across, admiring all of the people fishing along the edge and the spectacular view. Rob quickly figured out that you could drive across and began following us.
An extremely kind young man noticed Jake's interest, and  called him over.  He had a fish on, and let Jake reel it in!  That was so nice of him.  Jake loved it!
The rock and pine cone collecting and throwing commenced immediately on the other side of the dam:)
We drove up past the little town of Detroit, and went to the other side of the lake.  We did not understand the the federal campsites over there were being run by another organization, and they wanted to charge us an additional fee, besides the one we had already paid for our federal forest pass.  So, we decided to just drive around the lake, find our own spot, and settle down there.  Sounds easy, doesn't it?   It wasn't quite that simple:)
We saw lots and lots of trees.  We saw beautiful wildflowers.  We saw rocks, bushes, and miles and miles of gravel road.  We saw many, many little forest service road numbers, but only 1 sign that actually told us where to go.  We turned around and backtracked when our road ran out.  In the middle of it all, there was pavement, and we were excited, until it suddenly turned back to gravel.  We saw many people camping, several vehicles, including pickups pulling trailers (not me on that road!!!!), and a sheriff, so we knew the road went somewhere.  I had cell service for part of the time, so could check our location from time to time.  IF I had trusted myself, we would have ended up back at the lake.  I chose to follow the sign instead.  After all, it was a sign.  The only sign.
13 miles later, we had climbed up and over a ridge, and emerged at what could only be called a convergence of roads, all with signs stating road numbers, declaring that we were to "SHARE THE ROAD" and that it was a scenic hi way.  But, no direction at all as to which direction we should go, where we were heading, or anything else useful.  We chose to turn left because it felt right to both of us, but truthfully, we were not sure.  The road was paved, it went downhill, and we did emerge again at HWY 22.  19 miles east of Detroit Lake.  Really.  19 miles and a couple of hours later, we were right back where we had turned off in the first place.   Exactly. The. Same. Spot.  But, we really experienced the wilderness, and I truly thank the Lord that the kids all fell asleep in the back seat after the first little bit of those bumpy, winding, skinny, cliff-skirting, roads.
After stopping at the Oregon State Park, and being directed by an extremely helpful ranger, we went to this spot.  Jake woke up, and the throwing and fishing commenced again.  He threw in everything he could find, then settled down to "catch a fish,"
15 minutes later, he had one.  He caught it all by himself, but would not touch it, or pose with it for a picture.  He did, however, take it home to his mother, which really threw her for loop, not wanting to clean it at all.  Being the good mother that she is, she accepted it, and the one J caught, and will cook them up.
Ja'Ana caught one, too, and we were fortunate to have them, according to both the ranger, and the young men who were at the little park we were at.  I guess fishing hasn't been very good this weekend.  We were delighted.
He was done fishing after catching that fish, and spent the afternoon wading with Patsy, having me read "Laura and Mary" and digging in the snack bags, and lunch pail for drinks and chips mostly.
Sometimes it took 2 hands to get all those chips in!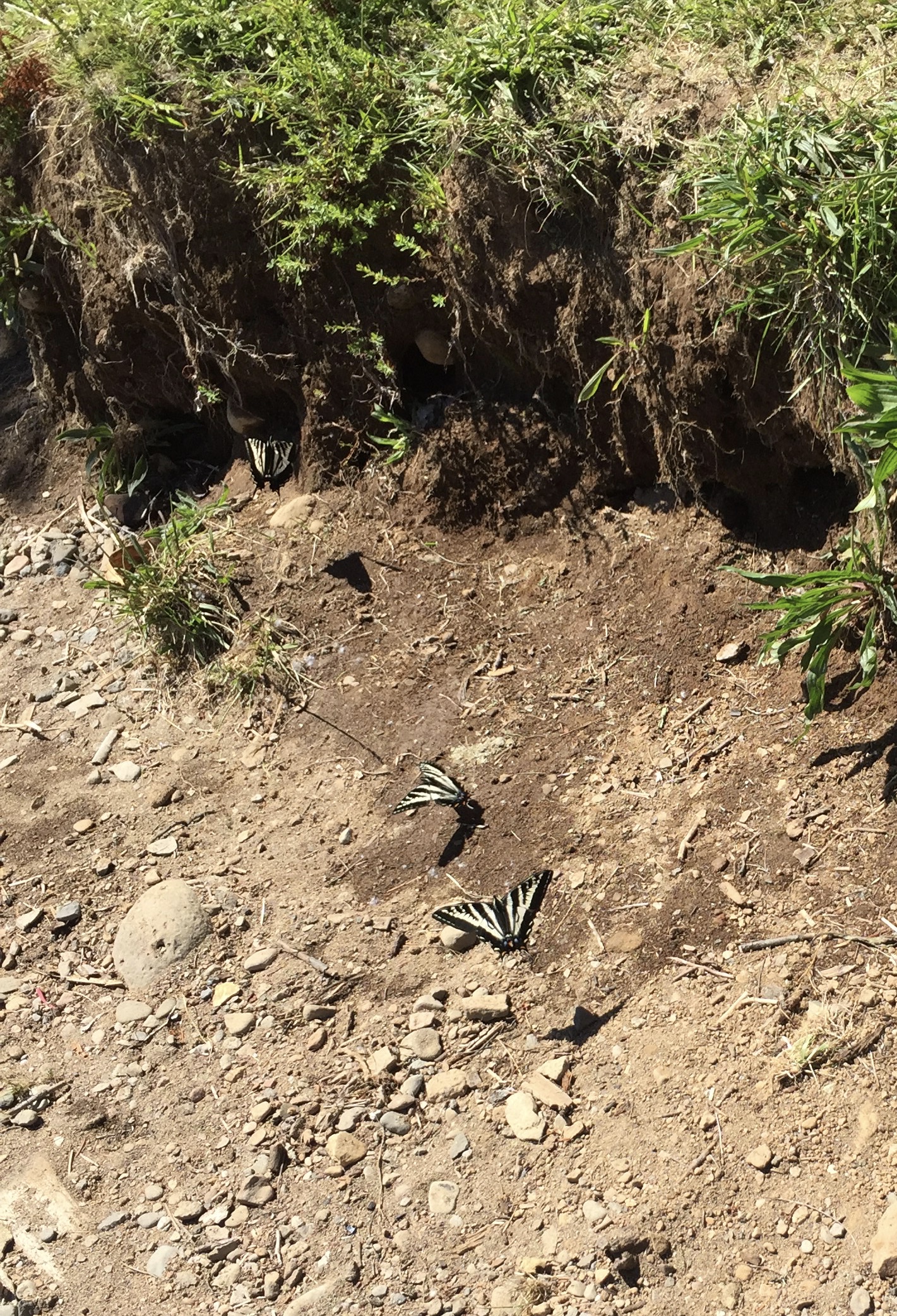 We saw many black swallow tail butterflies flittering around.  The ducks were constantly landing on the water, sometimes right in front of us.  The sun was shining, the wind was blowing, and people were happy.  It was a great day, and we took a dirty, tired, but not very hungry boy back home, and handed him over to his mom!  Chips are very filling;)  Of course, we included the most special rock, 2 large walking sticks, and the fish.  We wouldn't want him to leave his treasures in the car.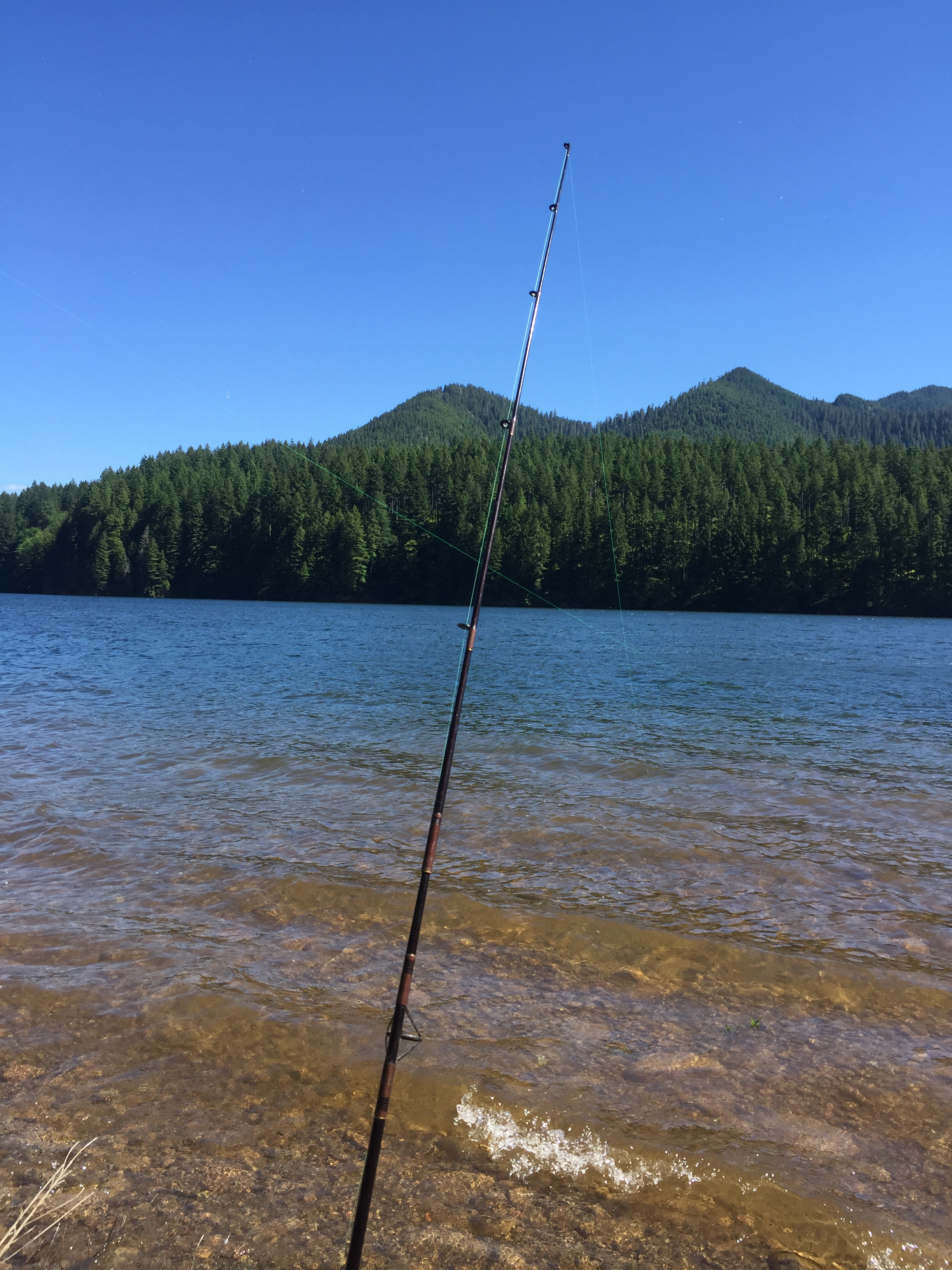 He already spent the day talking about when we can go camping again.  I'll bet he'll be asking to go fishing again before long.  I know we want to!