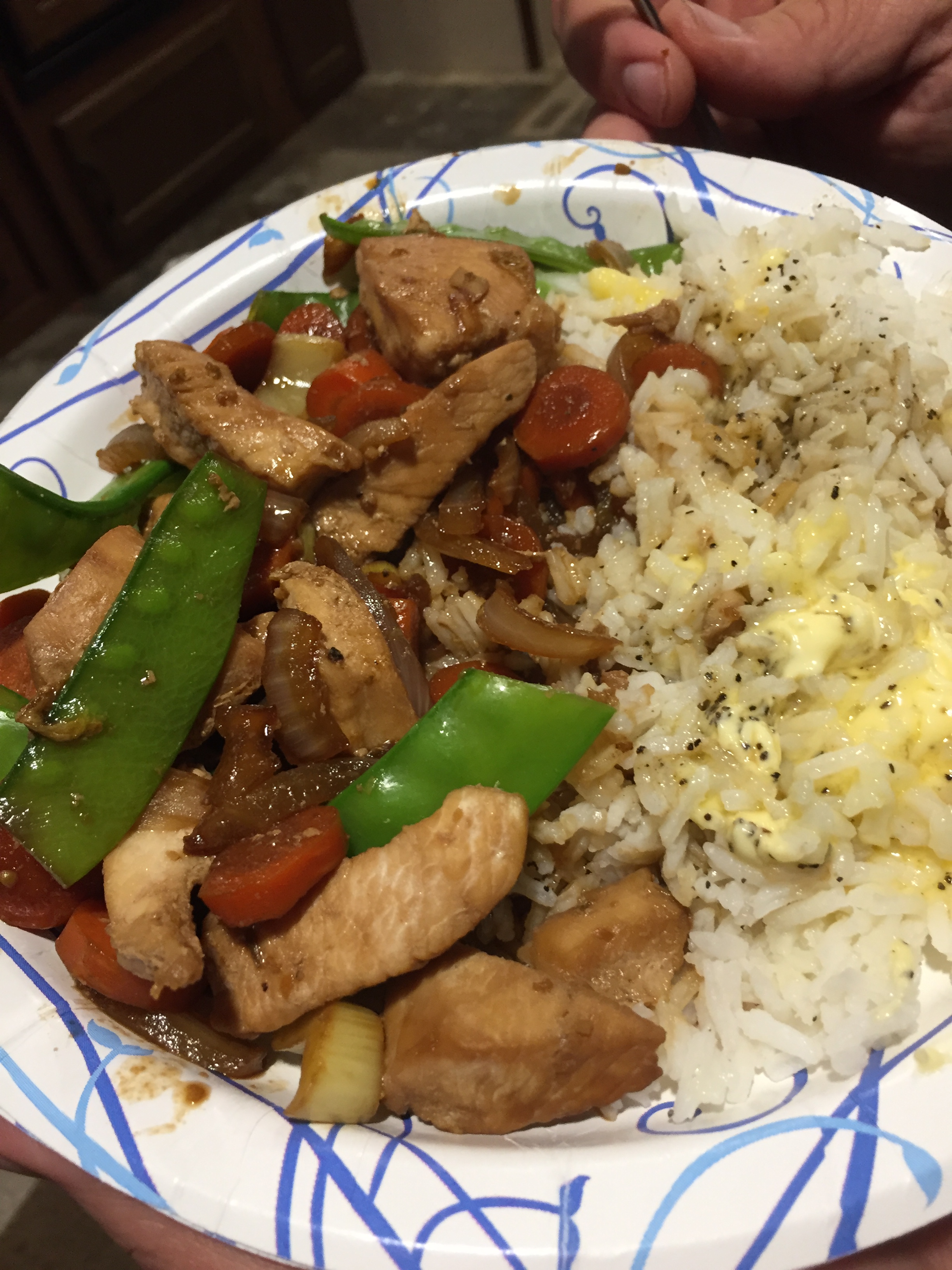 Before we left for camping, I grabbed whatever I could from the garden and fridge.  There were some sad and sorry carrots, the end of a bunch of celery, some nice fresh snow peas, and an onion.  I made stir fry and cooked some white rice I unearthed in the camper cupboard.  I did go to the store and buy another fresh bunch of celery and a few carrots.  Jake ate 1 piece of chicken under duress, and 1 snow pea, and noodles.
Since we are camping this week,  we got to enjoy trout, fresh from the lake.  The first one I fried in a pan for breakfast.  These 4 got better treatment.  We put fresh dill from the garden in side, along with Lowrie's seasoning salt, and Rob grilled them.  Yum!  Jake ate 1 bite of trout under duress, and noodles.
We had some hot dogs, so grabbed those, of course.  We had to buy marshmallows to roast.  There were none in the camper cupboards.  That's probably a good thing.  Last summer's marshmallows don't sound very tasty to me;). We just went without chocolate bars this time.  Jake ate noodles and bread.
We also had lots of cereal from the camper cupboard, plus various bread products I grabbed from home.  Jake was on a Top Ramen and Cup-o-Noodle kick, and wanted bread, bread, bread with butter, butter, butter.  We've used almost an entire tub of "I Can't Believe It's Not Butter" I got on sale before the trip.  I was happy to buy another loaf of 100% Whole Wheat Bread for him.  It's better than those noodles for him.
As I cleaned out the camper cupboards, things like a few pieces of hard candy, some cookies, a hidden package of Bugles, and other treats were revealed and wolfed down.  I made some cookies from chocolate chips that had seen better days.   Anything that was really, really over the hill went to the sea gulls, so provided entertainment of another sort.  Jake ate Bugles and cookies.  I put oatmeal in the cookies, so felt pretty good about that one.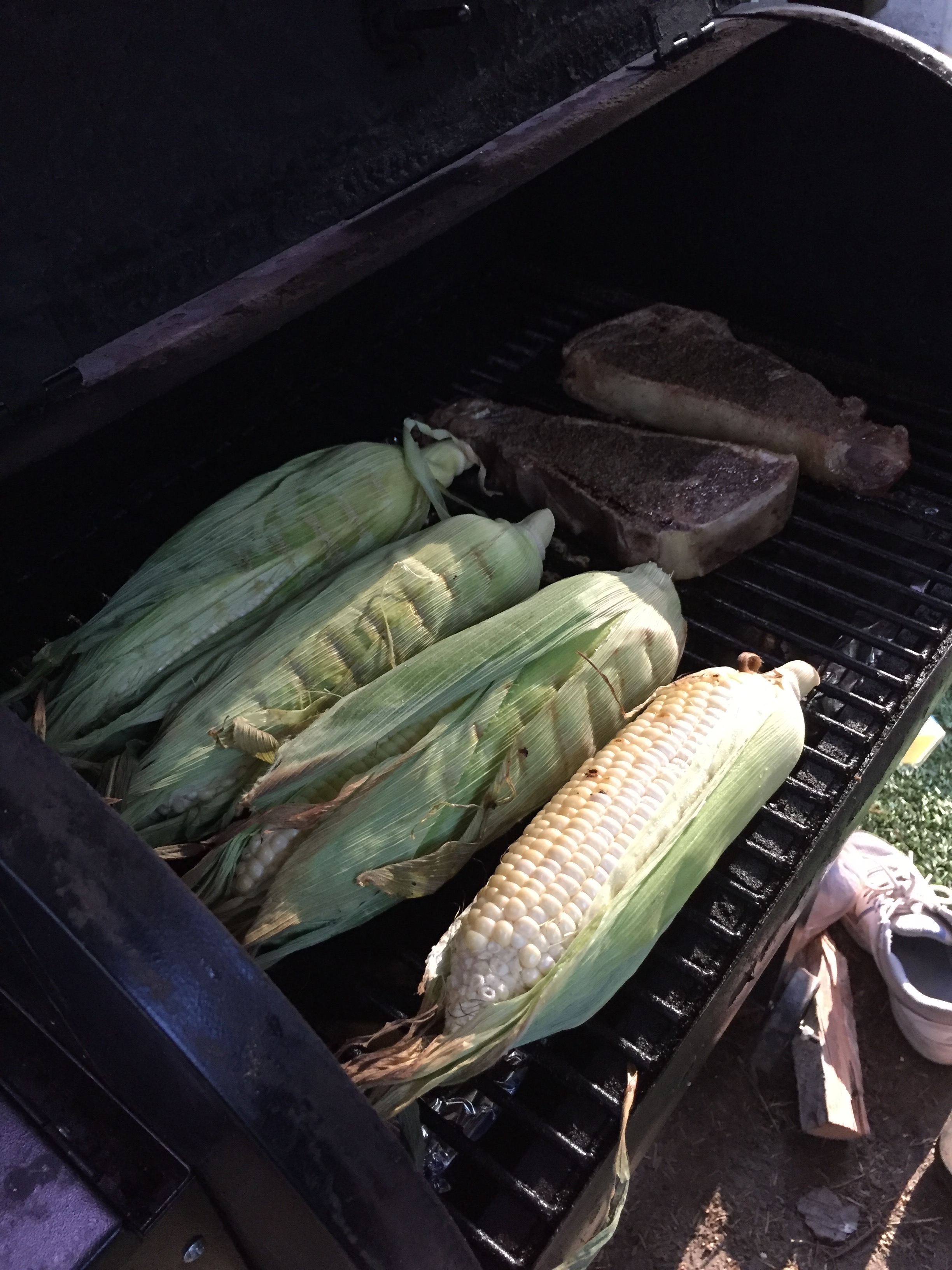 Rob grilled a couple of steaks from the freezer and 4 ears of corn Jake talked me into buying at the store.  He ate noodles and bread with butter.
I made one simple soup from the end of the sad carrots, celery and bullion.  I put rice in it, too.
In the end, we ate like kings and queens.  I spent a little grocery money, and we did go out to eat one time with the coins we saved in a tin can for that purpose. (Thankfully, Rob changed it into bills before we left–it would have been awkward to take that many coins to a restaurant:) ). We went to a pizza place for an all-you-can-eat salad and pizza buffet.  I asked if they had gluten-free, figuring I might just be eating salad.   They surprised me by making me a pizza, after asking me what kind I wanted, and then they sent me home with the rest of it–for no extra charge.  We felt bad and offered to pay whatever was fair for the rest (I know how expensive gluten-free ingredients are), but they would not take any money.  That was an unexpected blessing, so I had pizza for breakfast today:). Jake ate pepperoni off Rob's pizza, and watermelon.
I had one day where Jake and I walked a total of 3 miles, broken into pieces.  Another time, we did almost 2 miles.  We've done other walks, too. I've done more cooking in the camper than I usually do because I didn't get to prepare ahead of time.  I've used up lots of odds and ends. It's been fun to get in there and get creative, and fun that we've walked so much that I have felt like I could eat a little more and enjoy it!