Rob and Patsy are away for the weekend, so I decided to have a food preservation weekend.  I know everyone has their own idea of fun.  This is mine.  This is the time of year when I want to fill jars and the freezers, and I get a lot of satisfaction from doing that.
I started out last night making enchilada sauce and applesauce.  I have been searching for a way to make home-canned enchilada sauce.  Occasionally, I buy a can.   It's expensive and I only purchase it when I find a really good deal, but I love the convenience of just popping it open and making dinner in a hurry.  Otherwise, I make it from tomato juice, spices and a little cornstarch when I need it.  Last night, I used a recipe I found on the internet for a spice mix, and they essentially had me make crushed tomatoes and add the spices.  I know the recipe was safe to can, because I checked in my OSU extension canning books and followed the recipe for crushed tomatoes.  I'm excited to see how it tastes. I tasted it in the pot, and liked it, and am sure the flavors developed more during the canning process.  I'm going to open a jar very soon:)
A week or so ago, Rob and I picked all the apples that were growing on the branches of the apple tree overhanging the garden.  The apples were starting to fall, so we picked them, hoping they would be usable.  Rob made me promise that if they were too bad/wormy, I would let them go into the compost heap.  I started working with them last night.  They were wormy, but not too bad.  I carefully cut away the bad parts, and there was a lot of good apple left, so I made applesauce.  So far, I have canned 7 quarts and there are more left to work on.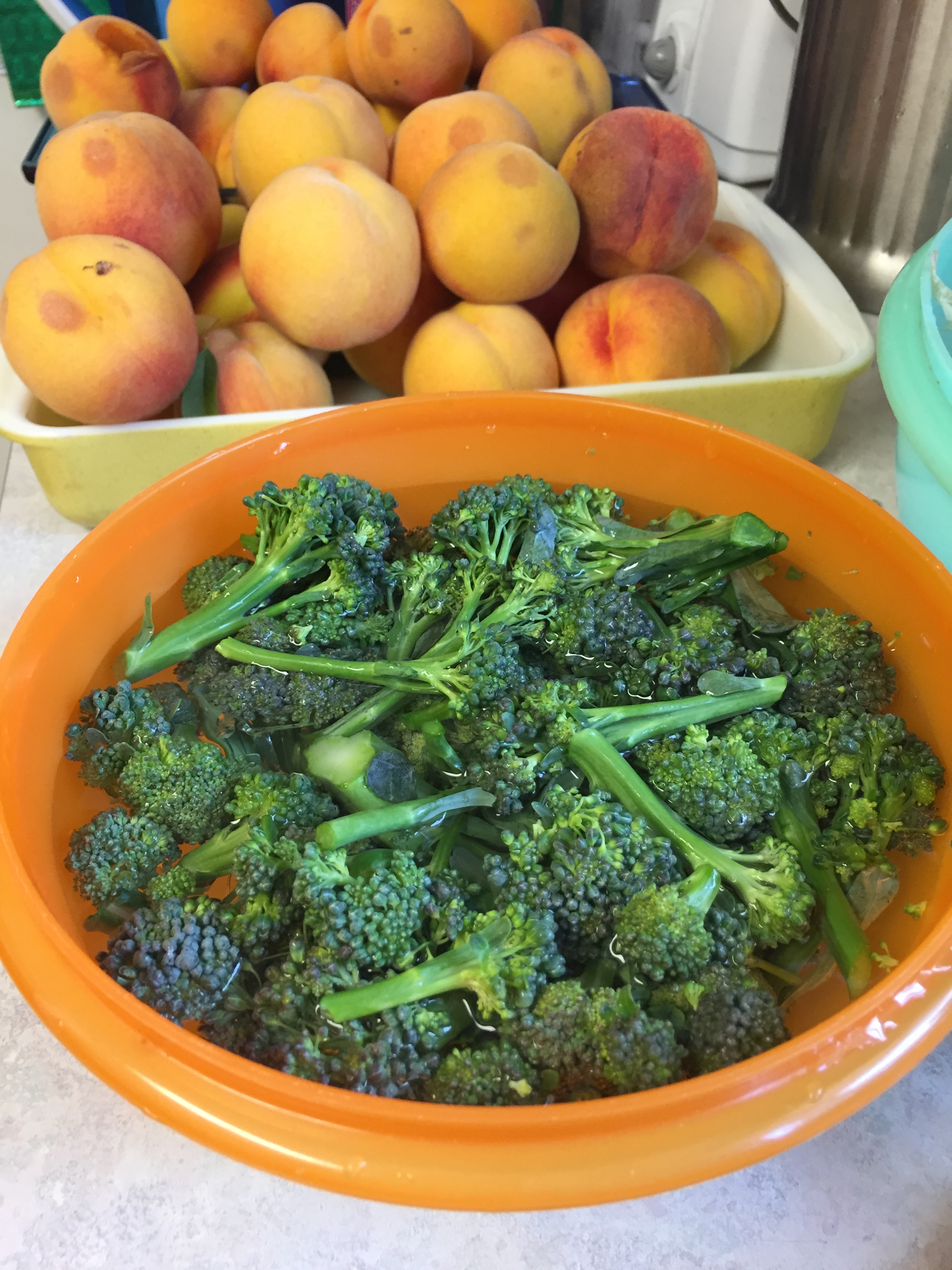 This morning, I started out going to my sister's house and picking peaches, corn and tomatoes. Then I came home and picked what was ready in my garden, and got to work.  Instead of having a day where I processed large quantities of one thing, today I did small batches of many things.
I blanched and froze 2 pints of broccoli.  These are side shoots on the same broccoli plants that I planted last spring.  I have frozen very little this summer, so I"m glad to get these 2 packages.
The peaches in this picture are Veterans, a soft, sweet, juice peach.  I have 2 trays in the freezer right now, and a lot left to do over the next couple of days.  They will need to be processed quickly, as they won't keep well.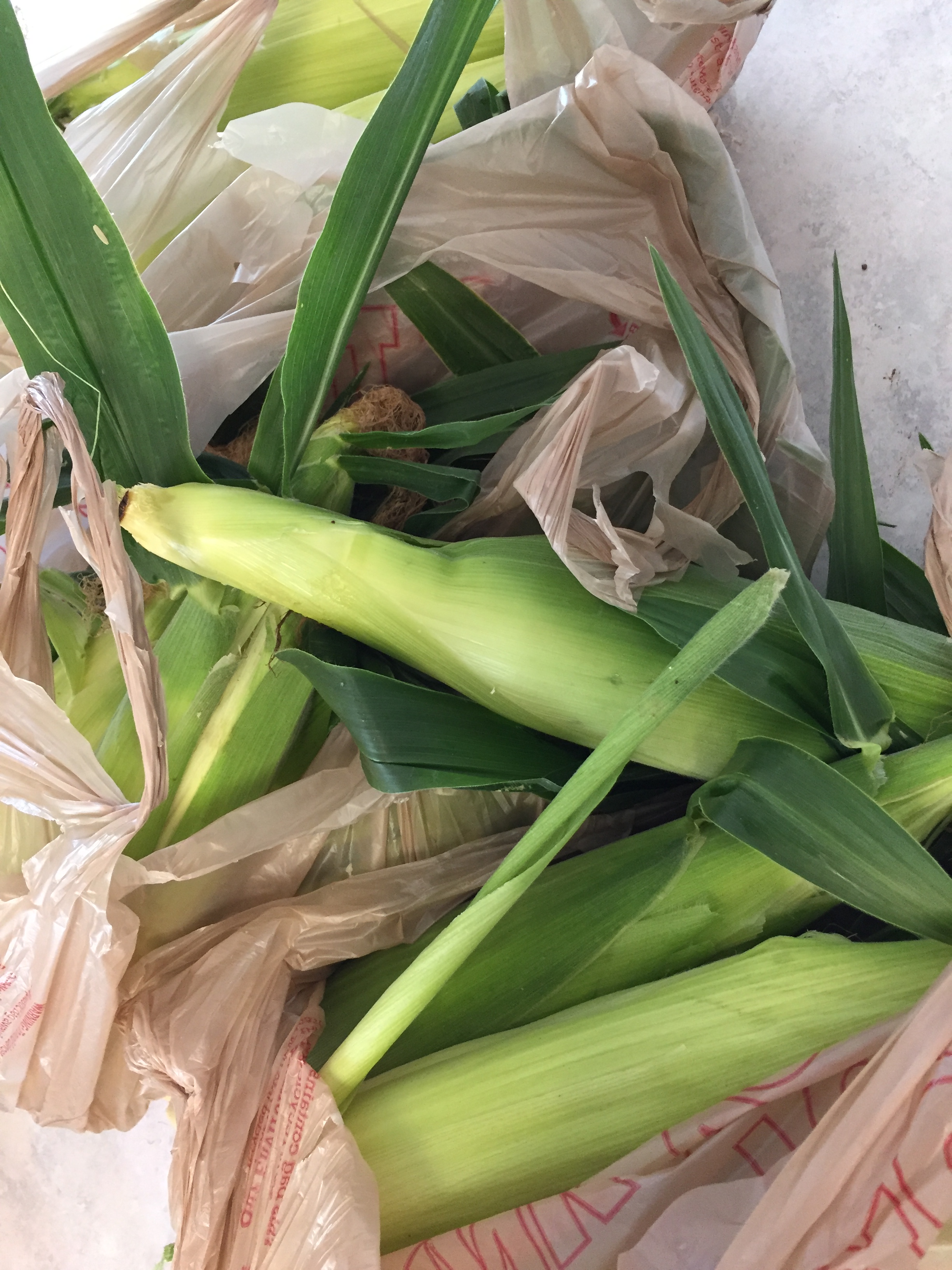 I brought home 3 bags of corn, and then picked the odds and ends from the first variety I grew in my garden.  The big, beautiful cobs are from my sister's garden.  The little scrawny ones are what was left after we ate most of what was in my tiny patch, but there was enough to make them worth picking.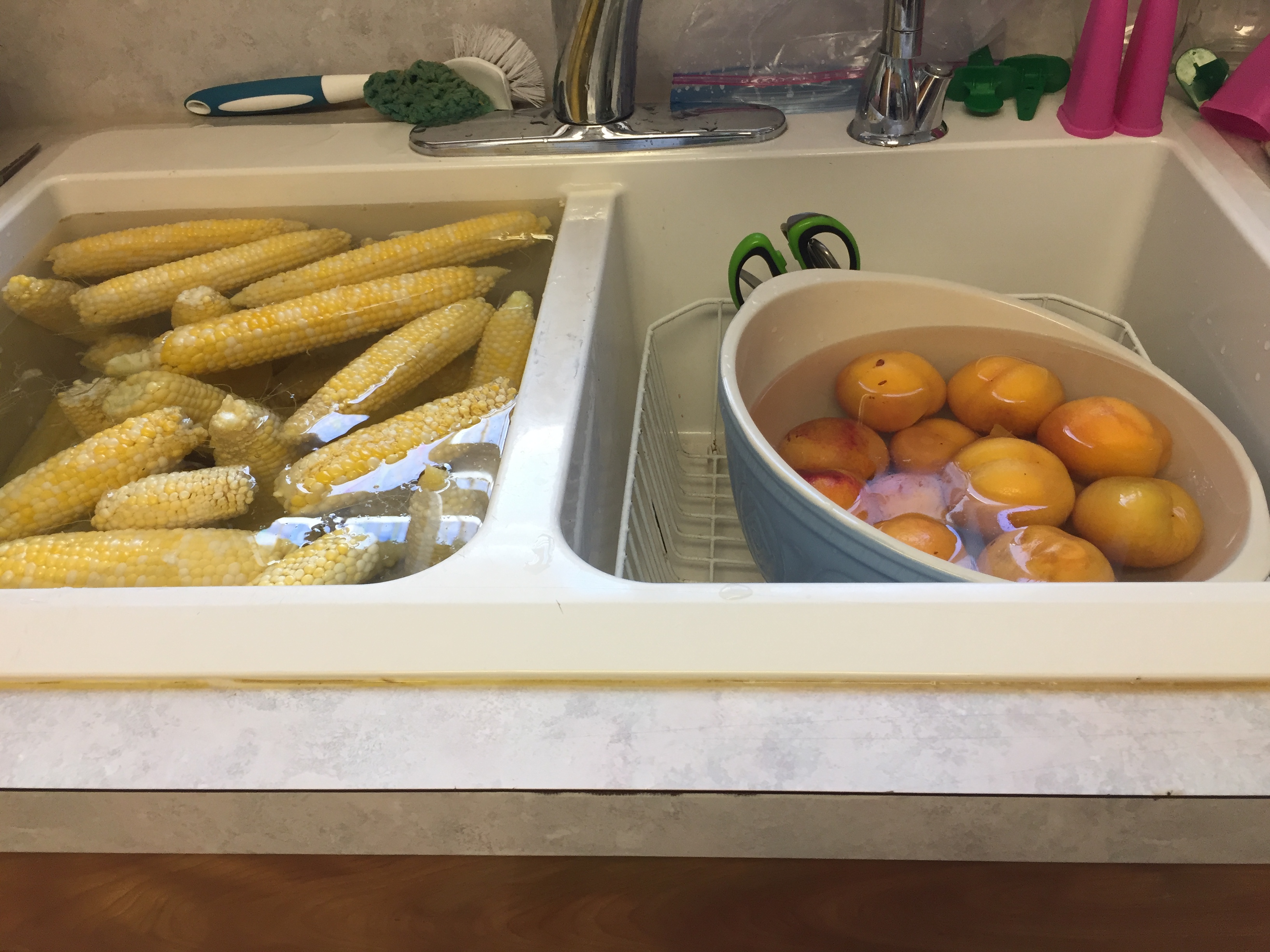 I blanched the cobs in batches and then cooled them in a super-clean sink of cold water.  Then, I used the still-boiling blanching water to pour over the peaches I wanted to freeze so the skins would come off easily.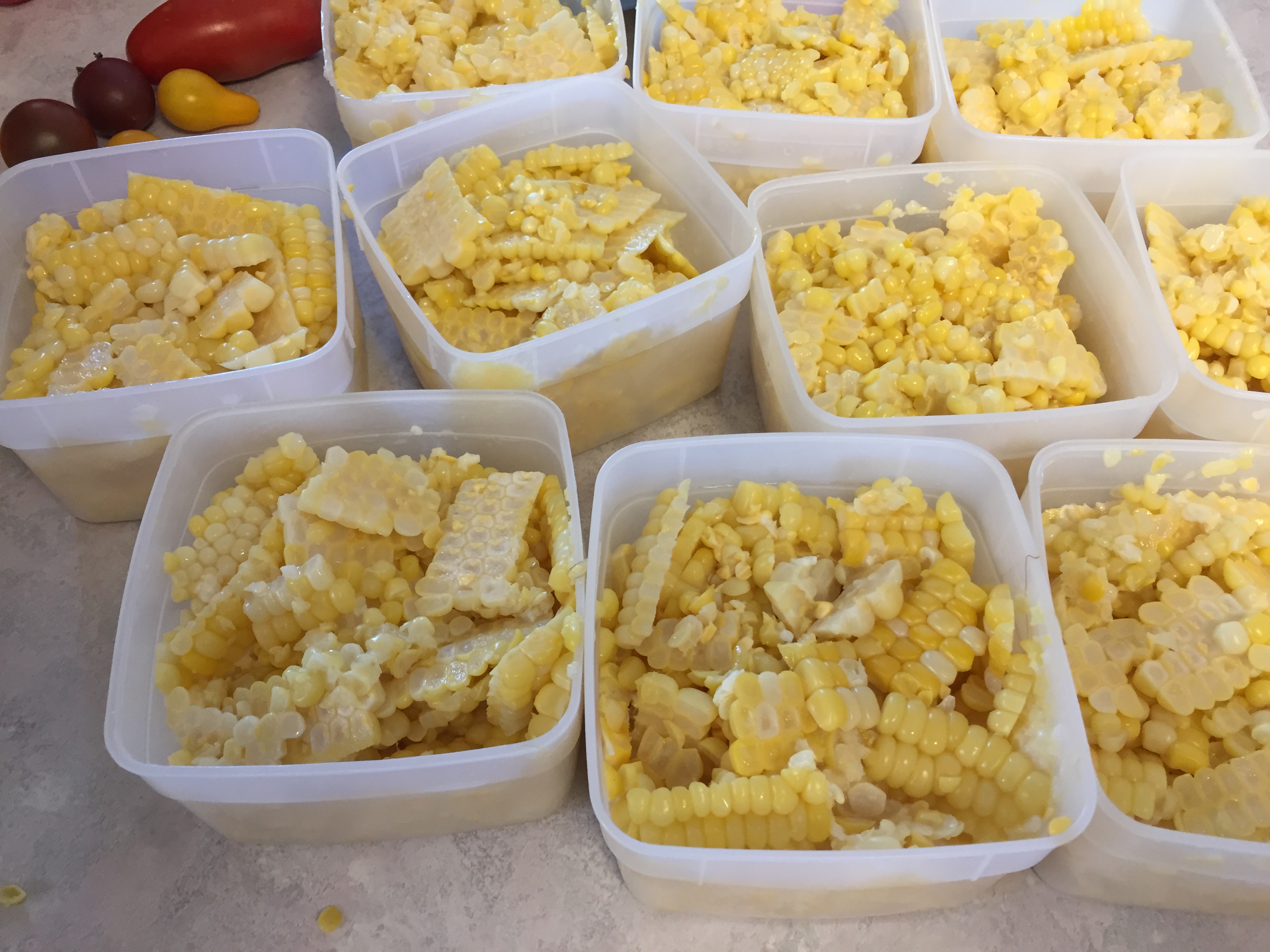 I was very pleased to get 10 pint cartons for the freezer.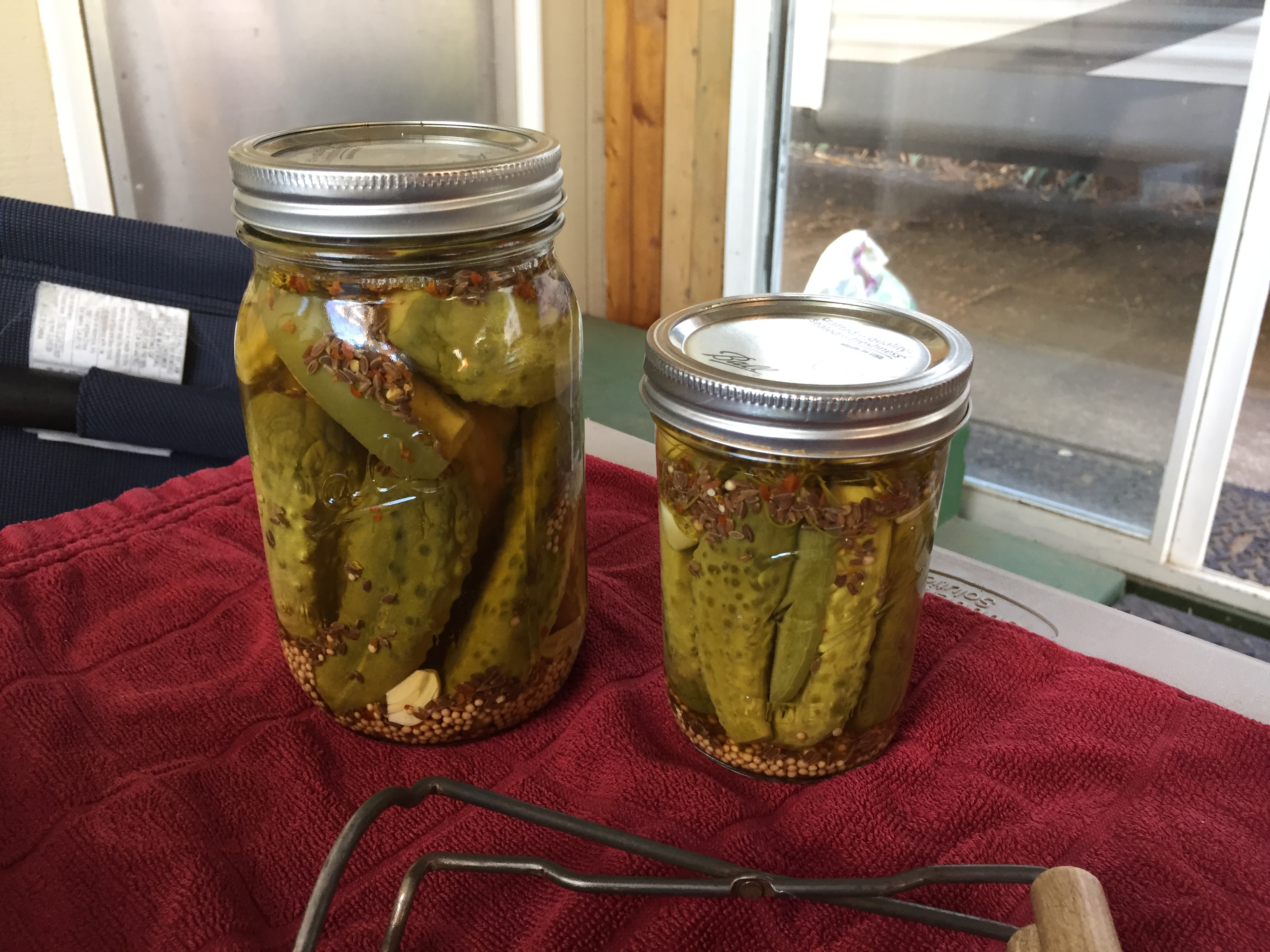 I finished the day by making jalapeño dill pickles, and got a pint and a quart, which I canned for the prescribed 15 minutes.  It is so nice to have dill and peppers in the garden that I can grab quickly when I get a few ripe cucumbers.
I am now collapsed in a heap on the couch, resting.  I am pleased with my weekend's production and am enthusiastic about doing more in the week ahead.
I picked 2 good-sized boxes and a bucket of Improved Elberta peaches to can when they get ripe in a couple of days.  I also picked a bucket of tomatoes to work on later in the week.  The apples need to be finished and the cucumbers will have more ripe ones in a couple of days. I will finish up freezing the Veterans, as well. This will be a very busy week for me!