Rob was able to scrounge up a barrel, and box and a bin full of nice wood scraps, perfect for starting fires in the morning. There are wood places in town that give away scraps, and he was fortunate one day in finding these great ones. We are happily burning the wood our friends brought us last fall, and not running the furnace at all.
Rob did our taxes himself this year. He paid a bit through Turbo Tax, but it was way less expensive than what we usually pay our tax place to do them. One of the reasons this was possible was because our taxes were much less complicated than they have been before. We love our tax place, so this wasn't an easy decision, but he thought he'd try and see how it went. It went well.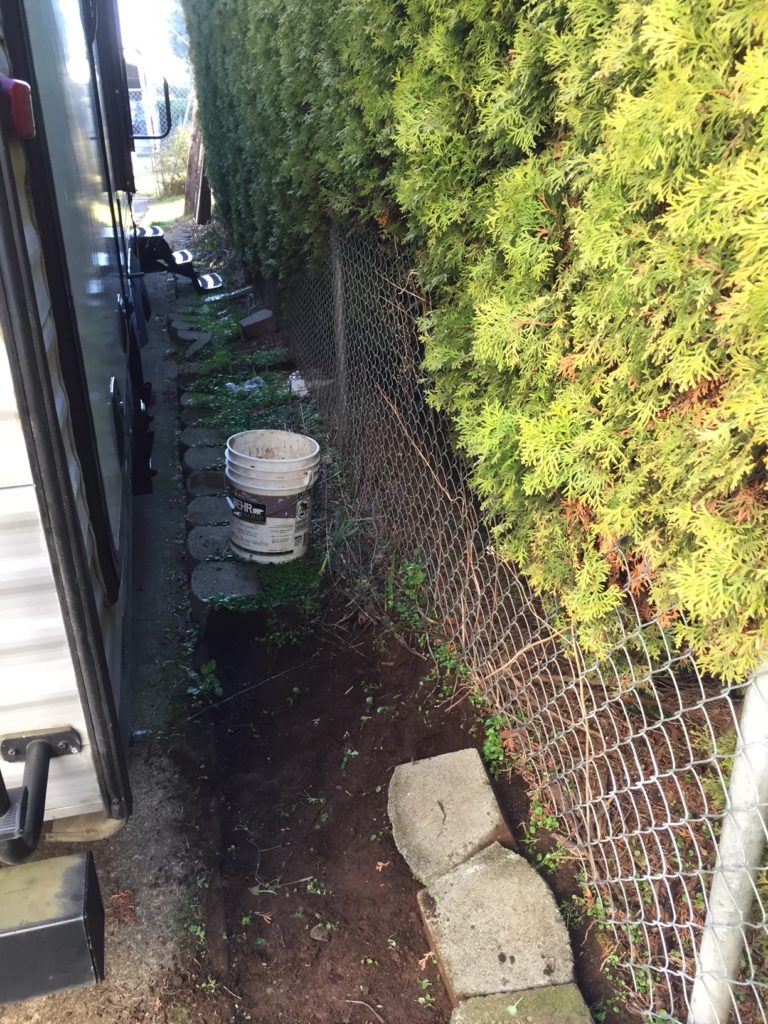 I'm working on this area. The camper could use more room. It's parked on a concrete slab. When you put the step down, it is often balanced on the concrete edgers of the flowerbed and you have to walk on irises or mud when you want to go in. I want the steps to go down properly. Once I get the flowerbed removed, I'm going to put gravel down. Then, the step can go down and we won't get muddy or wet when we go in the door. We use the camper fridge as an extra fridge, and the camper itself as a guest house, so we use it in-between trips.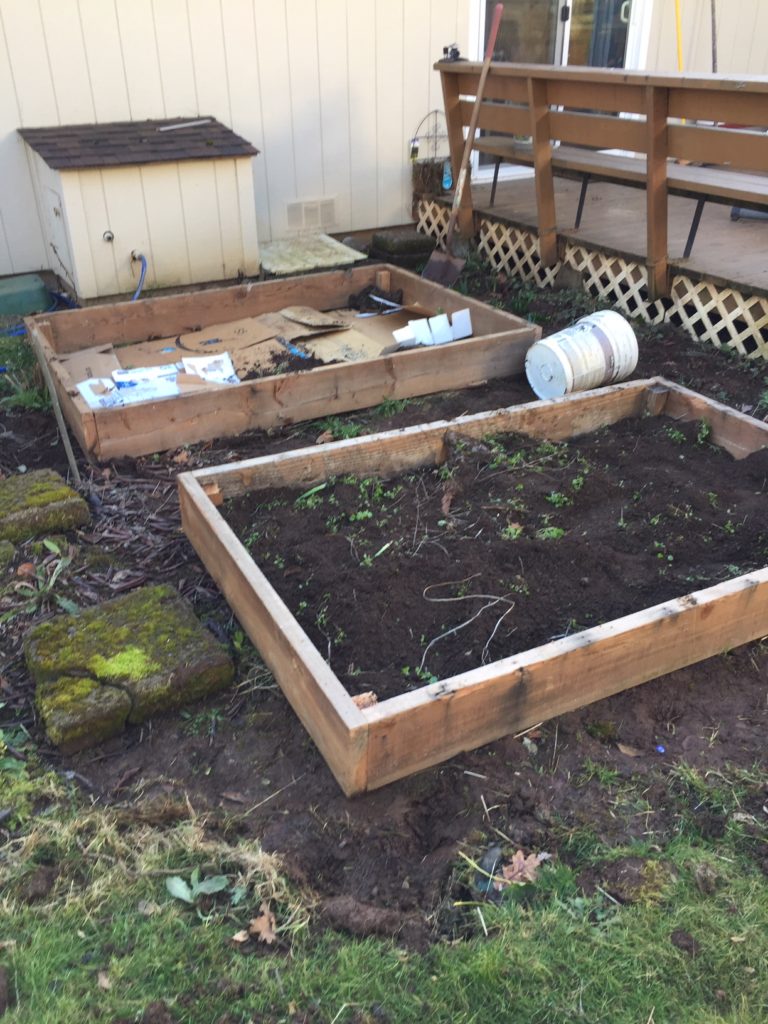 I also wanted the dirt for another project. Rob built these 2 raised bed frames. I dug up an old rose, and chopped down a dying rhododendron, and we put the frames in place. I covered the bottom of the beds with cardboard I recycled from boxes to discourage weeds and grass from growing up into the new box. I covered the cardboard with the dirt. I will get most of the frames filled in with the old flowerbed dirt and will finish up with purchased bags of topsoil, saving me a bundle. We had a couple of nice days, and I worked when in could, in-between things. Before I stopped, I got both raised beds about 1/2 full, and only have about 10 feet left of the flowerbed to remove. I have to take a break for a few days, I think, as we are expecting some inclement weather, but I'll get back to it soon. I plan to plant some herbs and strawberries in there this spring. The herbs will be close to the kitchen here, so easier to use. I'll show pictures when I finish, but it will be a few weeks before I can plant anything.
Friends helped Rob move his last 2 pieces of shop equipment down to this house. It was HIGH time we got them from my brother-in-law and sister's farm:). It is so encouraging that he was able to clean the shop enough that they will now fit in there. We are so thankful for the help and had a great visit with our friends. It was so great to get caught up with them. He's got projects he wants to build and now he can!
I did lots of cooking. I went shopping and stocked up on some good deals for my pantry, and bought produce, as usual. I've noticed produce has taken quite a jump in price over the past few weeks, so I'll continue relying on my preserved food quite a bit to supplement the fresh, but Rob will still be getting all the produce he wants.
I got some marked-down things at Fred Meyers. The best deal was candy coating (2 white chocolate and 2 chocolate) for 49c each. I am saving them for when I want to do some chocolate-dipped strawberries someday. I put them out in the shop. They should be safe there:). From me. And anyone else who might eat them:). For now!
Rob finally bought a pair of pants that are 4 inches smaller than he's been wearing, at the Union Gospel Mission thrift store. He paid $10. They are already too big, but he will wear them for a while anyway. We will be searching for the next size down. He figures he doesn't need many in each size, and would like to not spend any money on this project, but it's getting ridiculous, folks, so I'm trying to convince him to buy at least a few things along the way! Hopefully, we will find some more thrift store finds.
They are threatening snow here in the morning. Time will tell if it materializes or not. That will affect my week if it does snow, as even an inch paralyzes our area. (I know, I know….don't laugh too hard some of you!). But, we are snug in our little house, with lots of firewood and food, and library books to read….it doesn't sound all bad!
It turned out to be a great week. How did your week go?