I decided to attack the winter squash that was left from last year's garden. I got such a good crop of my acorn squash, was given 4 Butternuts, and my compost pile grew a couple more all by itself! We've been eating it all along, but when I went and looked at my still-large bucket full, some of them were starting to get bad spots on them. I cut each and every one of them open, threw away anything that was bad, and cut the rest into chunks, which I roasted in a 425 degree oven with olive oil, salt and pepper. I got 2 pans.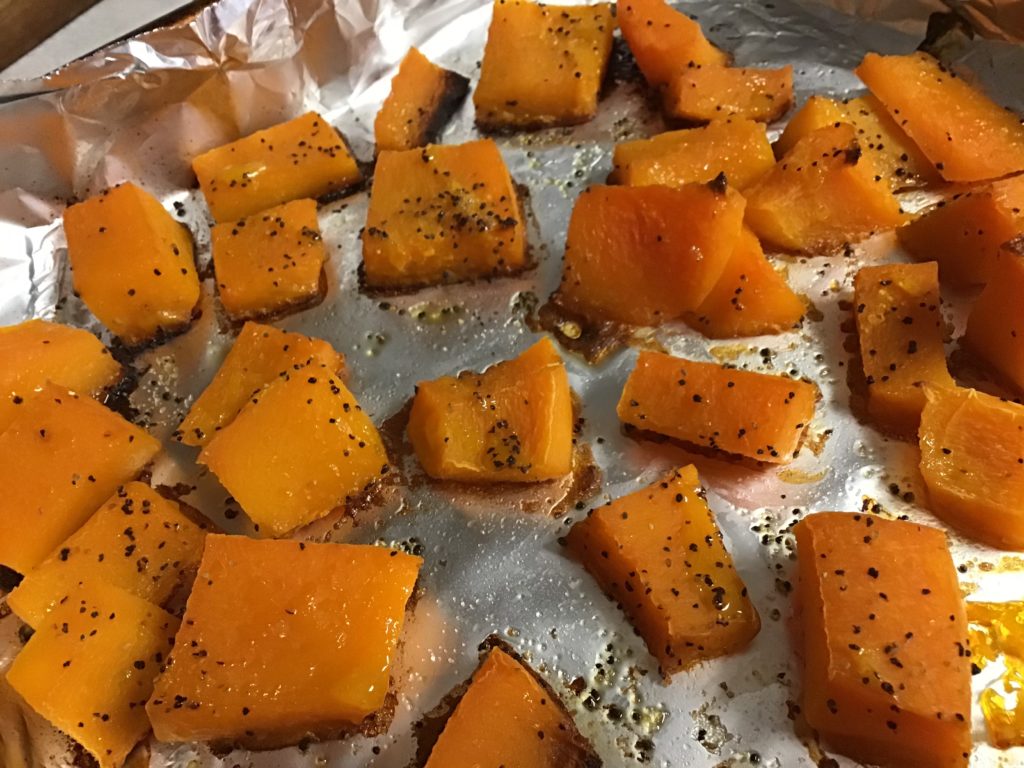 We ate a bunch.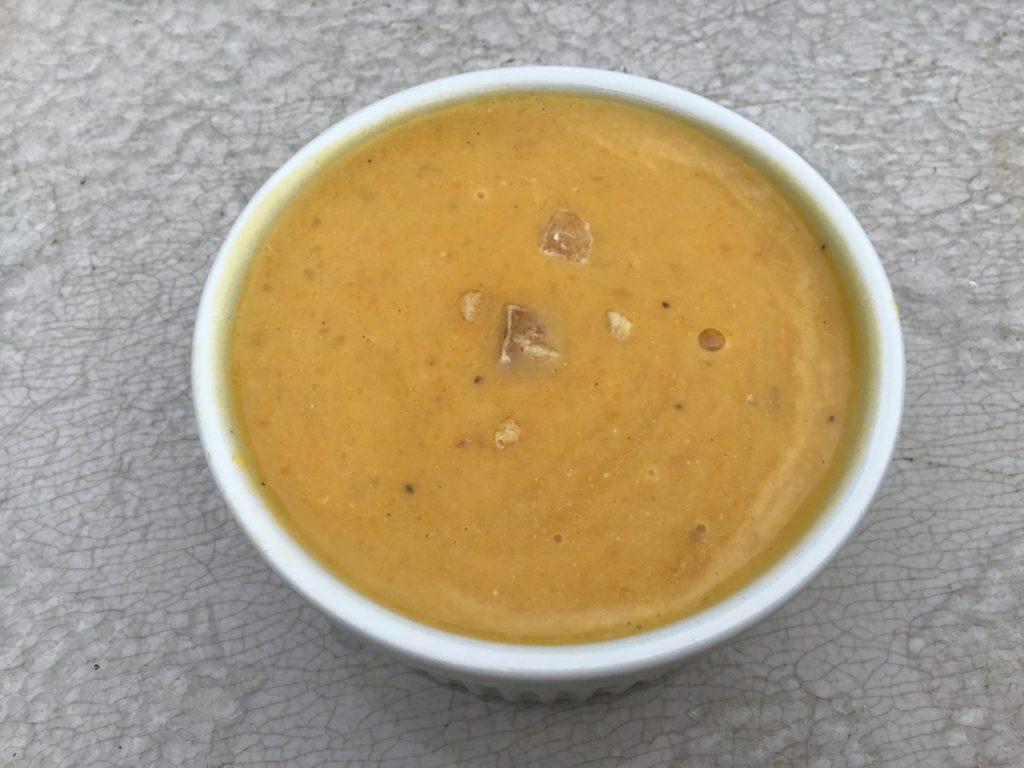 I made ginger apple-butternut squash soup. I found a few apples in a box on the covered porch from last fall. They were a little wrinkly, but still good, so I wanted to target them as well. The soup was very different than what we usually make, but Rob and I both liked it.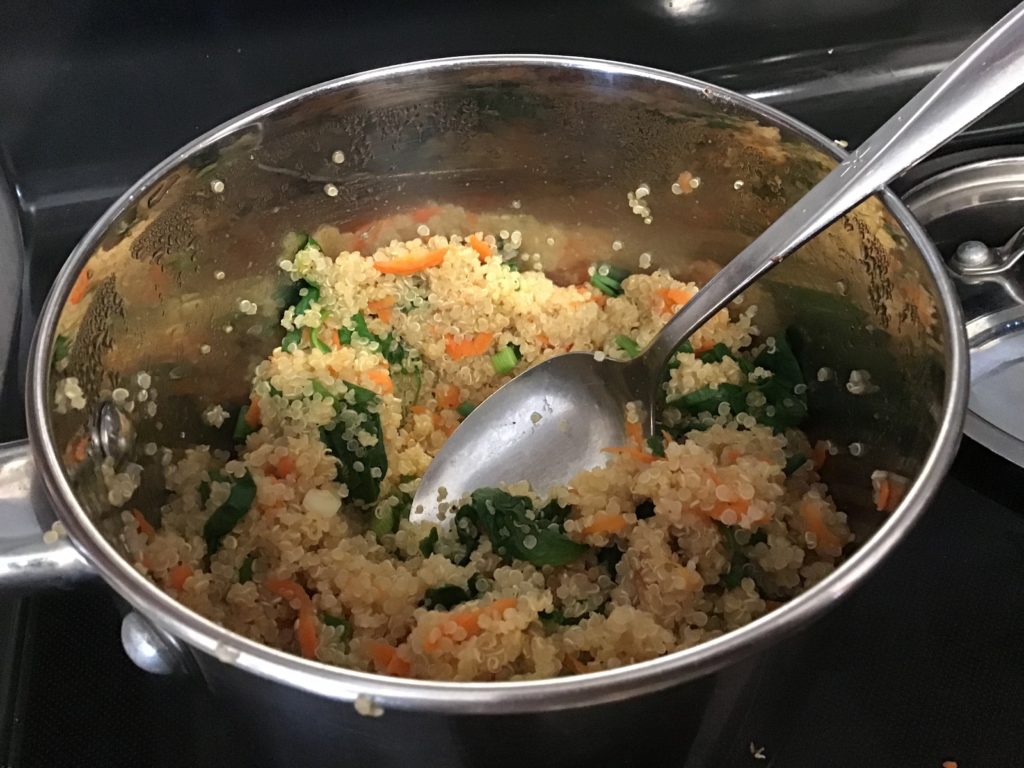 I made quinoa bowls with quinoa, carrots and spinach on the bottom. Pieces of Rob's BBQ'd chicken thigh meat with a chipotle-lime sauce and roasted squash came next and it was topped with a apple dressing. I started with a recipe from Gluten-Free and More Magazine, and changed it up quite a bit. We liked it!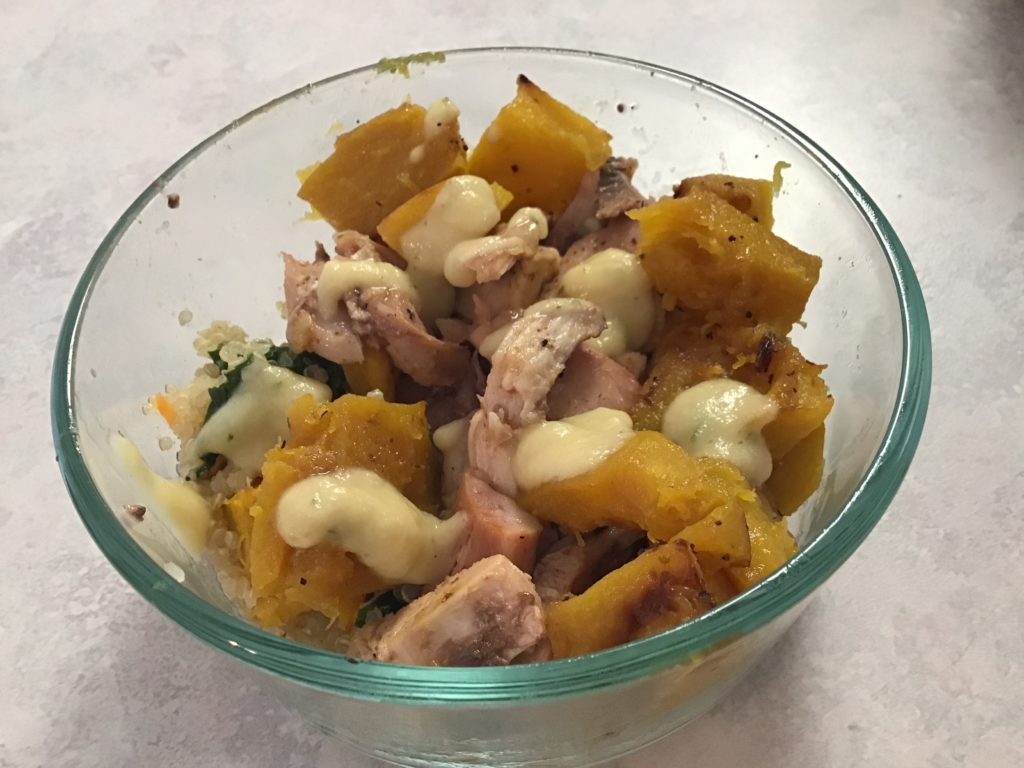 We got 10 lbs of frozen chicken hindquarters for $5 last Friday. Rob barbecued the whole bag and we've been eating it all week. We've been pulling things from the freezers and eating them–lots of veggies, odds and end of things, etc. Patsy ate some frozen burritos one night from the ones I made and froze a few weeks ago. I'm going to have to make some more before long.
I made a mixture of hamburger and black beans with Mexican seasoning and we had tacos/taco salads one night. One night I sautéed some frozen shrimp that was in the freezer for myself after work.
We've also had some leftover pork chops from the ones my sister made last Sunday for Family Sunday Dinner at her house. I took leftover salad bar items from what was left when we had our friends over last Saturday.
I've had to adjust my February plans for food a bit from what I thought it was going to look like last week. I was out of a lot more things than I thought I was. So, I will not be saving grocery money this month. I will be spending every cent of my grocery budget, and perhaps a bit more. I've already gathered several kinds of gluten-free flour from the store, and my mom gave me some almond flour she was not using. (Thanks, again, Mom!). We've used a LOT of produce and I will be getting more weekly. I already got baking powder, baking soda, and 5 pounds of butter. I still need to get bulk spices, salt and pepper–you see how it is:). I went ahead and grabbed "Michaela and Jake" foods as the kids are spending next weekend with us and froze the things like bagels and ww bread.
I feel like my January use-it-up project was very successful and the goal of rotating my stocked food was met. I don't mind buying more to keep the pantry full, and it's nice to know that things are staying fresh out there. I plan to keep digging into the cupboards, freezers, and pantry and will continue to use up older things that are there. I will still attempt to do the weekly post about our menus and showcase the items I am using up.
Best of all, Rob continued to lose weight over the month and my blood sugars are a bit better than they were 3 months ago, even with the challenge and the holidays.