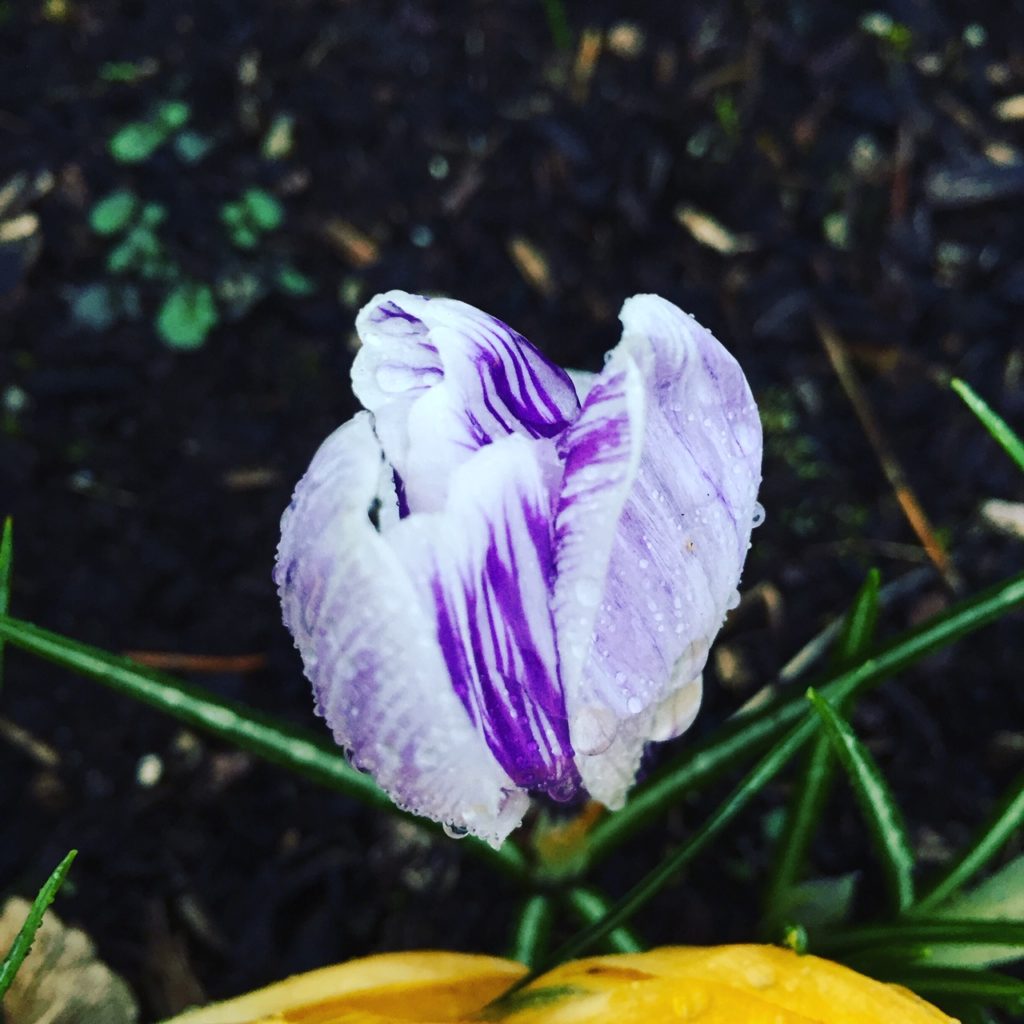 We have been enjoying some spring-like weather. It's really cold in the mornings, often a little frozen, but it has been a little warmer during the day. One day, Patsy and I chopped bushes in the yard and filled the yard debris bin to the brim. There is so much more to do, but they will haul it away in the morning, and I can fill it again this week. We also mowed the lawn for the first time this season. We each did half.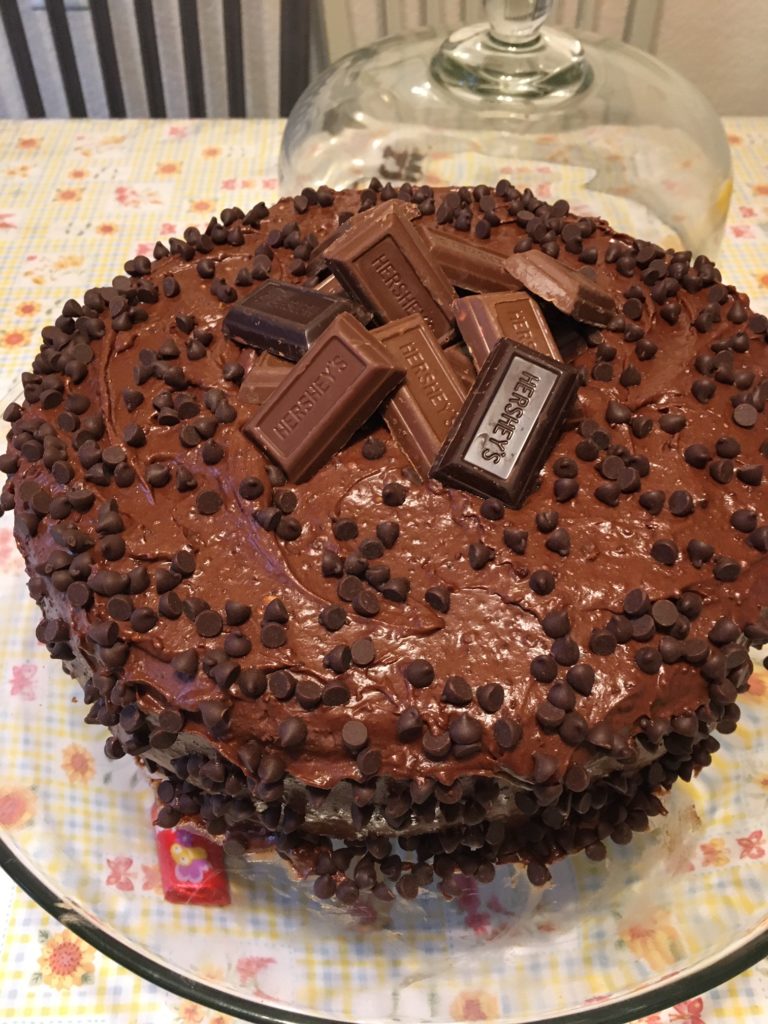 I made a big chocolate birthday cake for my son, who is turning 30. Yikes! How did that happen? I had Rob grab whatever candy was on the clearance rack from Valentine's Day so I could pile it on top. It ended up being these little candy bars and the kids ate the rest of the bag after we scattered it on the table. He wanted chocolate cake and hamburgers. Easy enough:)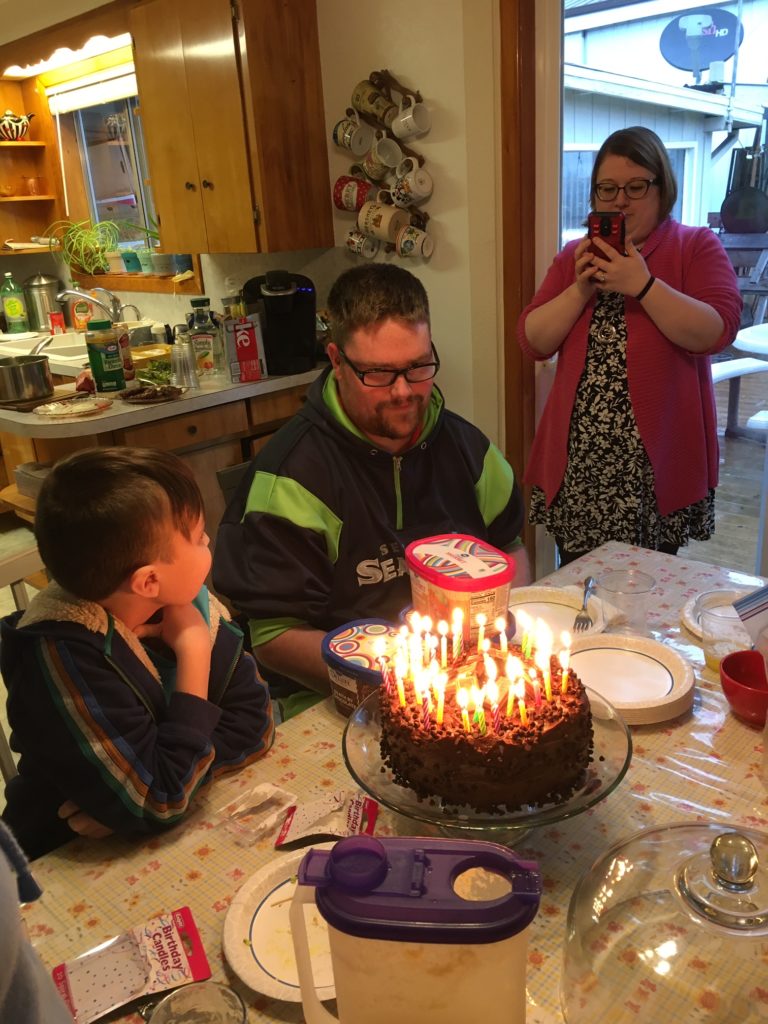 Jake decided to be silly and put 45 candles on the cake. It was quite a bright sight when it was lit!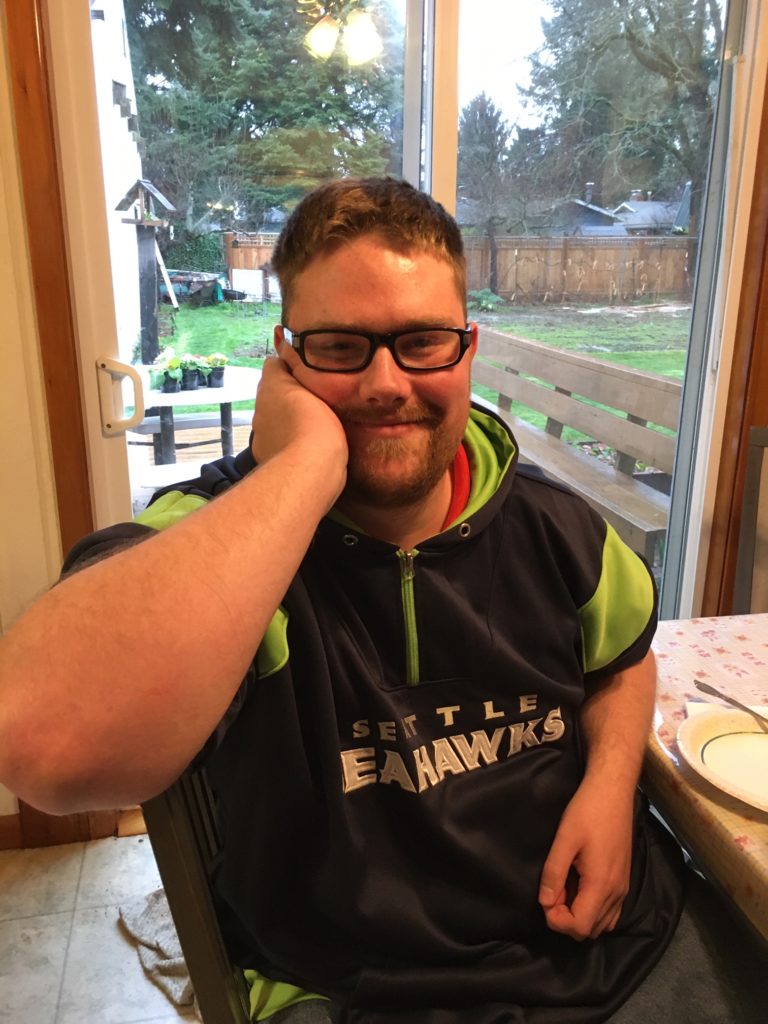 He had a good time. We invited his siblings, and different ones dropped in during the afternoon, as they had time, so that was really nice for everyone. I think he enjoyed seeing them.
We attended a school matinee at the Northwest Children's Theater in Portland. The tickets are greatly reduced for the school performances, and it made a great Valentine's Day outing. We had a total of 14 people. There were some gift cards for McDonald's gifted to our group for lunch afterwards. We had some coupons, plus we had apps on our phones. We were able to stay within a very low (for eating out) budget and the kids had a great time on the play equipment. We had planned to pack a lunch to take, and that would have been fine, too, but this did make my life much easier that day!
The play was "The Jungle Book" and it was done with an emphasis on India, using Indian costumes, Indian dances, Indian music, etc. to tell the story. It was beautifully done, as always, and very different from the movie versions, so hopefully exposed all the children to a different culture. For several of the children we took, it was their first experience with live theater. I love exposing them to it! We took Michaela and Jake as well, and Michaela absolutely loved the whole thing.
We made small gift bags for all the kids, using Dollar Store red bags, and a little candy and a Kinder egg I got on the Whoo-Hoo rack for each of them. We added one of the Valentines you buy in a box–nothing fancy, but they all loved their little treat.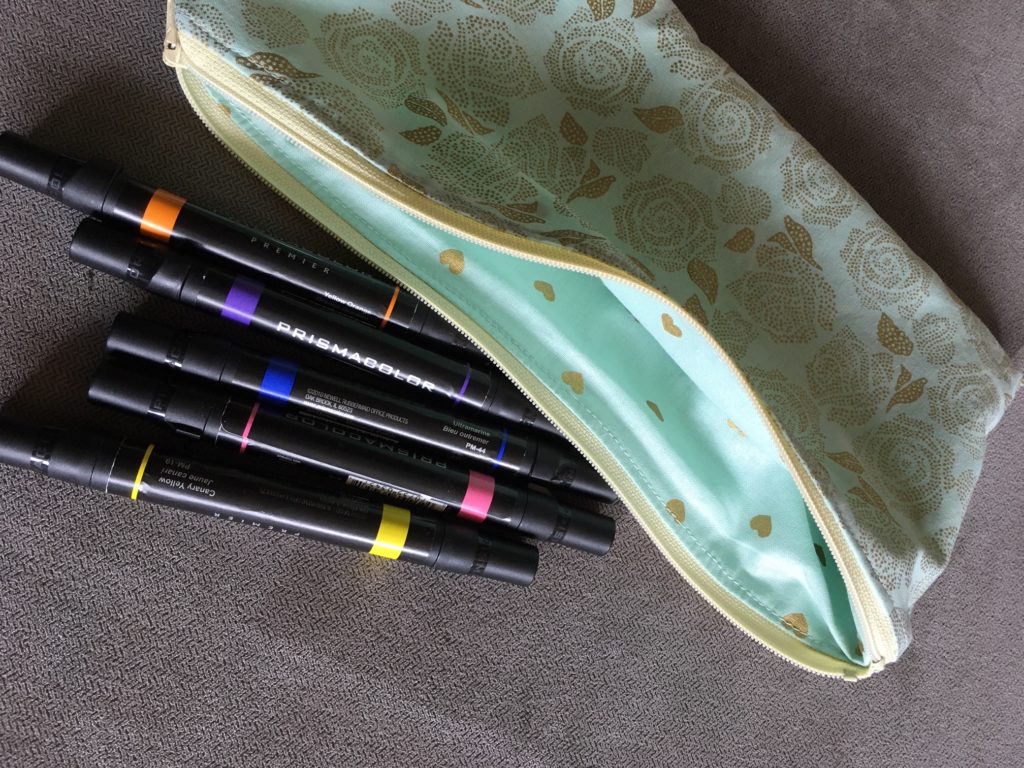 Patsy finished her zippered pouch. It was the project for last Saturday's zipper workshop she attended.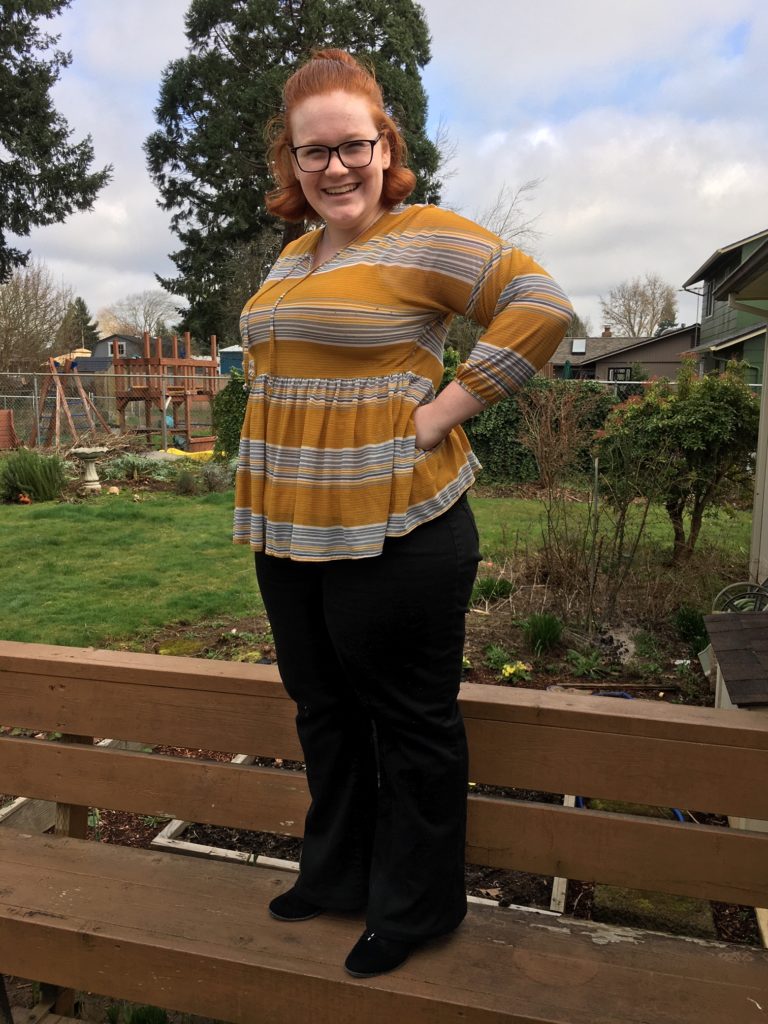 My Mom helped her hem these pants. Rob got them at the Union Gospel Mission Thrift Store, for $1. They were very long, so she and Grandma fixed them, saving at least $20, and maybe more.
I was able to use up several odds and ends from the pantry–some random gluten-free flour items, a box of gf pizza mix, and some other items. I am always happy to rotate the stock in the pantry. We used lots of jars of home-canned items, and quite a few freezer items, as well.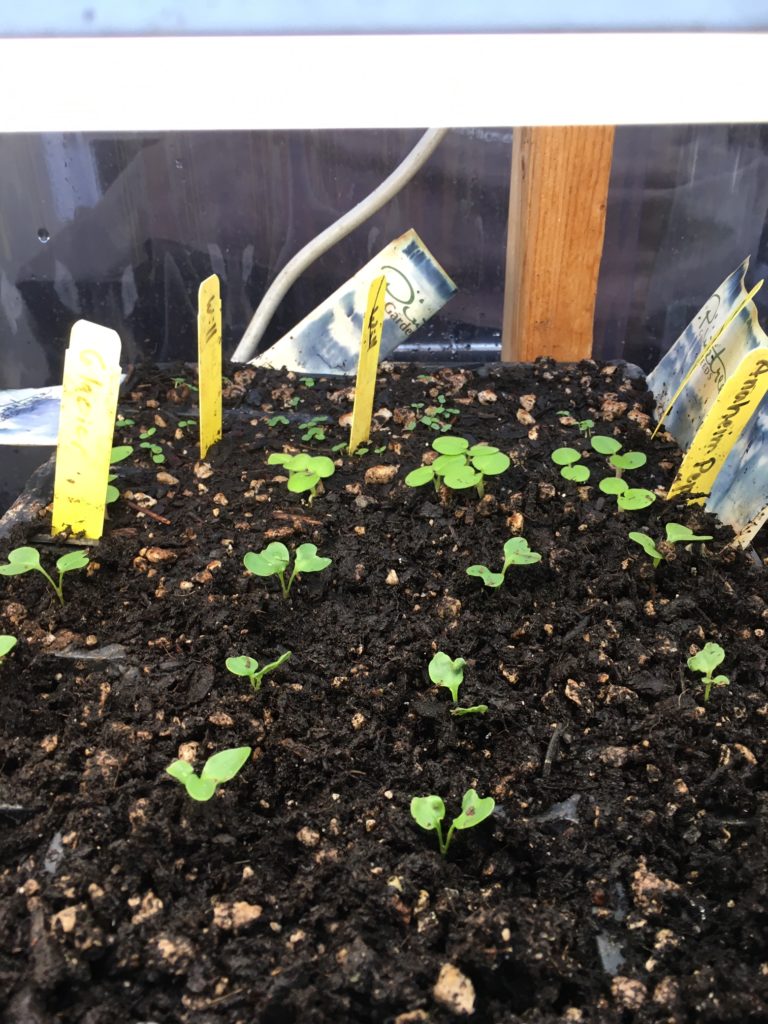 Our little pepper and onion and pansy plants are up well in the greenhouse, and Rob planted the tomatoes. We transplanted the little cabbages. It's too wet to plant things out in the garden, but I will plant some snow peas in a raised bed before long. I do have just a few snow pea plants in a corner of the garden that have over-wintered, and they should start growing again soon.
Rob planted several pots of primroses, using flowers he got on sale and some re-purposed pots from another year. They are very cheerful. He gave some away, and I have one here on the porch.