Way before Rob's surgery, my sister booked a cabin at Detroit Lake and invited us to come with their family for a few days. She wanted him to have something to look forward to post-surgery. As we discussed the upcoming trip, we talked about how he would probably need help up the few stairs, a ground level room so he could lie down when needed, and maybe could or maybe could not walk the 50 feet to the lake or go out on a boat one day. What a different, and wonderful, scenario it was!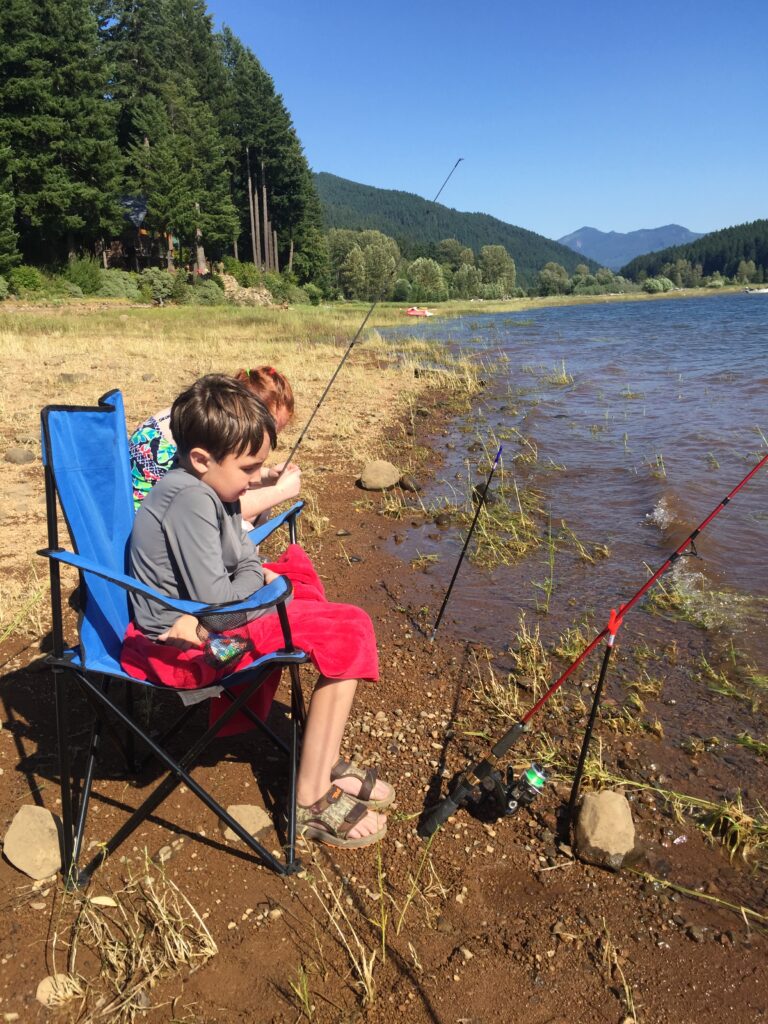 Instead of sitting in the cabin, he went down to the lake several times. While down there, he fished, helped the kids fish and swam more than once. He had no trouble on the stairs or anywhere else, but made sure to use his trekker poles and follow his hip surgery precautions at all times. One morning, he and I walked all over the tiny lake town for exercise. It was nice to have a different change of scenery.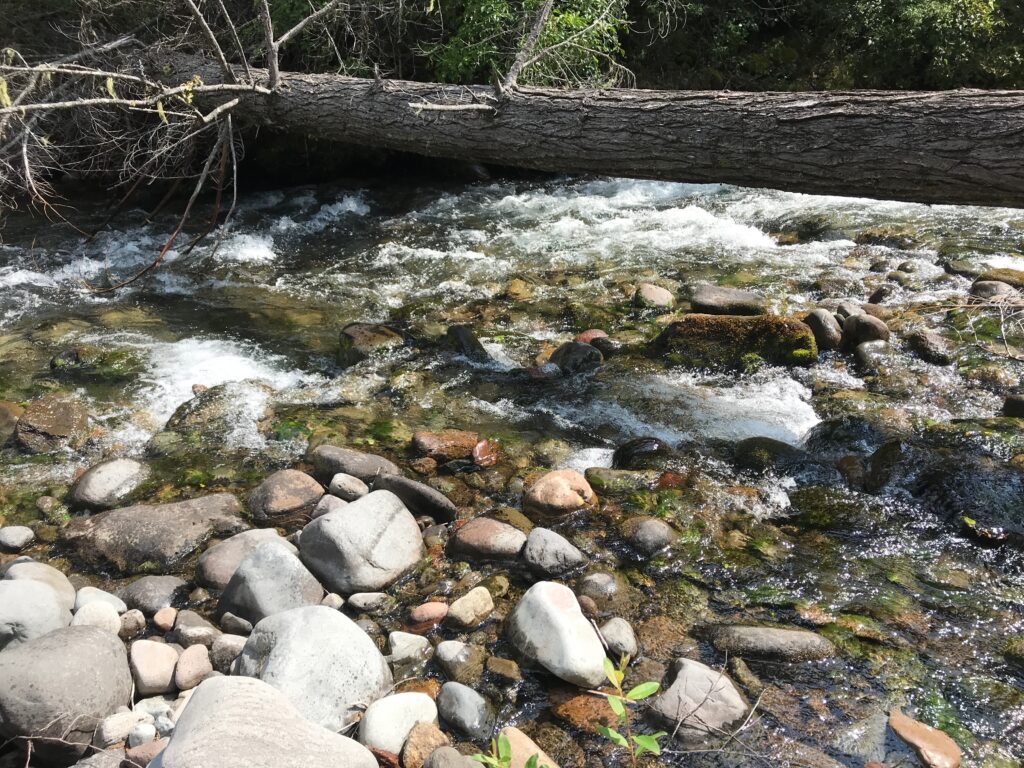 He took some of the kids rock collecting and creek walking.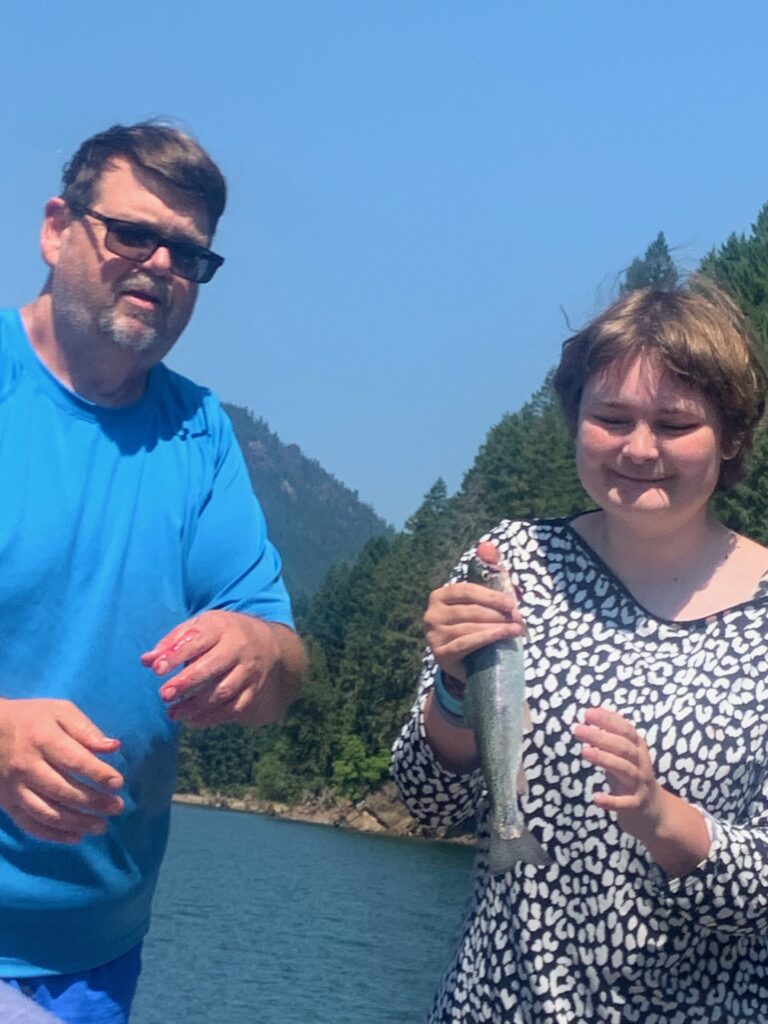 On the day my sister rented a pontoon boat, we all fished for the morning, and swam during the afternoon. We took a picnic with us to enjoy at lunch time. Michaela got a fishing license before she went on the trip, with Rob's help. Then, of course, she wanted to fish. He helped her hook this one, and she landed it. She was SO excited.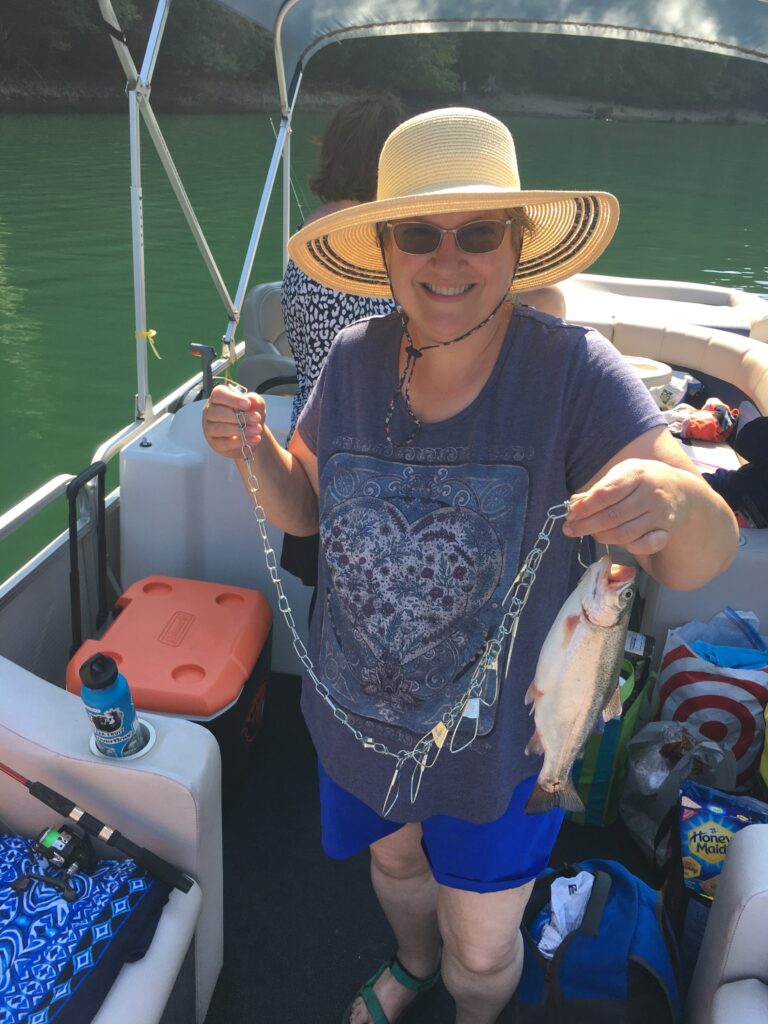 I caught a fish, too! It was the biggest trout I've caught in years, well over 12 inches, and we ate it for dinner that night, along with the one Rob helped Michaela catch.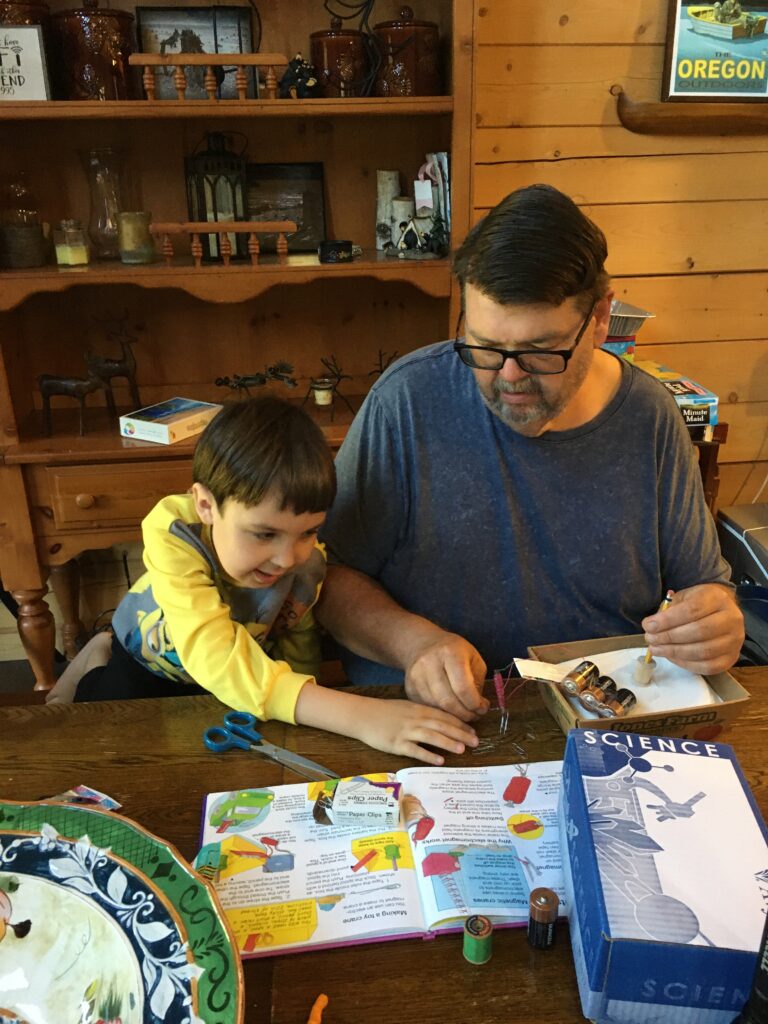 Jake's parents have chosen to continue homeschooling next fall, and are continuing his education during the summer. So, 2 of the days we were there, he did schoolwork. His mom organized it all, and his dad and mom both worked with him at times. Uncle helped him with science projects twice. I read two entire short chapter books to him. One was school, one was for fun. He would lay in wait for me to come out to where ever he was and get me to read to him,–it was so cute and fun. He commandeered everyone he could to play air hockey and foosball in the basement game room the cabin had, and although he beat me at air hockey, I did win the foosball game:). He talked every single one of us into Yahtzee at one time or another, and even used my phone to text Grandma for her Yahtzee-winning secrets one time, and then won the game!
We took all of our food, and cooked every meal at the cabin. We had a blast, and got some rest. Which was good because……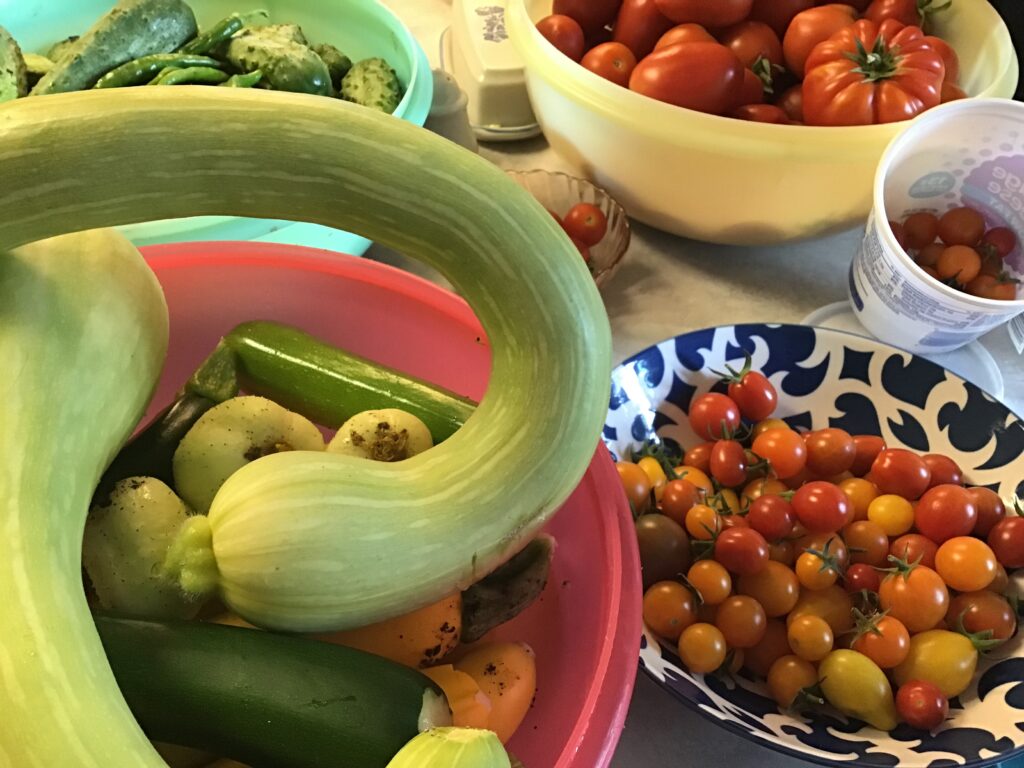 When we got home…..yikes! I had picked the garden produce before we went and processed everything or packed it for the trip. I needed to work for 12-16 hours a couple of days to get it taken care of before we left, but nothing was neglected or forgotten, except 3 pickling cucumbers that grew too big to use while we were gone, and about 10 beans that went over the hill. I can so totally live with that!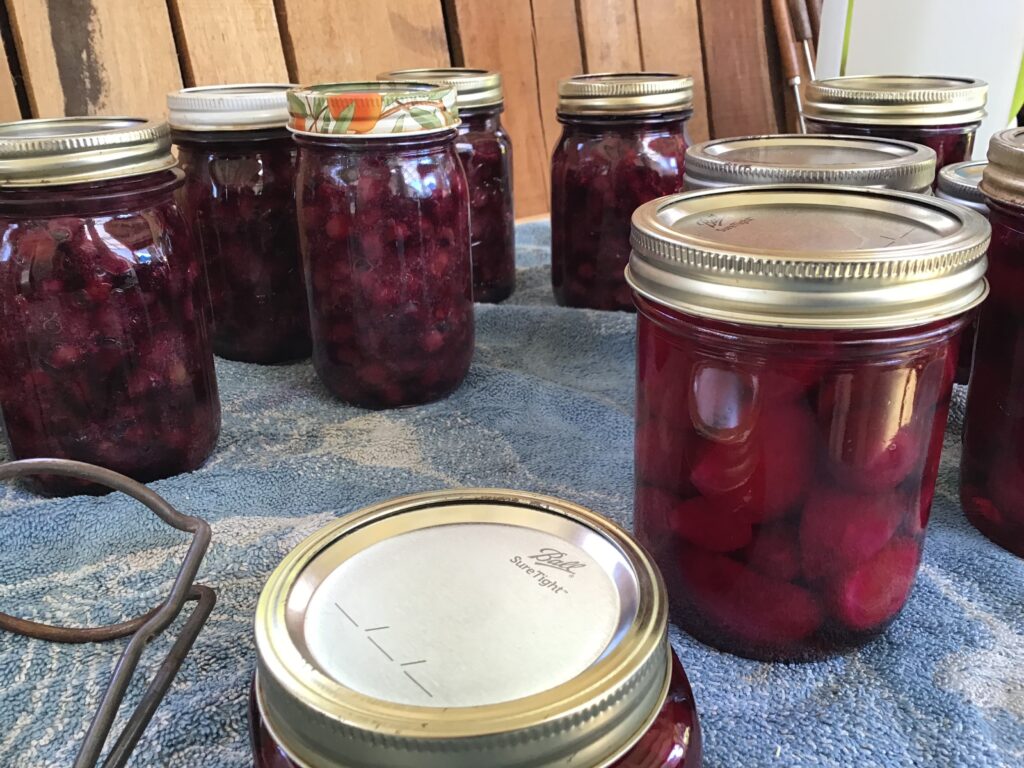 Since I've been home, I've canned beet pickles, dill pickles, blueberry pie filling and green beans. I've frozen the last of the peaches, some strawberries and blueberries.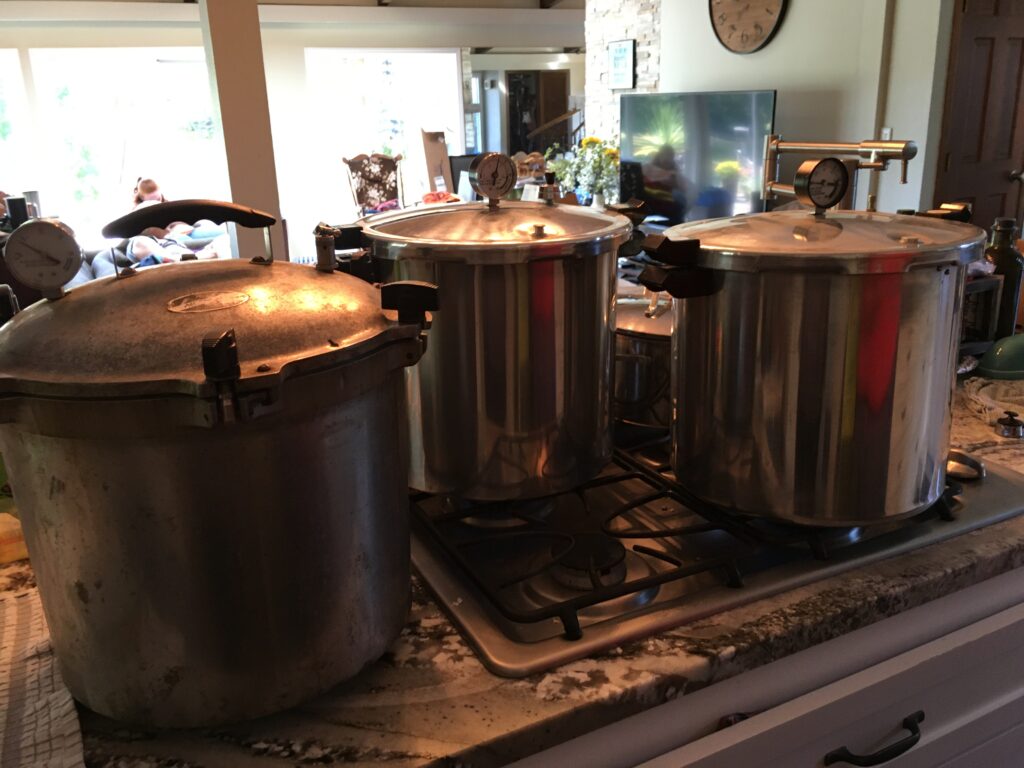 Yesterday afternoon, we had a bean-snapping/canning party at my sister's house. My other sister is growing tons of beans and is sharing. So after virtual church, Rob and I went over to Gail's and joined their family and my aunt, who were all snapping like crazy. We got 28 quarts done! We took our canner, used their canner, and one that Rob's friend gave us just last week. They never use it anymore, so we gratefully accepted. Rob stood by the canners, keeping time and keeping them all at correct pressure–that was his exclusive job, and the rest of us snapped and filled jars. When I left, they were all sealed, except one, and I'm sure it did. It sure speeds things up with multiple canners and lots of help!
I've been working on my garden in the evenings and mornings. I'm removing old bushes, harvesting produce, and weeding. I'm getting an area ready because I plan to plant a fall garden.
We ordered some more seeds from Territorial Seed Company for fall planting. They were out of a lot of things in their on-line winter gardening catalog, but we were able to get enough. We just wanted a few things like spinach, cabbage, etc. If they didn't have the variety I wanted, I just chose another one, figuring they all must have some merit or they wouldn't have made it into the seed catalog in the first place! Maybe I'll find a new favorite. We have eaten and shared so many of our vegetables this summer–much more than we usually do, so I'm excited to get more going.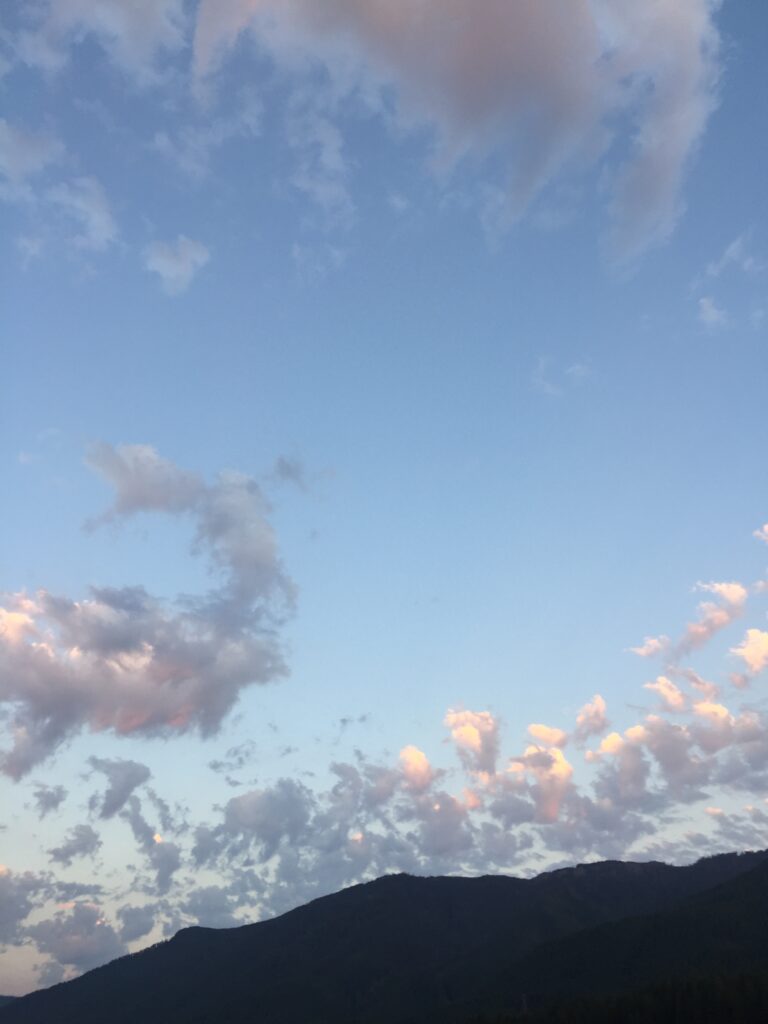 Rob took this picture of the clouds. I really like it, so thought I'd end the blog post with it, just because:)