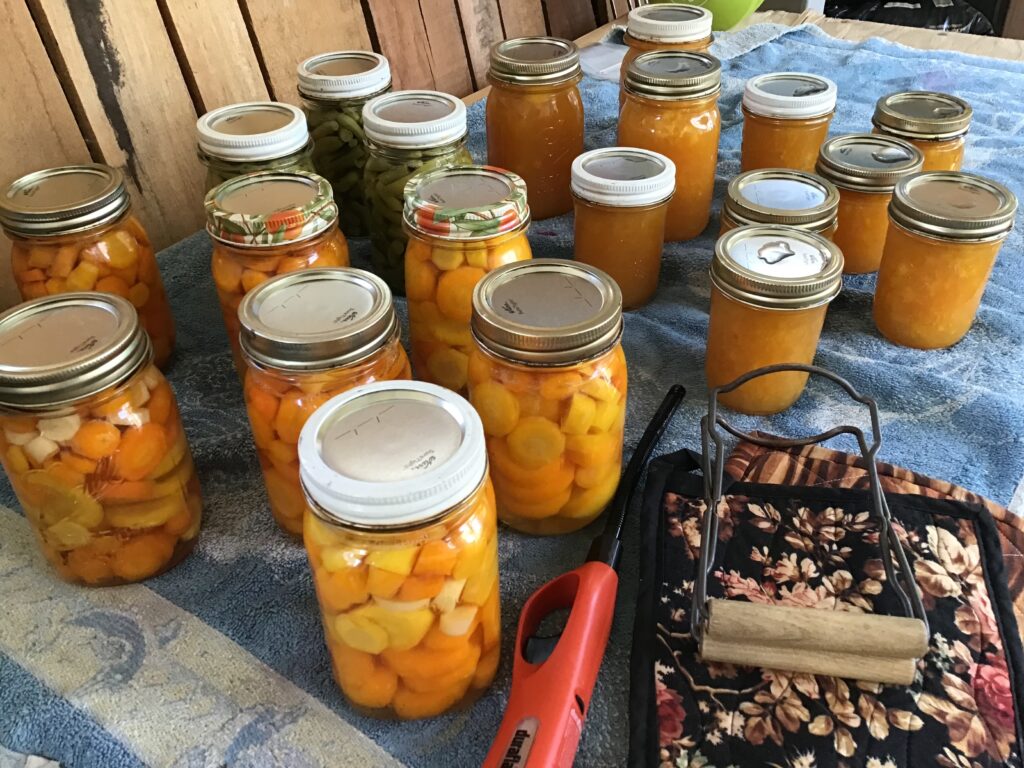 The canning is stacking up around here! This week, one of the things I did was pull the carrots. Some we ate and some were canned. Frankly, my carrot crop was small, and not impressive, but I dealt with what there was. I grew multi-colored colored carrots, for part of what I grew, and I like how they look in the jars. During a normal winter, I use between 5 and 10 pints of canned carrots, that is all. I use them for one purpose–making chicken-rice soup when I'm in a big hurry. Therefore, I don't can them every year, but this year, I'm down to one jar left, so it's time.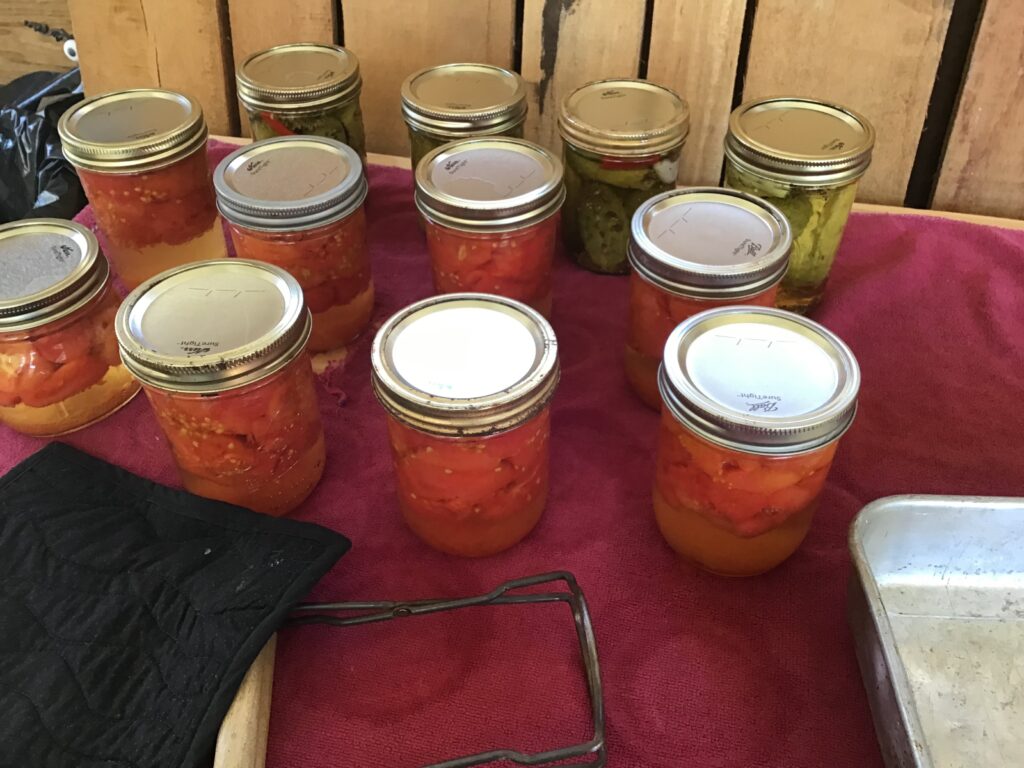 Pickles are made every few days and the tomatoes are just barely starting.
We have a peach tree in the back yard. It's somewhat pathetic and the peaches that grow are usually eaten off by squirrels before they even ripen. The peaches are often covered with scabs. But, this year, some survived–probably 20-25 pounds and they are quite nice. I was expecting very little-none as usual, so this gave me extra peaches. I have been freezing them in slices for smoothies, gave some of the frozen ones to my sister, froze a few for a friend, and made another double batch of peach jam.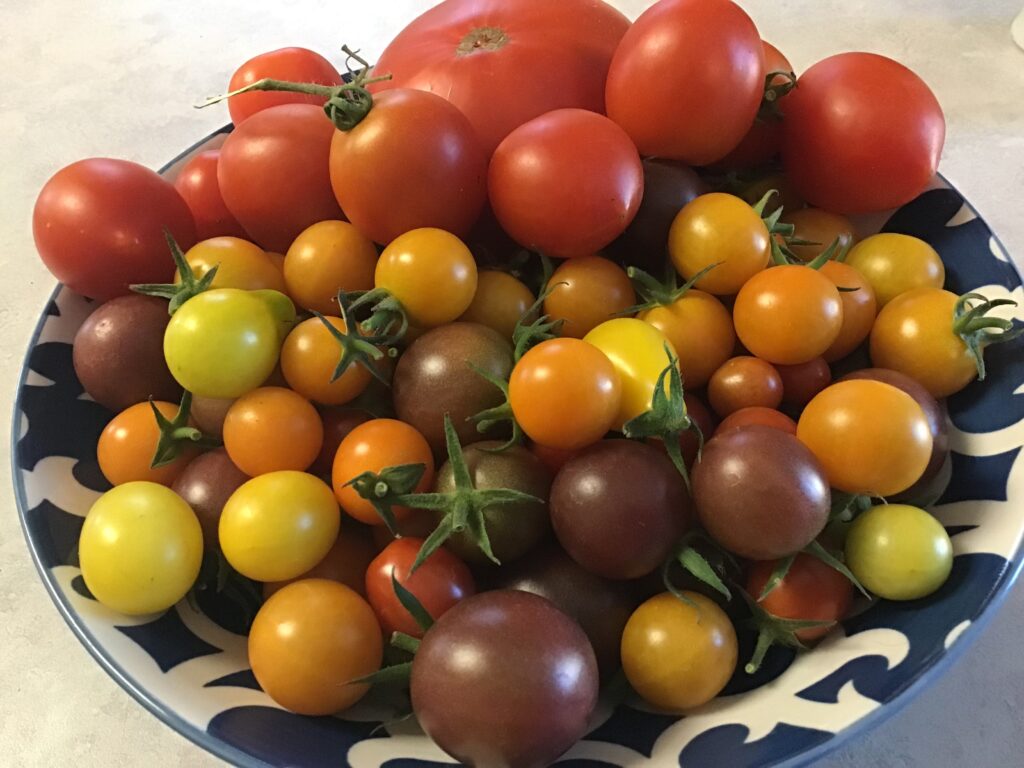 We are eating so well from the garden now.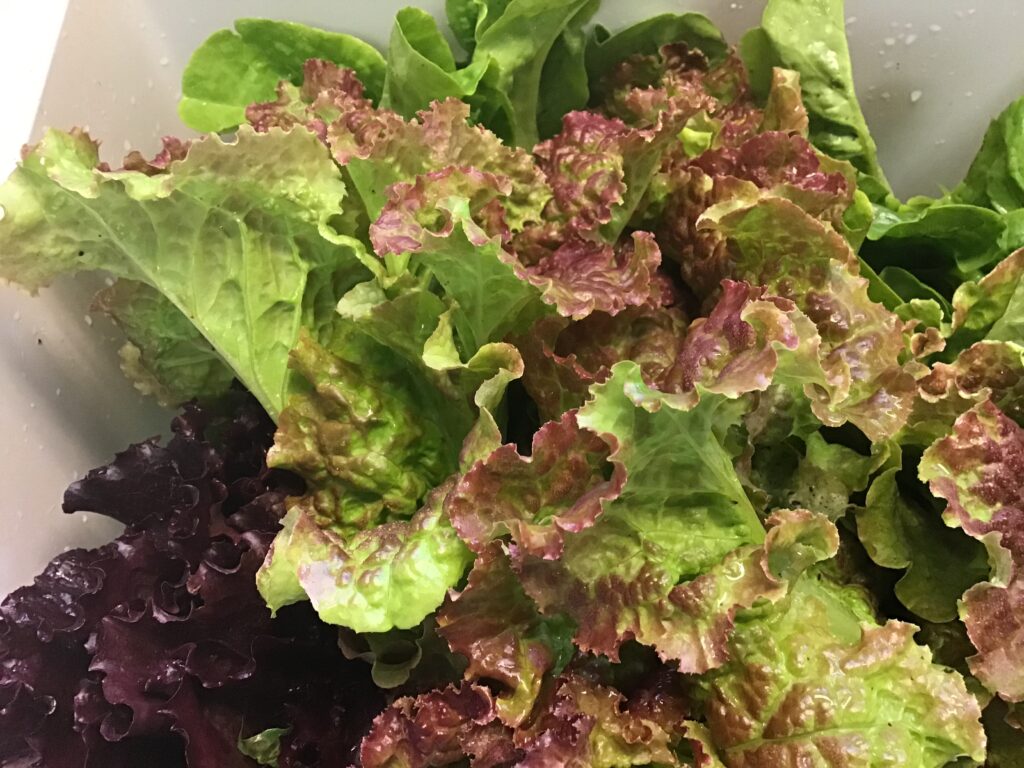 My lettuce is really good right now, but some of it wants to bolt soon. I will be hauling some out to family members on Wednesday so it gets eaten.
Rob has been saving seeds from some of our open-pollinated flowers and vegetables to use next year. It's his first try, but he's become very infested in the process–so I'm on board. I've got a small patch of the lettuce in the center of the picture saved and will let it go to seed for him. I've got a huge cucumber yellowing on the vine for the same purpose, and one freaky carrot that bloomed so is being left alone to see what happens.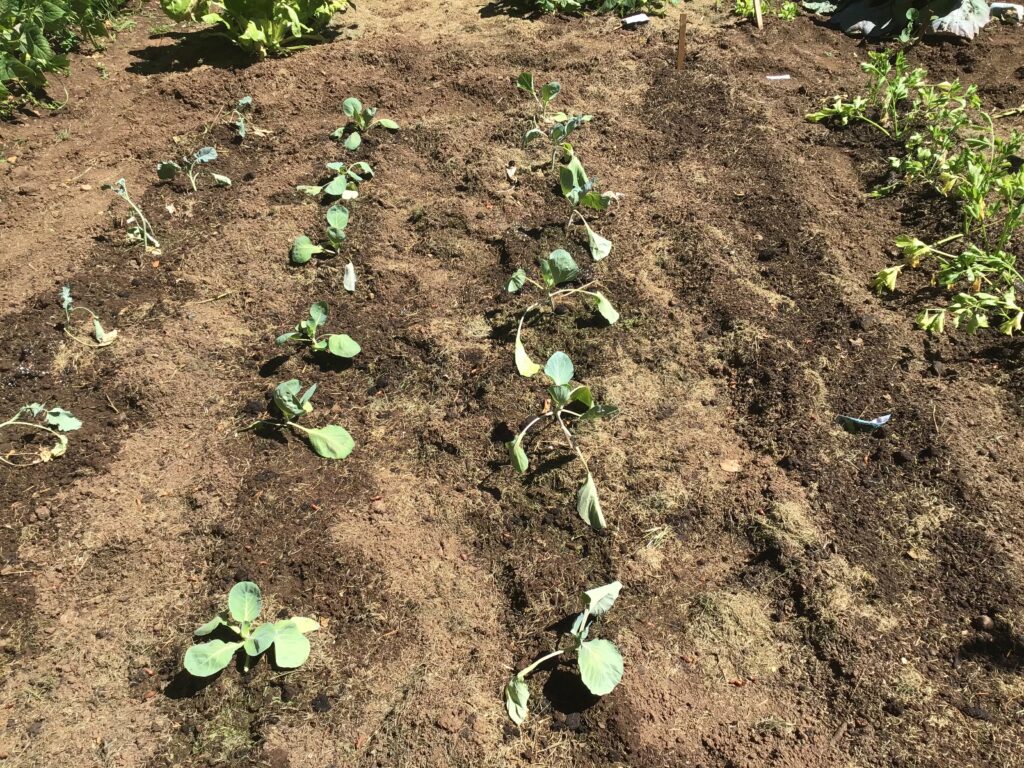 I've been working hard in the garden to pull up old bean bushes, pull the onions so they can dry, and otherwise clean up out there. One day, Rob tilled this section and I planted cabbage, some sad broccoli plants and a few seeds. The plants are not amused at the 90+ degree day we had today. I've ran the sprinkler daily and hauled a few watering cans full of water out to them, so they will likely survive if I keep doing it. I have plans to plant a few more fall/winter crops when I get the section where the onions were prepared.
I went to the dentist today and got a filling replaced. It had a small crack in it. They felt I could wait until after Rob recovered from surgery, but not 6 months…..I really don't like dental work, but was glad to get it fixed before it caused problems down the road. I was able to use my insurance, so that helped ease the pain.
Rob has been helping my sister/brother-in-law on their peach farm a little over the past couple of weeks. They are in a busy time, and he's available. While he was there today, he picked wild blackberries and we made jam this afternoon.
My aunt and sisters picked and snapped more green beans for me while I was at the dentist. Rob and I canned them this afternoon. I got 7 more quarts and 18 pints, plus 4 baggies to freeze. Thanks, guys!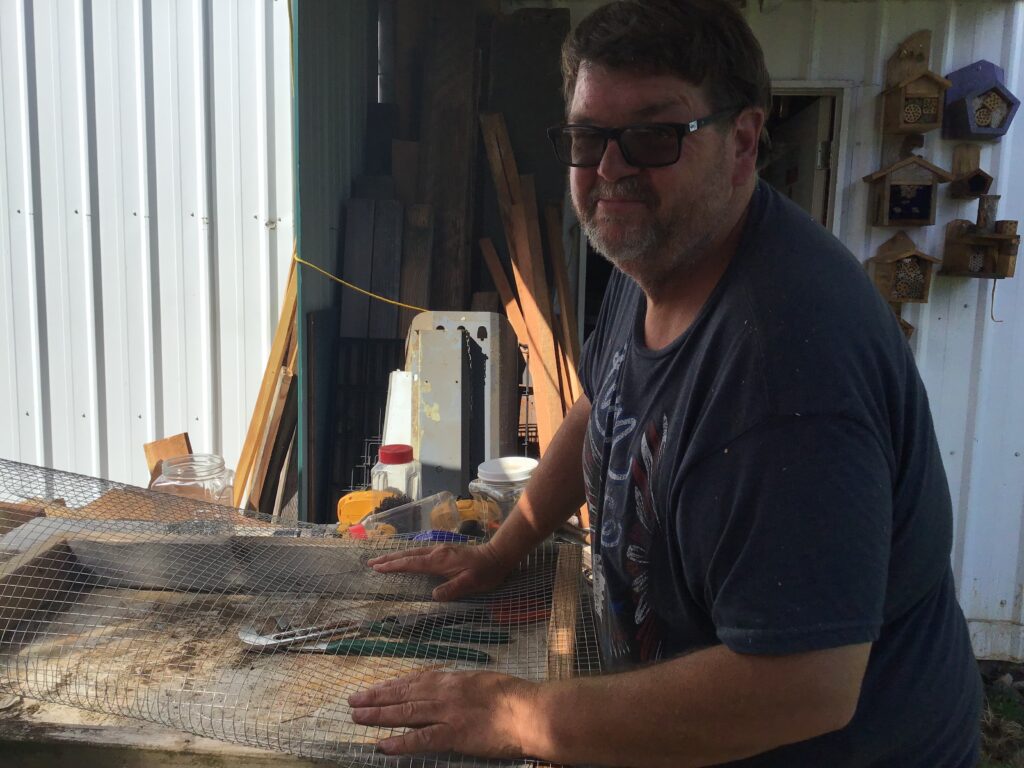 Rob gathered free wood from the side of the road and made me screens to dry my onions on.
One day, while we were watching Michaela, we packed a picnic and took her up to Silver Creek Falls State Park to dip her toes in the creek, and enjoy her picnic. We are all trying to find things for the kids to do while still staying safe–so although the park was somewhat crowded, we just stayed away from people as much as we could, so we were able to find a way to social distance. We did take a walk, but it was around the parking lot and a field–we never got anywhere near the falls this time around. It was still extremely fun!
What did you do this week to save money or have an awesome week?
.