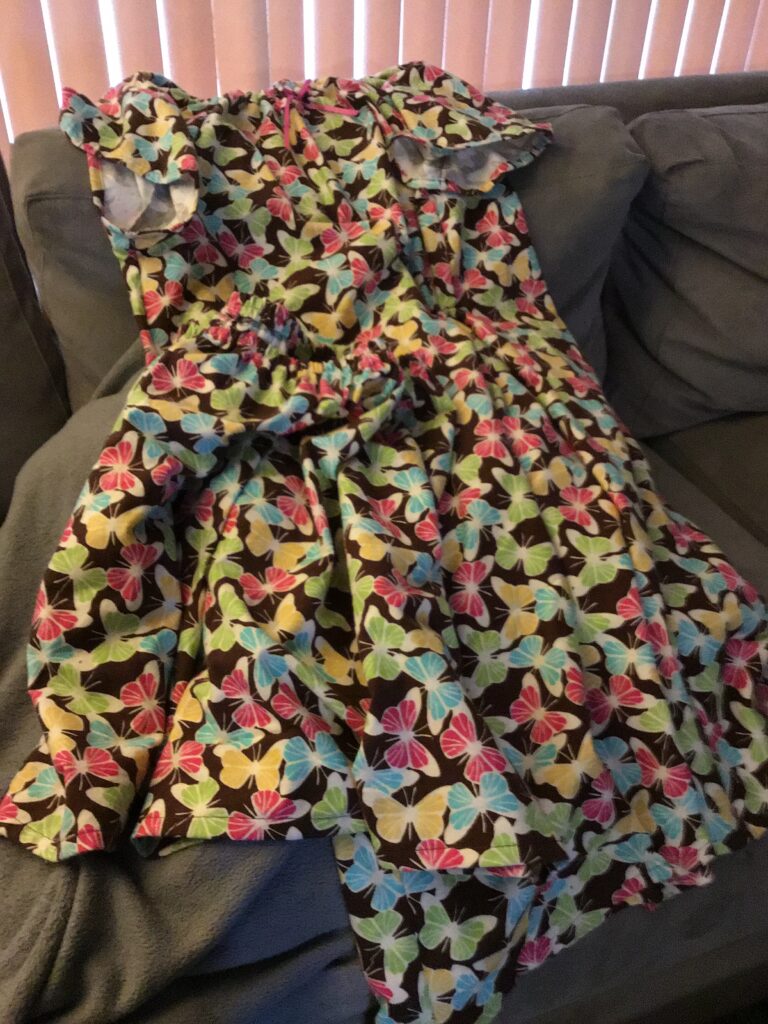 The fall sewing project to replenish Patsy's wardrobe continues. I made a nightgown and some shorts from a large piece of flannel I had on hand. In the past, I've purchased flannel from JoAnn's flannel sales, sometimes on the day after Thanksgiving, for low prices and this piece was in my stash.
The nightgown was made from Butterick 5723. The shorts were from Simplicity 2819. These were both patterns I've had for a long time. The shorts were made because I had just enough fabric left over and I figured she could always pair them with a t-shirt and wear them to bed, or wear them under the nightgown.
I thought the nightgown was going to be shorter, so I lengthened it. It's not short! In fact, it reaches between her knees and ankles after I made it longer. So, the shorts will likely not be needed under it after all.
Two things I do on shorts and pants: 1) I add a small piece or ribbon or bias tape to the center back casing. This shows the child at a glance which side is the back, like a tag would. 2) I stretch and sew a line through the center of the casing after I've inserted the elastic and made sure it fits the wearer. That keeps the elastic from rolling and twisting inside the casing over time.
If you try this, I've found that the elastic needs to be shorter than the actual waist measurement. It seems that the elastic stretches out when I sew that line through it. I usually go around her with the elastic, then take away 3-4 inches and insert that much into the casing. I then have her try the shorts/pants on and make any adjustments needed, sew the hole closed, then do the stretch and stitch down the center of the casing.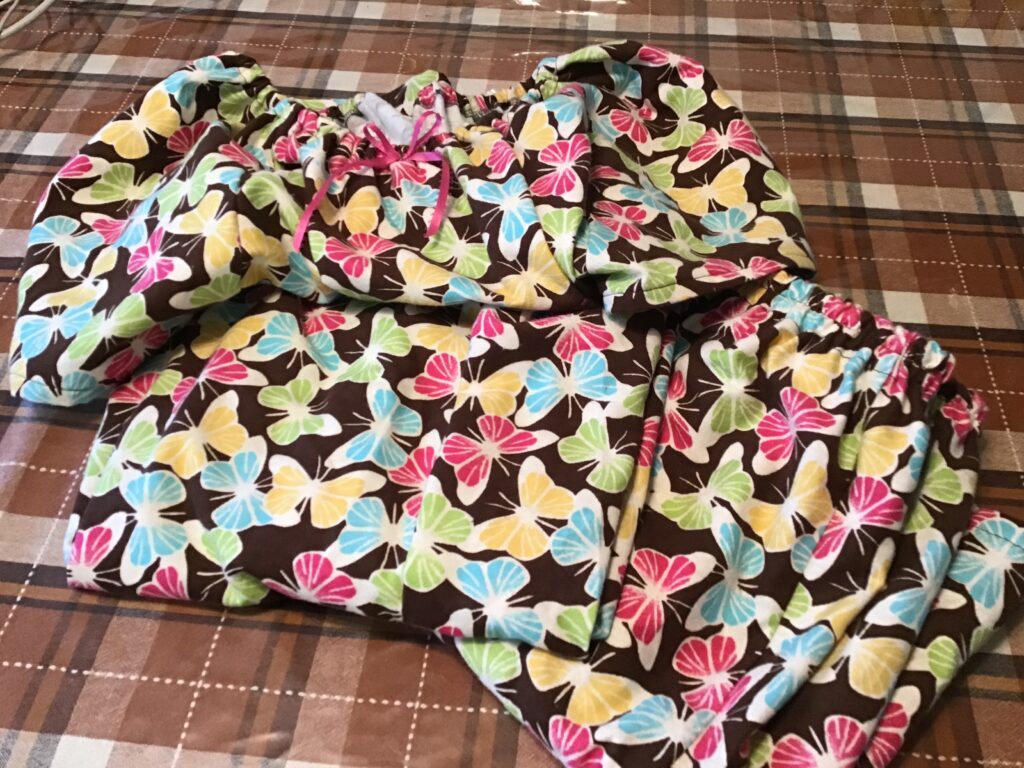 On the nightgown, I made a couple of alterations. First, I cut the top according to the pattern, but then gradually widened the sides, starting from under the arms, and by the time I was to the bottom of the skirt edge, added 2-3 inches. That actually added 8-12 inches of width over the hips. She likes her night things loose. I added about 5-6 inches to the length of View C, but left off the ruffle. I also tacked a ribbon bow to the center front so she could easily tell which side is the front. It's difficult with this style to tell in a hurry.
I also left the sleeves free to flutter at the lower edges, rather than inserting a casing and elastic there. She doesn't like the elastic on her arms, so I never put it in there for her nighties. Instead, I just narrow-hemmed the edges.