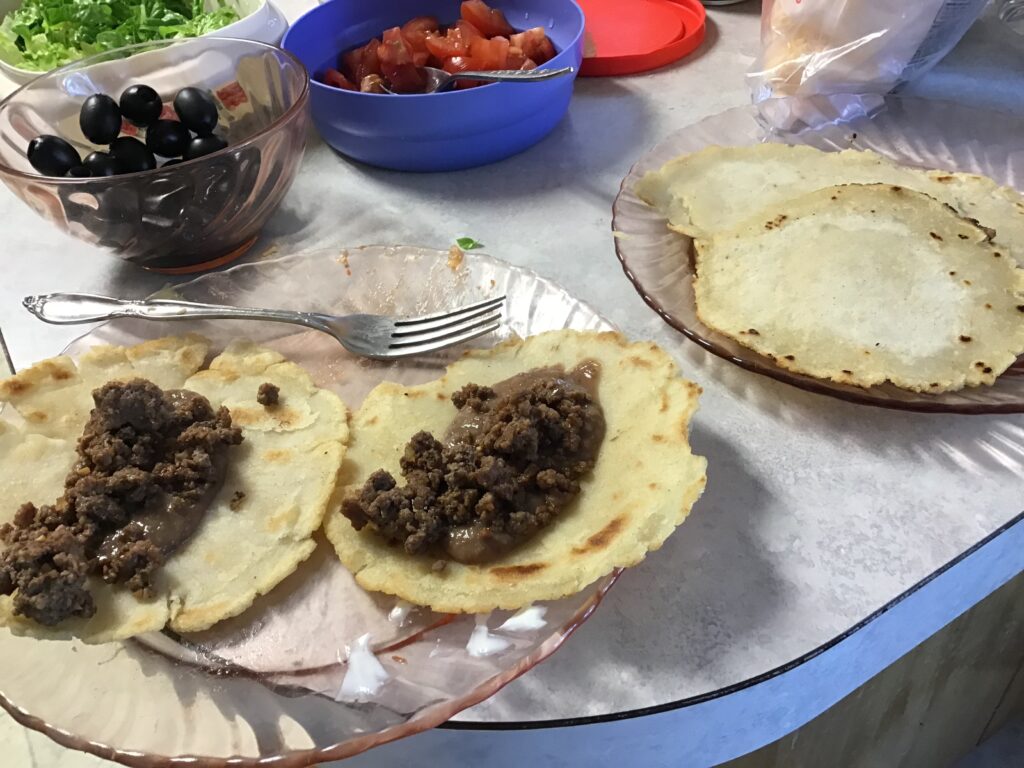 This week was unusually busy during the first half, and unusually quiet the second half. Rob scurried around getting wood hauled, things picked up and put away, and so forth, and then had surgery on Friday. He had one surgery for carpal tunnel and nerve surgery on his elbow, both at the same time. It went well, and we spent a quiet weekend icing and elevating his arm. I planned nothing else for the weekend, since he does an awful lot of house chores around here, and I knew I needed to do them all for a few days.
He took our daughter Lovana shopping on Wednesday, as she doesn't drive and finds it very handy when she can talk her dad into taking her to various stores. While he was out, he picked up some groceries for us. I didn't need many, but I forgot to ask for corn tortillas. I didn't want to shop again, since I had enough to do, so I remembered a comment from Terri W. a while back, who suggested I make my own. I told her I couldn't because I don't keep flour in the house, but then thought, "why not try corn ones?" I've watched my friend make them before, in a tortilla press, which I don't have, so I squished them between plastic wrap and two plates. Then, I fried them in a pan. They aren't as thin as the store ones, but they tasted wonderful!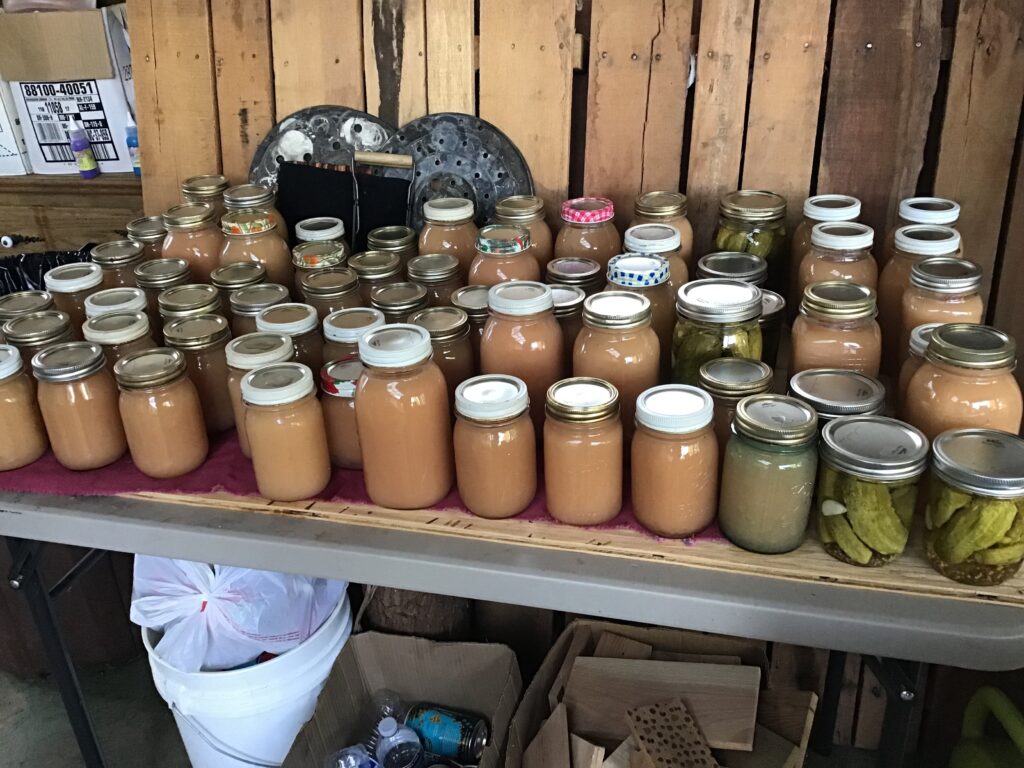 We just keep eating and eating our home-preserved food. We've especially been enjoying pickles and applesauce this week. Pears, peaches, giardinera, jams and cauliflower have been eaten as well, plus more.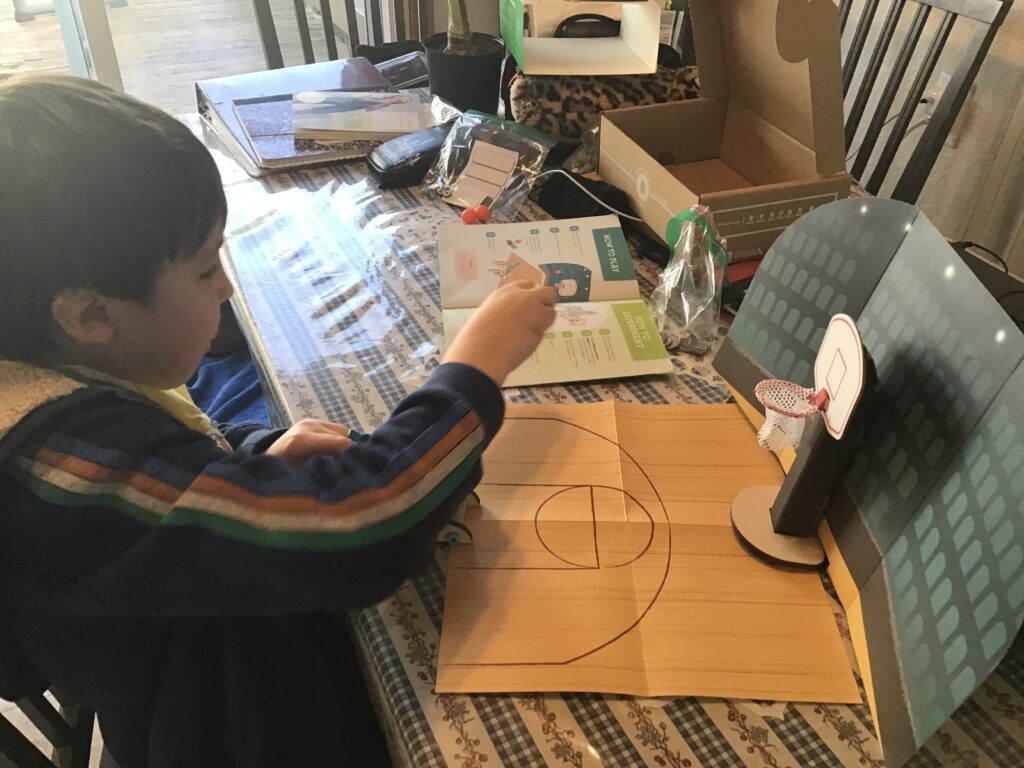 Jake enjoyed making a Kiwi Crate kit as part of the homeschooling materials his mom sent over last week on the one day I do school with him. It was a basketball catapult. Fun!
We finished reading about the Wright Brothers and a book called "Thimble Summer." He liked them, but boy did I have some talking to do when he realized the little girl in "Thimble Summer" was hitchhiking! I explained it was a long, long, long time ago and they did that kind of thing then, but NEVER, EVER now, and on and on and on. Did you every get caught out trying to explain a tricky part of a book to a very literal, special needs child? It's not for the faint of heart, I'll have to say:). But, I do enjoy reading to him, and he loves hearing it, so we read quite a bit last week. Although we do formal school only one day per week, I read aloud every time he is with me, and before bed when he spends the night.
We get a lot of frugal fun from books. I read to Patsy and Rob this morning for about an hour. He's a bit bored today, and loves hearing the story we are reading. (Still on "The War That Saved My Life"–it's a great book!) This morning, his bandage started slipping down and his stitches were showing, so I drove him to the doctor and they re-dressed his arm. After all, a guy can't go around with his stitches showing:) They said it looks wonderful! After surgery, they said the nerve surgery on the elbow was "more than they thought it would be" and it has hurt there especially, but he is handling it just fine with ibuprophin, so that is a relief.
Rob and Patsy watched lots of westerns on t.v., while he was icing and elevating that arm. I was happy to wash dishes and cook, to the sound of gunshots ringing out and the drawl of John Wayne, while being very thankful I had a sink, fridge and stove to use, rather than a wagon, bucket of water and campfire to cook with, lots of food, and no bullets to dodge while I did my chores:). All joking aside, I take those things for granted, and around the world, so many women have to contend with all that and more, just to put a meal on the table for her family. I really did take a moment to be thankful for all that I do have.