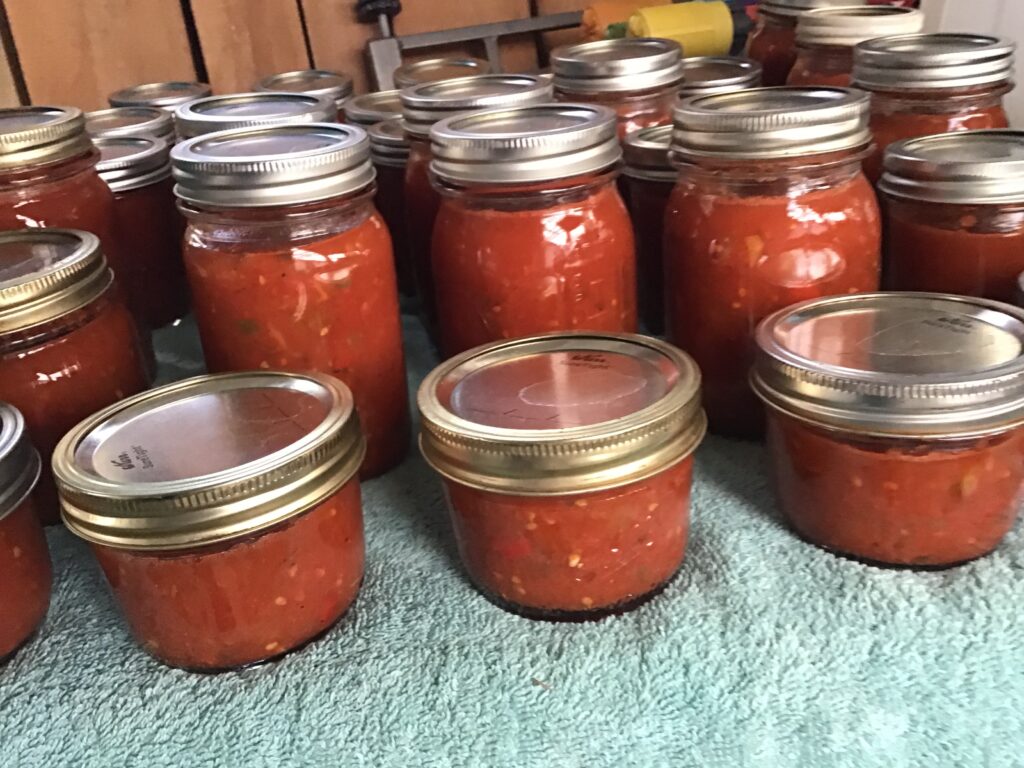 I was asked for the salsa recipe I use. Here it is:
Tomato Salsa (using paste tomatoes)
from: Salsa Recipes for Canning (A PNW Extension publication)
7 quarts peeled, cored, chopped tomatoes (I pour boiling water over a big bowl of tomatoes, drain it off, cover with cold water, peel and pulse in a food processor, then measure it out)
4 cups seeded, chopped long green chilies (Anaheim mostly, some Ancho in this batch–again, clean them, then pulse in food processor, then measure–it's whatever grew for me. None of these have heat in my garden, but they do have a good flavor. The heat comes from the other peppers.)
Jalepeno or Hungarian Wax (hot) peppers–I used 8, but you have to taste as you go–add 4, then taste, then add more if needed. The temperature varies so much in my home-grown peppers. I've added a Serrano in the past if I needed more heat.
5 cups chopped onions
6 cloves garlic, pulsed with a batch of the tomatoes, onions or peppers
2 cups bottled lemon juice
2 Tablespoons salt
1 Tablespoon black pepper
2 Tablespoons cumin
3 Tablespoons dried oregano leaves
2 Tablespoons fresh cilantro
Combine all ingredients except spices and bring to a boil, stirring frequently. I actually use 2 pots if I make the full batch, 1 if I do 1/2 batch. Reduce heat and simmer for 10 minutes. Stir occasionally. Add spices and simmer 20 more minutes, stirring occasionally. Ladle hot into hot pint jars. Leave 1/2 inch headspace. Adjust lids and process in hot water bath for 15 minutes at 0-1,000 feet altitude, 20 minutes at 1,001-6,000 feet, 25 minutes above 6,000 feet.
Yield: 13 pints
This works best with Roma tomatoes. If you have to use a lot of the more juicy ones, there is another recipe that suggests using a little tomato paste to thicken or to cook it down for quite a bit longer to thicken it up. I use this in cooking sometimes, but mostly it is eaten right out of the jar on chips, tacos, taco salad as dressing, etc. Jar after jar after jar after jar:). They love it!