This week, we celebrated the arrival of fall by doing some extra activities with the kids. On the first day of fall, we decorated the extra fall-shaped sugar cookies I had frozen before we went to the beach. Then, we made fall cards.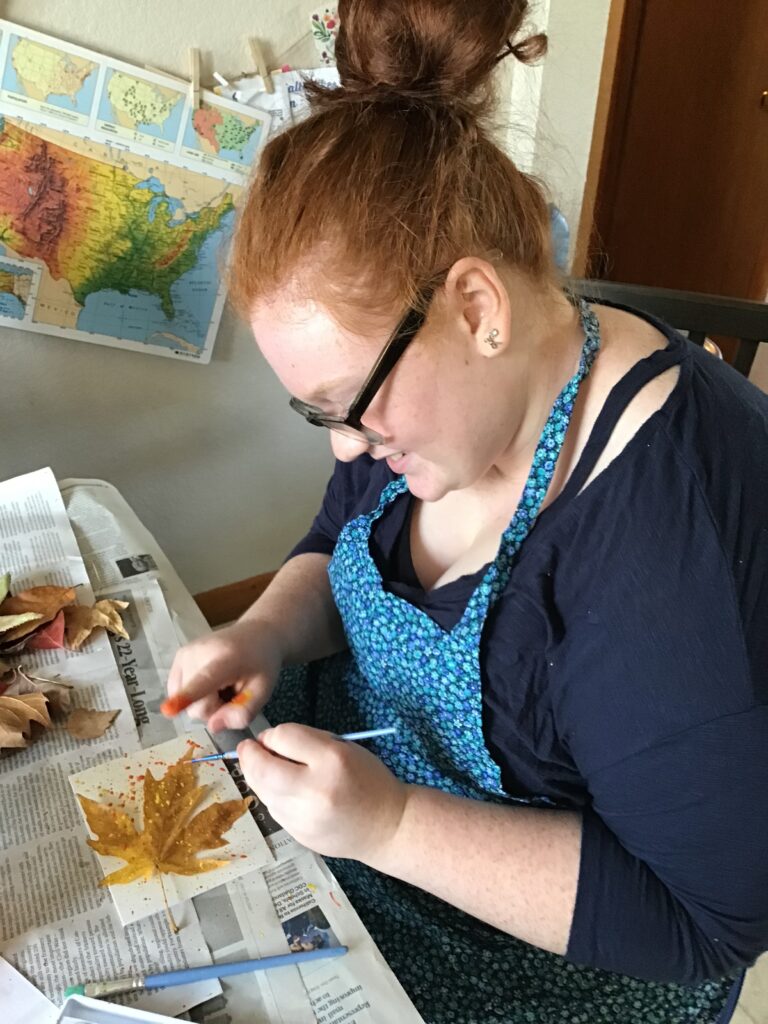 Rob organized the project. It involved collecting fall leaves on our walk, then spattering them with watercolors so that when the leaf was removed, the shape of the leaf was left on the card.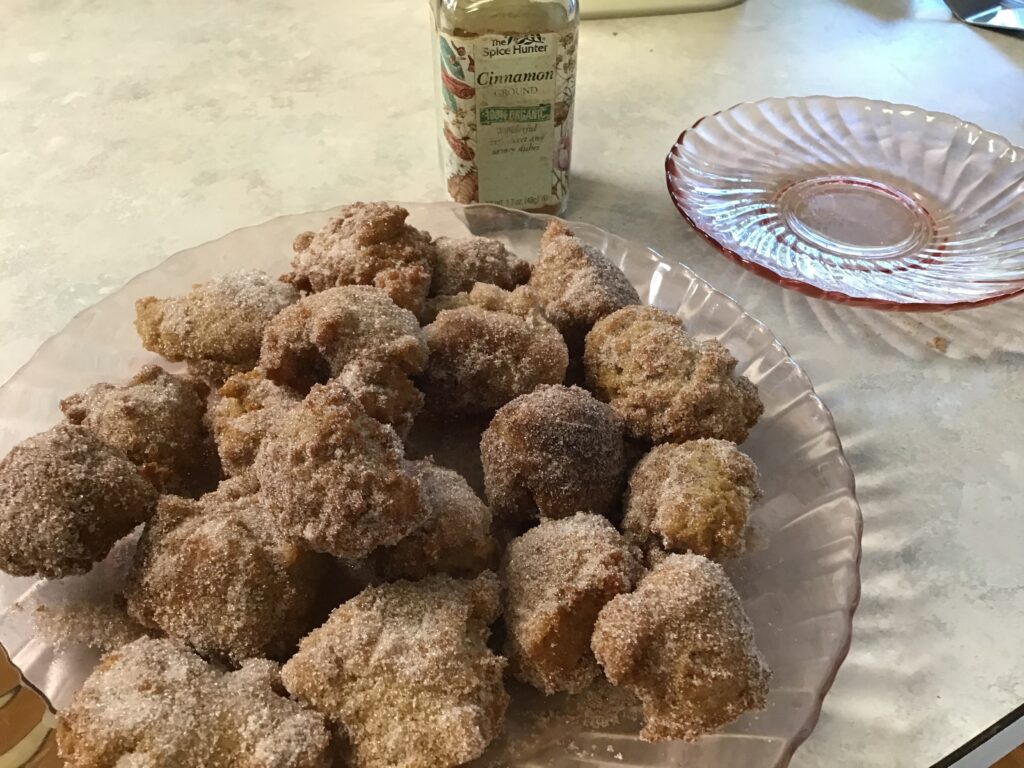 Another day, we made some cinnamon puffs. They are like little fritters. The kids enjoyed the project and they were soon eaten, especially when the big girls and babies dropped by later in that afternoon and helped eat them.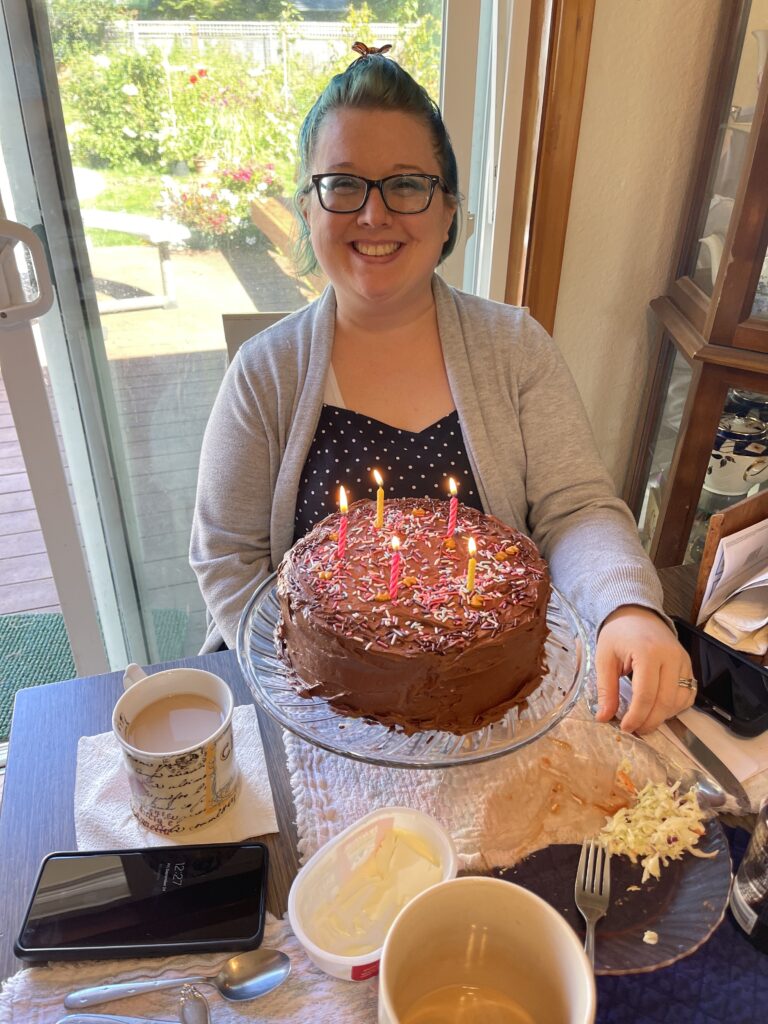 We had 2 birthday parties. One was for sweet Allison and one was for my aunt. I made hamburgers, coleslaw, and beans along with the big chocolate cake and we had some ice cream for Allison's party. We played games and had fun with our son, Anthony and his girl, Allison. For my aunt's party, my sister did the hosting. I took a pan of enchiladas–easy! Both gatherings were kept extremely small, but it was nice to get together.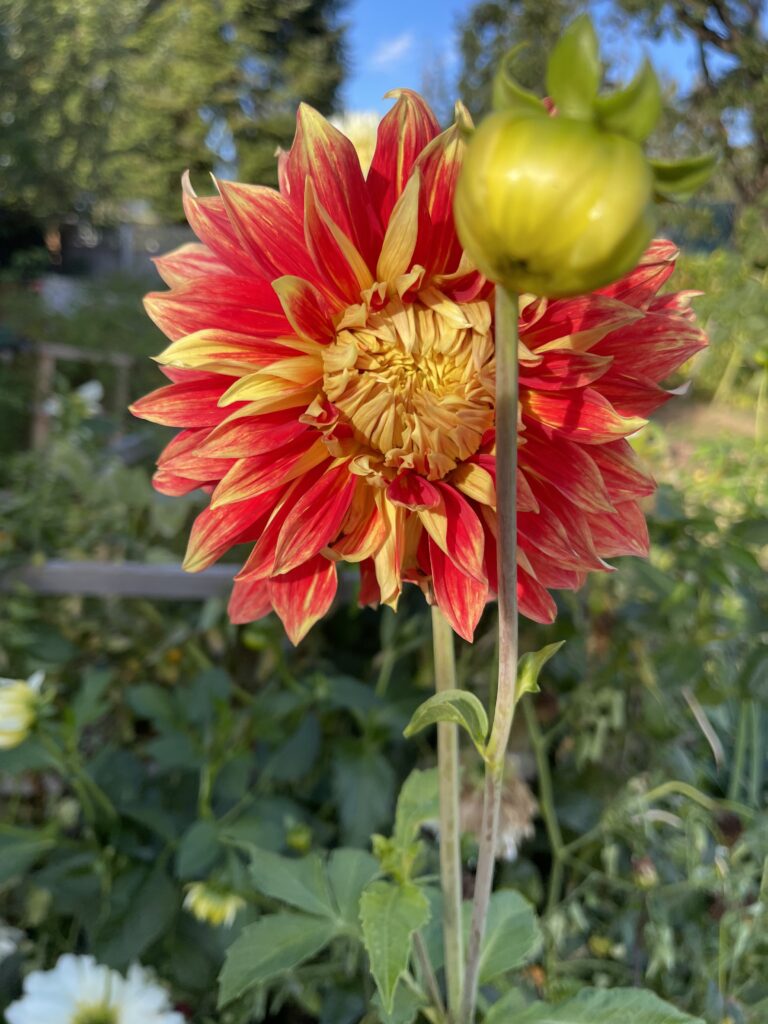 A friend gave us some dahlia starts in pots earlier in the summer. A few of them recently bloomed. I'm trying to get an idea of what they look like and how tall they are before I plant them in the flowerbeds. This one is especially pretty.
I canned the rest of the whole tomatoes I needed and 3 more pints of diced tomatoes. I also made 7 pints of enchilada sauce, using all the tiny tomatoes, yellow ones and cherry tomatoes I could gather. There are just too many for us to eat fresh. They are winding down, though, so I'm glad I pretty much have what I need. When Rob's cousin graciously offered us more tomatoes, I was able to say "no," gratefully and thankfully for the offer, of course, but still "no." Truthfully, many of my jars are filled now. The shelves have only a few small spaces left. I have plans for those spots and will fill them, but there comes a time where I need to move on to other things that need to be done and not can just to can, not fill jars just because I have a few empty ones left…. Other than things that are ready yet, like cauliflower, I've preserved what I need and a little more for a carry-over.
One of those things that desperately needs done is cleaning. My house is a disaster. It makes sense. I've spent up to 14 hours some days growing or picking produce and dealing with it. So I started with the garage, which became a handy place to drop boxes, buckets, food items, toys, crafts and garage sale items over the past few months. I've put in about 2-1/2 hours so far, over 2 days, and you can hardly tell at all. I plan to clean a little, in short increments, several times a week until it is done. Once things are sorted through and organized, I will be able to tell if I have enough for a garage sale, or just want to donate the excess. I go through my food storage pantry shelves a couple of times a year out there, so I should make faster progress when I get to that section as it shouldn't be too messy.
I cleaned out the freezer over the fridge in the kitchen. I found lots of food I had frozen for future meals so we are eating a lot of that this week. I put empty ice cream buckets I'd saved in there, one for baggies of frozen fruits and one for frozen vegetables. I'm hoping I have stopped the avalanche each time the freezer is opened. So far, so good!
I made vegetable soup, clam chowder, enchiladas, zucchini noodle lasagna, and thawed several pre-cooked items I'd cooked in the past.
We were able to get 24 cans of Progresso clam chowder on the 99c/can sale this week. All of my regularly budgeted grocery money this week has gone on stocking the pantry–things like this soup, 25 pounds of 1 to 1 flour, etc. and a little dairy and produce. Since we ate the camper freezer food, and now the house freezer food, I really don't need much so this is a perfect time to load up on pantry items.