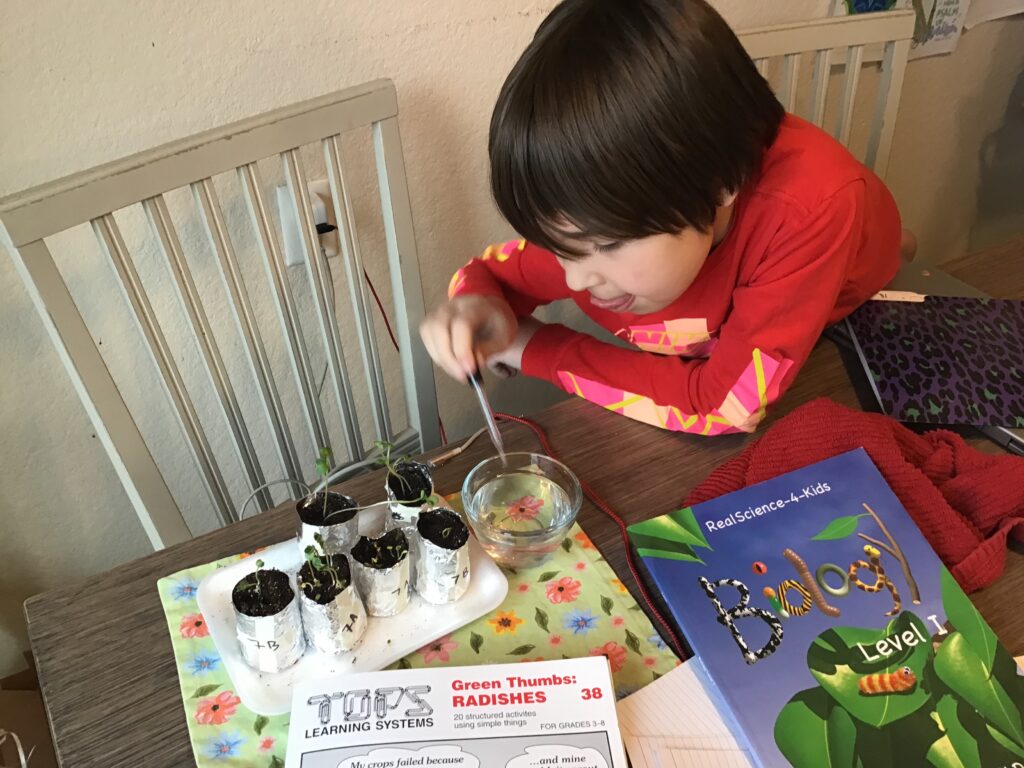 In the past couple of weeks, we have been very busy with the TOPS Radishes science unit. In my little house, many, many surfaces have been, and still are, covered with planters of radishes, little jars with various experiments, and big meat trays full of experiments. (WAY, WAY more than in this picture!). Both Jake and Patsy are doing the experiments, so we have double of everything.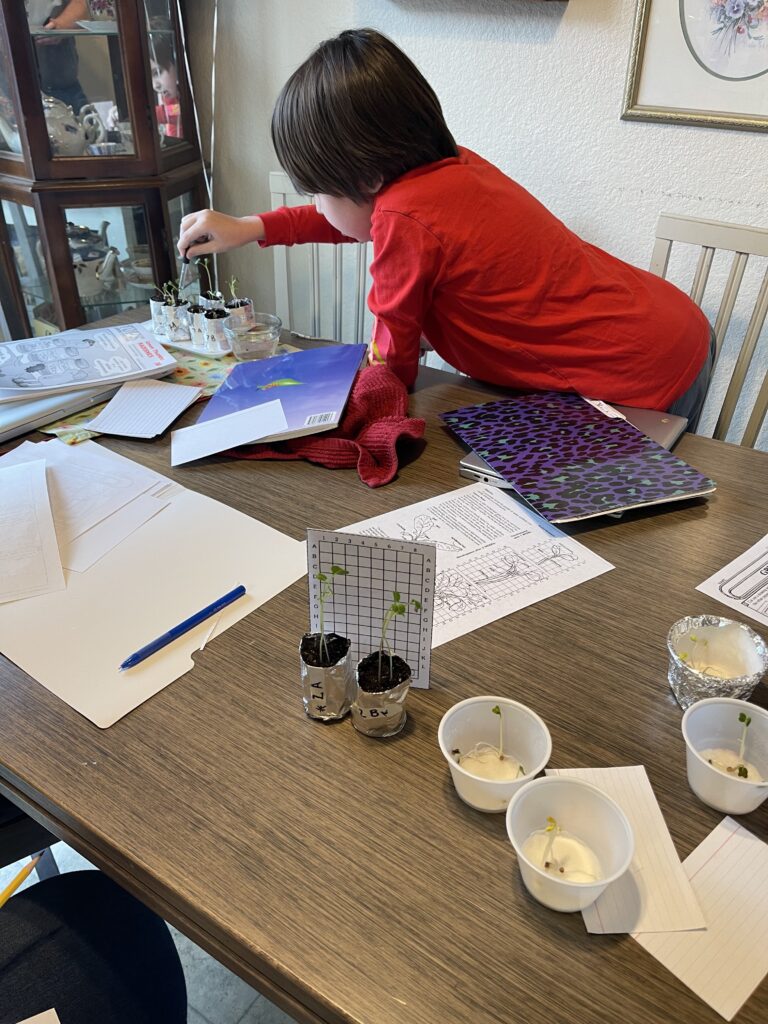 Frankly, it's been keeping everyone busy for hours and the kids, especially Jake, seem to be really enjoying the whole process. We have this week and next week and then we will put it all away and move on to something else. I won't be sad to be able to move around without worrying about bumping into, knocking over, or otherwise damaging the experiments every time I move, but will be sad that the fun part is over. No worries….there's another book–"Corn and Beans" we will do soon.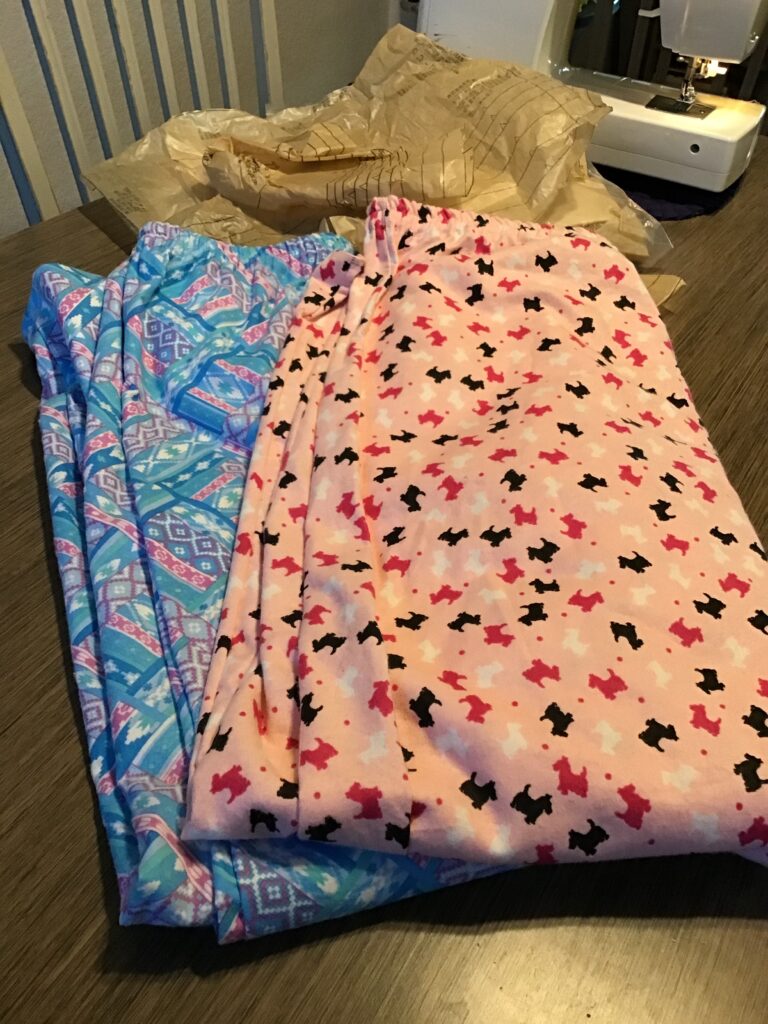 Patsy has been accepted to work at a camp this summer. We are really excited for her. They asked her if she could finish her schoolwork early, and come work at the Outdoor School sessions they have this spring. I thought that was for one extra week, but I was wrong! It's all spring!!! We have been working extra hard, doing double school, so she can go at the end of March. We also need to gather some things for her.
We spent an afternoon sewing. She made the pink pajama bottoms and I made the blue ones. They were from fabric I've had for years, bought on super sale, and it felt nice to use it for such an exciting purpose. I went to JoAnn's to get some inexpensive t-shirts for the tops. They were 3 for $9.99. We want to do one more pair of p.j. pants, and that should do her for sleepwear.
She's been sorting her shorts and jeans, and other clothing to see if we need to purchase more of anything. Between the extra school and gathering things, we are hustling around here. Frankly, at a camp, she doesn't need super nice things. They tend to get ruined at camp anyway. So, my aunt gave us some old towels, with the intention of using them for drying the dog after baths, etc., but we put some that didn't look all that bad in Patsy's box to take. If they get lost or ruined, it's o.k. I will have Rob go to the Union Gospel Mission store and see if there are more jeans or shorts that will work. We will probably need some kind of hiking or rain boots for her–we'll look around. They will give her a couple of camp t-shirts to wear part of the time. There's a washer and dryer there.
She will return home on weekends, so we can get more things if needed at any time.
We've been using lot of fruit and veggies we preserved last summer and meat from the freezer. Today, Patsy is making her peanut chicken recipe that uses frozen broccoli.
Rob cooked a turkey I bought for very little money last Thanksgiving on the BBQ, which makes it easy for me. We boiled the bones and I froze several cartons of broth and turkey bits, along with eating it in meals. I use old cottage cheese cartons and other containers I save for this purpose. I've also been washing more Ziplocks than ever because not only does it save money, but the last 2 times Rob went to Costco with Michaela to get some, they didn't have any sandwich size, so who knows if they will have what I want next time or not.
I loaded up on groceries last Friday, with the intention of not shopping this week at all, unless there's a critical, missing ingredient I forgot. It happens. I know this week is busier than normal, so I don't want to use Friday morning for shopping. If I did forget something, my long-suffering hubby will get to fetch it, bless his heart. I used lots of coupons, especially the save $10 on $50 at Safeway. I also picked up a Azure Standard order, which consisted of bulk items such as dry beans, spices, etc. So I can go 2 weeks. Likely 2 months. Rob says 2 years:)……Ha-ha! Still need dairy and produce, so that's out.
I didn't babysit much this past week. I didn't cook for others much. Instead, I took a nap one day, read books from the library and on my iPad, watched Olympic figure skating and skiing, and worked on some quilting projects in-between work, schooling, and house work. I've been trying to sort out and clean one basket, drawer, or bin every few days. I needed a "down" week because I know this week to come is busier. So, bring it on! I feel ready:)