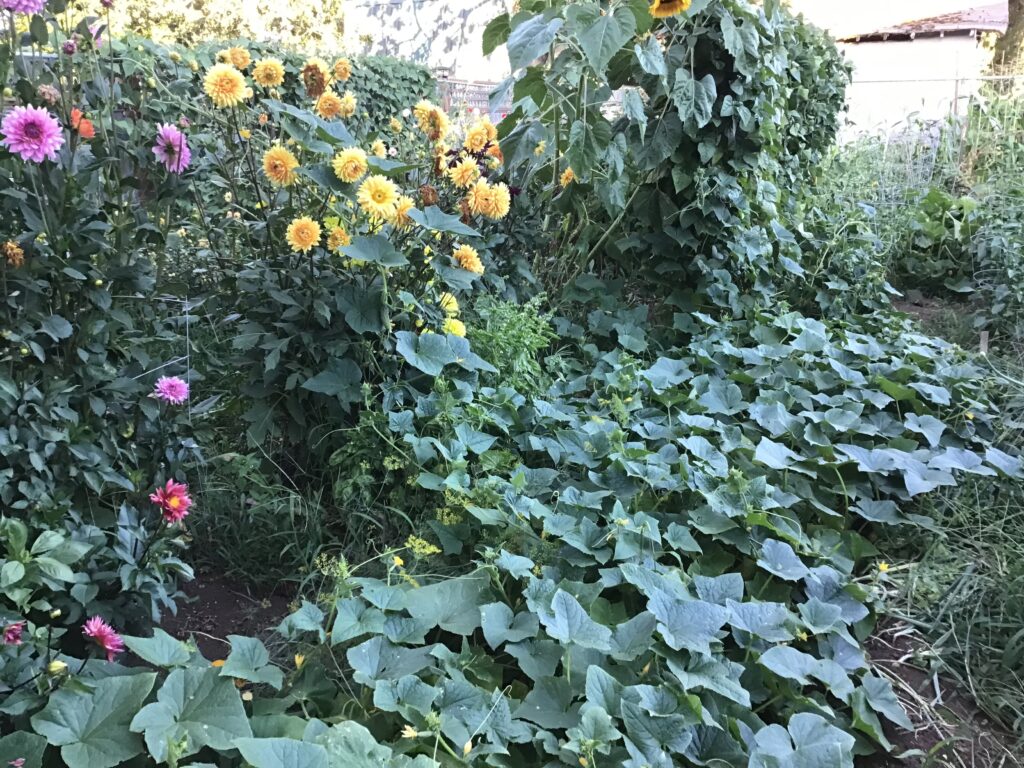 The garden continues to grow like crazy, although some things are running later than usual, due to the wet, late spring. These are both picking cucumbers and slicing cucumbers and they are over-running the onions, basic, trying to climb the dahlias and are climbing the bean poles! I've made sweet pickles, and sliced some for meals, but that's all so far.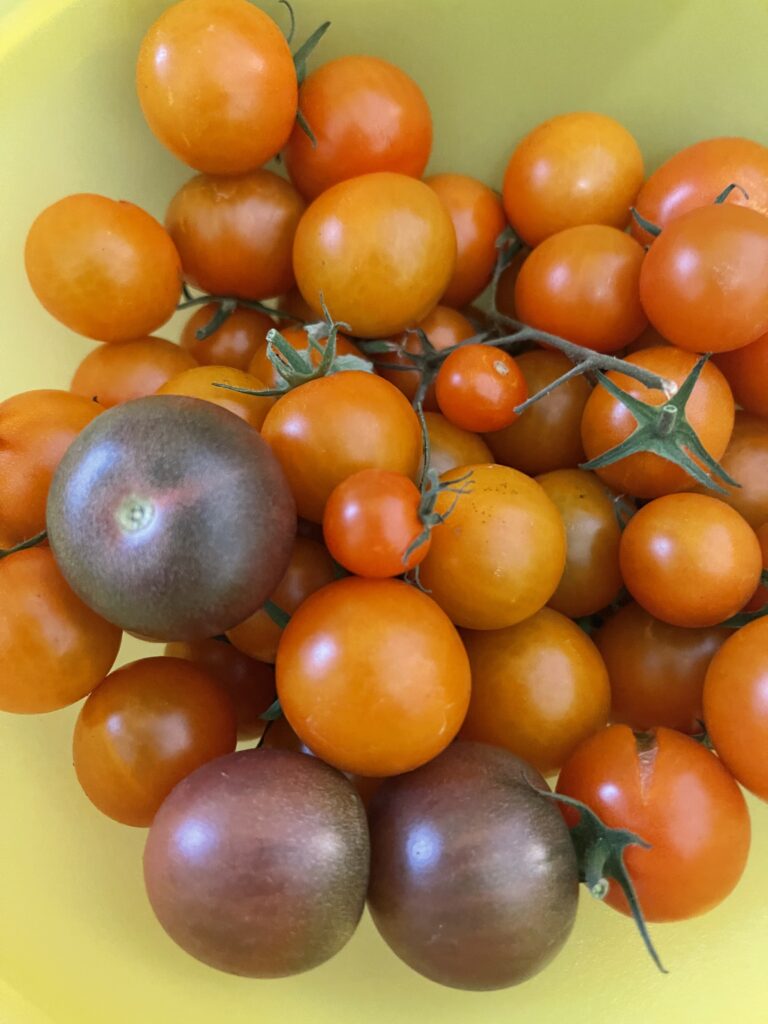 Just in the last week or so, the cherry tomatoes are ripening in abundance, instead of one here and one there. The Sungold were first, and the Chocolate Cherry have just started.
The large red, tomatoes are just starting to ripen, with one here and a couple there. I have Beefsteak, Roma Cordova, Fantastic, Carmello and Oregon Star.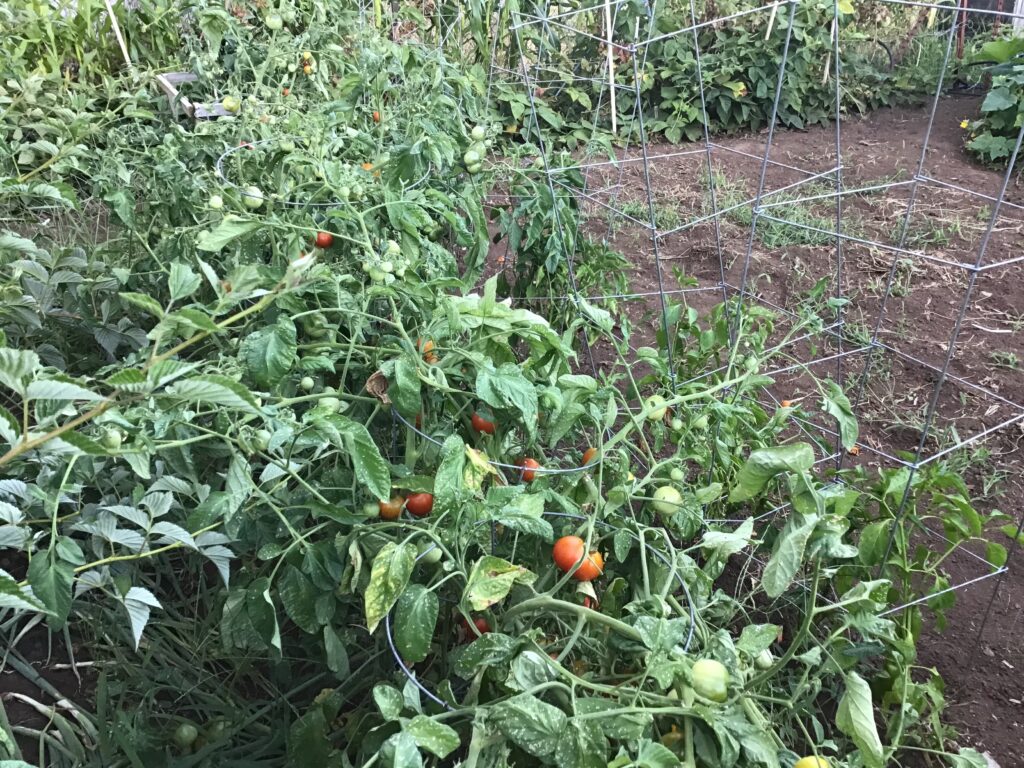 The Glacier tomatoes (extra early) are not as early as normal and are just getting going good. They are always on the small side, but this year are even smaller than ever before, some only reaching the size of a large cherry tomato. They sure taste good, though.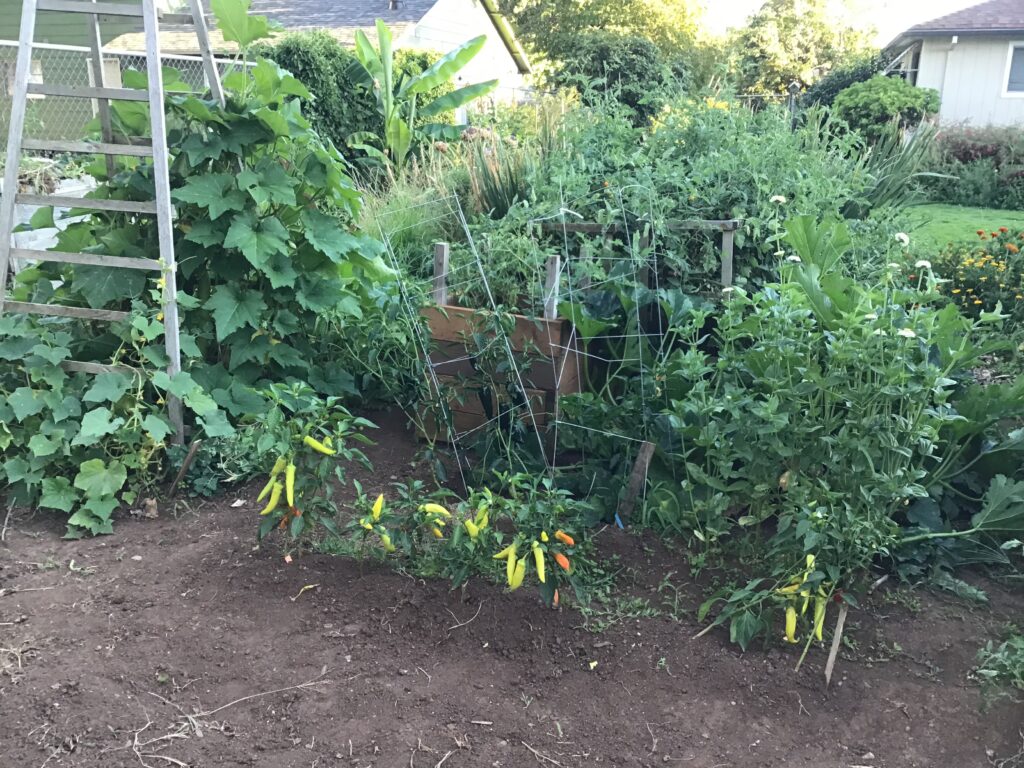 I've pulled all the spent green and yellow beans. I canned what I needed and now we will use the purple and green pole beans for eating fresh and freezing if there are extras. This dirt area will not be replanted this summer.
You can see the lemon cucumber bushes at the base of the trellis and the huge Tromboncini Zucchini plants on the far side of the trellis. There must be 10 huge squash on there already! I can't keep up with it:)
There are peppers ripening everywhere. These are Hungarian Wax peppers and are spicy. Just ask Jake. And Malcolm. They each though they'd take a bite. Jake even got me to take one. They have an after burn! Just WOW! I plan to chop them small and freeze for using judiciously.
We've used a couple of green peppers that fell off by accident. More are coming along. The Carmen peppers, which are long and red when ripe, are long and green now, so it won't be long. I've picked a few Jalepenos, left the Serranos alone until I make salsa, and used an Ancho or two. I also have Lola, a long, light-green/yellowish sweet pepper, and I have used a few of those already.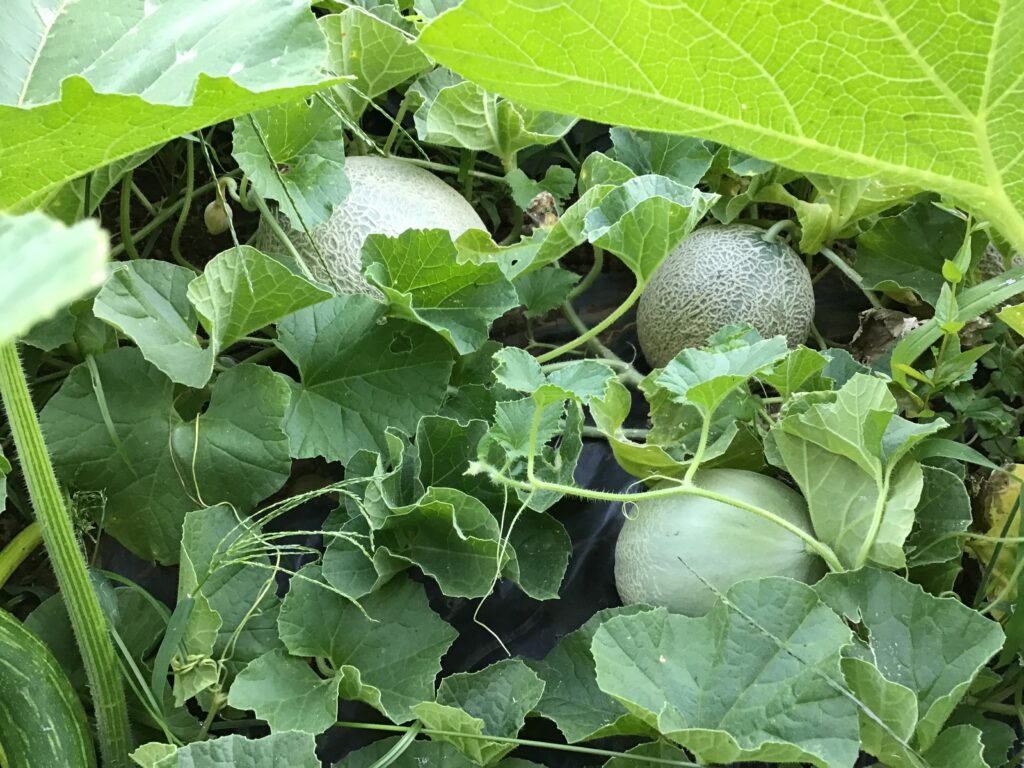 I'm becoming hopeful that we will get ripe cantaloupe. I haven't tried growing it for many years, so didn't know what to expect.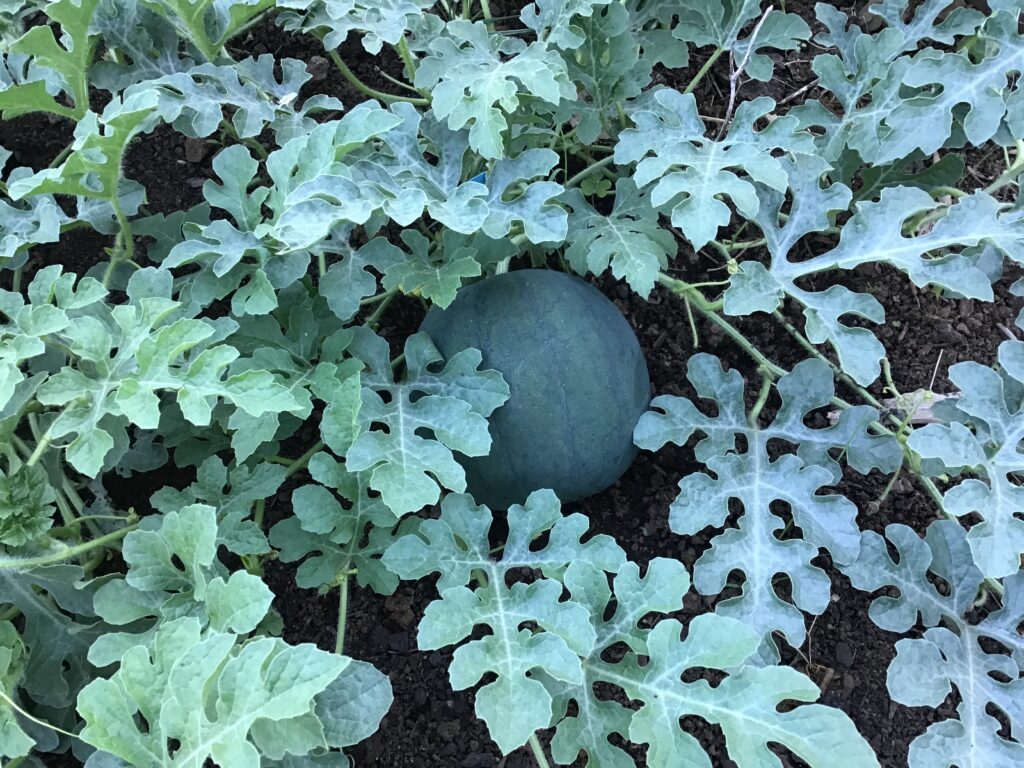 There are even a few tiny watermelon. These are supposed to be a personal-sized melon that grows under cooler conditions. To even reach "personal" size, this one has a long ways to go, but I'm hopeful!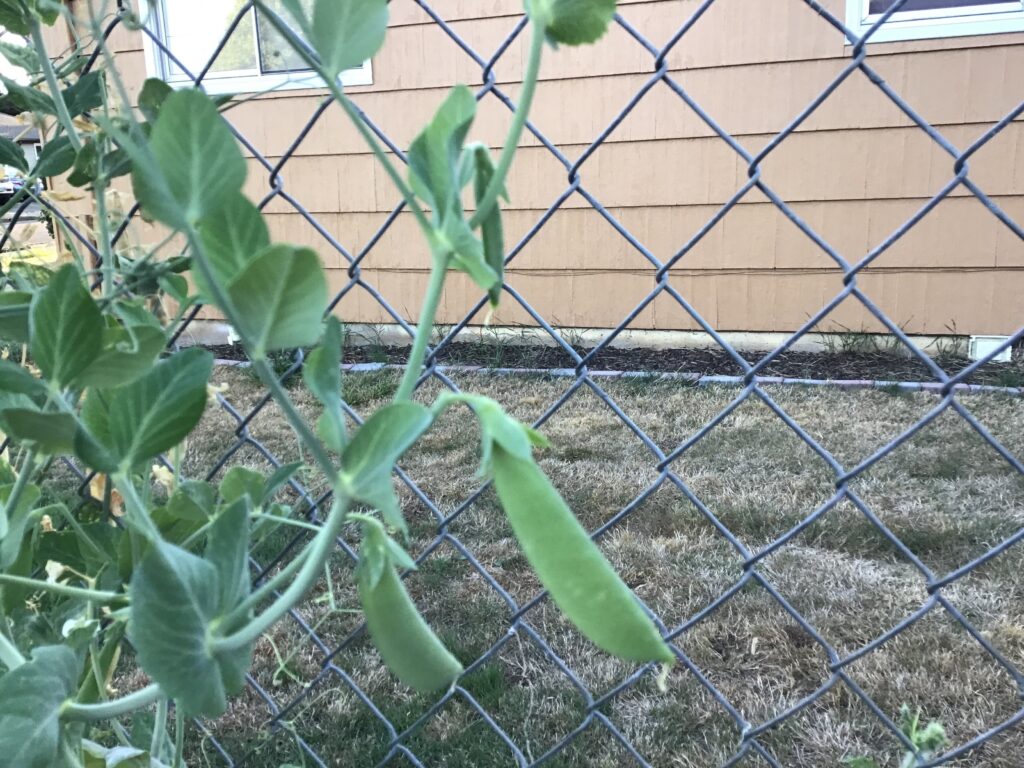 Most of my snow peas are dead now. I do have one tiny section that gives me 3-4 peas every few days. They don't like the hot weather we've been having. But, there are a few snap peas hanging on and giving me a handful every few days. The next crop of snow peas should bloom any day (you can see them below), and the next planting after that has just broken through the ground, so we will be back in business soon.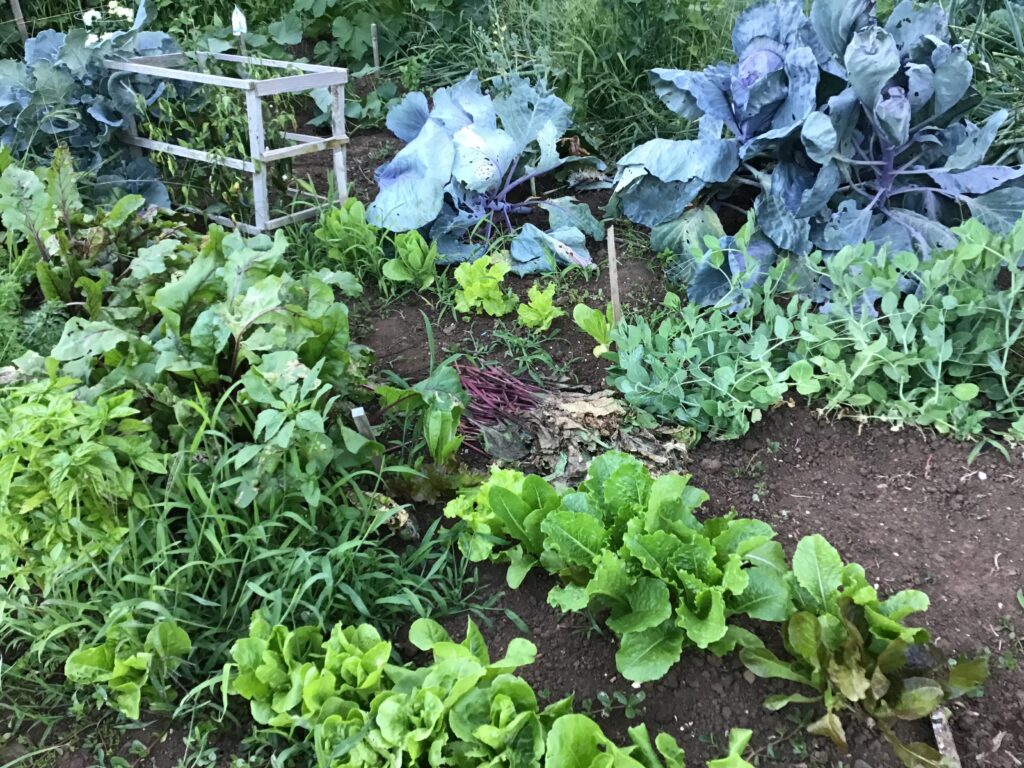 Lettuce is somewhat of the same story. This planting is almost big enough to pick some from, and there's one more place that has semi-good lettuce. Otherwise, I just pulled the rest up today. It's so bitter. There is a small bit in the fridge, but instead of daily salads, we've only had one this week. That's fine. When we take a little break from a certain vegetable, I find we enjoy it more when we get it again.
There is basil everywhere. Some was planted, some just came up volunteer. That's good because I want to make pesto to freeze. We love it in vegetable soup. It gives it a special flavor.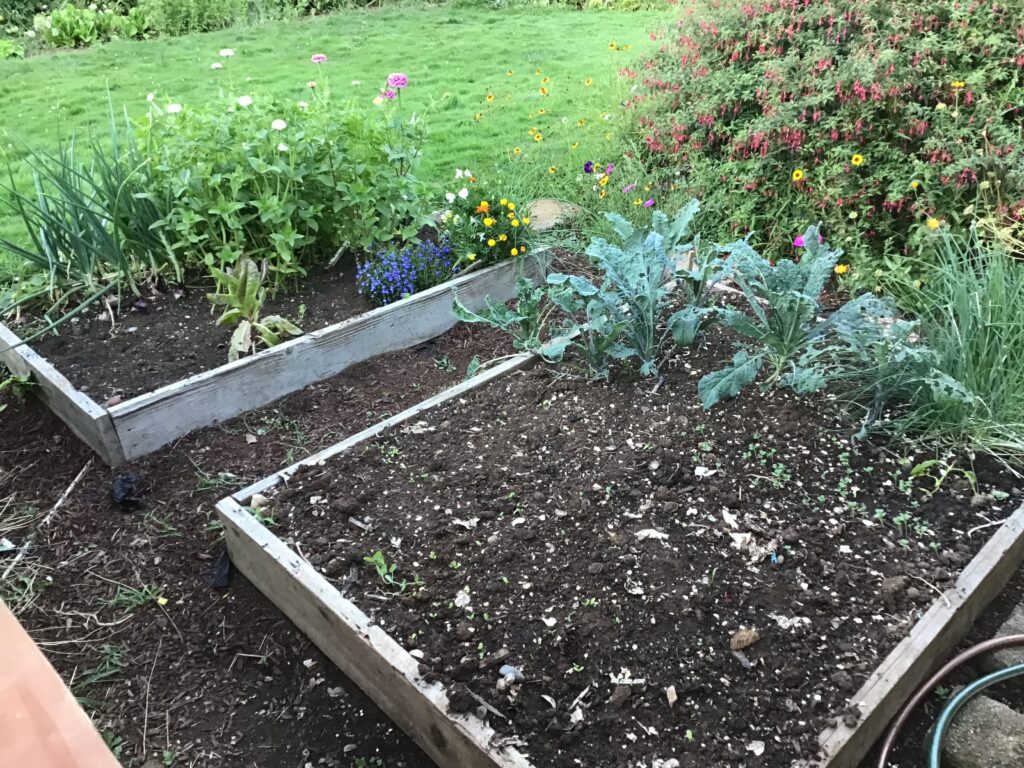 The raised bed in the front of the picture has tiny lettuce seedlings that came up nicely. There are only a few spinach, but the snow peas came up well and the Boc Choi is up, also. The kale is growing just fine, despite the heat. I pulled up old plants in the far bed today and will replant with green onions, and possible cilantro or more snow peas.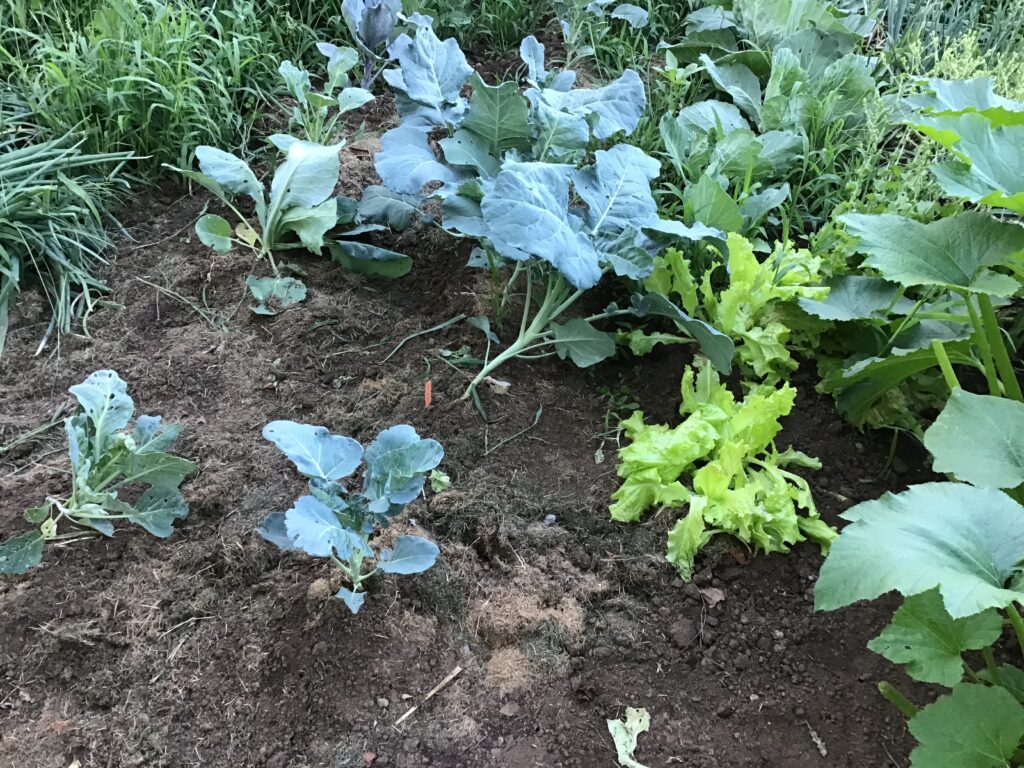 The new planting of broccoli and cabbage is growing fine. So are the weeds! As you can see, I liberated a few of them today, but there are quite a few more to weed out. Most of the old cabbage has either been used or has burst and needs to be pulled, although there are a couple good ones left. I got a good red one today. It will be good to have another crop.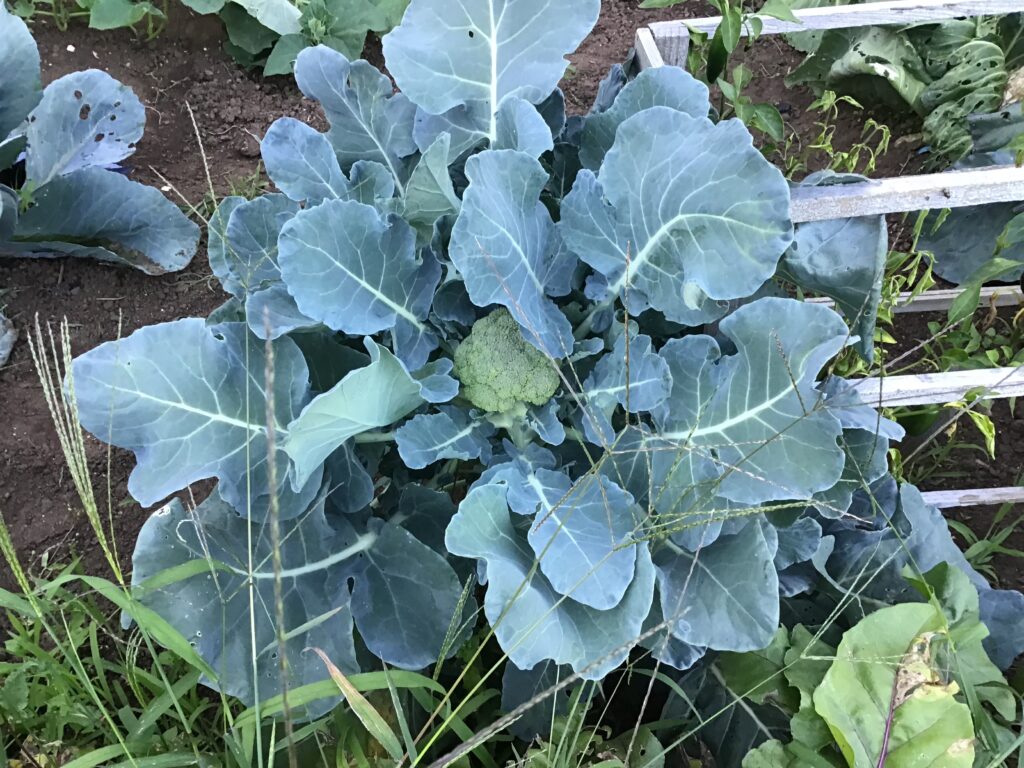 One of the spring-planted broccoli plants escaped being pulled up with the other ones because it was so much later and looked good for whatever reason. It's decided to give me more broccoli. I'm glad I left it! I plant the Hybrid Broccoli Blend from Territorial and they do come on at different times, as it is a mix of varieties.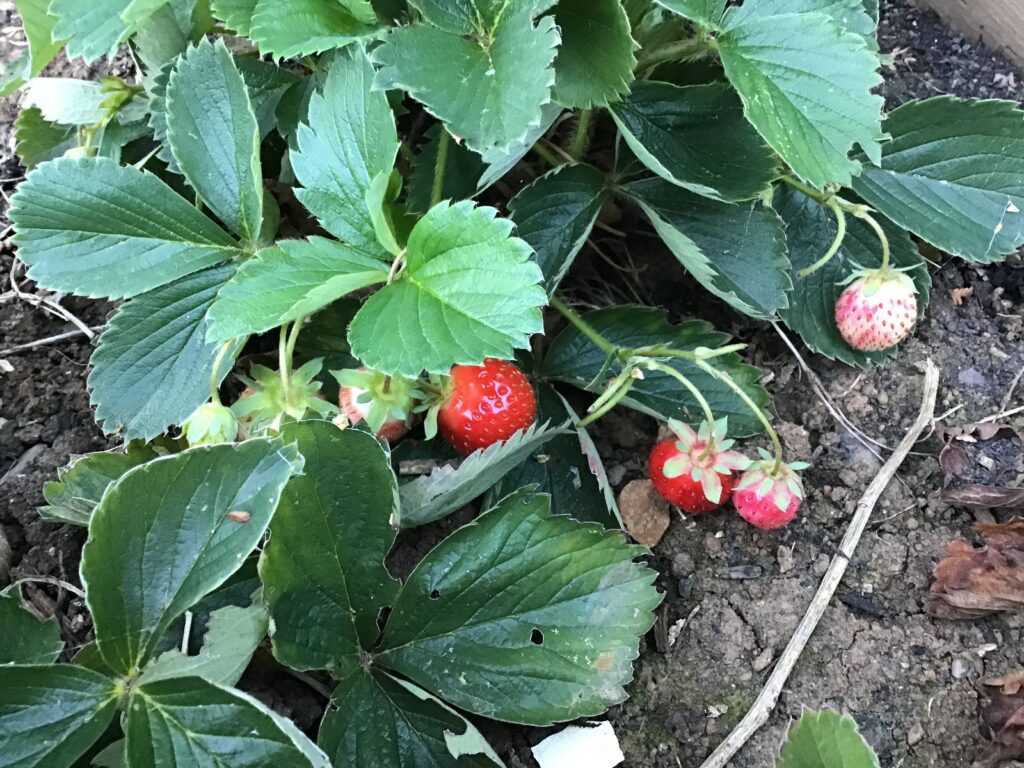 The everbearing strawberries are ripening a few each week, just enough for one person to have a small dish. The blueberries are all but done, so I have just been getting a couple of handfuls every few days. The Marion (black) berries are completely finished, as are the raspberries.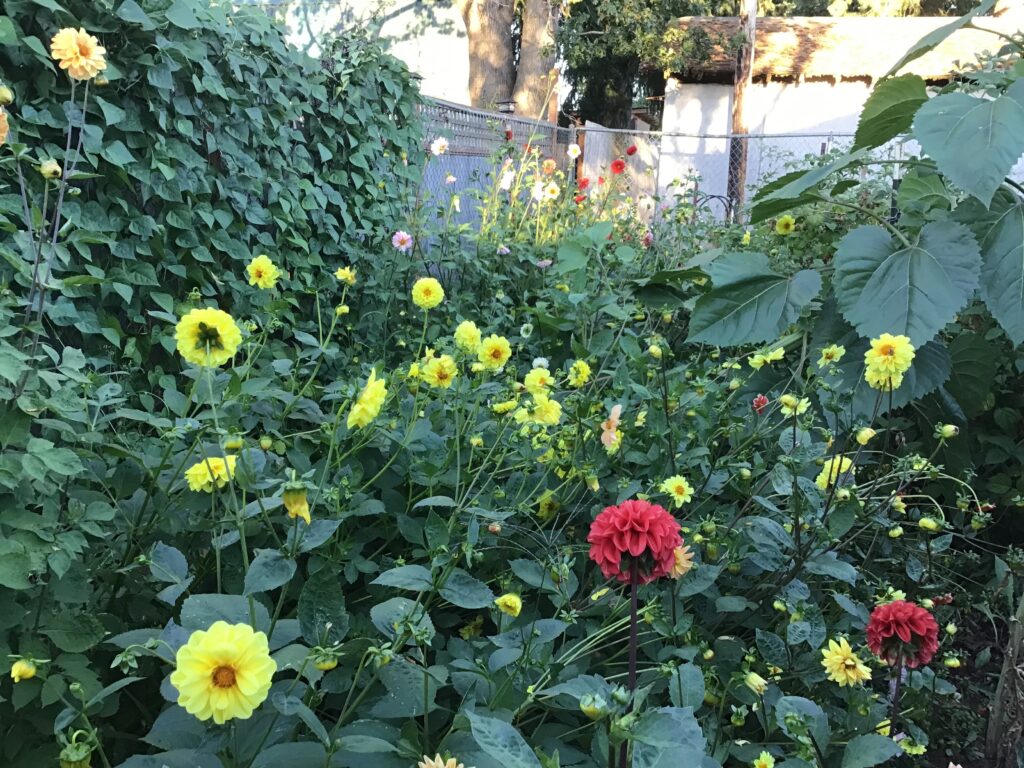 We have so many dahlias. This is the section with smaller blooms. You can also see a volunteer sunflower on the right, and another planting of later pole beans on the left. Rob grew most of this section from seeds he bought off the internet. He started the tubers in pots in the greenhouse for the rest with birthday gifts or paper bags full of tubers that people gave him when they heard he wanted to grow dahlias this year. It kind of became a joke, we were given so many. I cannot tell you how much I'm enjoying them. We've picked so many bouquets already.
He has been experimenting with seed-saving the past few years, and all the pole beans, both purple and green, are from his saved seeds this year. Many cucumbers are, too, but not all. He's got lettuce, dill, carrots and even a couple of beets that are setting seeds for him to save this year, and will save seeds again from whatever he can that is not a hybrid variety.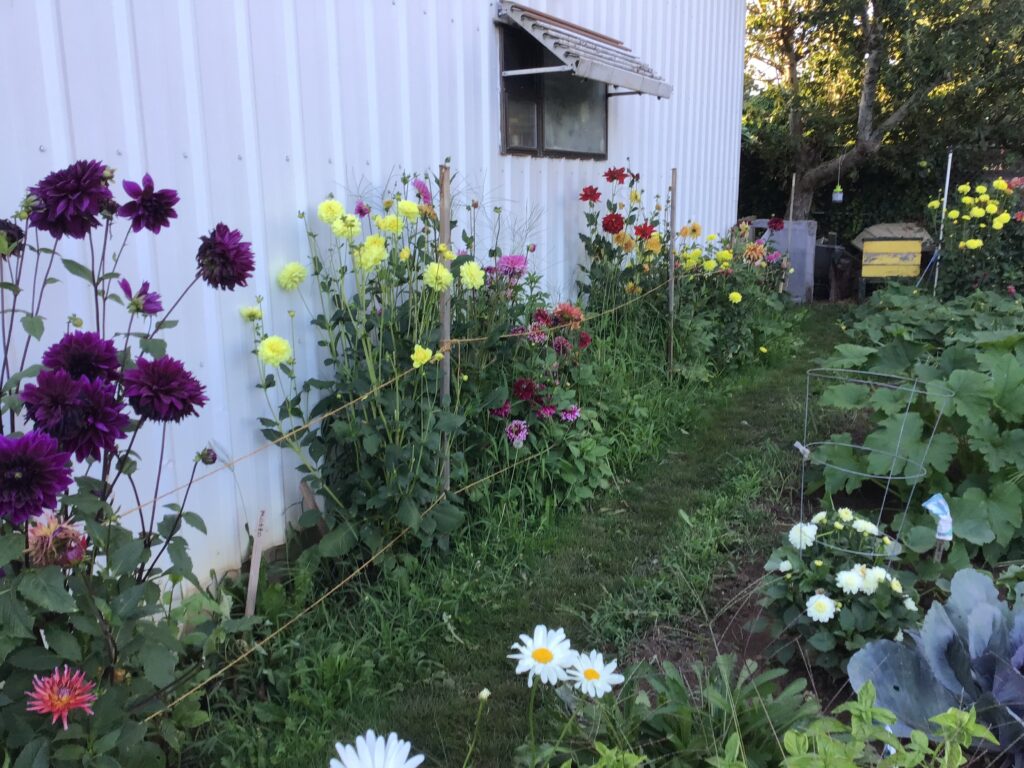 Dahlias are along the shop, across the back of the garden, in the front of the house in the flowerbed, and in pots.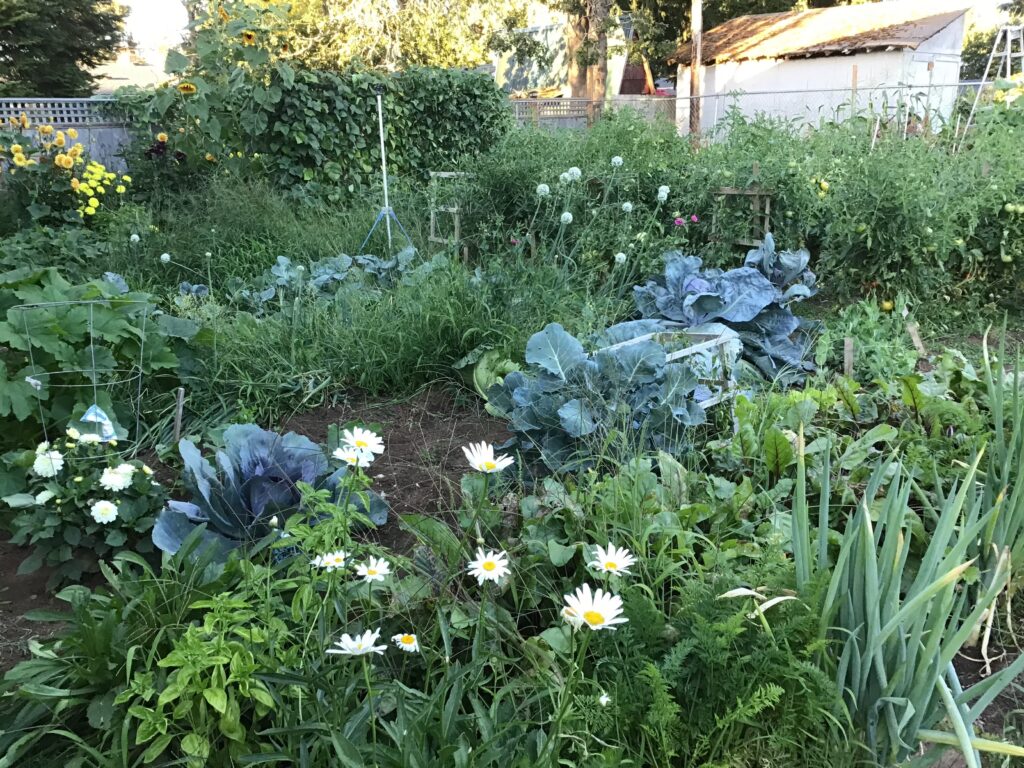 We feel very blessed to have such a prolific garden. I enjoy working in it, and am reaping the benefits of all this produce and exercise. I have to accept that I simply cannot pull ALL the weeds, so I try to get some each day. On the days I am harvesting and processing food, though, it's a challenge to find time to weed as well.
I am happy to report that my neighbor is still my friend, despite all the zucchini I've handed over the fence:). That reminds me….maybe she could use more tomorrow…….It's worth a try:)