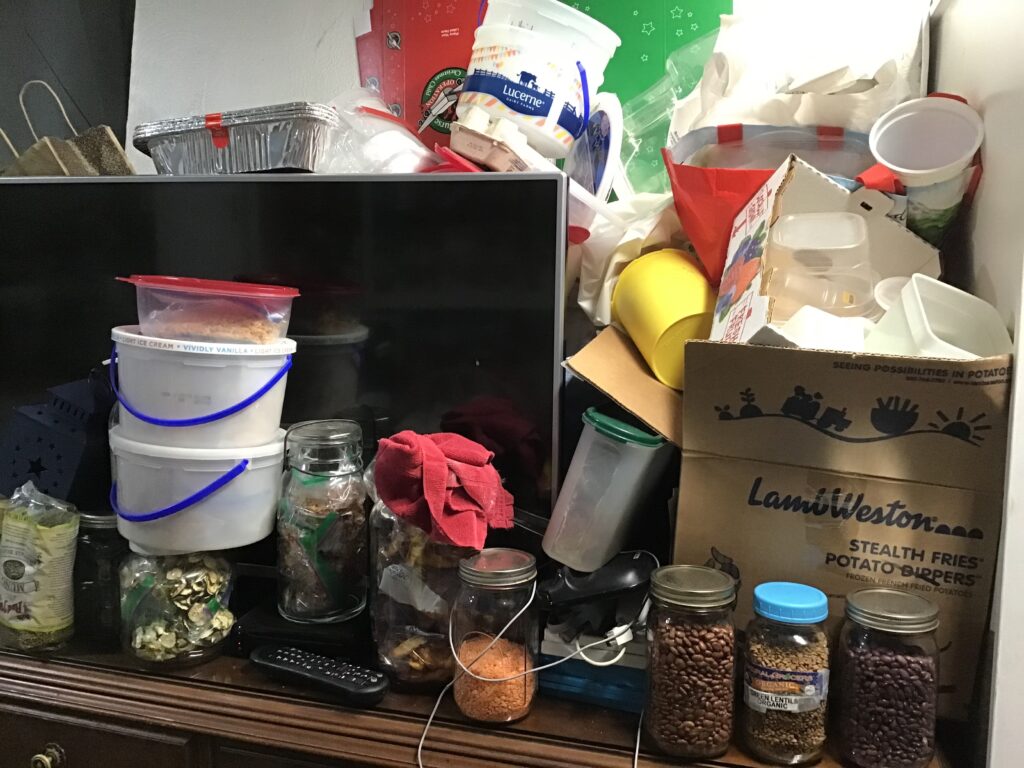 Really, Becky?
When I say I'm cleaning the pantry, I really mean the entire garage needs desperate help. The kids used to play Wii on this t.v. No one has done that lately, for many reasons, so it's become a dumping ground for empty containers. Then full ones. Then other stuff. And so on.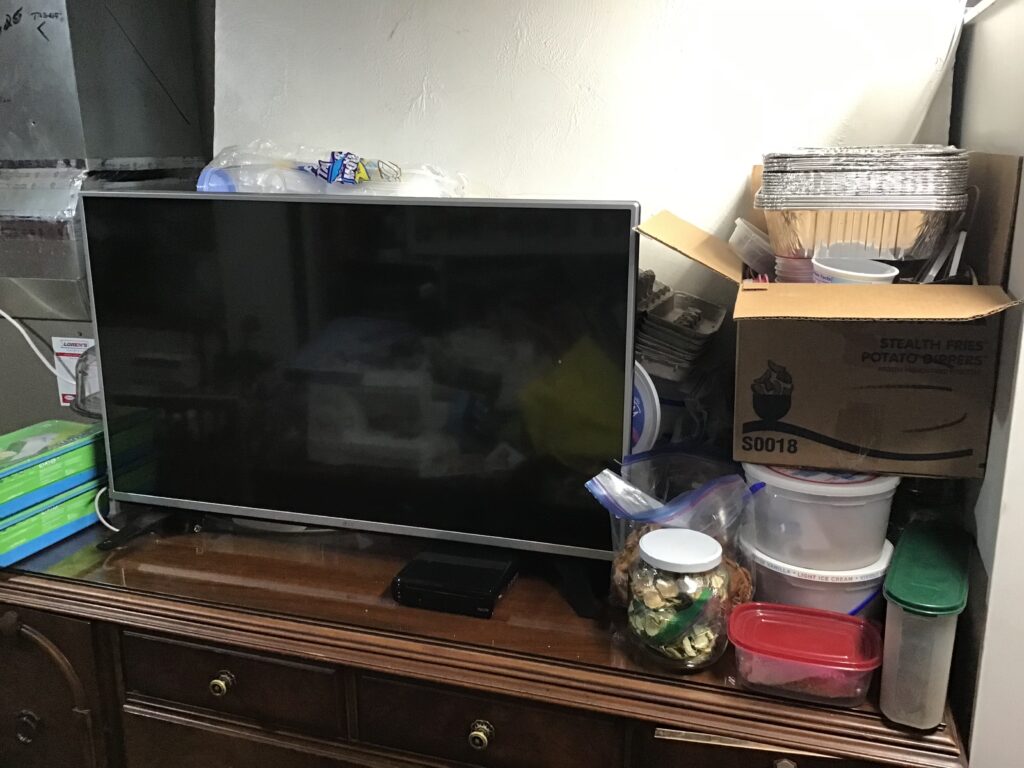 Dried fruits and veggies are in containers on the right. The box is full of empty cottage cheese, etc. cartons plus a few purchased ones. There are tin foil pans. I use these items for sending food to people so they don't have to worry about returning anything. I also freeze items in the cartons if they are sturdy. The ice cream buckets are always full of things like extra flour, sugar, beans, etc. and I always keep extras there for when I need them.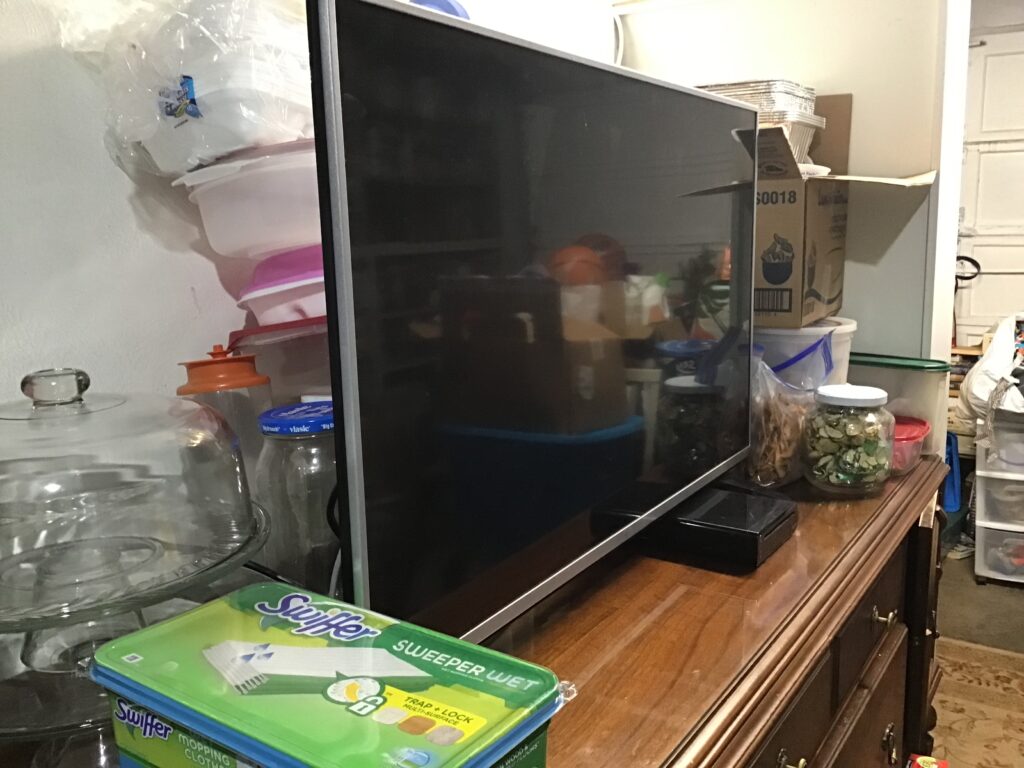 Behind the t.v. are extra take-home cartons, plus empty gallon and other glass jars for re-filling with bulk items when necessary. You can see my fancy cake plates and swiffer sheets.
Every shelf has now been organized. The large bins/buckets below have been pulled out and the floor swept. There is a large bin of gluten-free flours and other items under the shelves you cannot see and that's been gone through, sorted, and organized, as well.
There were a few things I was out of, believe it or not. There are a few things I've been using that I will not replace. I have already sent Rob searching for a good price and replaced some items, such as canned mushrooms. I will only keep a minimal amount of tomato sauce on the shelf anymore, as I have been able to make enough from the garden. The same goes for salsa. There are a few other things like that, as well, and some things we were given or bought in a moment of craziness…we just don't like them. We have given away things we were given we can't eat, such as Xylotol sweetener, and some other items.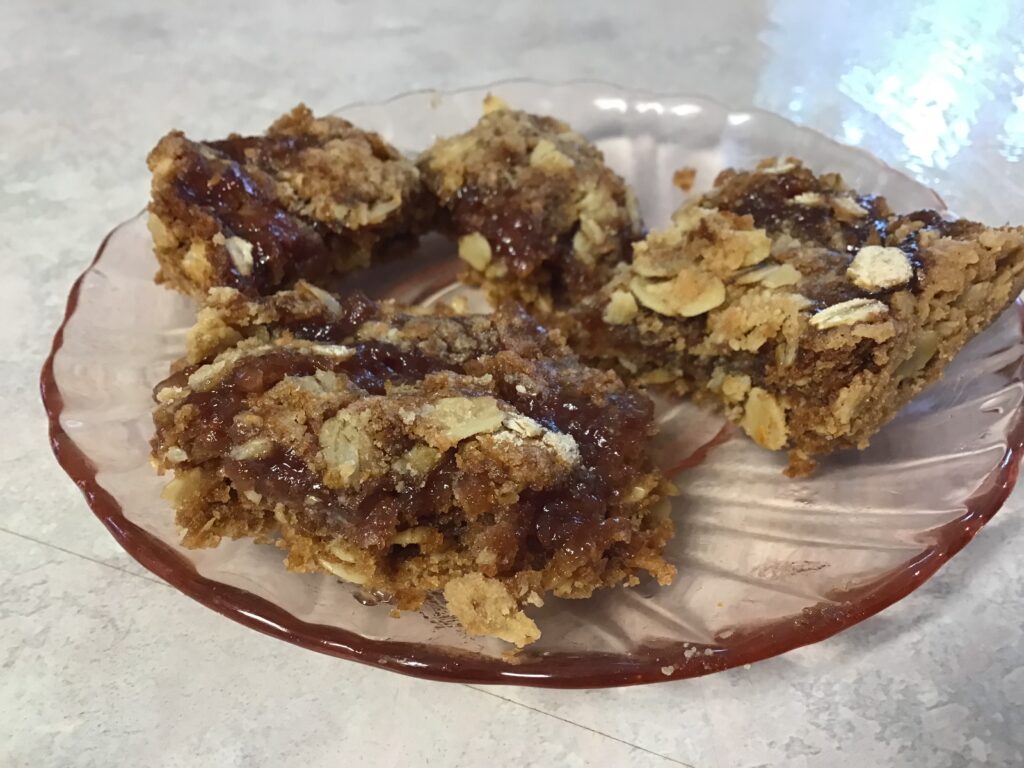 There has been a LOT of yummy food coming out of my kitchen.
Here are some of the things I've used up this past few days:
Several cups of gluten-free old-fashioned oats. There was a 25 lb bag we got that was damaged, so it was only $5 or $10 at the time. It was a LOT of oats for us, so it has been around for long enough it needs specifically targeted. These bars used those oats and some raspberry-peach jam from 2020 I found in my canning. I also started cooking that kind for breakfasts. It just takes a little longer than the other kind.
I made 2 loaves of bread from some gf bread flour I found and added some flax meal that had been lurking in the back of the fridge for ages. It came out good and I froze most of it, as I don't eat much bread.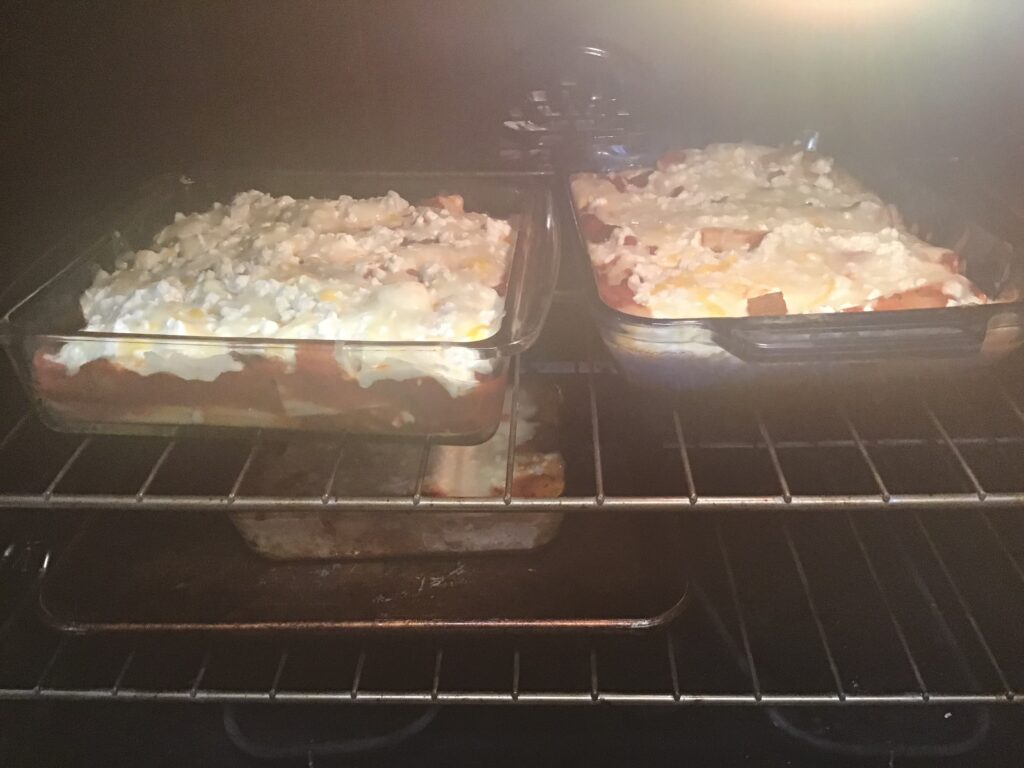 I used 3 lonely gf lasagna noodles and a box of gf manicotti noodles along with 50c/carton cottage cheese we found at Wheeler Dealer, fresh mozzarella balls from the same place, same price, the rest of the pasta sauce I made last week, and some assorted odds ends of cheese that needed used. I froze one, gave one away and we are working on the other one.
Rob ate some sardines and smoked oysters from the shelf. He's using the mango coffee syrup we found out there to put with seltzer for drinks, and in a marinade.
I used some honey powder–it came in a mix long ago and was basically dried honey in several things that needed sweetening until it was gone. I used tiny packets of spices and other things we had picked up here and there over time.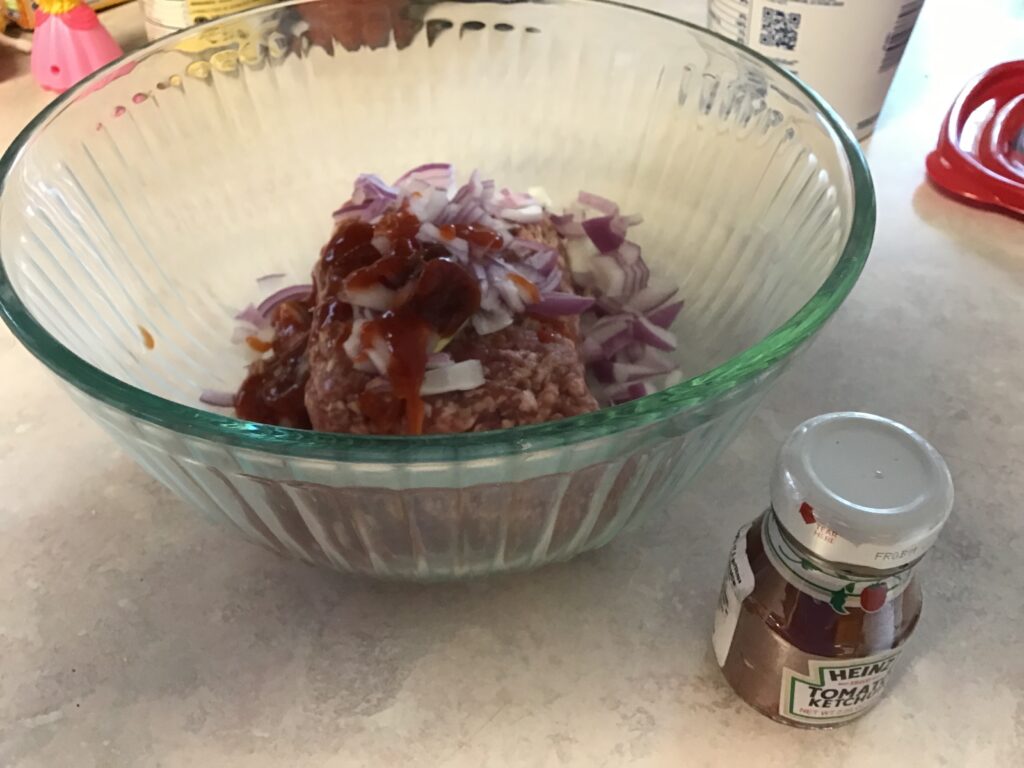 We had the cutest tiny little jars of ketchup and mustard. I used the ketchup in meatballs and the mustards in a marinade with rosemary on pork chops.
As always, we used our stored garden onions, jars of beans, carrots, assorted fruits, jams, pickles and relishes. I've also been taking things out of the freezers daily. In fact, we downed a huge container of peanut-butter chocolate chip cookies, with some help. I will make more soon, so I can clean out that item again:)
There is still more to do in the garage. There's a table that still has things on it and I want it mostly empty. It's 1/2 done. A messy corner is now clean, but there are books to go through. I have a cookbook shelf that is still awful. The sewing table needs a little spiffing up. I'm very encouraged, though. Real progress has been made.
As I mentioned before, I like to do this twice a year. Hopefully, I will get back to that schedule. I don't like to waste food, so want to keep it rotated. Also, I actually want to bring my food storage down to a smaller amount. What was reasonable when we had so many children at home isn't necessary even though we have people in and out all the time, along with the ones who live here. I'm well on my way to my goal.