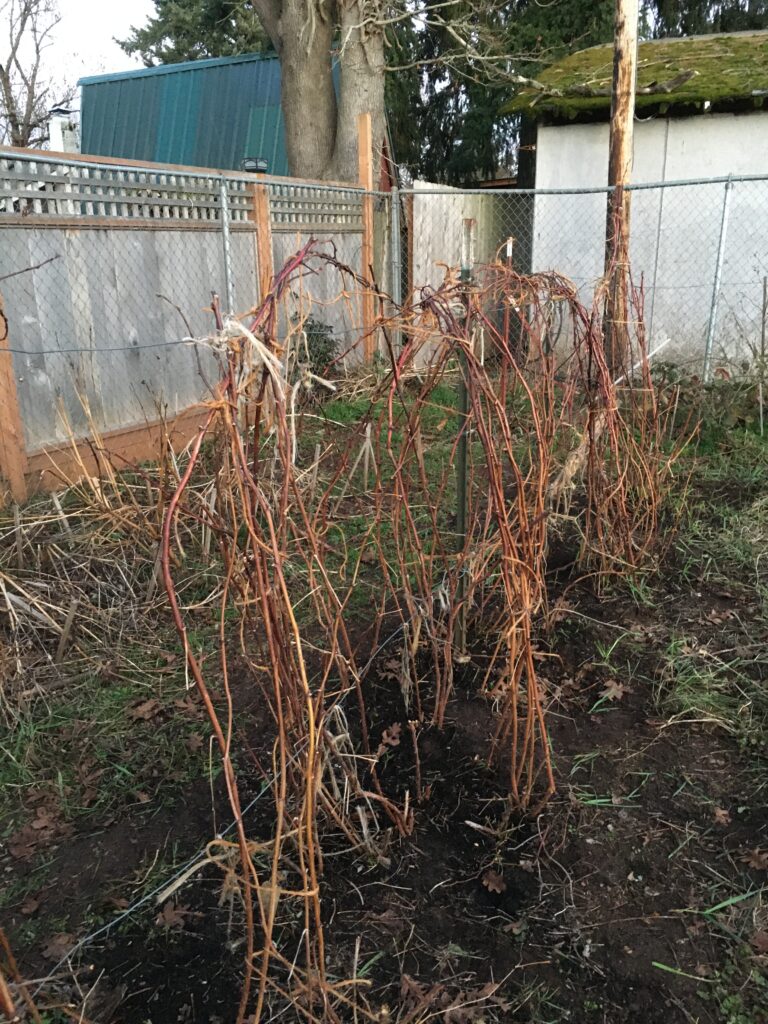 I finished tying up the raspberries this week. I have high hopes for them for this year, even though they are still in their dormant state and don't look like much. I worked on cutting out the old canes and tying up this year's fruit-bearing wood a week or two ago and was delighted to find a window of opportunity to finish. It's a deceptive job. It looks like it would take about 10 minutes, but instead took at least 2-3 hours to do. I'm glad to be done. Now for the Marion (black) berries……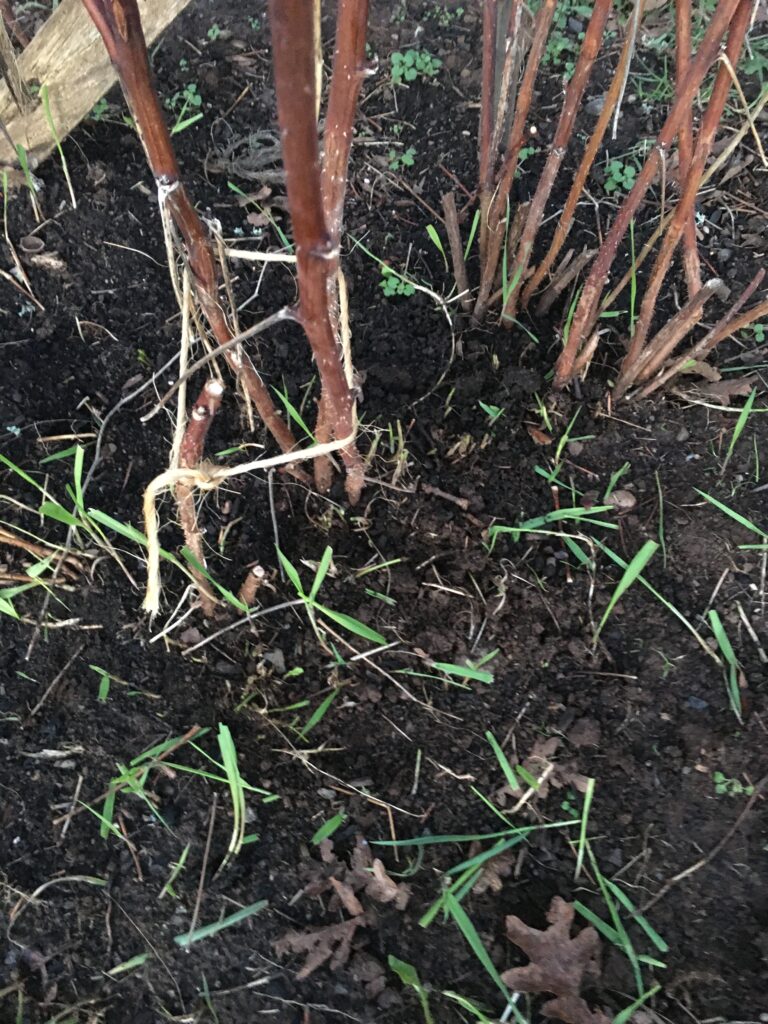 I pulled grass up from around their roots, but I can see I'm going to have a problem with that awful quack grass (or whatever its real name is) again this year. 🙁
I will put coffee grounds around the base of their stems, as Rob read that they like them. We pick up grounds for gardeners from Starbucks in Safeway and anywhere else we find some. I will also fertilize a little later on so they can grow vigorously through the spring and hopefully give me lots of raspberries. I don't want them to grow yet, it's too cold and they would get nipped. Last year, we only got enough to eat as the summer before was so terribly hot the bushes did not do well. We still have a few packages in the freezer from 2 years ago, and I hope to finish those and fill more this upcoming summer.
Rob worked on the greenhouse for hours this week. I will make another post about what he did. He is getting ready to start seeds very soon.
I filled the remaining space in the yard debris bin with rose clippings I cut and the remaining dead branches from the in-ground fuchsia I had not trimmed yet. I'm finding I never have enough time or dry weather to do big jobs outside lately, and am finding success by breaking the jobs up into more than one session and just feeling content with doing whatever part I can get done at that moment. Then, I get back to it whenever I can on another day. The key for me is to not start too many of these kind of projects, but instead try to keep one or two at the top of my list so they actually get finished. It's a good theory anyway and works part of the time:)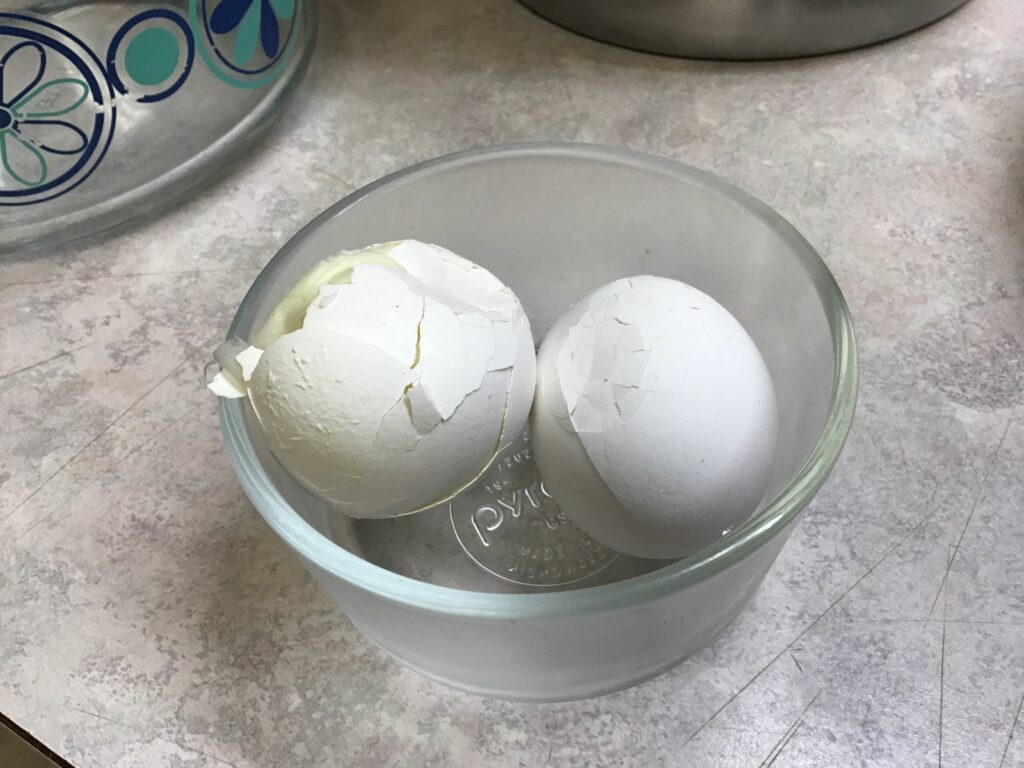 I continue to work on using up every bit of food I can. These hard-boiled eggs got knocked out of the fridge and rolled around a bit before I could catch them. Rather than toss them, I peeled them, washed them, then smashed them up with some tuna and made tuna-egg salad sandwich filling for dinner last night. They didn't take much effort to smash. Eggs are not as expensive here as elsewhere, but they are more than double the price they were last spring.
My pantry/garage-cleaning project continues. I have been putting food items that need to be targeted for immediate use in the kitchen on the counter. I have worked through so many odd items, along with some normal ones that add to meals. Tonight, there are only 2 items left there. Yea! Time to clean another area and find some more. Because I'm doing the job over several weeks, I've had time to use a lot of items as I find them without being overwhelmed.
Tomorrow night, we are cooking for the entire young adult/college group at church (25ish), rather than the 5-6 gluten-free that we usually do. I'm rejoicing in using so many targeted items making things for them. So far, I made pumpkin bread (with wheat since most can eat it) from a mix I found, some cookie bars with coconut, the last of the toffee bits from a couple of weeks ago, and more, and cookie bars with rolled oats and raspberry jam from 2020 I found. I will make some Western Beans from pintos I cooked today and of course, Rob will bbq chicken drumsticks. How awesome we got so many for such a reasonable price!
I shopped with my daughter, who was also shopping for her sister and items for both babies this week. We went to 4 stores to get what she wanted, her sister wanted and I wanted. It was quite an expedition. I was delighted to use a $20/off $100 coupon, plus a $10 reward coupon at Safeway. Even with items for all of us, I stilI had to run back for 2 more packages of chicken legs at the end, to get the $20 off. (At that point, it would have been like throwing away $20 of free food to me.). I ended up with 6 family packs of chicken legs. I had coupon for 99c/lb legs and can always use more at that price. I got things like powdered sugar, brown sugar, some paper products, produce, dairy products and more. Of course I downloaded digital coupons, as well. In the end, my part of that bill was only about $30 with all the coupons and the things that weren't for me to pay for.
I found her a $10/off $40 at Fred Meyers (a Kroger) store, and let her use my store card and downloaded coupons right there in the store, as needed. Grocery Outlet was visited, but there are no downloads there. Still, we found some items on the list for good prices. Lastly, we hit Trader Joe's for things she wanted. I got Rob a couple of treats, a birthday gift of flowers and a card for a friend, and some gluten-free bagels for myself.
At the end of the day, I was very happy with what I'd spent and with all the goodies the girls added to my fridge, freezer and pantry. Most holes are filled in the pantry already. Rob had picked up a few things like mushrooms and sliced olives the other day for a good price. I got a few more replacements Saturday. I'm still in budget and the pantry is already full again, even after all we've used up. I'm just not replacing a lot of those things, but instead making sure I have plenty of the things we actually use on a regular basis.
Rob and I went on a mini-date Sunday afternoon. We are easily amused, I know, but we wandered through Wheeler Dealer, a scratch and dent store, for entertainment. We found some amazing deals, although many of the prices are much higher there, as they are everywhere. We got cottage cheese for 50c/carton, fresh mozzarella balls for 50c/carton, jalapeños for 10c each, a head of boc choi for 33c, a can of sweetened condensed milk for 79c, applesauce pouches for the babies for 25c, and more. I was so glad to know exactly what I had in my pantry, and walked away from a lot of things that were cheap, but I absolutely didn't need. I've already used a bunch of what we got in lasagnas, which used some targeted noodles and the rest of the sauce from last week.
Does anyone know if you can freeze those fresh mozzarella balls? The ones packed in water? I still have 2 cartons left, but they have a very short date on them…hence the 50c price tag. Please leave a comment if you have tried freezing them or something similar. Thanks!