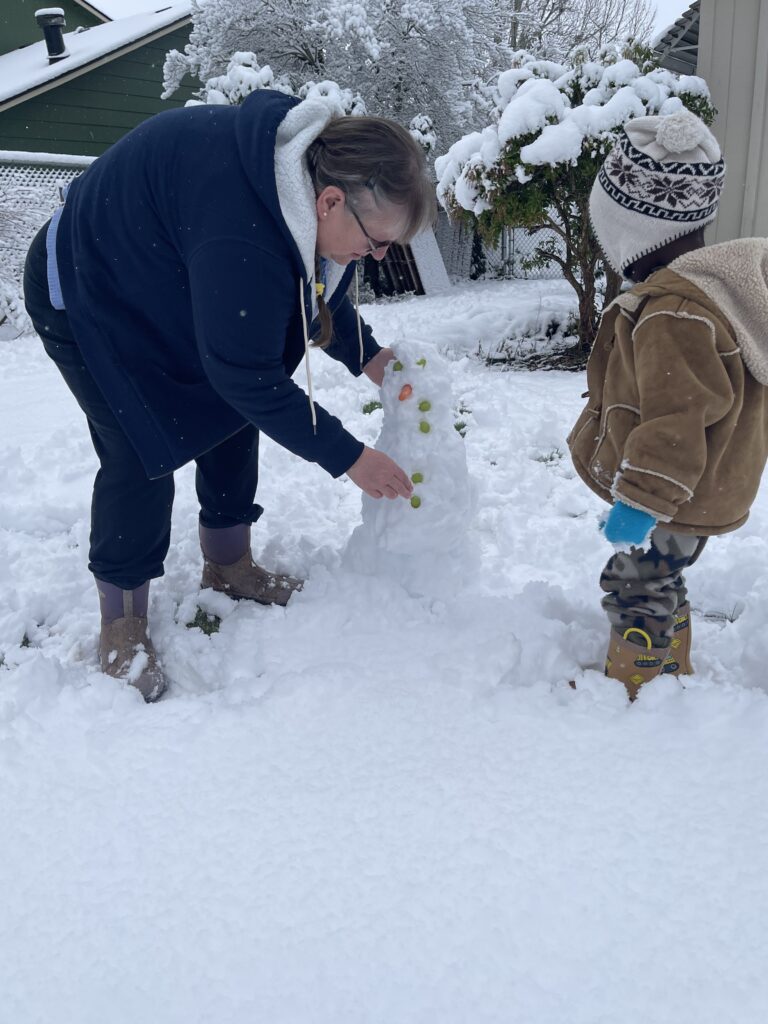 We've had snow 2 times in the past week. Last Thursday, we had 4 inches at our house when we woke up, so we went out and made a snowman. We also took a big walk and had Malcolm walk at least a 1/2 mile. It was safe because there were so few cars out on the road. He's still quite unpredictable and we usually leave him in the stroller until we reach the park, or wherever, so he was thrilled.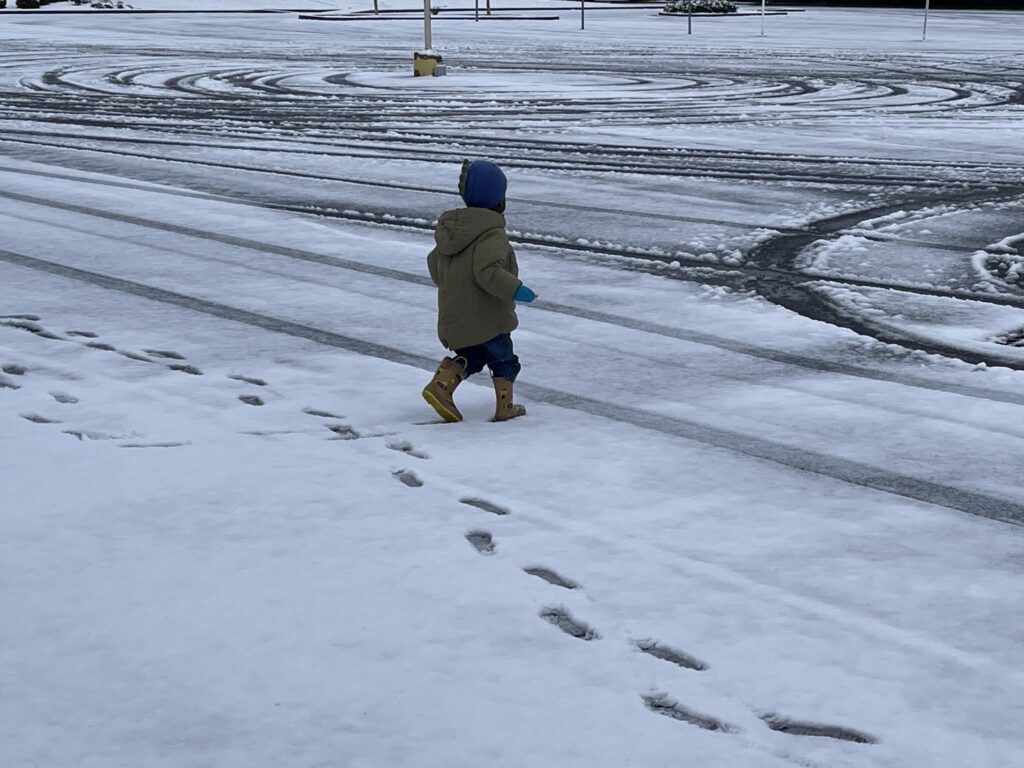 Today's snow was much wetter and sloppier. We used the stroller to get him down to a nearby church, and enjoyed their parking lot as a safe place for him to run around. He happily made tracks all over.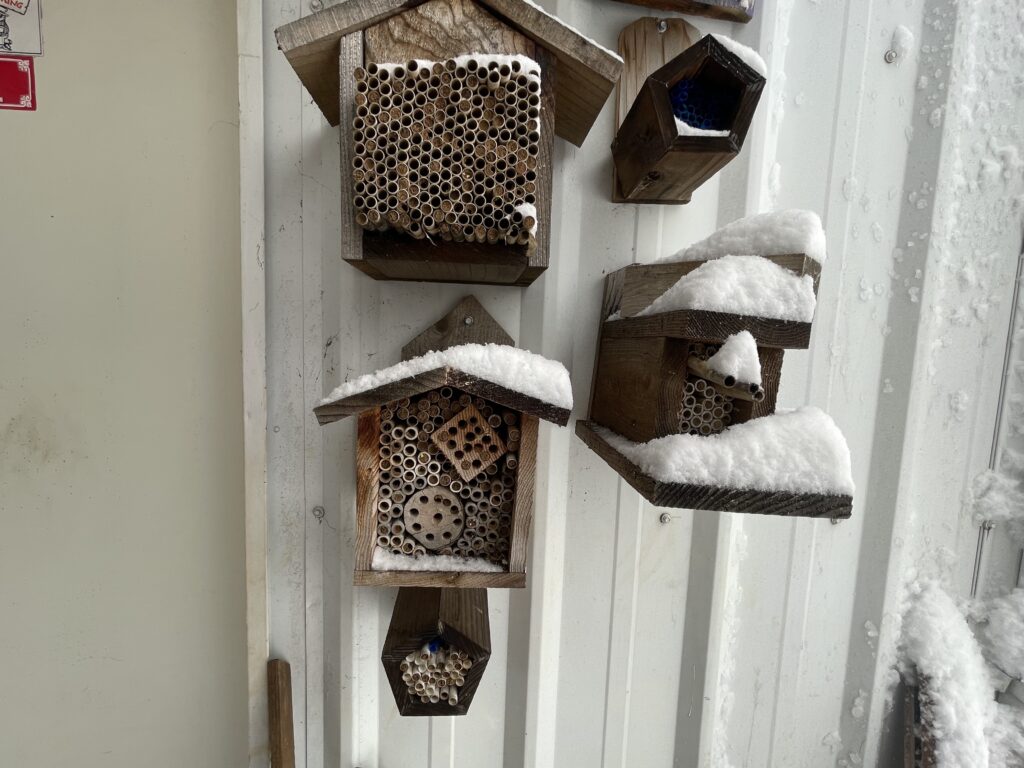 Hopefully, the mason bees will have enough sense to stay tucked in for a little while longer! Rob has enjoyed building houses for these super-pollinators the past few years and our colony is growing each year. Every one of the plugged straws will be a mason bee. They will come out, pollinate like crazy and fill straws with next year's family. With our big garden, we are happy to have these guys working with us to get so many veggies and flowers.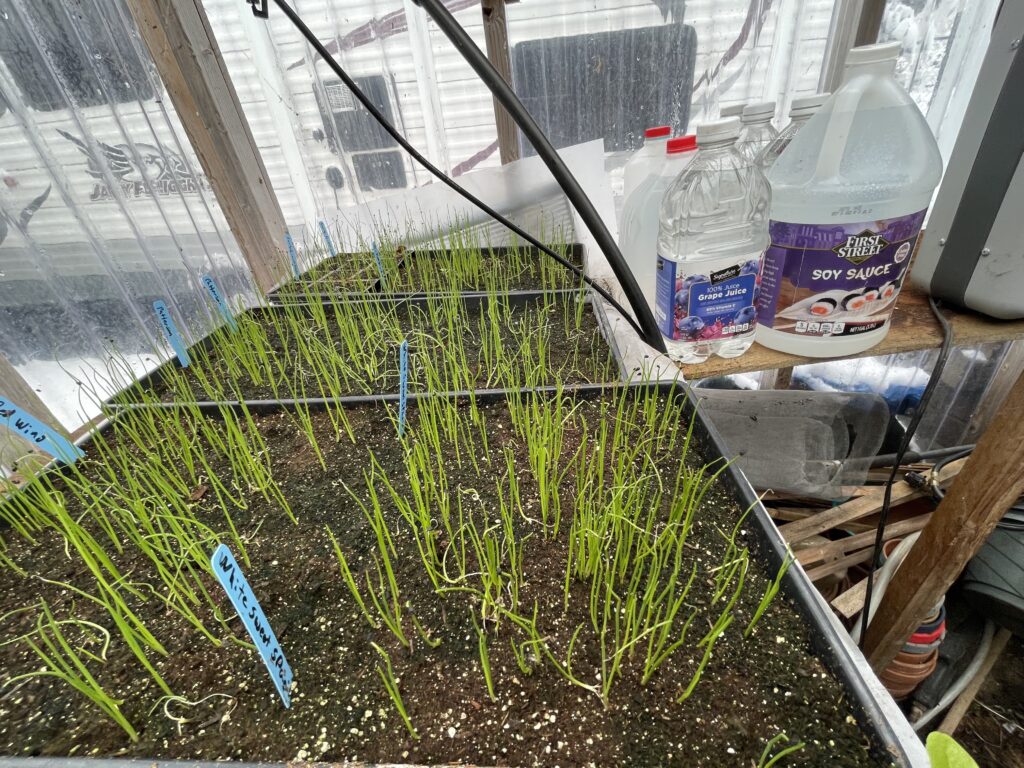 Work in the greenhouse continues. We've had to put a space heater on during these extra-cold days, but hopefully, that will be a short time only, as we would rather keep the cost down by not heating the greenhouse at all, but let the sun and warm air do the job. There are heat mats under the newly starting seeds and those usually are enough. Our starts grow more slowly than ones in a heated greenhouse, but they do get large enough and don't need as much hardening off, as they are pretty tough by the time they get planted. I plan to do a post on our starts in a few days, if we do get transplanting done and photographed.
I continue to clean out little areas and bits and cans of food that need it in the pantry. I also continue to work on my freezers and canning cupboards.
This week I used:
Some gluten-free French bread I made long ago. It was in the freezer. I used the last little bit of pepperoni that had been lingering, a few bits of ham, some home-canned pizza/pasta sauce and the last bit of the fresh mozzarella I got very inexpensively a few weeks ago and made French bread pizza.
I used up the last of a bag of boneless-skinless chicken breast and some gf fettuccine and a scrap of parmesan cheese to make Chicken Alfredo. I just thickened it with cornstarch instead of flour to make it gf, and it was great. Needs change as people come and go, to and from our little house. Patsy, our daughter, used to eat fettuccine often. When she moved out, I was left with several boxes on the shelf I need to target, as no one else gravitates toward it as much as she did.
I cut all the little not-so-nice ends off the last of a bag of grapes, cut them in half, and our troops finished all of the grapes before they rotted. The ones in the bottom of the bag seem to go bad once they fall off the stems.
I continue to cook oatmeal with raisins and rice continuously, as they are current favorites around here. Isn't that nice? The 10-lbs of raisins I bought filled 2 gallon jars and one of them is already not full anymore:). I actually spring for the organic gluten-free oats and organic raisins, as our grandson eats so much of them, but still, it's reasonably priced food, even with those choices.
We finished all the fresh-cooked soup I had made lately and opened a jar of home-canned vegetable soup one day when I was in a hurry.
We made stir-fry a couple of times with bits of chicken and all the veggies like carrots, celery, onion and frozen snow peas we could find in the fridge or freezer. I use a lot of carrots and celery this time of year. We still have at least 25 lbs of onions from our garden and I'm trying hard to use those snow peas, as I had forgotten about them. We don't like them as well as fresh, but they aren't awful if you add the frozen ones to the stir fry at the last minute and just barely let them thaw before you serve the stir fry.
We used the last of several bottles and cans up. Many of these I will not be replacing, as they were for special recipes, open duplicates or given to us and I had no idea how to use them at first. I found good ways, but think I can use ingredients I already have to make something I like as well or a substitute for that sauce. I'm especially thinking of the bottle of sweetened lime juice that I've been using in marinades. I have lime juice and sugar….I want to simplify my fridge. On the other hand, I love it when people think of me and give me food items–it opens my mind to new possibilities.
Another example is that somehow, we ended up with multiple open mustards last summer. I think it's because we had parties, etc. I'm finally on the last super big mustard! Hurray! My fridges are already thanking me. I used the last of the previous large squeeze bottle in a marinade for pork chops, and for honey-mustard sauce for home-baked chicken nuggets.
We were given 3 dozen eggs again, this time from 2 different sources. We have plenty of eggs now, since Rob found a good deal a couple of weeks ago and bought plenty and we've been given a total of 5 dozen since. I've made deviled eggs and potato salad, and we eat eggs for breakfast often. I had been choosing other options as the prices rose, but now have enough to make those things again, and the price of eggs seem to be holding steady or dropping, it seems. I still don't mind eating leftovers or soup for breakfast at times, in fact, I prefer it now and then, so it's all working out.