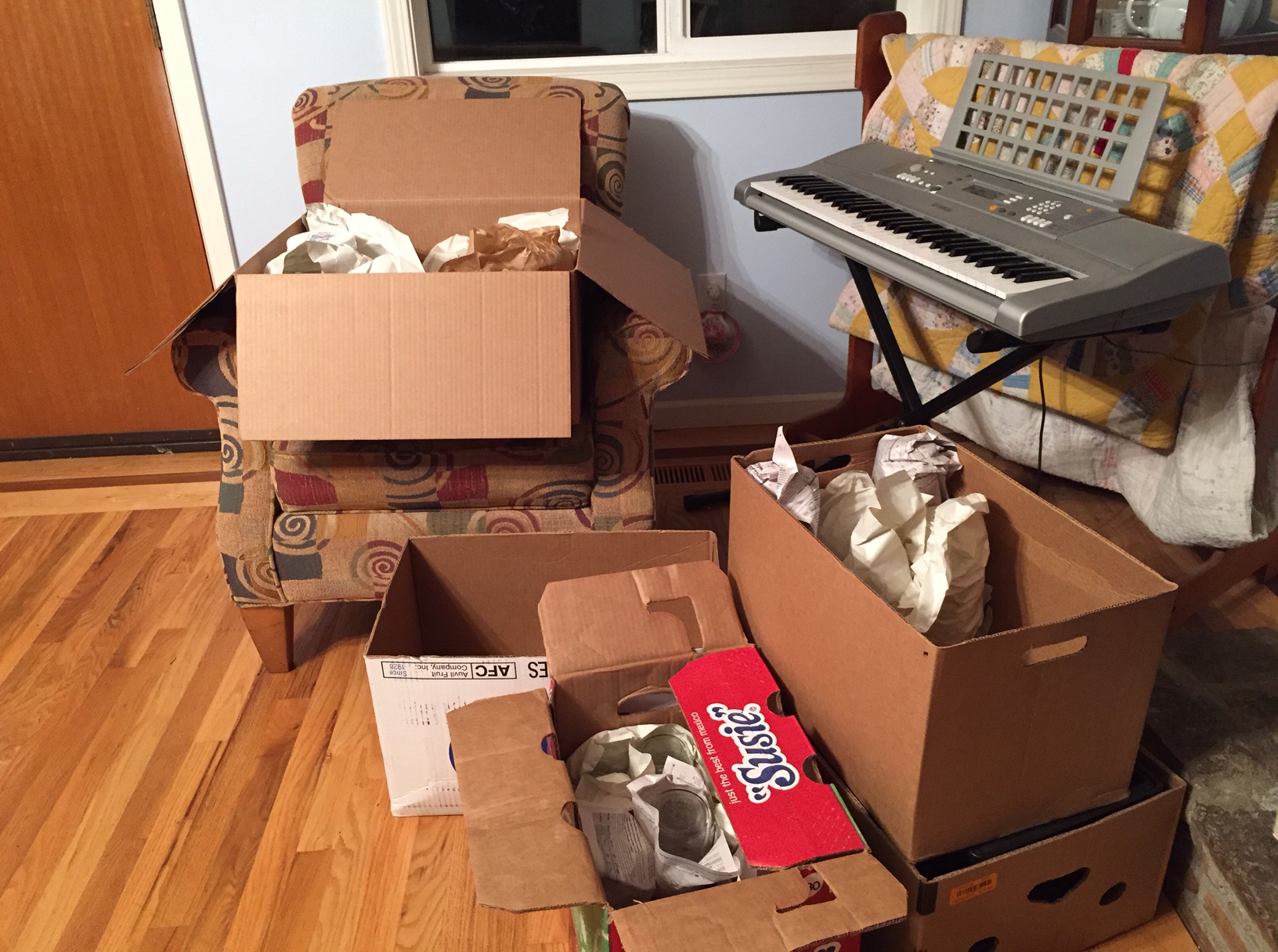 I have been taking every piece of advice all of you and my friends and family have offered up and am getting a good start on my pre-packing. I haven't had to show a house for over 20 years.  The last time we sold, around 10+ years ago, there was someone who wanted the property, they didn't care about the house at all, so they pre-bought the property and gave us 6 months to sort and get out, and used the property even thought we were still there.  This is a totally different situation, and is making me feel more stressed then that did!
Here's what I got done this week.  The two pieces of advice I have used the most this week were to be ruthless when I'm sorting and get rid of a lot of stuff, and to label well. (I am trying not to flit from room to room, either, but am having limited success with that) I am still feeling overwhelmed, because the task is so great, but am starting to feel like I'm getting somewhere.
I sorted shelves and shelves of books that I have been collecting and using for over the many years we have home-schooled.   Ja'Ana is almost done with school, and Patsy goes to school.  So, now's the time to get rid of a lot of it.  Rob and Lovana took 10-12 boxes away for me.  We sold some of them for around $100 and donated the rest.  I am putting that money into my fund for the new house.  I cleaned out a lot of craft supplies that my girls have outgrown.  I also got rid of most of the huge bin of toys I had been keeping for when small children come over to play.  I kept a small box full.  The sad thing is that there is still so much stuff in that schoolroom/sewing room, I have quite a few more hours in there.
Rob has been putting items up on e-bay and we have sold and shipped a few.  The kind of things we are selling are a few dishes that I did not need, a few more expensive books, some small tools he has unearthed in the shop, and things like that.  I am donating the small stuff that is worth less.  I could do a garage sale, but I don't have time right now because the sorting is such a big job.
We collected more boxes at the liquor store today.  They are small, but sturdy and good for heavy things.  Rob and Ja'Ana took the first load from the shop over to my brother-in-law's to store.  Long story, but he has an empty semi-truck trailer on his property.  We are going to be able to store quite a bit for free in there, and rent an unit for the rest.  It is all going to have to be stored while we are between houses.
My mom and aunt came one afternoon.  My mom sat with Ja'Ana in her room and did the second sorting out. (She is unable to stand for very long due to some problems with her feet, but she can sure help with decisions, and encouragement, and has been instrumental for the last few years helping Ja'Ana keep her room tidy.  It's their special thing, and I'm grateful.  At first, it was awful, they cleaned it, J kept it that way for a while, then Mom came again and helped her get it back in order.  J was able to keep it clean longer, and so forth, until I can say she keeps her room the best of anyone in the house now.). They came out of there with a black garbage sack to throw away and a bag to donate and left things in pristine order.  Last week, she picked out 2 bags of clothes to give to her cousin, and several bags of trash and donations. So of all the children's rooms, hers is actually ready to show.  It would just need a few more things out of there to make it look more roomy.  My aunt helped me sort things downstairs and do some of the household chores that are getting neglected.  She sold her house a couple of years ago and had lots of advice to offer.  Hers sold in the first week.  I'm listening.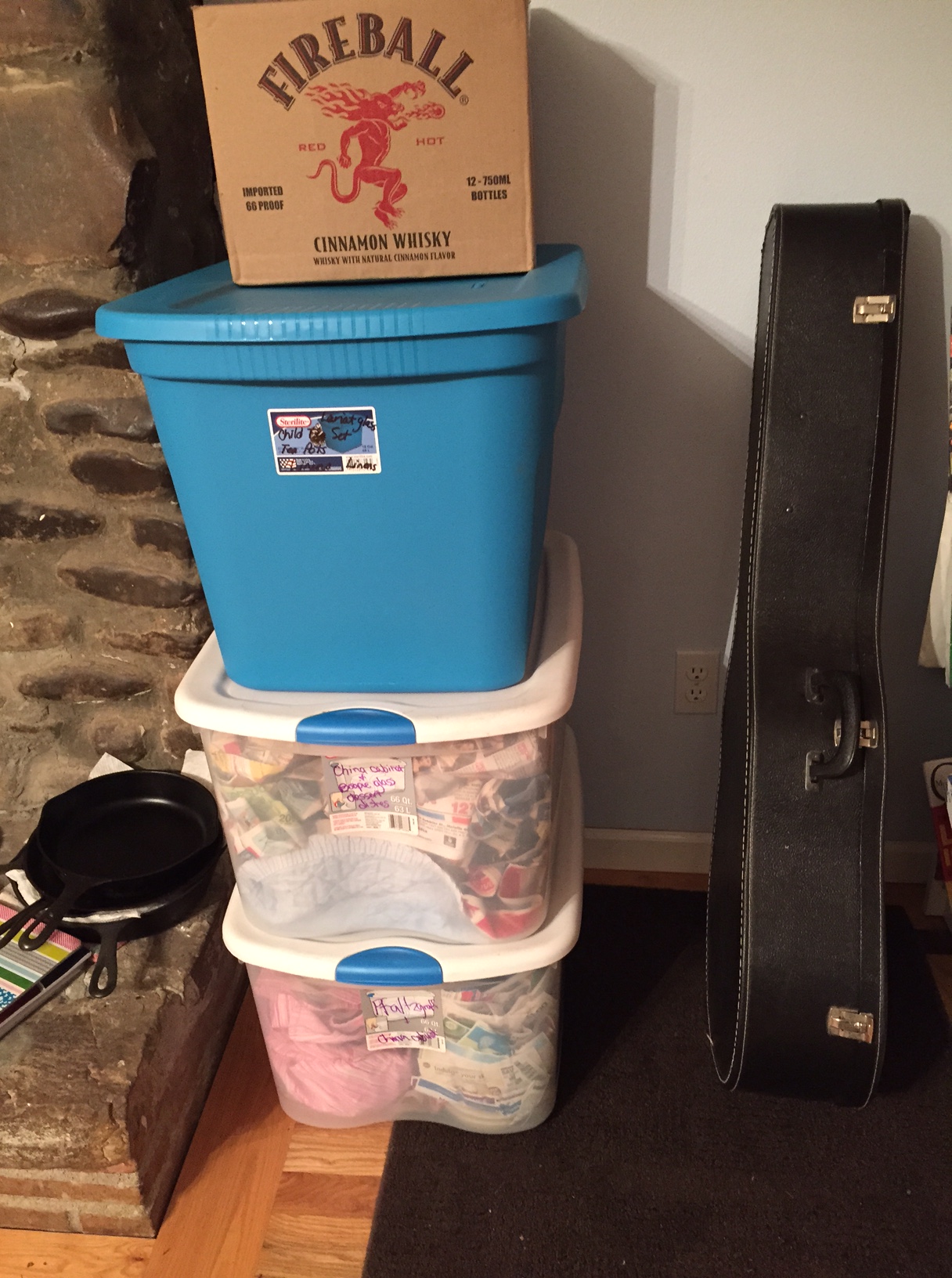 We had 4H club yesterday.  So, bins like these, and boxes, were stacked in corners, the schoolroom, and the garage–out of the way because we needed the garage table for club projects.  Starting first thing this morning, I started filling more bins and boxes and placing them right in the living room and garage.  We will rent a storage unit before next month's 4H meeting, and put it all in there, so I don't mind that it is in the way for 2-3 weeks.  We don't want to rent the unit until the last minute.  We hope to list the house during the first week of March, so we will rent the unit right before we list. We will take as much as we can to storage and leave only what makes the house look roomy, spacious, clean, and hopefully very desirable to buyers.
I worked several hours in the garage today, cleaning and sorting, and I burned a huge pile of trash.  That makes the 3rd huge trash fire this week.  (These are things that I don't think are nice enough to give to anyone, as well as literal trash such as the paper products from 4H yesterday)  We had a friend offer to take things to the thrift shop yesterday, so she loaded the back of her van up after 4H and took it away.
Today, Rob took another van load, his second this week.  I think he did amazing this week, especially in light of the fact that he stepped on a piece of glass about a  week ago.  On Wednesday, the same day he picked up a day's work helping out a friend at a sportsman's show and was on his feet all day, it developed an abscess.  I had worked on it, removed the glass, and put lots of stuff on it, and it was healing, so I hadn't checked it for a couple of days.   When he hobbled home Wednesday night,  the minute I looked at it, I knew I wanted him to be seen by a doctor.  Thursday morning, she lanced it, cleaned it out, didn't find any more glass, told him to soak, soak, soak in epsom salt-water, and put him on antibiotics.  It looked worse yesterday, but finally today, it's improving.  I'm so glad we didn't mess around.  He's supposed to stay off of it, and he has, for several hours per day.  The rest of the time……..
So, this week, I'll keep working my plan.  One corner, one area, one room at a time, as I keep marching through the house.  I will work for 2 days, busy with church on Sunday, have a few appointments with the kids, and sort and pack like a maniac the rest of the time.