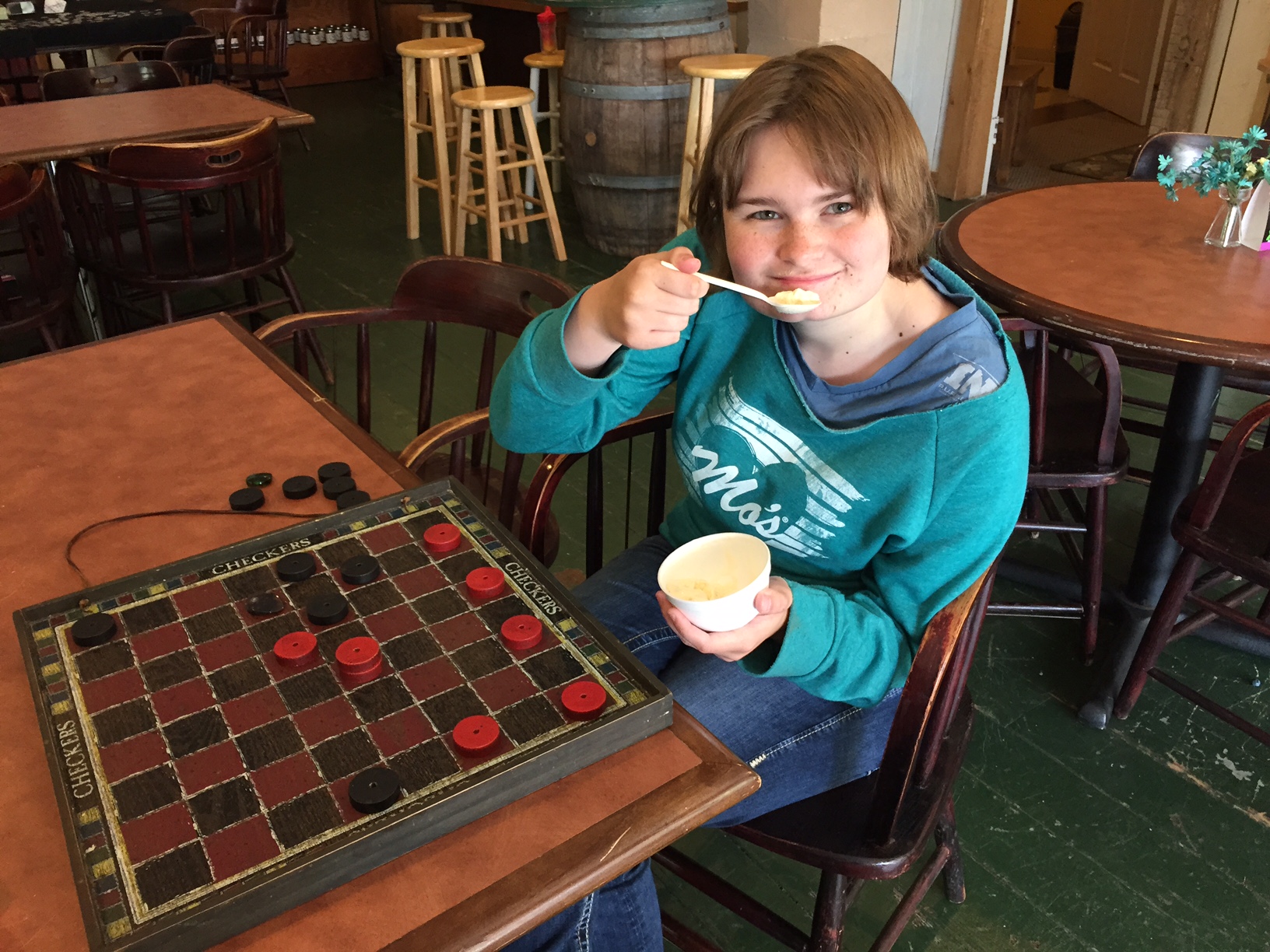 Last week was busy and fun.  We traded kids out one day and left Ja'Ana with the cousins and brought Michaela home with us for 1 night.  On the way home, we stopped at historic Butteville store and enjoyed some ice cream.  Michaela and Patsy enjoyed playing checkers on the checkerboard that the store set up on the table.  They played for quite a while.
Patsy pulled up some unwanted plants in the garden to earn money for camp, and Michaela enjoyed watching her dramatically hit the ground with the plants, huff and puff, and put on quite a show.  So, Patsy got some attention, Michaela was entertained, and I got those plants pulled!  Win, win, win!!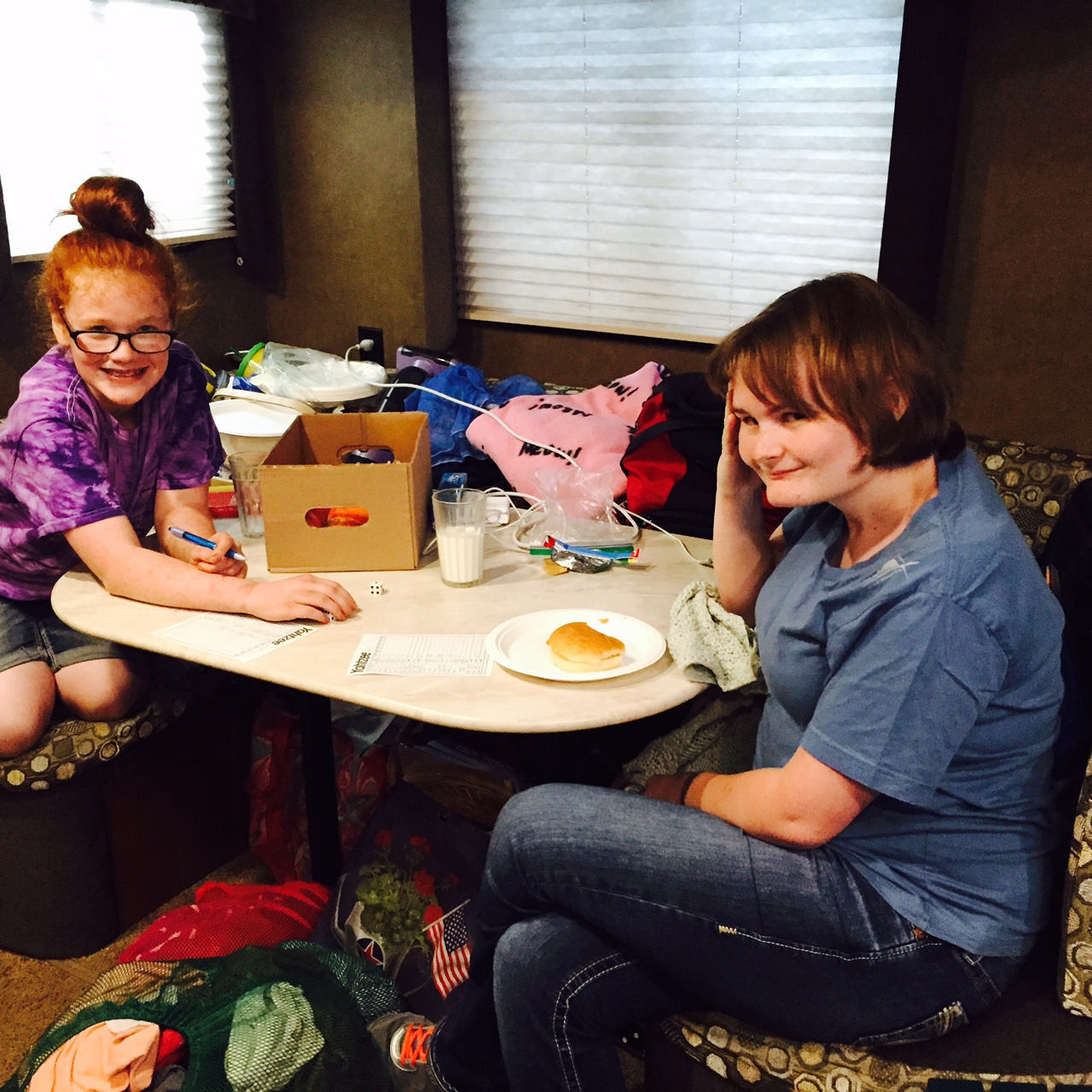 Then they played Yahtzee for several rounds and cheerfully  ate up the odds and ends of my hamburger buns with peanut butter spread on them.  (No jam for Michaela–she doesn't like it-Patsy will always eat double–she loves it).  The girls had a frugal, fun evening!
The next day, Rob swapped the girls back when he took Patsy to catch the bus for church camp.  Things went well until Wednesday…….
On Wednesday, I was just lallygagging around.  I had 1 thing planned for the day–lunch with 2 of my friends.  So, I let myself sleep in a bit.  But then…the phone rang.  It was the youth leader at camp and there was a problem.  I could hear Patsy dramatically carrying on in the background and many adult voices.  The leader informs me that Patsy's front tooth is gone and all she has left is her braces and the chain and bracket where a tooth should be.  He's never seen anything like it.  He can't figure out where the tooth went.  As far as he knew, she went to bed with a tooth…..now there is no tooth….and so forth.
I have a vision of Patsy with 2 front teeth gone, since I knew that we had been working on getting the other one to come down for a year and a half, with oral surgery, orthodontics, etc.  I was feeling pretty worried, when it suddenly clicked.  He did not know that the other tooth had never been there.  With her sobbing "my tooth broke off" and things like that, he was assuming that her tooth had broken somehow in the night.  I quickly set him straight, saying  "it's ok." and things like that.  He put her on the phone, and I found out that, indeed, it was the bracket that had broken off and there was a small white thing attached to it, which she was convinced was part of the tooth (that is still up in her gums).
So, after a call to the ortho, we quickly started out for camp.  We had never been there, but are signed up to volunteer there next week for high school camp.  We went to camp, picked her up, used the interim time to do a little laundry, had an appointment at the ortho, had a meeting about camp, and then took her back.  It is a distance away, so we were gone for about 12+ hours.  They removed the dangling chain, assured us all it was just bonding material, no teeth were broken and put her back together.  We will still need to address the situation later, but for now, it's fine.  Nothing is broken, except some hardware in her mouth.  Whew!!!  So, this was the NOT frugal day.  We used lots of gas and ate out twice, since we just jumped in the car and took off as quickly as we could.  The main thing is that she's all right!  I will say that the counselors and leaders deserve high praise.  They handled it well.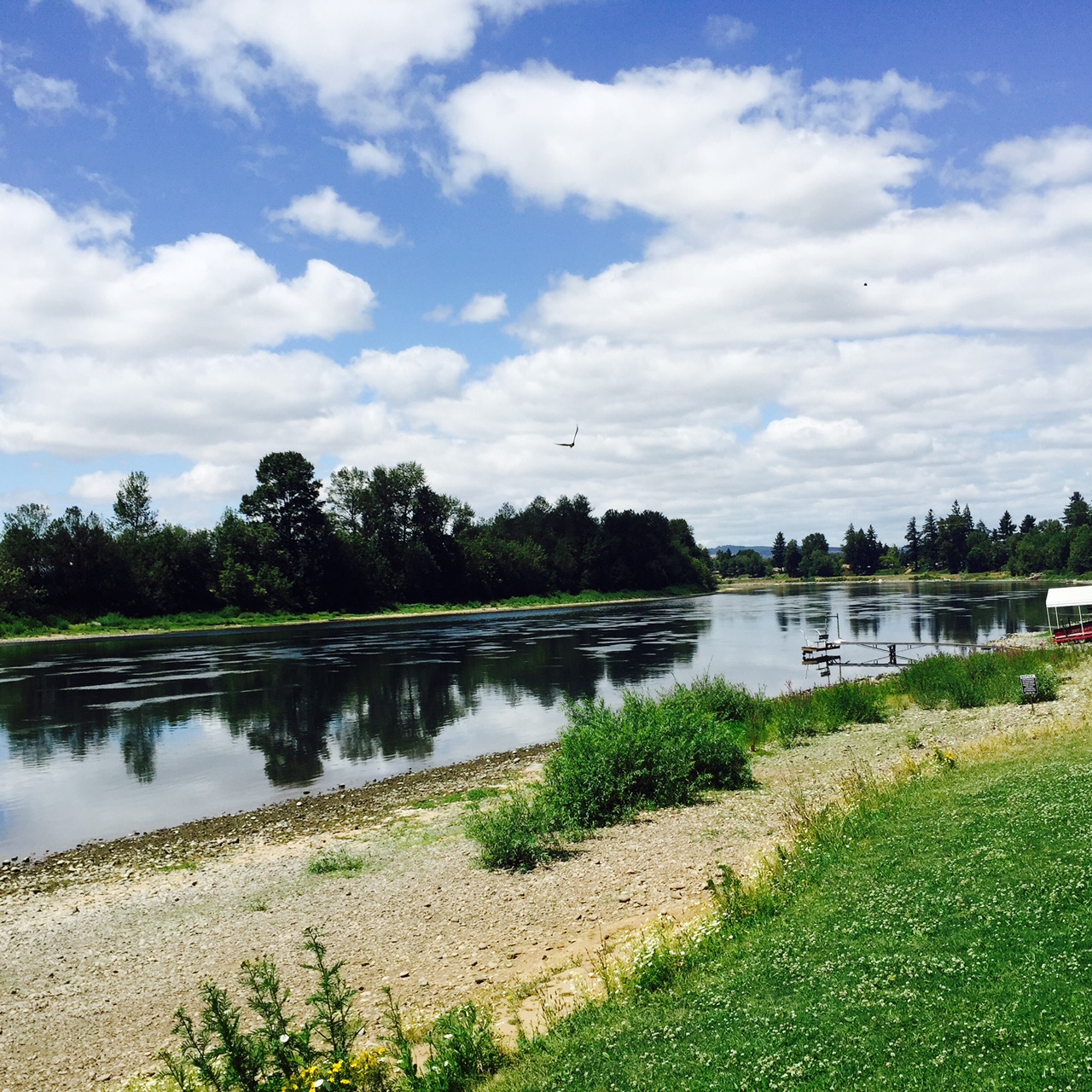 We went house hunting again Friday.   This time, I knew I was leaving and packed a nice picnic lunch.  After viewing 5 houses and picking Patsy up from the church parking lot (back from camp), we went to a place called Sunset Park in Keizer, Oregon, and ate our packed lunch.  I'm not sure if you can see the hawk soaring over the Willamette, but there were several that we enjoyed watching.  Rob and Lovana saw a bald eagle, too.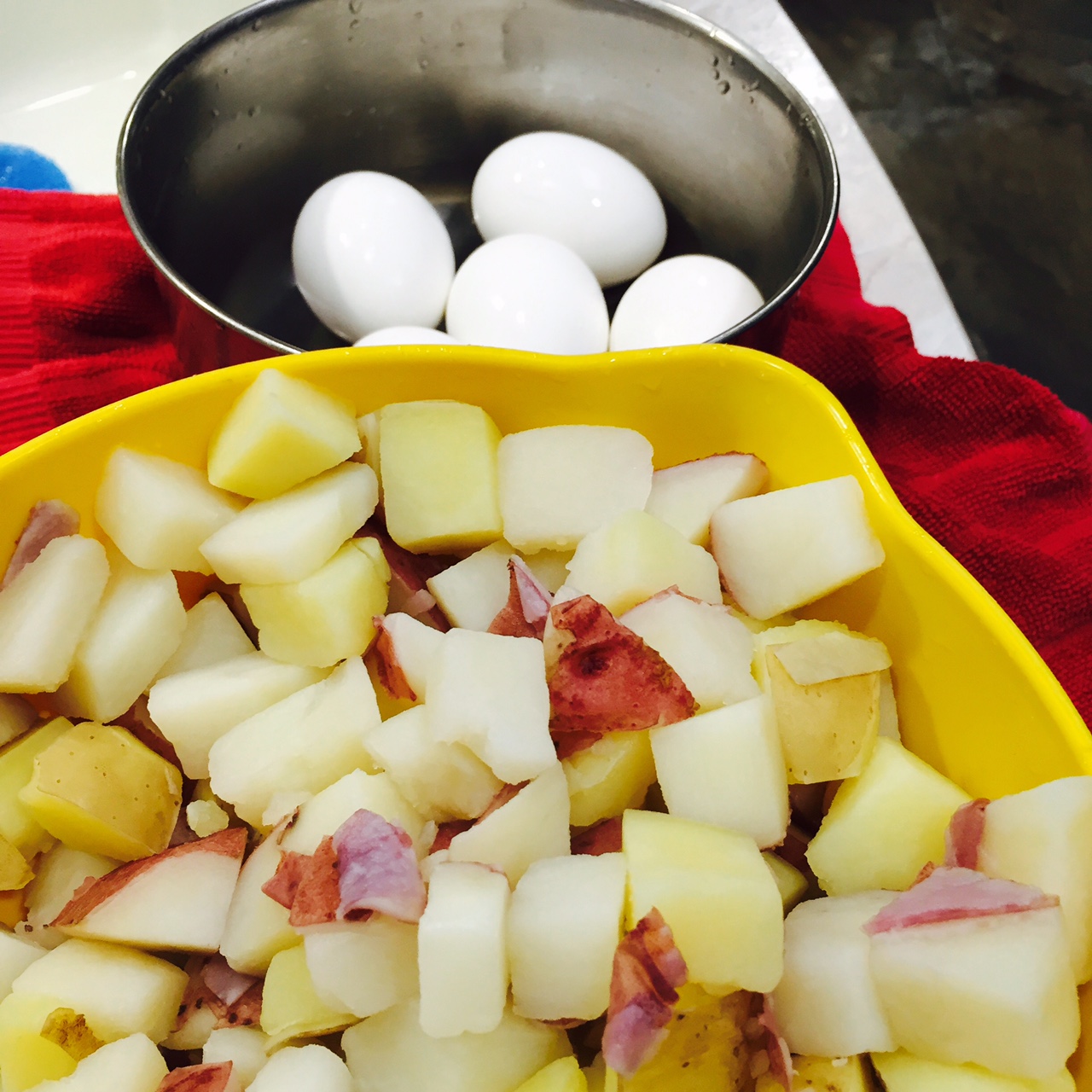 These potatoes are from the garden.  I made potato salad for our family Sunday dinner today.  Rob b-b-qued chicken, and we had salad from garden lettuce.  My aunt brought rolls and ice cream.  It was great and so awesome to have so much of it come from things we've grown.  The chickens will run out before long, and we have no way to grow more, but we are enjoying them until that happens.
I cooked many, many meals at home this week, other than that one day.  I used so much garden produce.  It's really helping with the grocery budget.
My sister and I canned 35 quarts of green beans during 2 pleasant mornings.  Rob and I spent quite a bit of time helping sell peaches at the u-pick stand Monday and Tuesday.  We enjoyed quite a few peaches, and wild blackberries.
I "Shopped" in our storage Conex.  I pulled out items worth at least $40 to use in the next 2 weeks.  I also shopped at the store, and bought things that we absolutely needed or were a great deal.
Rob earned some money this week and used some of it to stock up at Grocery Outlet on items that we will use, and are a great deal.  So, that was extra, above and beyond our usual grocery budget.  So, that was nice.  There are just a few things that we consistently buy there and there are always "surprises" so we do have to be careful to only buy a few of those each time.  You never know what they will have from time to time, but they usually have inexpensive drinks for lunches, lunchmeat that is close to its pull date, but still good, etc.