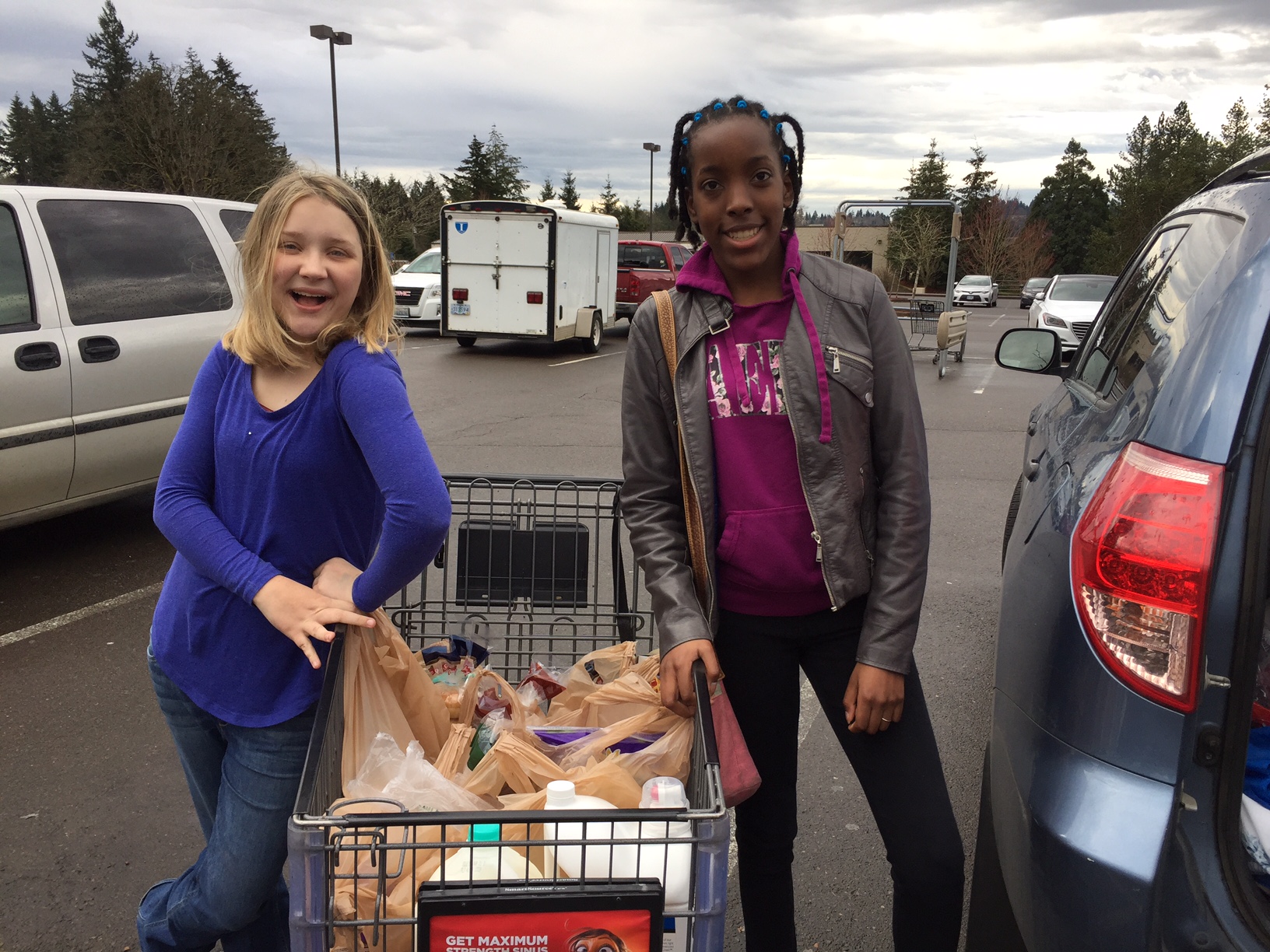 I made the last week of the grocery challenge into a school assignment.  I gave the girls a list of what I needed, and told them they could spend $38 dollars, not including the soap.  I would pay for that since it wasn't food.  I loaded coupons onto my Safeway card, and looked up the Fred Meyer ad on-line.  I gave them a list that included soda pop and goldfish crackers, as well as the needed items, and told them to get the most important things first.  Do you see that loaded cart?  I was amazed–they did so well.  They only spent $39 and a little change.  They bought milk, eggs, salad stuff, 2 cases water, 1/2 and 1/2, sour cream, 2 lbs cheese, and more.  I got dish soap and laundry soap.  They did not buy goldfish crackers or soda.  They had me drive over to Fred Meyers for the 99c eggs and got 2 cartons and one other thing I forgot.  I forget what that was now.  Hmmm…..  At home, I had them write up what they had learned, and what they would have done differently if it was their shopping trip.  One would have bought chicken instead of 1/2 and 1/2.   They both thought coupons were a great idea.  I plan to repeat this assignment later on and have them do more of the planning.
So, we ended the 4 week period of the challenge at $101.   We did not suffer at all.  I have almost $100 left over to do what I want to with.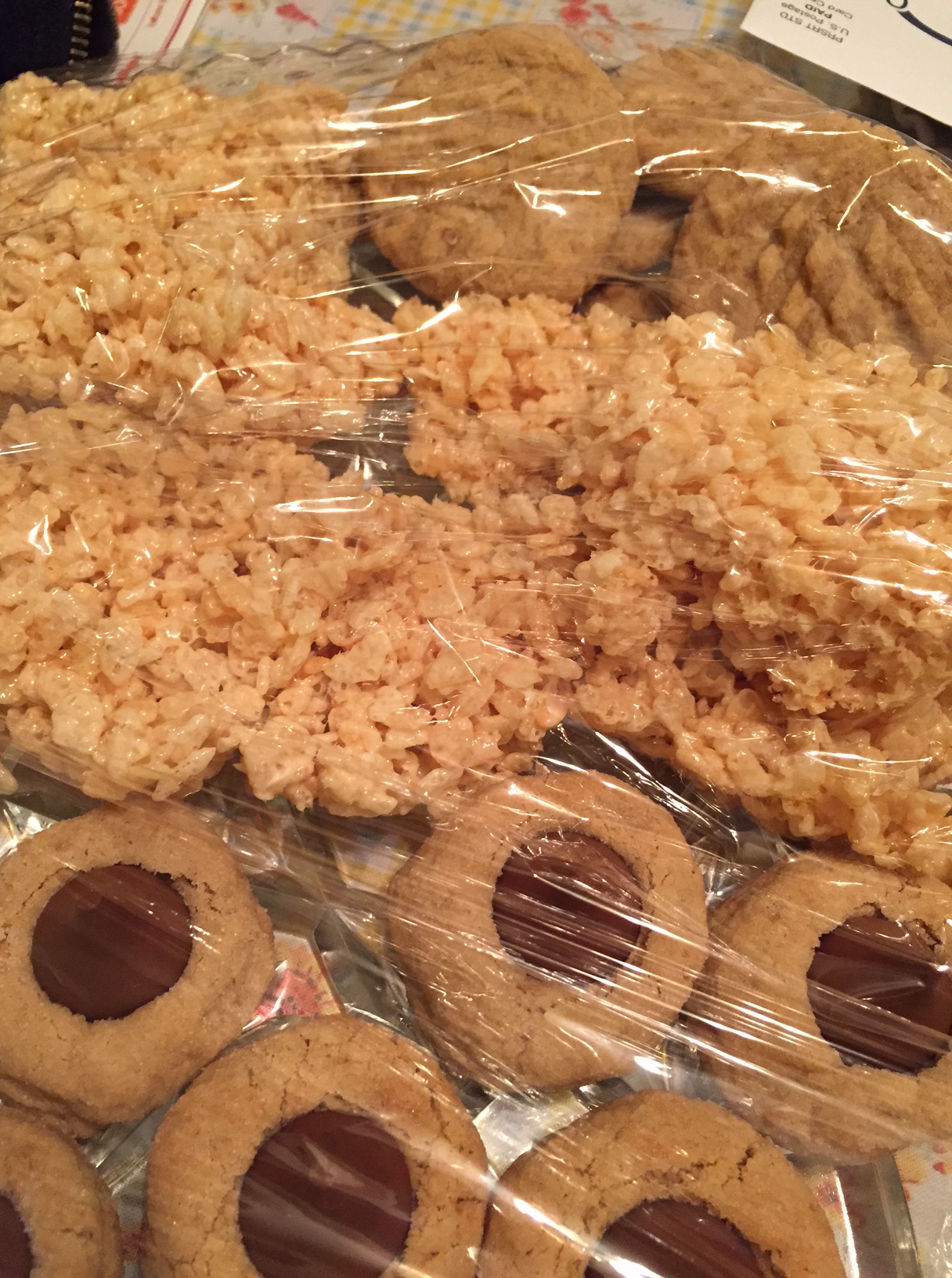 I can really see some spaces in the freezers and on the shelves in the garage.  I'm excited about that.  I've also been going through the camper and pulling items that were opened last summer and forgotten in the cupboards in the move.
I used:
Home-canned and frozen items:  Green beans, canned peaches, home-canned grape juice, jam, berry syrup, tomato products, salsa, frozen broth, hamburger, turkey burger, steak, ham bits I froze earlier, hazelnuts, lemon poppyseed muffins I made a while back (all gone now)
Pantry: Gluten-free pancake mix (1 bag emptied), syrup (gone), navy beans,  Hershey Kisses from Valentine's Day, chocolate chips and all odds and ends of M and M's and other white chocolate chips from camper, Rice Krispies (huge bag and box gone), marshmallows (used all I had in garage and camper–some pretty old), a box of gluten-free bread mix, random cookies and crackers and chips, gluten-free pasta, mushrooms, cream of rice cereal (all gone), cocoa powder, some peanut butter from the camper, baking supplies (all gluten-free), ho chocolate mix and tea, potatoes, onions,
Fridge: carrots, celery, milk, eggs, 1/2 and 1/2, butter, sour cream,
Garden:  Swiss Chard.  I picked a large handful of leaves 2 times this week from what I planted last fall and stirred it into spaghetti sauce.  No one, even the pickiest eater around here, seems to care if there is some chard or spinach in the sauce.  I've been doing it for years, to add vitamins.  The plants are not very tall, so I'm very careful to take only from the outside of the plant and I take sparingly.  The leaves are young and tender, and wilt down nicely into the sauce.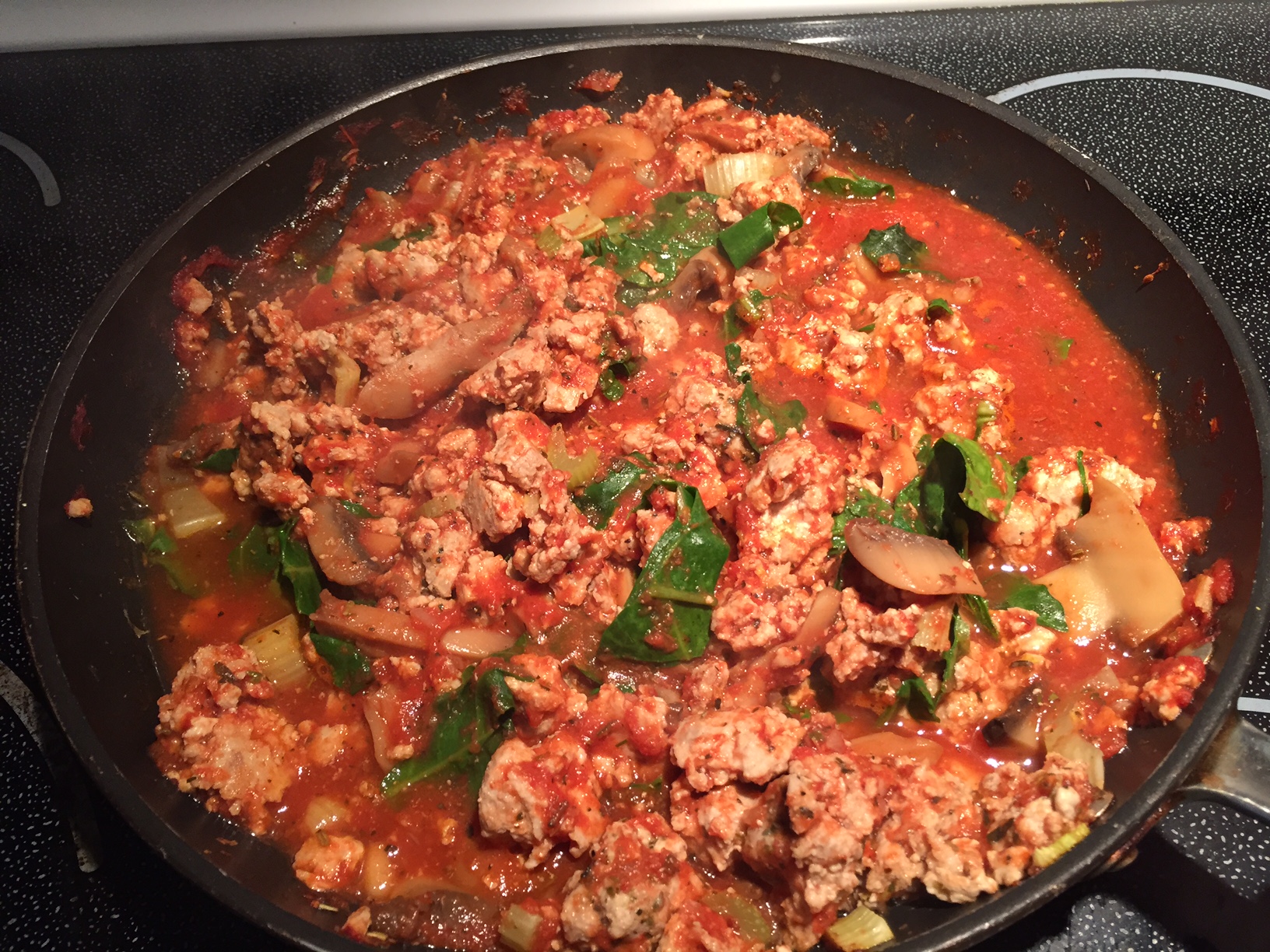 I served spaghetti, ham and bean soup, steak with baked potatoes, hamburgers, waffles, eggs, leftovers, chocolate cookies with assorted goodies in them, Rice Krispie treats (3x), chocolate chip cookies,
I wanted to make a few freezer meals.  When I made the spaghetti, there wasn't enough left to freeze, so I made it again Saturday morning and froze that batch.  One time it was turkey and one time, beef.  Rob made a huge batch of waffles and we froze a bunch of those.  I cooked a soup bone in my Instant Pot and froze the broth and bits for a stew later on.  I also cooked taco meat and froze it, ready to go.
I will say that the natives got restless on Saturday.  I ended up getting completely spoiled when Lovana decided to take us out for lunch.  She's been planning on it for a while now, and Saturday turned out to be a good day.  We went to a Chinese buffet where they focus on vegetables and seafood.  I was delighted to not get sick.  I chose carefully, but buffets are always a gamble for me.  I ate a lot of plain-looking sauted shrimp, sauted mushrooms, and stir-fried vegetables.  THEN, Ja'Ana talked her into ordering pizza for dinner.   So, with the large breakfast Rob cooked, the only food I cooked that day were the freezer meals.  We could have eaten at home, but that is what she wanted to do and we gratefully accepted.  We thought it was very sweet of her.  So, technically, this was 1 day short of a full week, but since I made freezer meals, it evened out in the end.
I learned:  We have a very well stocked food supply.  We can make good meals out of the things we have.  My garden (frozen and canned things at this time of year) saves me a lot of money.  It's worth it to invest in large quantities of things like meat and pasta, as long as we have times like these where we use them up so they don't go to waste.  My family will fork out their own money if they don't like the offerings I serve, or just want a change.      That being said, they will eat Mexican food 5 times in one week without a single complaint, and also eat Swiss Chard in their spaghetti, happily.  There was a little bellyaching, but not much more than usual.  There's always a little!   In the end, I was very proud of them.  We were 1/2 way done before the kids even figured out what we were doing.  Trust me, when I do spend the extra $100, they will all know what we buy, and I will make sure they like what we get, to encourage them to see a tangible benefit of saving.  In reality, it saved me more than $100, because I can easily spend over $200 in a month for the 5 of us.
Having a list of rules for my challenge that fits my family and situation keeps me less stressed.  If I had to only use $100 per month  without any little trips for fries or ice cream with the kids or my hubby, it would be very, very hard.  But, I could do it, because I did for years in the past.  I've just gotten softer in my middle age.   Also, having that extra $100 set aside that I could use if I needed to, worked well for me.  My life is really busy, and can be quite stressful, so it's very important to me to keep things balanced.
I made more casseroles and desserts than normal and we also ate more carbs (i.e. potatoes, bread, cereal) and I'm afraid I gained a couple of pounds.  Yes, really.  Yikes!  It would be much easier in the summer when we had a producing garden to stay on the challenge and to eat more fresh veggies.
What's next?  Rob and I agreed that we don't want to think very hard during spring break, which is next week.  We both have the week off from work.  We have some fun things planned with the kids, and I envision home-cooked meals, some freezer meals I made this week, a picnic if it stops raining for 5 minutes, and probably eating out at least once.  I plan to go grocery shopping within the next couple of days and get a few things replaced, like  pancake syrup.  I may even spring for soda and goldfish crackers for spring break treats.