This weekend, we took the kids to Camlann Medieval Village.  It is a living history village about an hour from Seattle, Washington.  Both our family and Alissa's family went together, and we took all of the kids, not just the homeschooled ones.  We had a blast!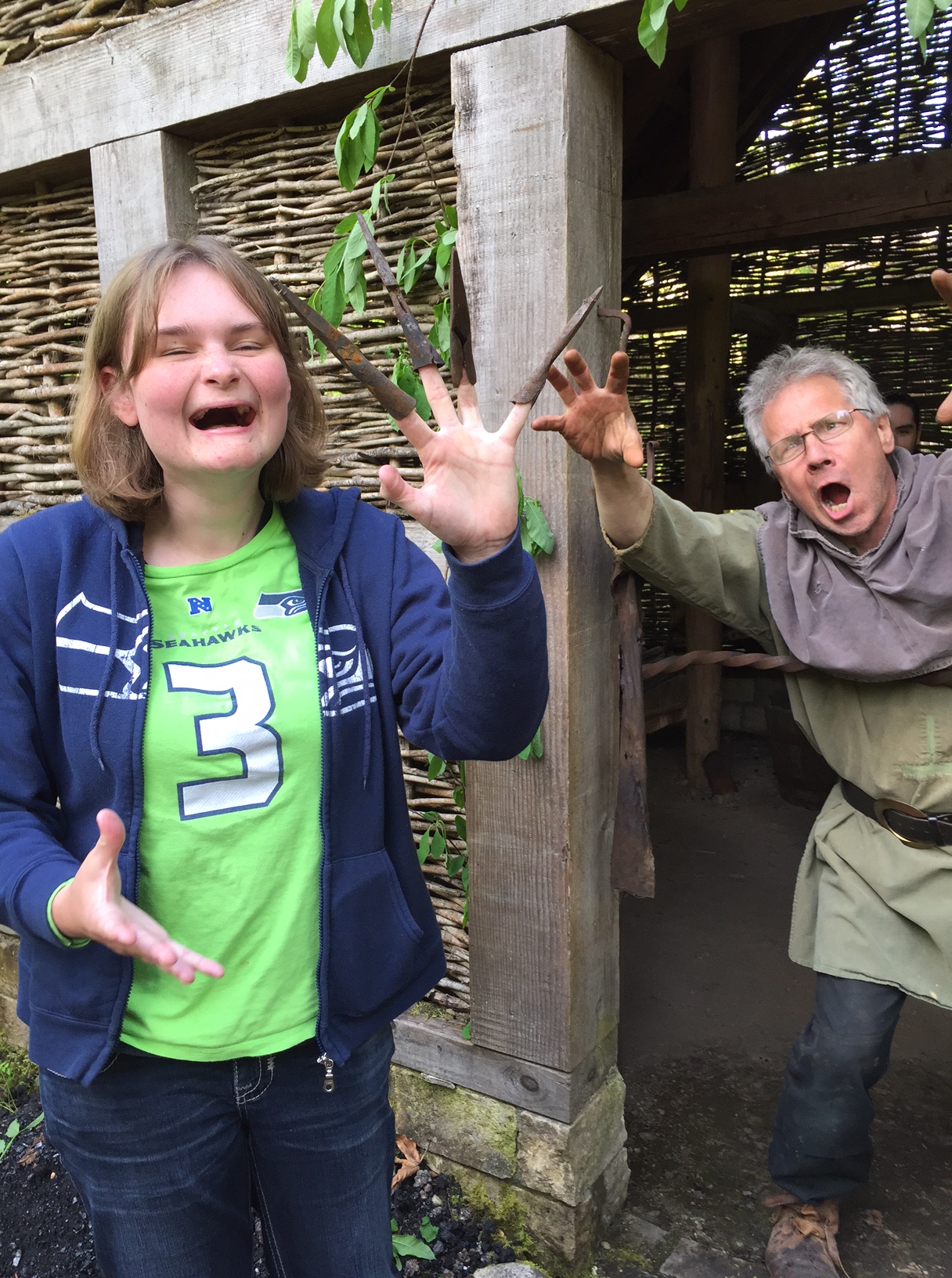 The blacksmith entertained Michaela by putting arrowheads he had forged on her fingers and then they roared like wild animals.  He was so patient with her, and explained the whole blacksmithing process to all of us who were watching, but took extra time with an enamored Michaela.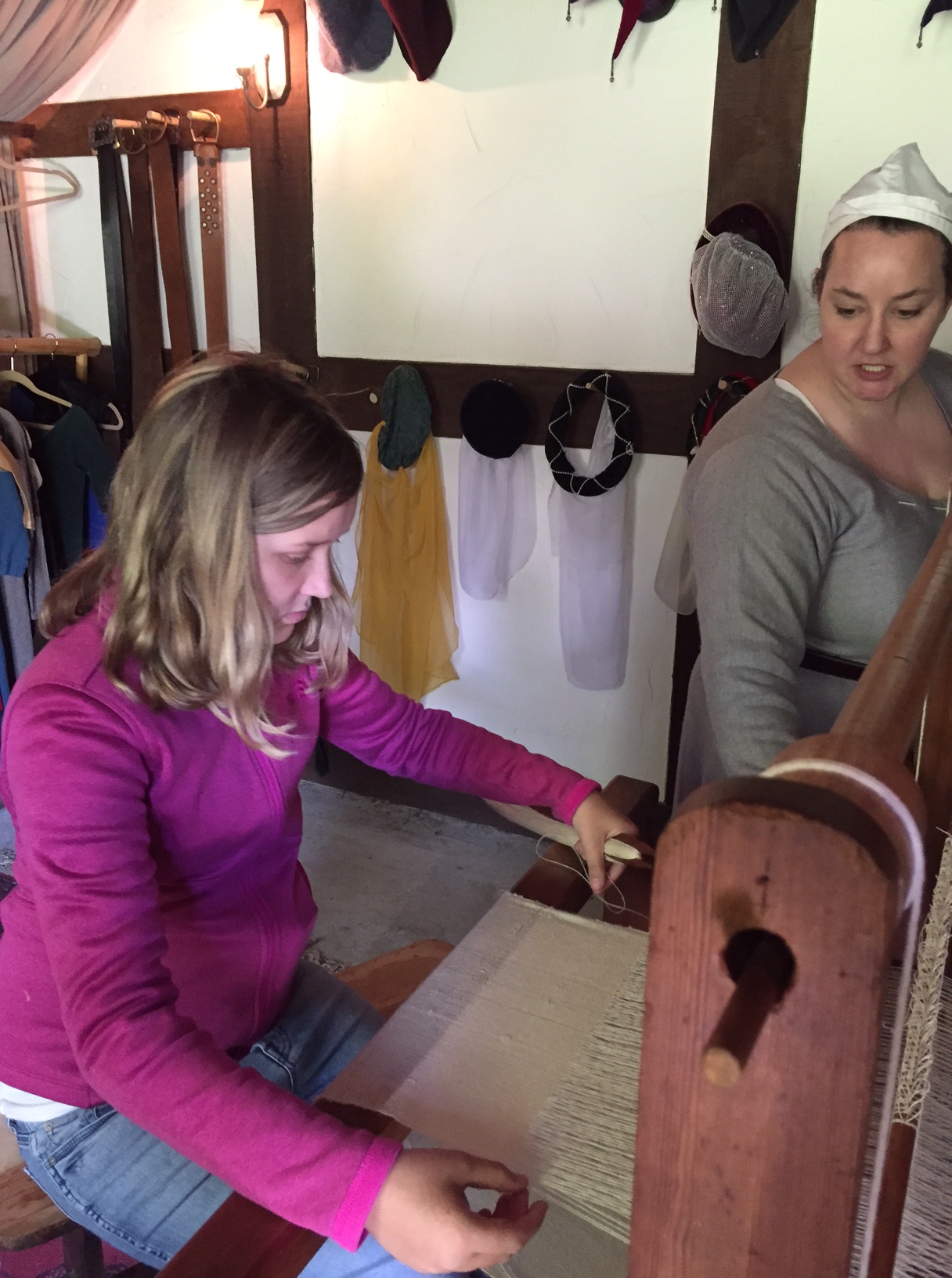 One of the cottages had a fiber display.  It was very interactive, and the guide spent a great deal of time with the girls I was with, and let them weave on this loom.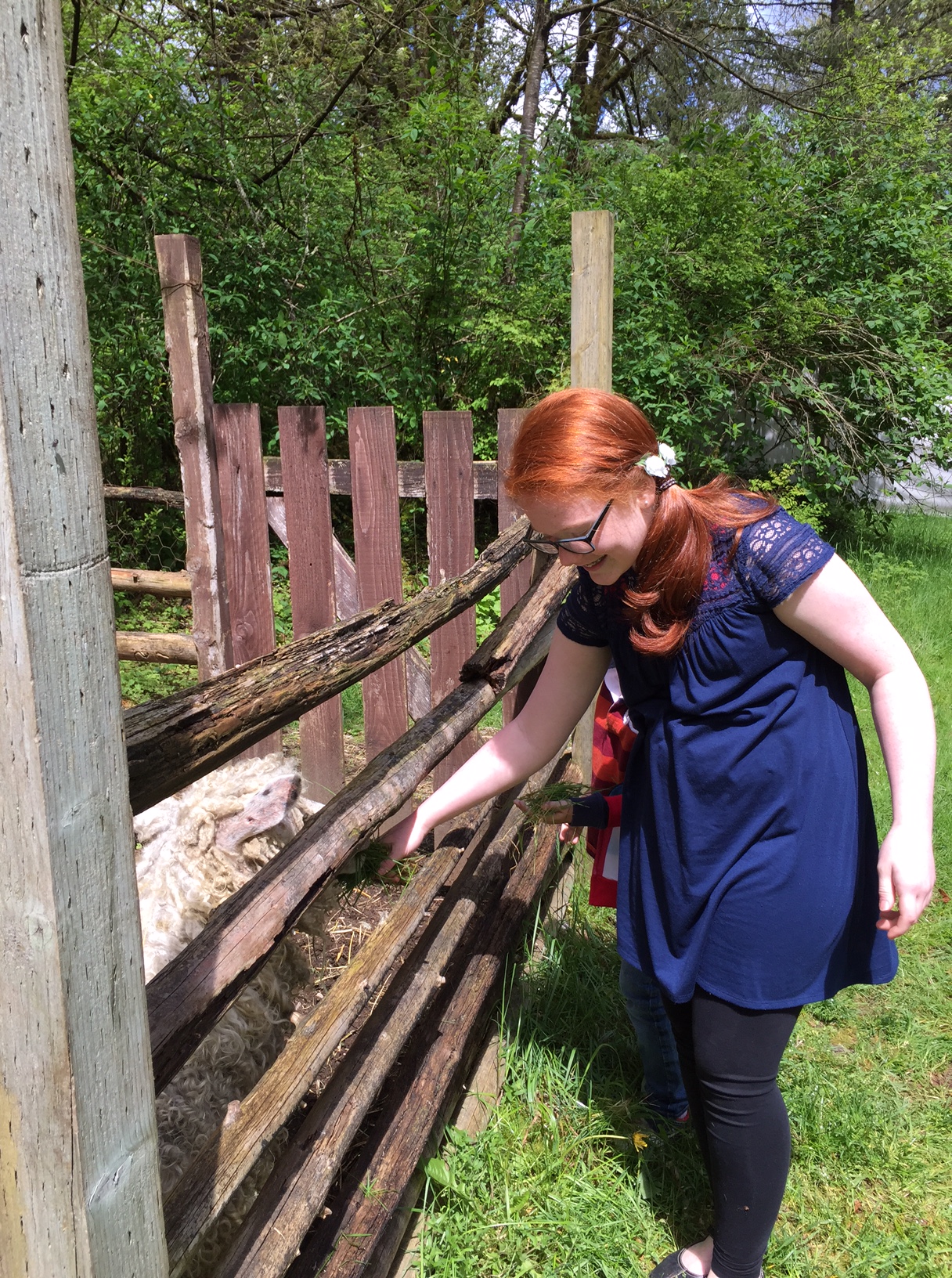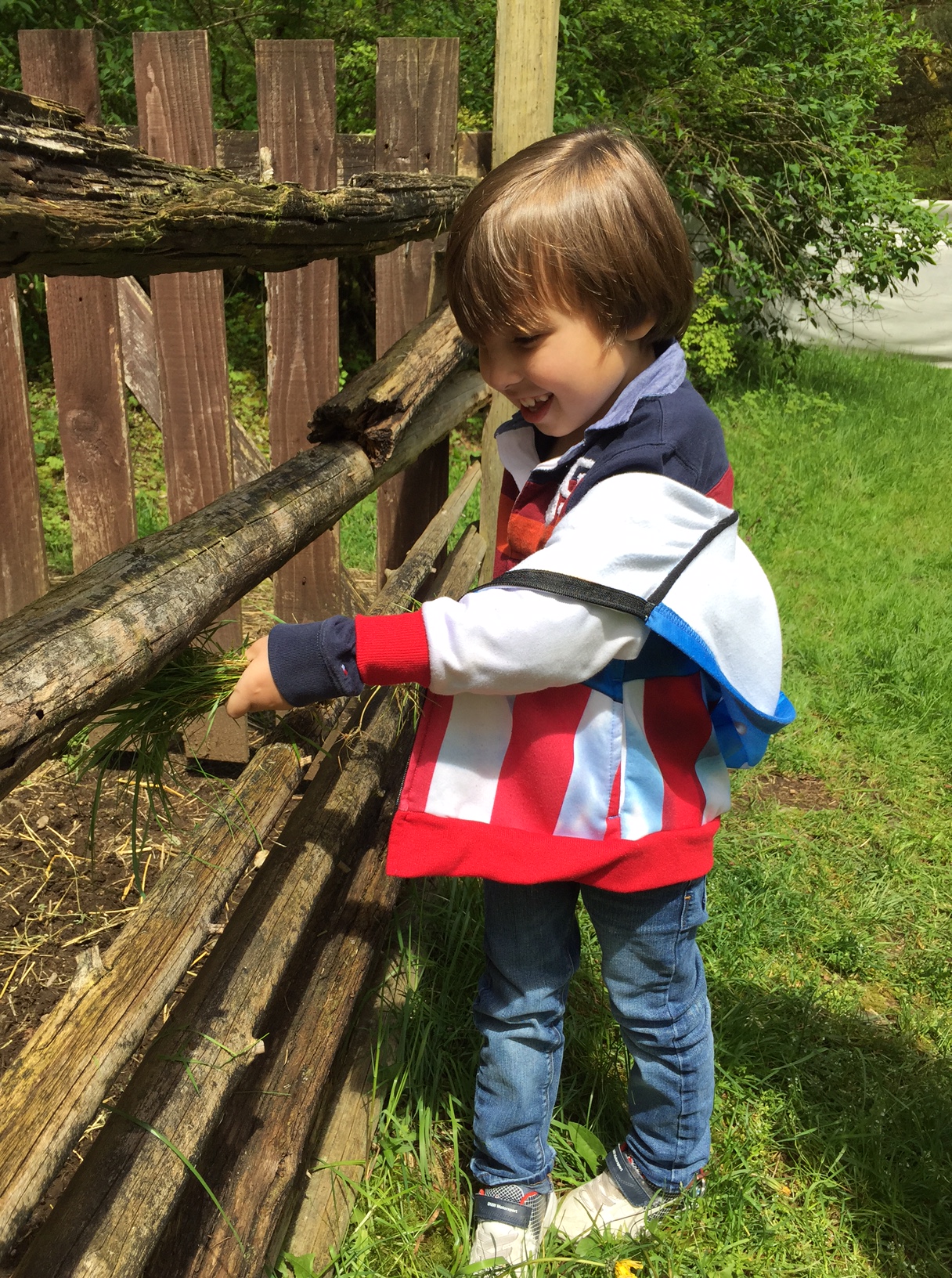 Jake and Patsy had a great time feeding the sheep.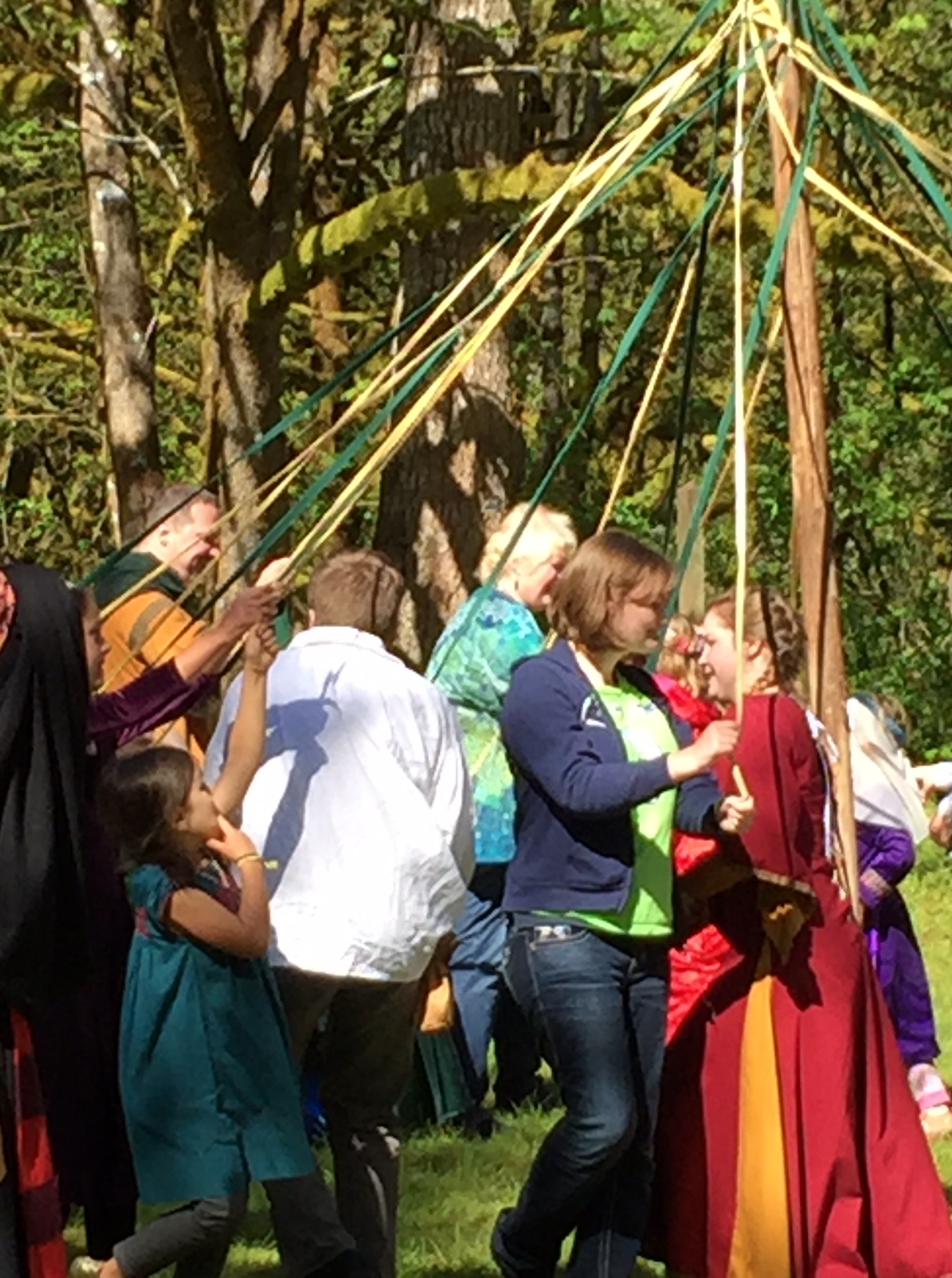 My sister, Gail, the field trip queen, chose this weekend to go because there was a May Day festival going on.  There are other festivals at other times of the year, and some weekends are "village" weekends.  It was explained to us that on festival weekends they hire entertainment such as the magician who did a show, musicians, and a few others.  Those people are not there and one lady told me there were even more displays explaining village life and how they made things on the non-festival weekends.  At 3:30, because it was a May Day festival, there was a Maypole dance for those who wanted to participate.  Michaela, Patsy and Alissa wanted to dance it and we all enjoyed watching them.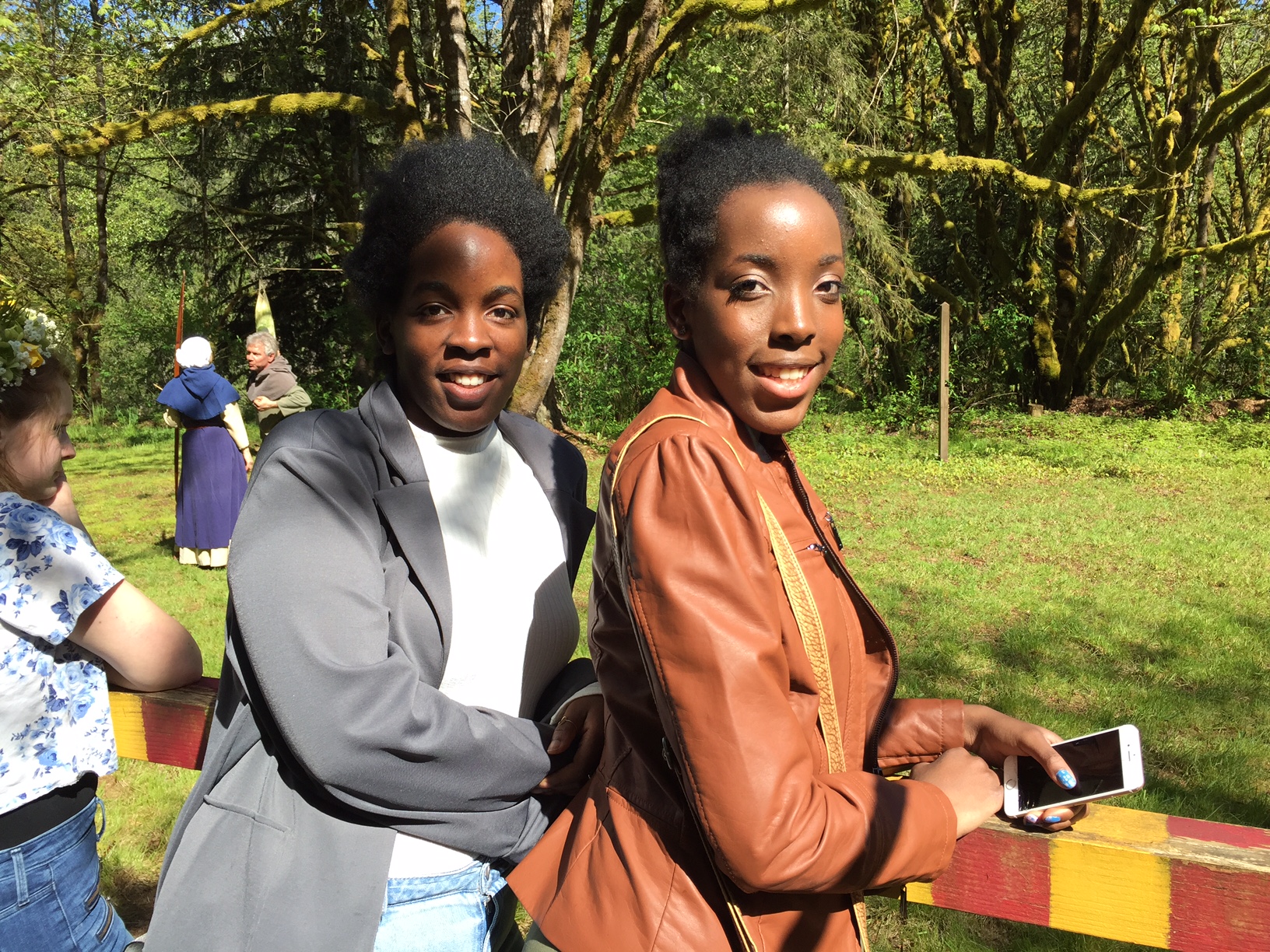 It was a lovely day, and we all enjoyed ourselves.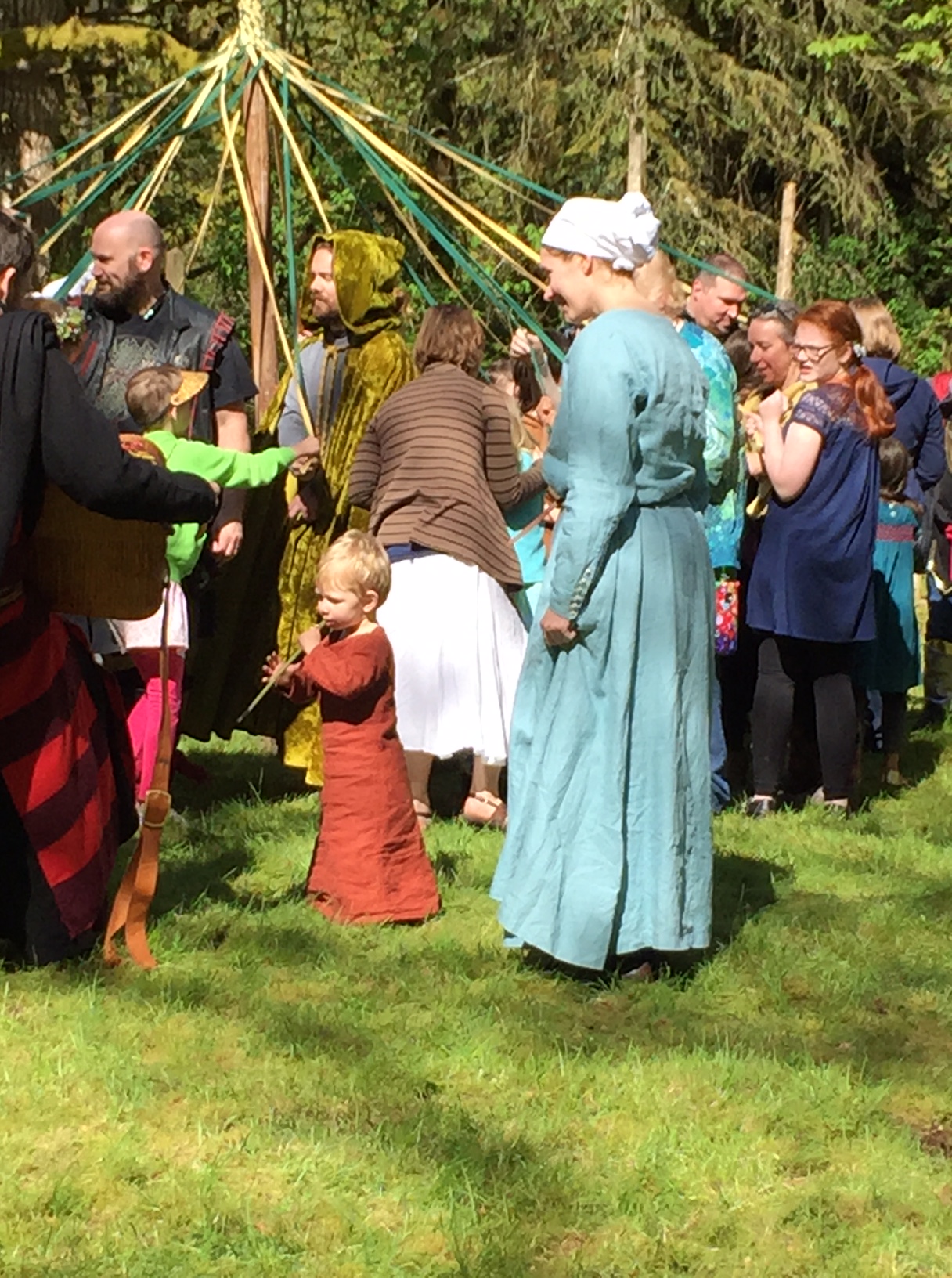 This little guy had a stick and was WAY too cute, joining in with the musicians as they played for the Maypole.  Earlier, his mother had been a guide for the cottage where we learned about daily medieval life.  She was SO in character, and SO convincing, that Michaela exclaimed afterwards, "I had NO idea that the people really lived here, in these houses!"  She was very sincere, but was fine with it when her mama explained that these people were actors and actresses who were playing a part and were told to say those things, like in a movie.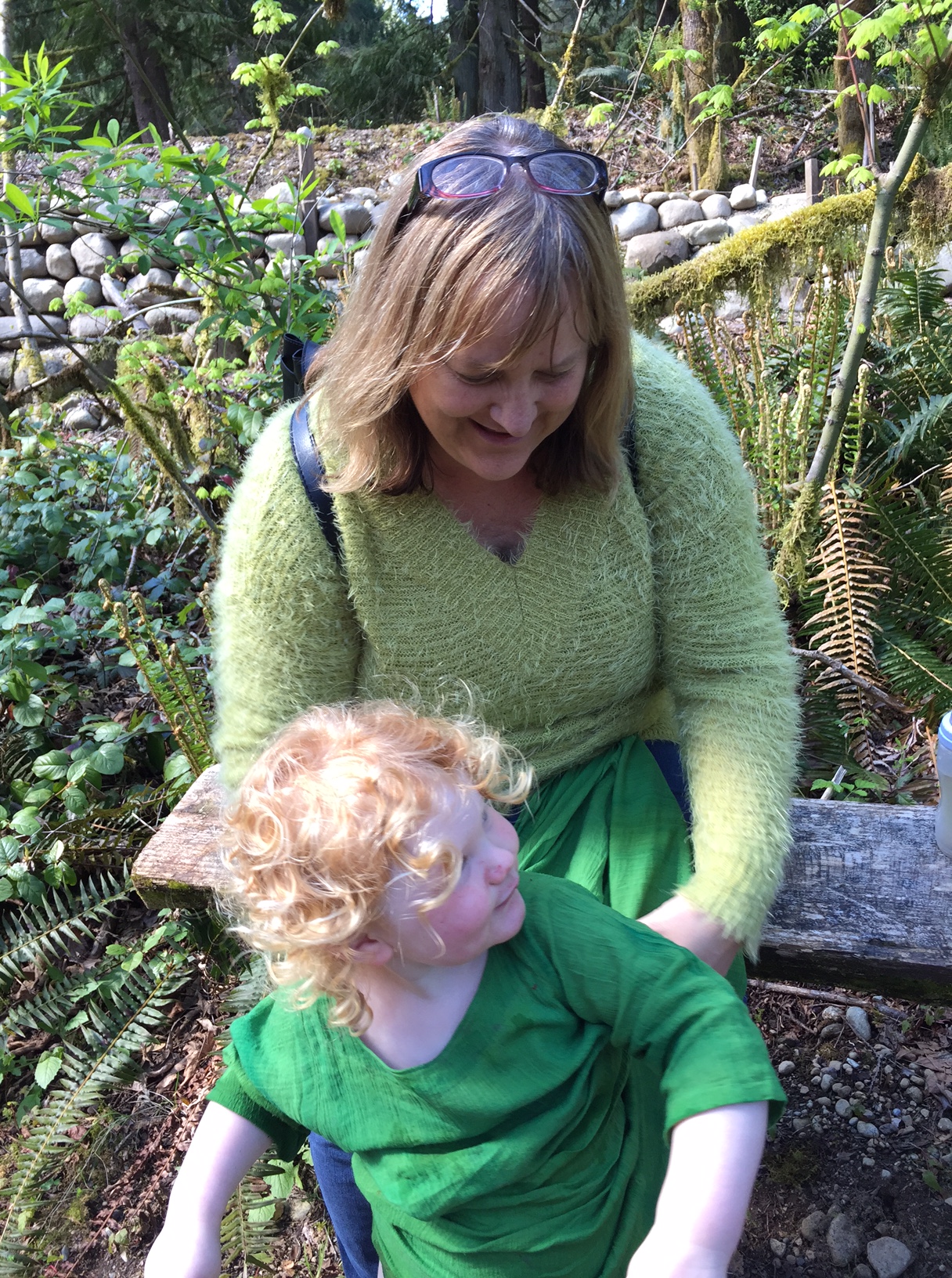 This little cutie was the daughter of the lady who made the flower wreaths that Alissa and Patsy wore.  She happily played with my sister, Gail, for a while as her mother was busy braiding flowers.  She had a designated babysitter, but was very friendly to Gail, too.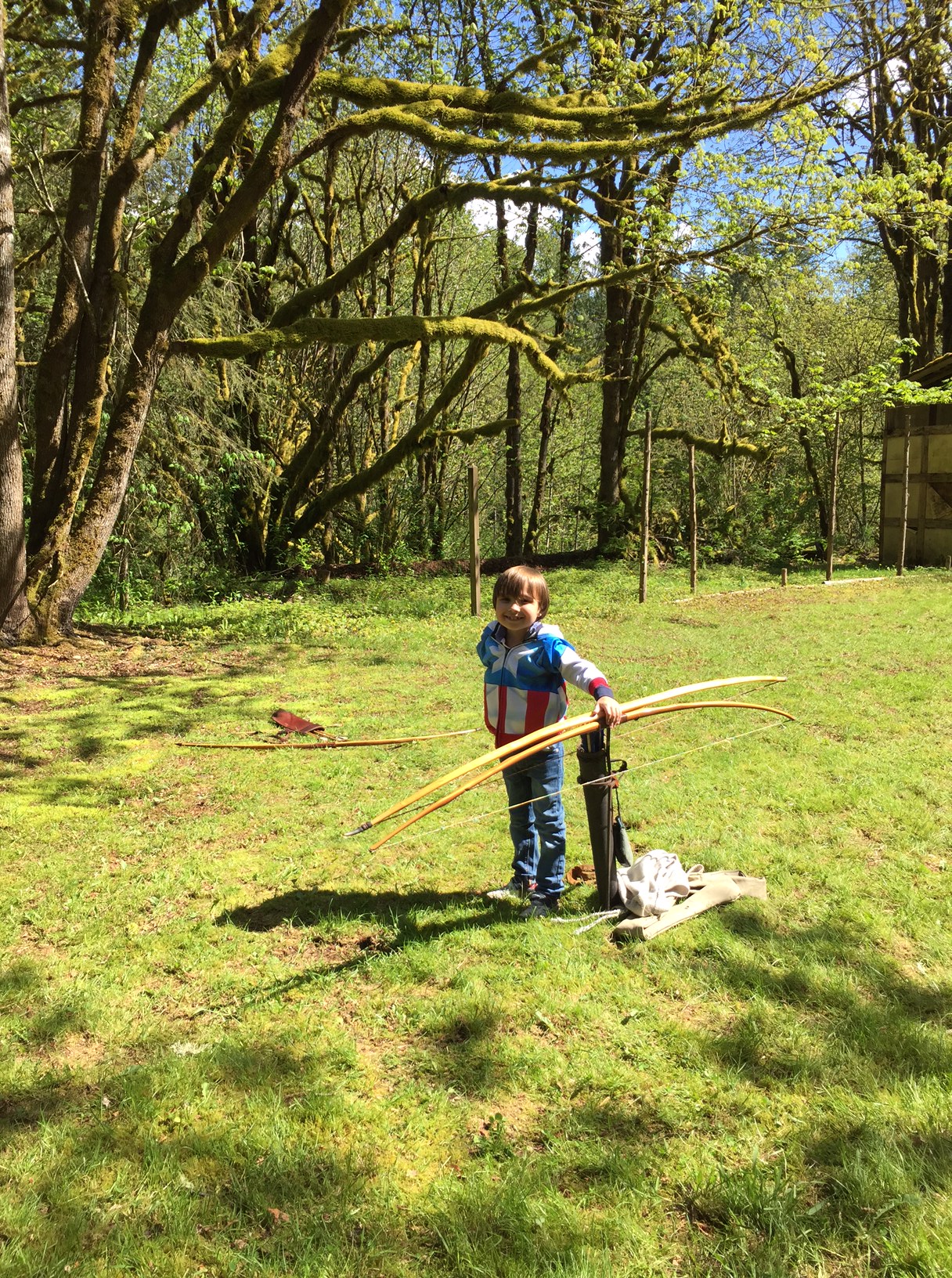 There was an archery demonstration, and later on, those who wanted too could take a turn shooting.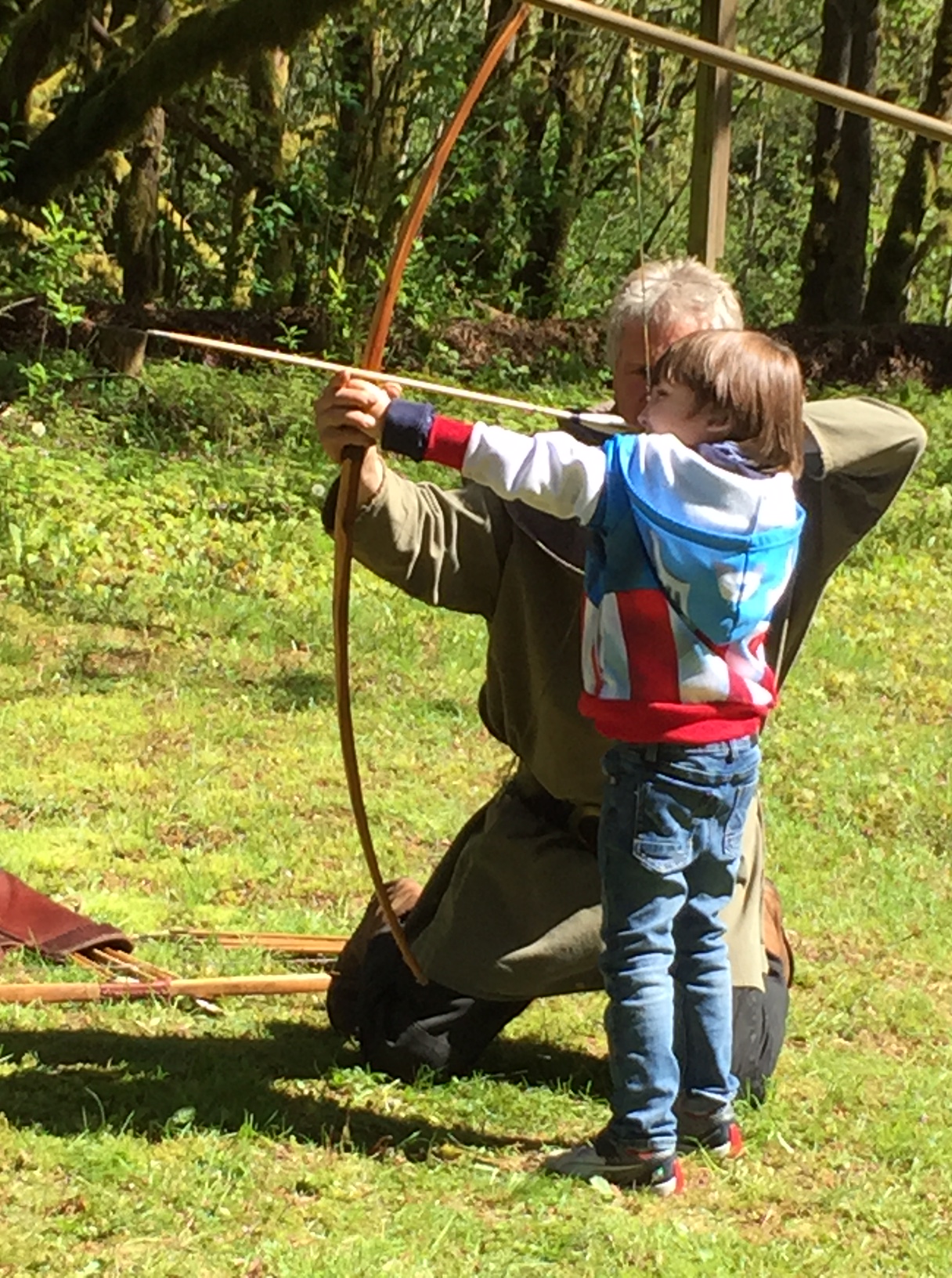 Jake sure wanted to!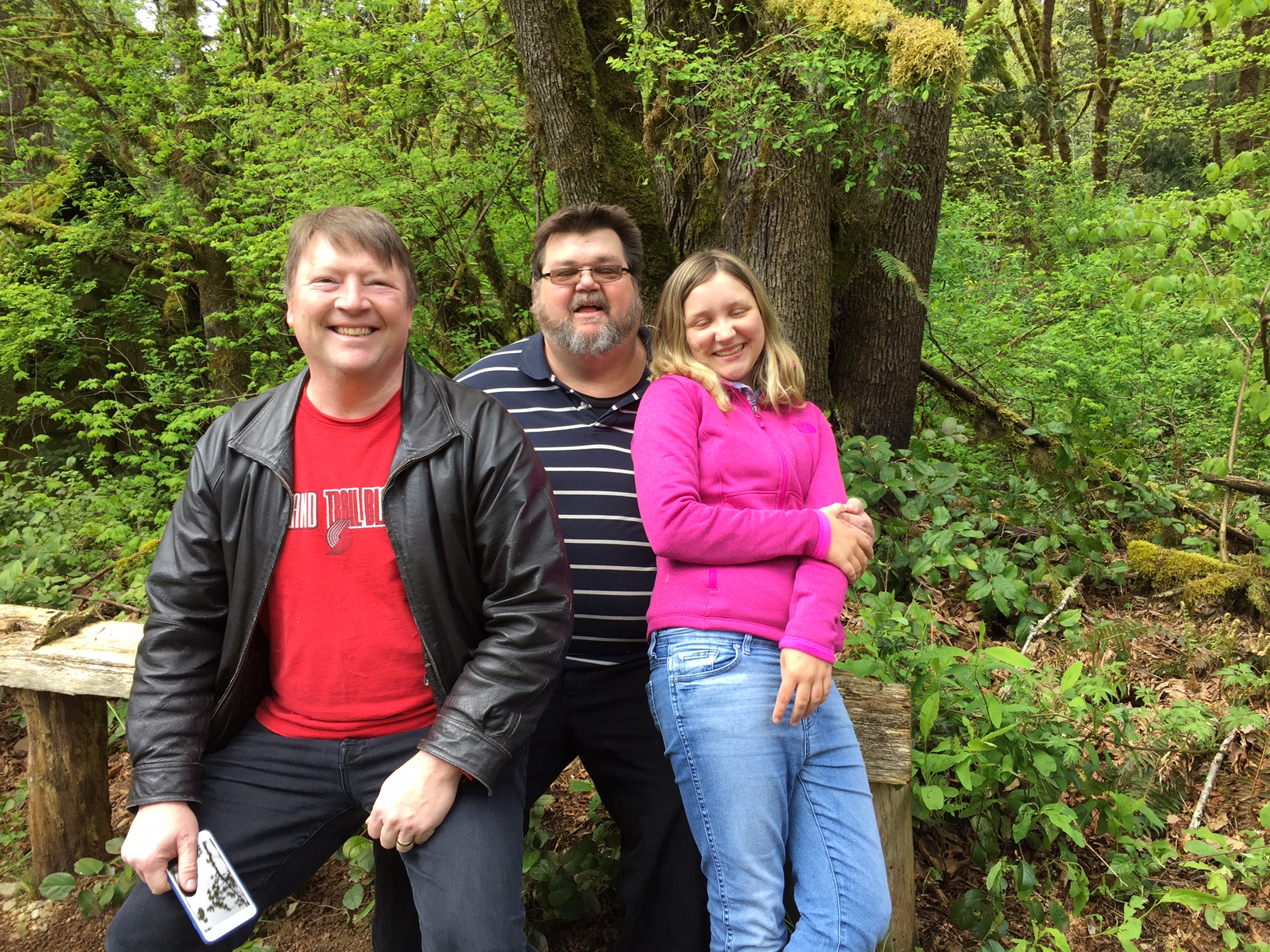 Alissa and her dad, Ron, both decided to goof around and sit on Rob's lap when their legs got tired:)
There was a restaurant, where Ron and Gail got a little bite to eat, as they had not had their lunch, yet.  There were things like "fungus" (mushrooms), and stew of some sort with a medieval name.  They said it was delicious.  Later in the evening, there was going to be a medieval feast, but we chose not to participate.  It is reservation only, something you need to know if you ever go and do want to participate.  I'm sure it would have been a great experience since it included both food and entertainment, but many of our kids are not good eaters, and the expensive feast would have been wasted.  Instead, we went to a pizza parlor in the nearby town of Carnation, and everyone pigged out on their preferred foods.  They even made Michaela a peanut butter pizza, which was basically bread with peanut butter on it, placed in triangles on a pizza board.  She was so happy, as her food choices are very limited.  Then Ron and Rob took the big kids to the movies, and Gail and I stayed back with Jake and Michaela, and just rested.  Ahhhhh….
This morning, Rob and I drove Lovana, Alissa, and Ja'Ana back in time for Driver's Ed class, which started at 2.  Ron and Gail took Jake, Michaela and Patsy to the Space Needle, then brought them home a little later.  We had a fun, action packed weekend, and hopefully, everyone learned a little bit more about medieval times.  The village was small, there were no huge crowds, and the guides were very patient, kind and knowledgable.