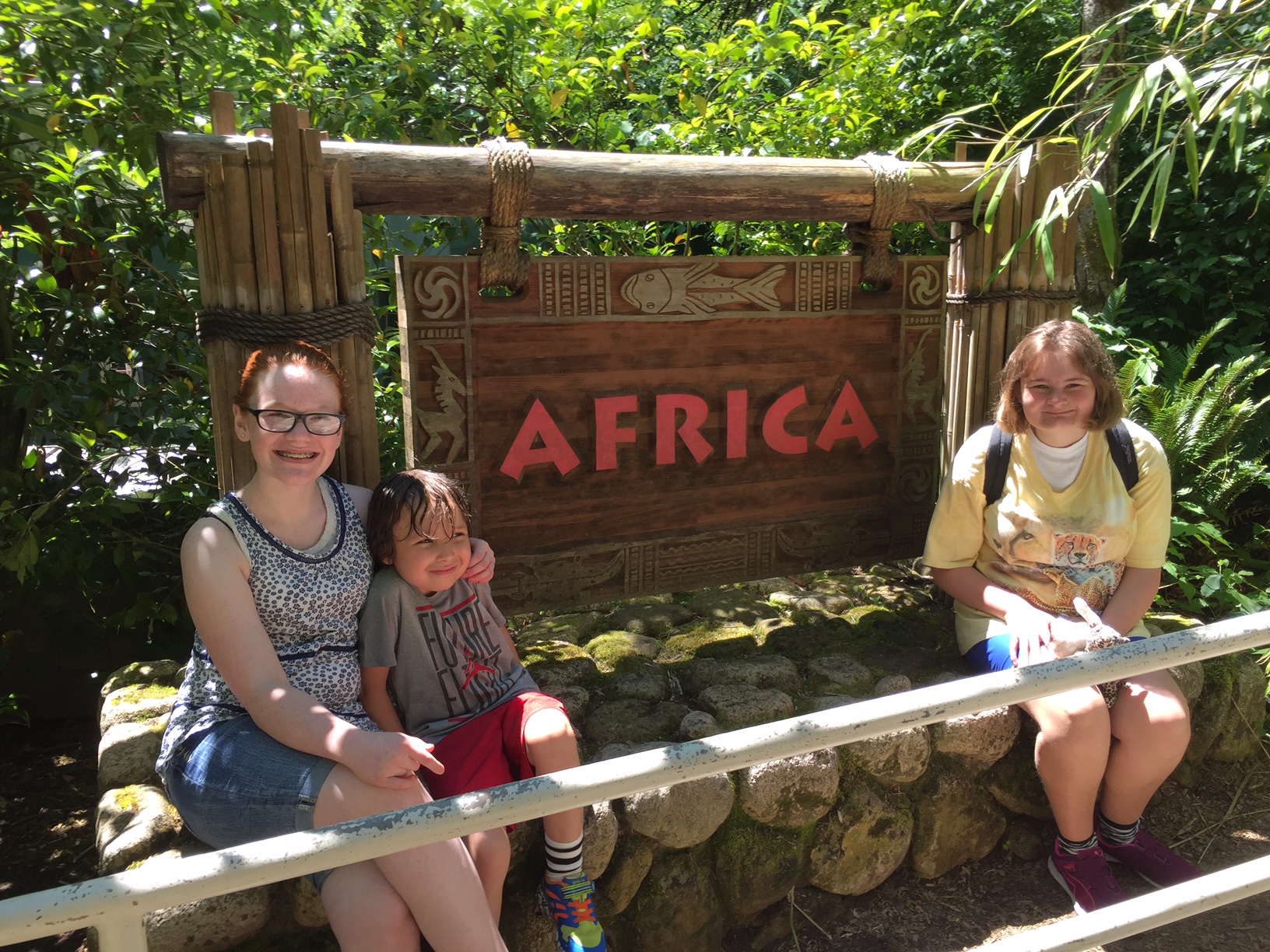 What a difference 4 days makes!  Today, when we went to the zoo, it was sunny and warm.  On Thursday, I was bundled up with 2 sweatshirts on, and we were carrying umbrellas.  Today, I did not even take a jacket with me.  Instead, we froze water bottles and took the ice-filled bottles with us and drank them as they unthawed.  Then, we re-filled them with water from bottle-filling stations I did not even notice on Thursday.  On Thursday, a picnic was out of the question, but today, it was the perfect option.
Each person had an agenda today.  Michaela wanted to see big cats, and dressed in theme.   She even carried her 2 little stuffed cats around the entire day.   She was especially interested in the lioness she saw who was playing with a toy wrapped around a log in her enclosure.  What a treat to see the lioness being active.  Most animals were lying down today, because it was the first hot day in quite a while.
Jake wanted to ride the zoo train and eat.  He did both.  The zoo– once, the eating–all day long.  I was amazed as he isn't usually so hungry.  Must be growing.
Patsy was a good sport and enjoyed all the animals we ended up visiting.  She had never been on the zoo train before, so enjoyed that especially.    I'll probably slip up there one of these days so she can have a little more say-so in what she sees and where we go.   There were a lot of opinions floating around today.   The more we use the zoo pass, the better it is anyway, in my mind.
Rob and I wanted to keep everybody happy, hydrated, cool enough and fed.  We succeeded.  We took food with us that the kids like, several water bottles, took them to the misting areas 3 times, and negotiated between them all day long.   We also got Michaela to drink 3 full bottles of water.  Score!  (You have no idea what an accomplishment that is, but she is really trying to do better with that–we were so proud of her.)
Everyone wanted to go to "Africa" to see the big cats.   It was the primary goal, according to the kids. So, being the good auntie/uncle/parents we are, we started for "Africa" first thing.   "Africa" is harder to reach than you might think.  To get there, you enter the zoo, head down a big hill, stop and see the seals, continue on, have Michaela notice that there are tigers to the right, stop there and see a tiger and a leopard, have Jake notice that the train is running, stop and ride the train, have everyone want lunch, so stop and eat our picnic, have someone notice the insect and discovery area, go in there for a l-o-o-o-n-g time, and then notice that it's already getting scorching hot and it's afternoon.  Already.  So, you head off for "Africa" again, but there are the bats….and Jake has the zoo key….and there is one of the recorded messages about bats…..and you finally head off for "Africa" again.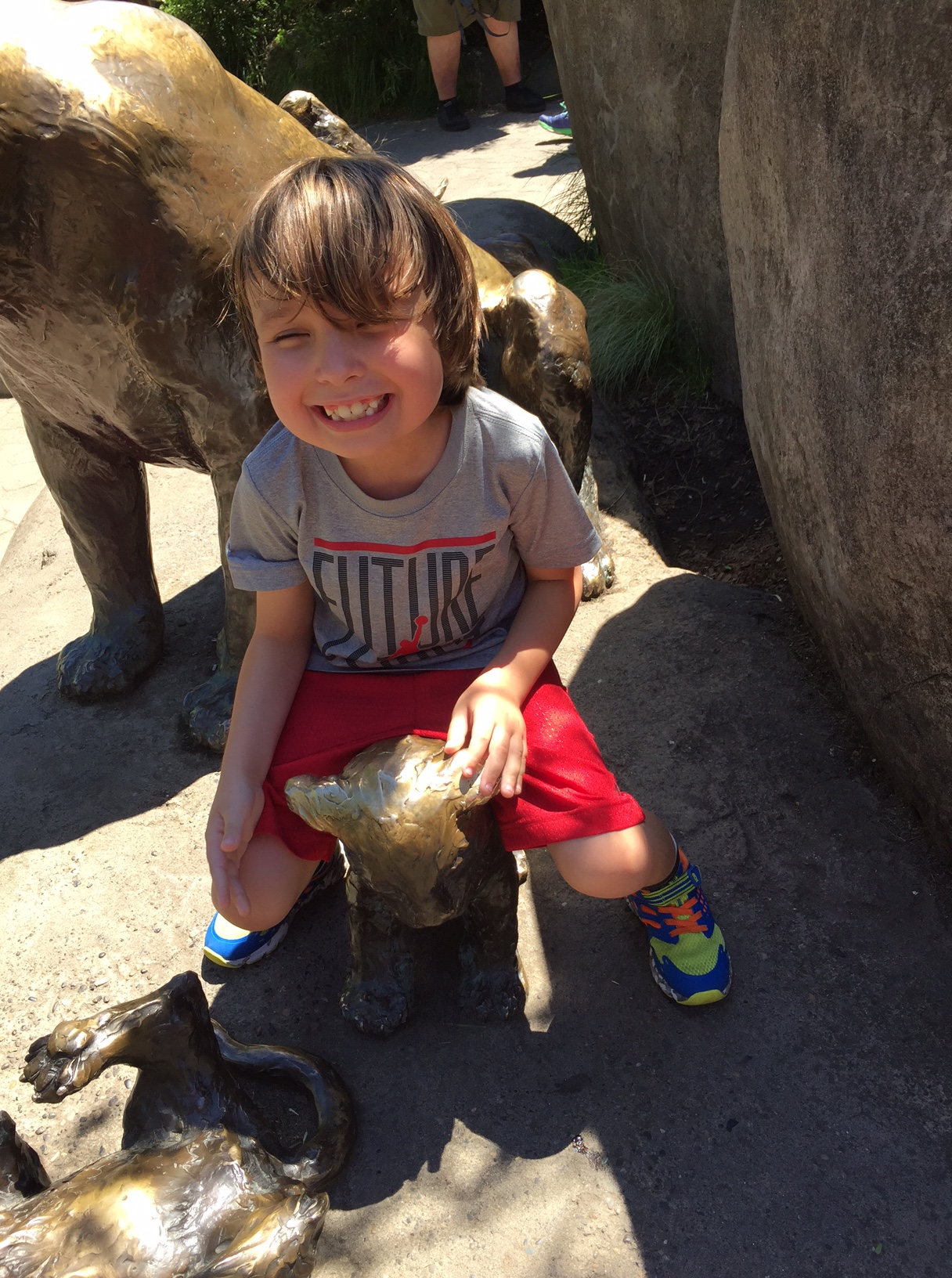 We finally succeeded in reaching "Africa."  Jake picked the smallest lion statues to sit on, mainly because they were in the shade.  By this time, the sun was scorching and the metal lion family was smoking hot.  So, we pried them away from the artwork and headed off to see live animals.  We went through the lions, gazelles, African exhibits, giraffes, and hippos.
When we exited that area, we found ourselves just in time for a bird show on the lawn.  It was very exciting to watch, as the birds swooped extremely low over the heads of the spectators sitting on the lawn.  We all enjoyed it.  Then, they could view the birds from a closer distance at the base of the stage.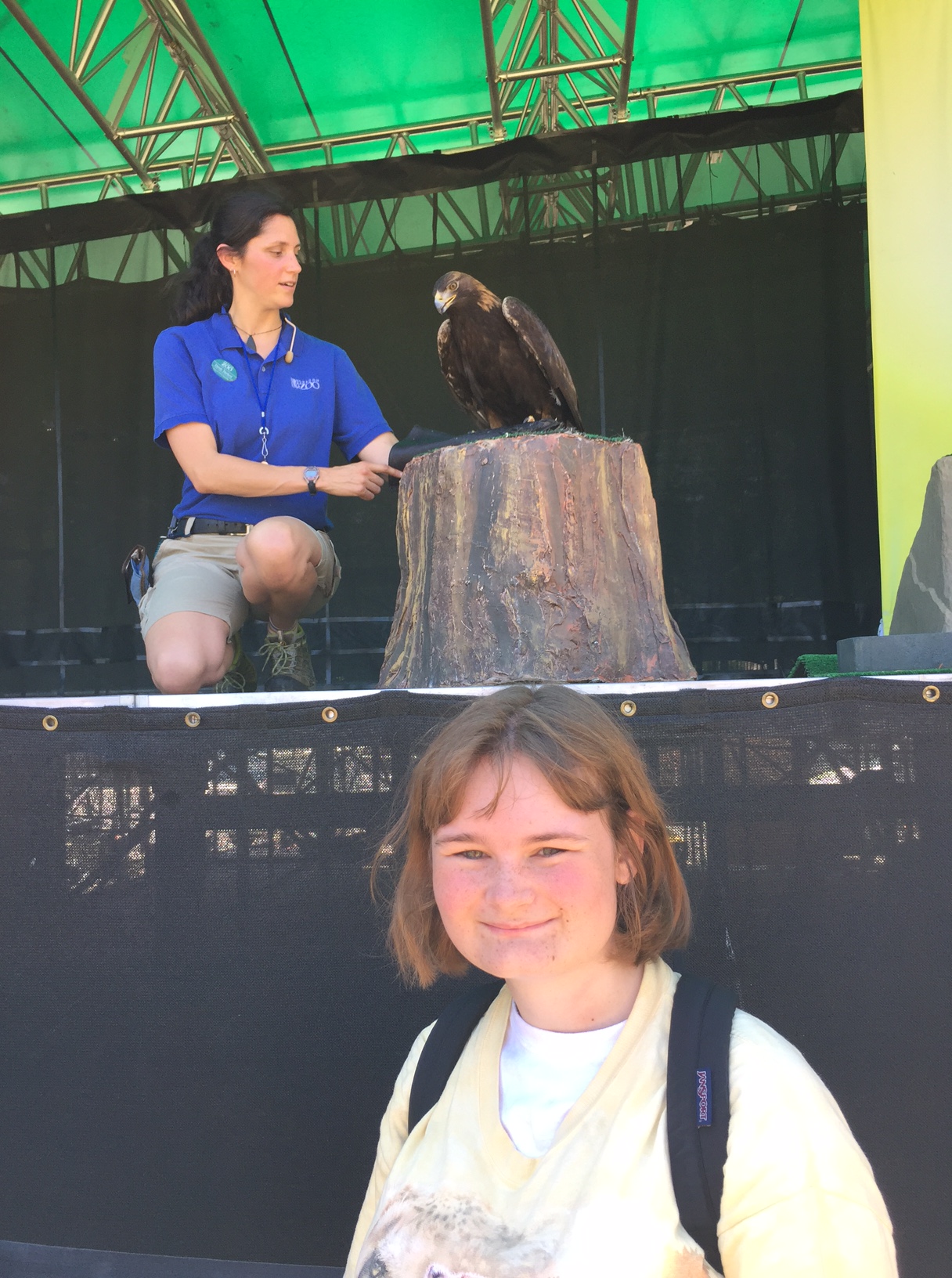 The sun continued to beat down on our heads as there was no shade on that lawn, and Michaela, especially, began to suffer from the heat.  She is more sensitive than many to the heat.  We continued to press water on her, and she obligingly drank it.  Still….we were next to the elephants, so headed on over there.  By the time we had viewed them, we were all fried in the heat, and decided to start meandering towards the car.  Rob and I figured we would stop and see more animals on the way, but the kids were done, especially Michaela, who was not feeling very well in the heat by then.  So, we headed back up the hill, stopping frequently to coax the children along–offering drinks and lots of rest stops.  There was no food left by then, so we promised more once we got in the car.   There was another misting station at the top, so they got wet again.  Patsy and Michaela had birthday money burning holes in their pockets, so they revived at the gift shop and bought souvenirs.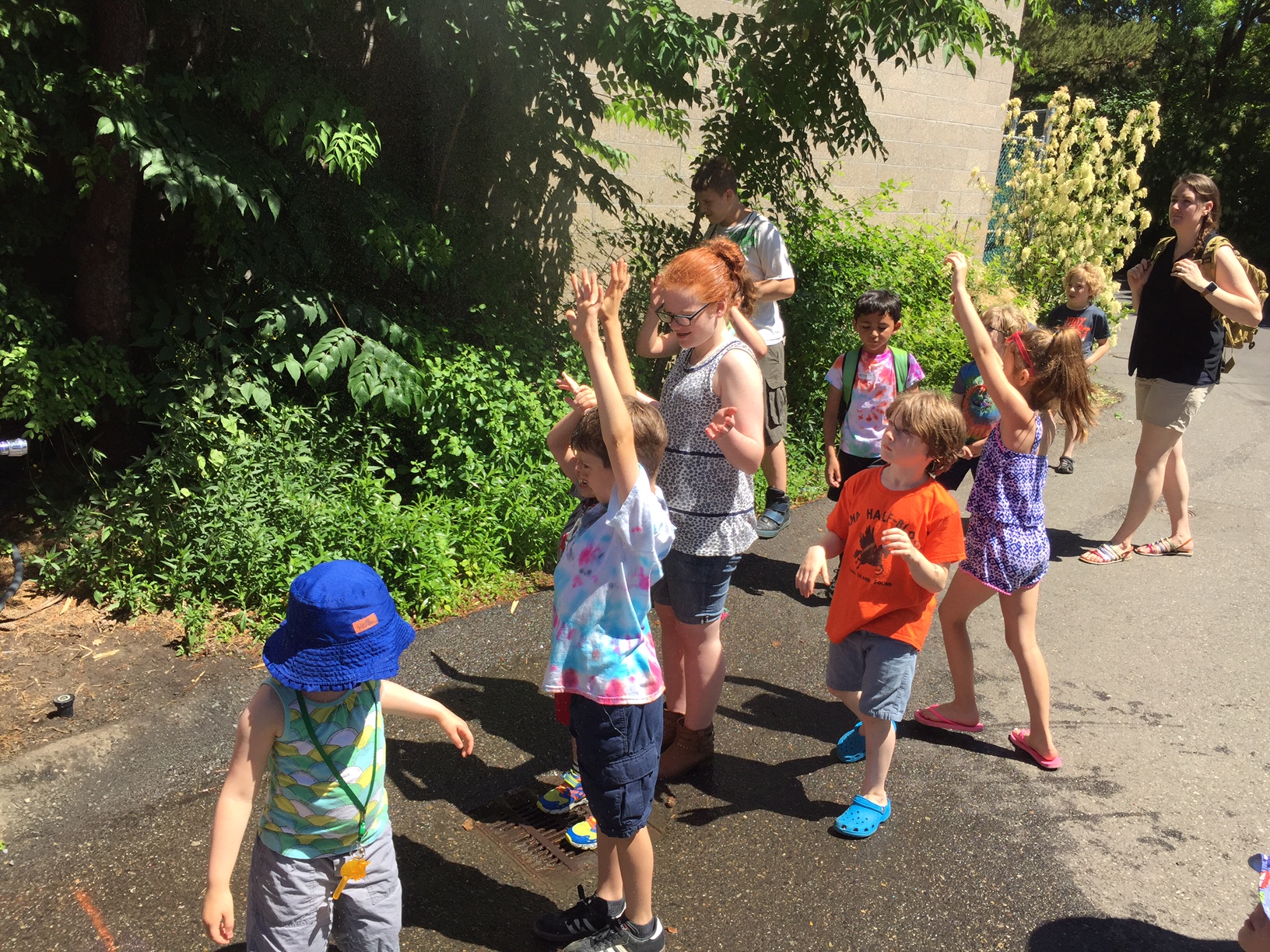 When we left the zoo, the air-conditioned car and the book-on-cd were both welcomed.  The cool drinks and snacks we bought were, too.  We stopped off on an errand and then headed home.  Everybody was happy, healthy, and they all want to go back.  No one got sunburned, as far as I know.  The sunscreen we used was powerful enough.  Whew!  I was a little worried as the day wore on.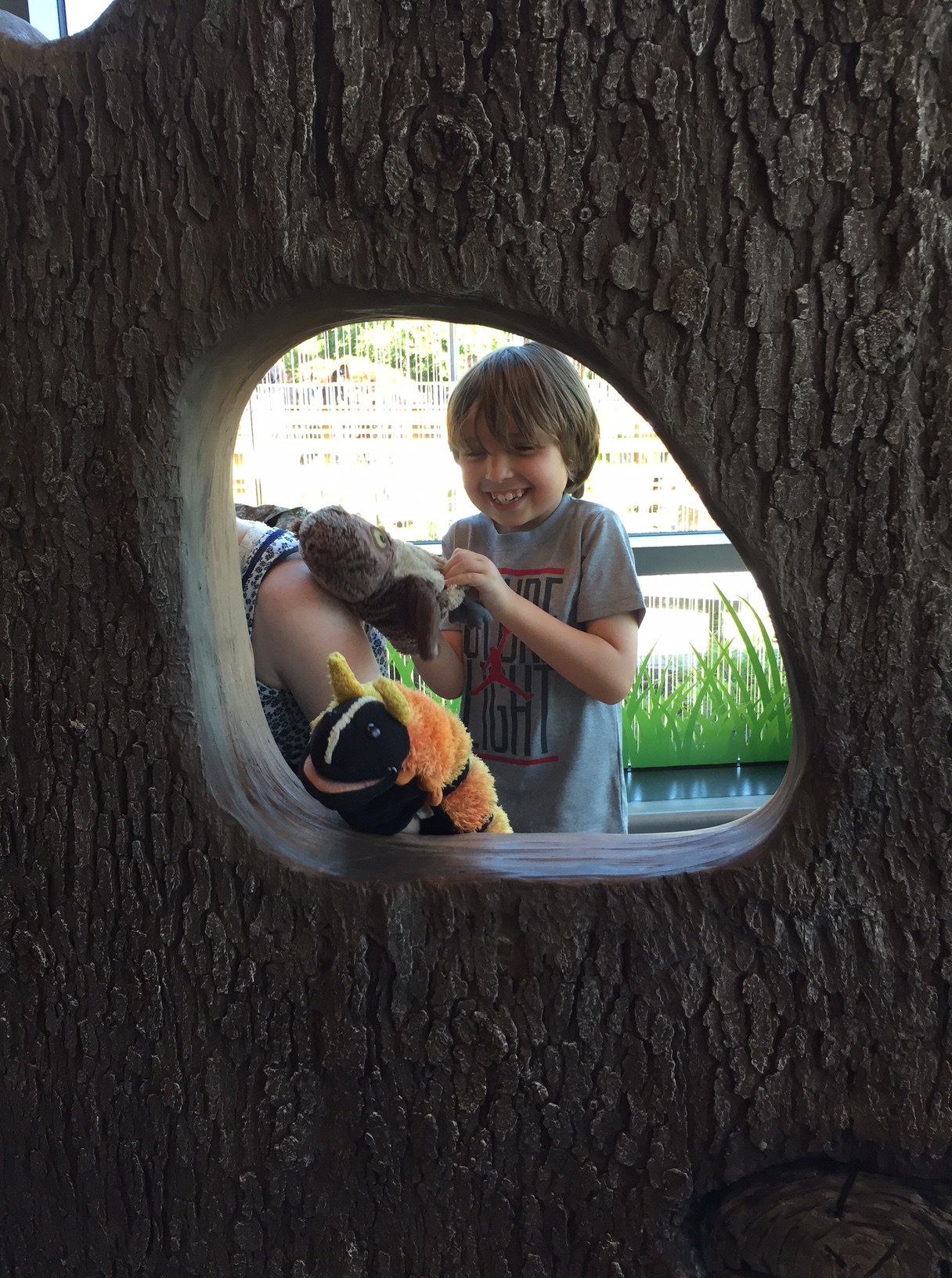 That's how we like to leave a trip like this–with everyone hungry for more, including the adults.  In fact, Jake asked if we were coming to take him somewhere tomorrow, but we informed him that Mom and Dad didn't have to work tomorrow like they did today, so it was their turn to spend time with him.  He was diplomatic enough to groan dramatically.   How gratifying!  We are, however, looking forward to the second half  of the week when we are spending all day, every day together while Mom and Dad head off to an out-of-town wedding.  So, I assured him that "many fun things" were in store for him, and they are—-for all of us.  It was a great start to summer.