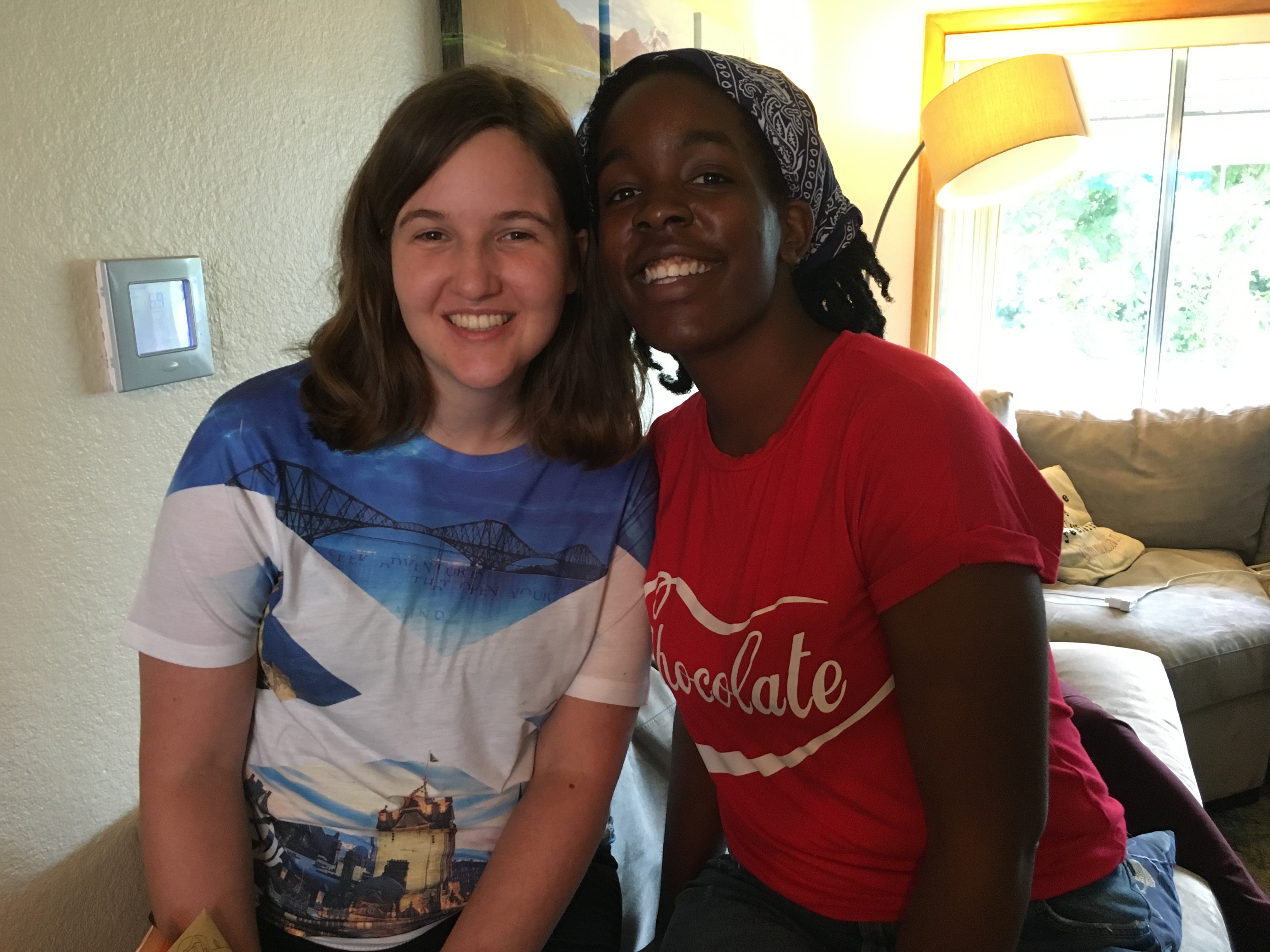 This week, we enjoyed a brief visit from our niece, Rachel, who has been in Ireland for several months.  She headed back yesterday, and made it safely.  We will miss her (again) but are so happy she gets this opportunity.  She is on a YWAM (Youth With a Mission) base in Ireland, doing an Arts and Media track.  During her time there, she did many things including training, traveling to SE Asia with her group and, among other things, helped make a video for a donut shop, and did a peace walk along the border of Ireland.  The walk was over 200 miles long.  It was very interesting to hear of her adventures.  I don't even begin to pretend to know all the things she did–our time was too short.  But, we did have a lovely family barbecue in her honor.  It was so much nicer to eat here at our house, vs. a restaurant.  There was so much more time to talk.  Rob barbecued both chicken and steak.  People brought things to share.  Yum!
One of my orchids bloomed.  The bloom is small, but beautiful.  I have another one that looks like it may bloom in time, as well.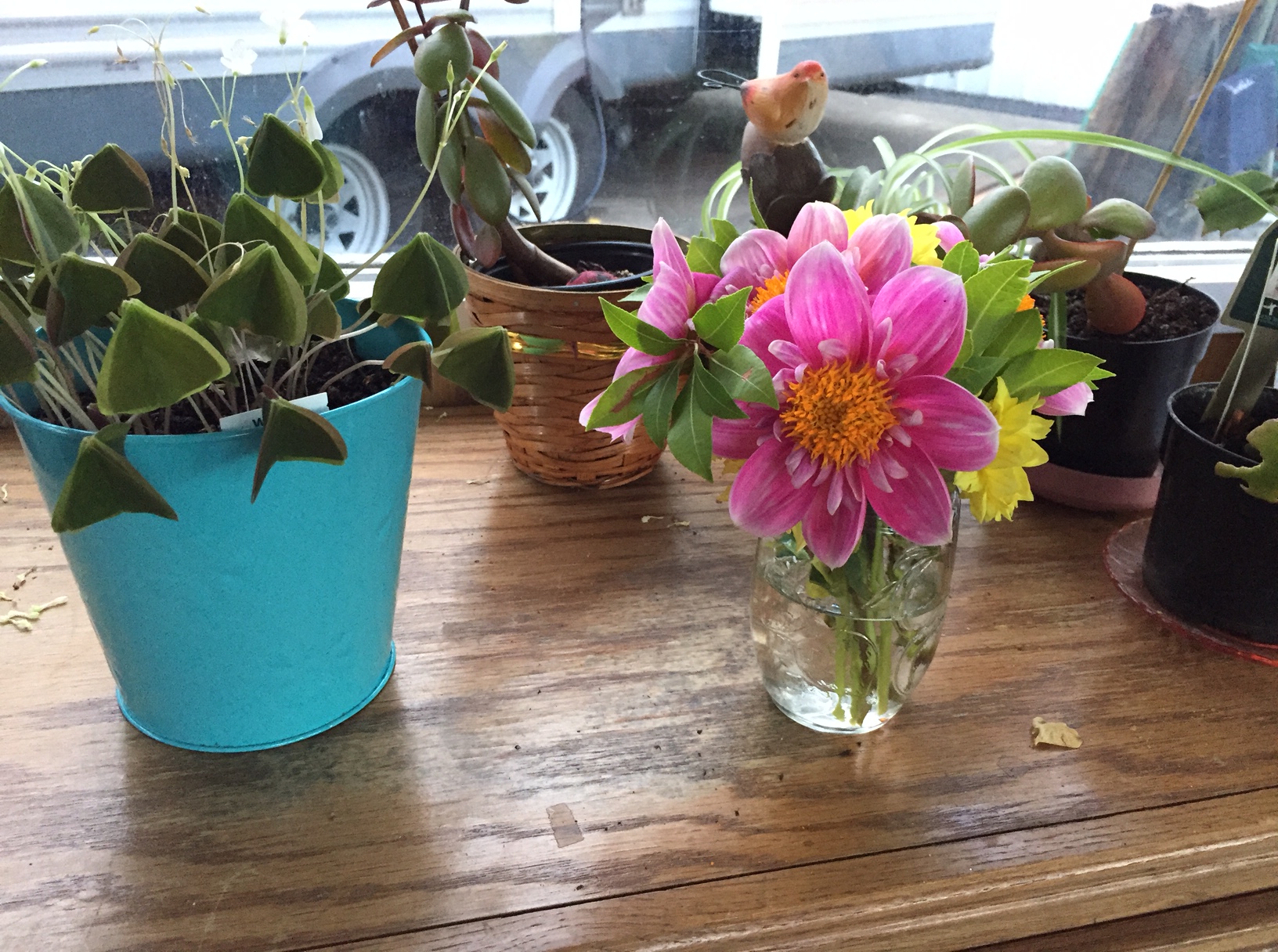 Patsy made a bouquet to liven up our outdoor living area for the barbecue.  Our flowers are blooming well in the flowerbeds and the garden is growing madly.  We have tried to trim off the spent blooms to keep the blossoms coming.  We are also watering frequently because it's been pretty warm.  Thankfully, we have a well for watering, so it doesn't cost much.
I have cooked many things this week.  I made lasagna, chicken soup, tacos, barbecued chicken and steak, and lots and lots of salad.  I froze a lasagna for later, and also individual servings of both the lasagna and soup for both Rob and I next week.  We had lasagna one day, and tacos another day, then had the leftovers of both today after church.    I cut up a cauliflower and a lot of carrots to make it easy to cook them at mealtime.  I am thinking I will do that more in the fall when I'm working a lot into the evenings because it made it so easy.  I made the sauce for the lasagna from home-canned tomato products, frozen hamburger and a bunch of Swiss Chard I picked from the garden.  I had Patsy make apple crisp from some home-canned apple pie filling.  I am still working on using the remaining items that I have in my canning cupboard.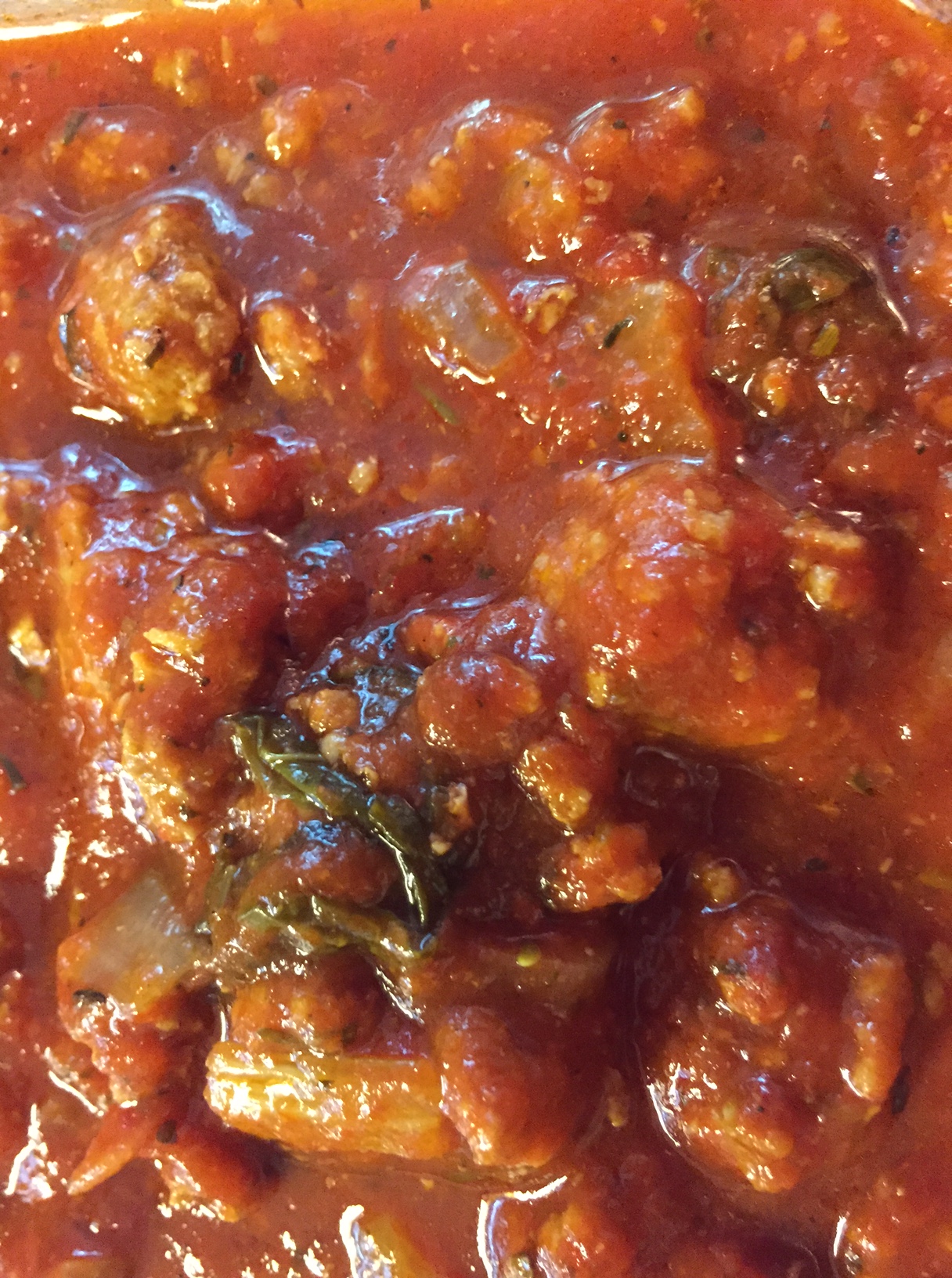 Rob is taking the camper to help with high school camp, starting on Thursday.  I will be home because Patsy goes to camp tomorrow and returns Friday.  So, I want him to have a couple of small things frozen in the camper that he can just warm up if it's not convenient for him to go over for the evening meal on any evening.  He has to park about 2-3 blocks away from the group, because that's where the camper can be hooked up with electricity, water and sewer.  This is adventure camp, and the kids will be rafting, rock climbing, and more.  He will be transporting them to the top of the rafting course, and picking them up at the bottom and things like that.  He will also be helping in the kitchen as needed.  He will NOT be suffering in his air-conditioned camper or in his own camper bed, at night, as the teens will be camping in a school field in tents.  In fact, he is taking his fishing pole, and hopes to fish a bit while taking the kids their lunches, etc., or after he drops them off, or when he picks them up…….or all of the above;)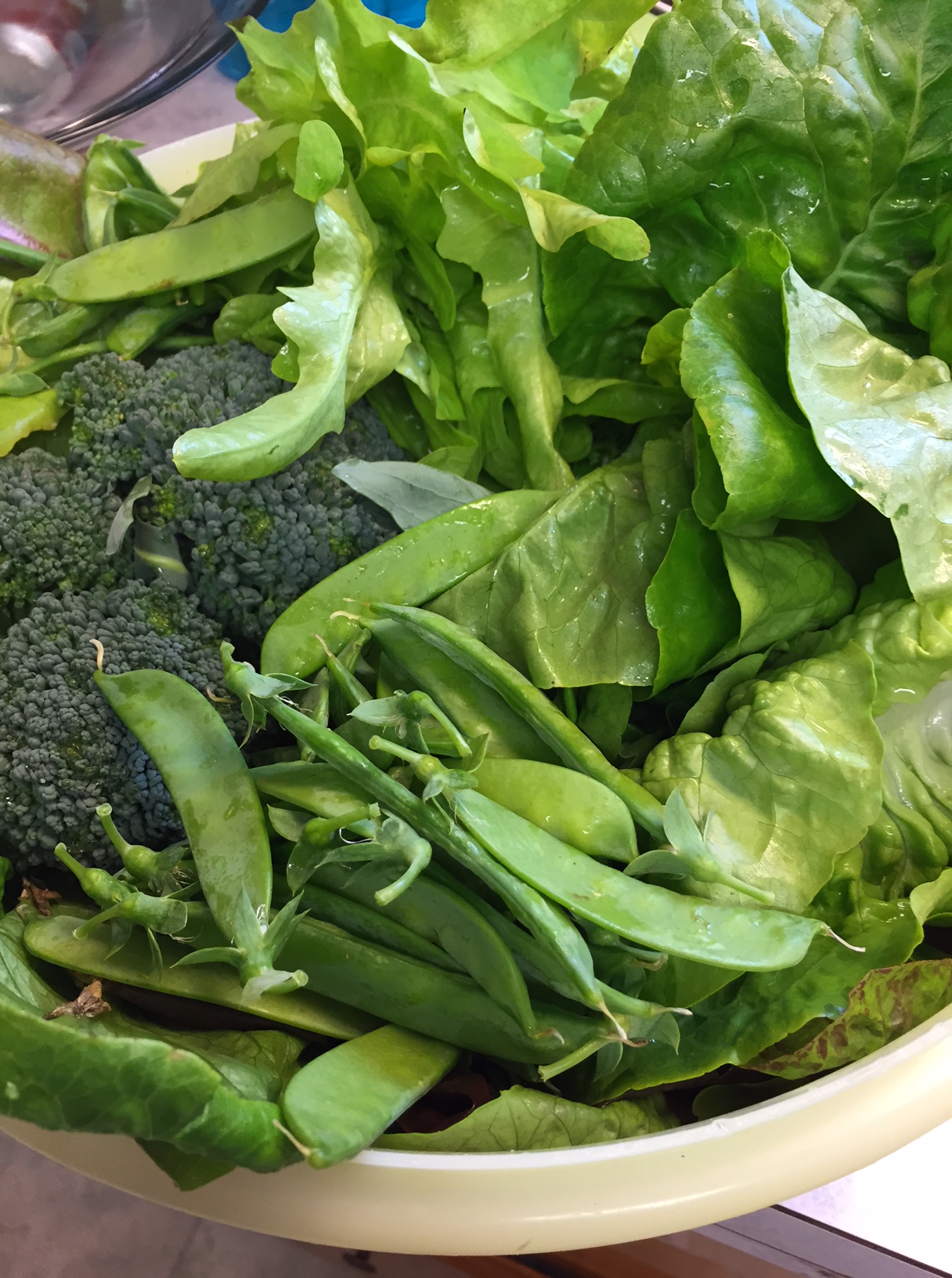 The garden is producing a lot of lettuce and we are trying to eat it most days.  We have used both of the zucchini the bushes have produced.  There are lots of little ones forming, but I am having some pollination issues, so some are not growing.  We are getting a little broccoli every few days.  The snow peas are done now, and I pulled the bushes.  I have a small baggie of snow peas still in the fridge, and there is another short row that is blooming so I won't be out for long.  The green beans are making little beans–it will only be a few days now until I eat some.  I will also can a lot soon. The 3 tiny tomatoes were eaten with tacos today.  I was able to plant more seeds in all of the blank spots that opened up when I pulled out the peas and bolting lettuce.  I figure that anything that can get ripe in 8 weeks will be ready in mid-September.
I've been able to take the opportunity this week to get a few things done that were hanging over my head.  I am now done grading and scoring all of the home-shool work from the past year.  I turn the grades in on Tuesday, and the girls will take a test.  Then, I will be able to get busy planning next year's work.  I've done a lot of yard work and weeding in the garden.  We mowed the lawn. (It was a group effort.  Patsy and I took turns pushing the lawn mower on the easy parts and dumping clippings, Rob moved things out of the way, and did the tricky parts). I used the clippings to mulch the blackberries and one area in the flowerbed.  I've done a bit of organizing and sorting in the house, although there is much more I had hoped to do.  I may get a little more done this week, but since Jake is coming back from his family vacation tomorrow so I'll be back to work, and the green beans are going to need to be canned before long, I will do what I can do.  I plan to take a small area each day and see if I can get it organized.  The garage is next on my list.  It's become a dumping ground again and the food shelves have been stirred into disarray by hungry bears (I'm sure that's who did it!)
We did quite a few more things this week, like visit Harnet, celebrate the 4th, and enjoy the garden.  How did your week go?