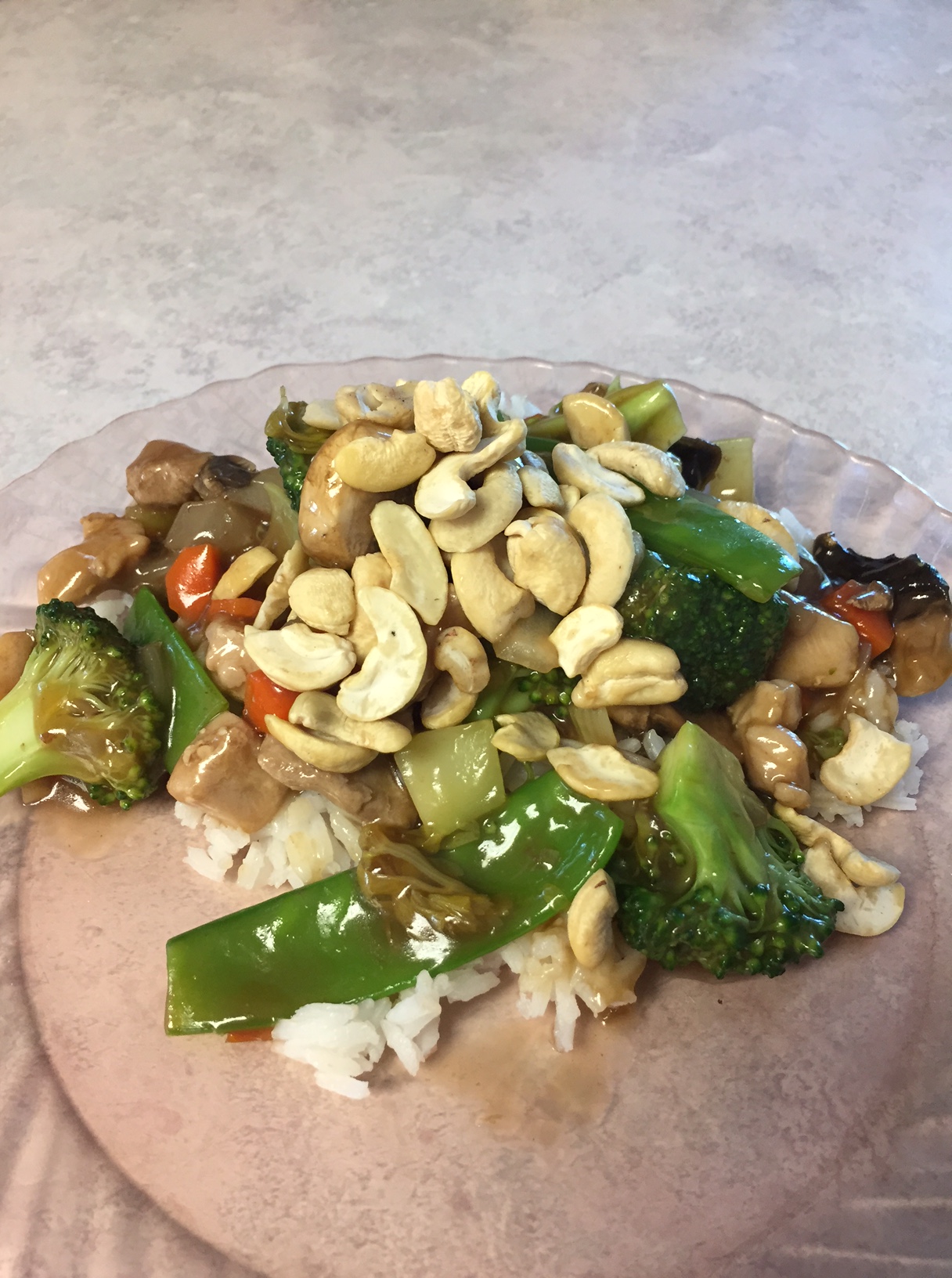 I found the recipe for cashew chicken that I promised to post.  I made it for dinner tonight and remembered why I loved it so much.  So, here's to Jeannie–cashew chicken over rice
I started with a recipe from Taste of Home, and have changed it up over the years.  Here's what I did today.  This recipe is very flexible.
Mix:  2 cups chicken or turkey broth
1/4 cup cornstarch
3 Tablespoons gluten-free soy sauce (we buy it by the gallon at Cash and Carry)
1/2 teaspoon ground ginger
Stir those ingredients together, and set aside.  This is the sauce that gives the stir-fry a great flavor.  Stir it one more time right before pouring it over the veggie/meat mixture.
Cut up vegetables and chicken and put into bowls, piles on a cutting board, whatever you want.  It just works better to have it all cut up before you start.  You can vary the veggies according to what you can grow, or get on sale.  Today I used:
2 boneless, skinless chicken thighs cut into very small pieces (Mine were diced into about 1/4-1/3 inch pieces)
1/2 medium onion, diced
1 carrot, diced
Celery sliced thinnly (today it was the center of a stalk that needed used, other times I might  use 2-3 sticks)
4 large mushrooms
1 cup snow peas ( I would have liked 2 cups in there, but that's what I had today)
1 bunch broccoli, cut into flowerets (it was 1 medium-sized bunch)  I also cut the stem into small pieces and added that in.
2 cloves garlic, minced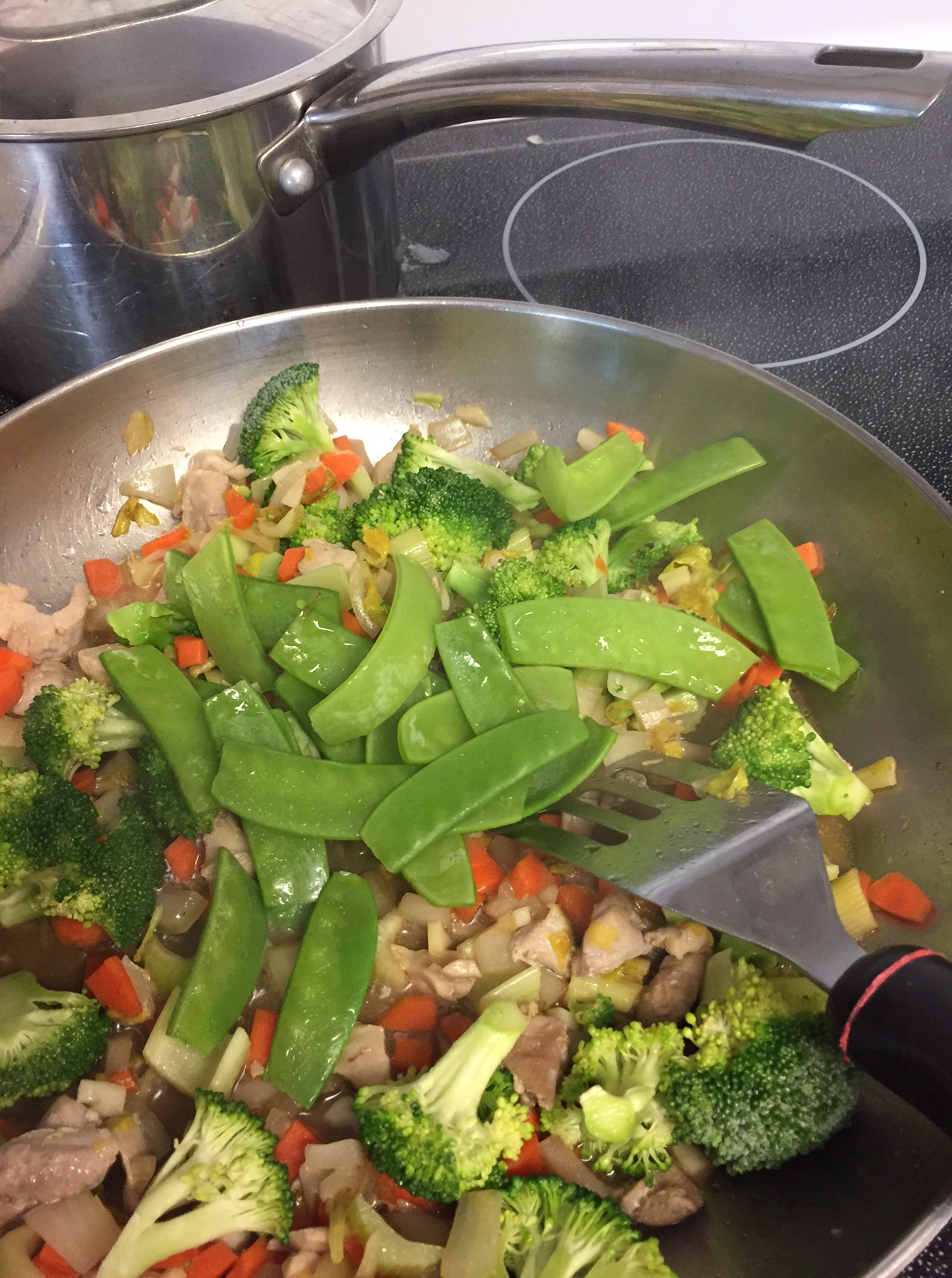 I put a small bit of oil into a frying pan and cooked the chicken and onion for about 4-5 minutes, until the chicken was looking almost done.  Then, I added a little more liquid (some of the mix I made above, or plain broth.  If you use the mix, take from the top so you don't get any cornstarch at this point.)  Then, I added the veggies in the order of hardest first, and softest (or anything that needed to stay crisper)last.  So, today I had carrots, celery, broccoli, mushrooms, snow peas and minced garlic.  If you have a different assortment, it will work.  Others I like in there are zucchini and summer squash, peas, and bean sprouts, to name a few.  The sauce is very important and it gives any veggies that great flavor.   I let it cook for a bit, stirring often.   After the veggies were crisp, but getting tender, I poured in the mixture.  I continued cooking and frequently stirring until the mixture thickened.  I did not let the veggies get very soft, just crisp-tender, because that is how my family likes them.
I made white rice to go with this, and it sopped up the marvelous sauce nicely.  I sprinkled some cashews on top of each portion after it was plated.  This would have been enough for 4 normal people, but 3 of us very hungry people ate it all.  It would be easy to stretch this, by adding more veggies.  It is tasty and healthy.