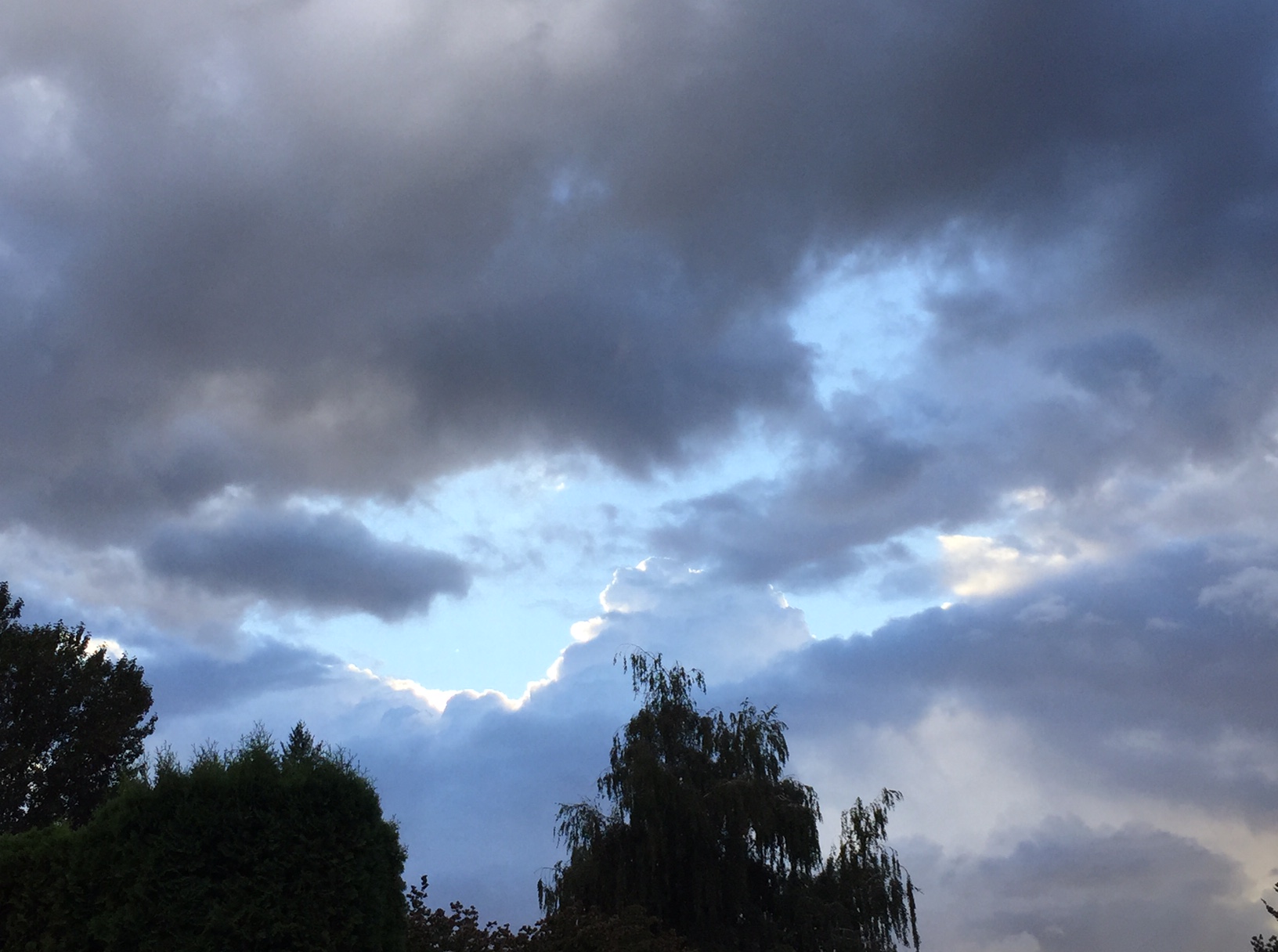 I enjoyed this gorgeous cloudscape one evening as I was heading home from work.  The late-day rays of light were glorifying the edges of the clouds.  That's about all the sun we saw all week!  Thankfully, we got a good week of solid, soaking rain, just what we needed to soak everything well, including the forest, where so many fires are raging.  They aren't all out, yet, but the firefighters are making progress now.  I can't even imagine how much money rain saves!  Even more than money, I am hopeful that lives and the forests will be saved.
Our week was filled with normal, everyday activities like school, work and church.  There was just a lot to do, as we were trying to do some extra cleaning on some evenings. We ate a lot of chicken, since I cooked a little too much last weekend.  It was nice to have meals to just warm up.  I did add in a meatloaf and one night, we just had sandwiches, as we were super busy that evening.  On another, it was chili dogs with canned chili and warmed up turkey dogs.  It is always cheaper to make my own chili, but it is always cheaper to open a can then to go out to dinner.  So, once in a while,  I do that.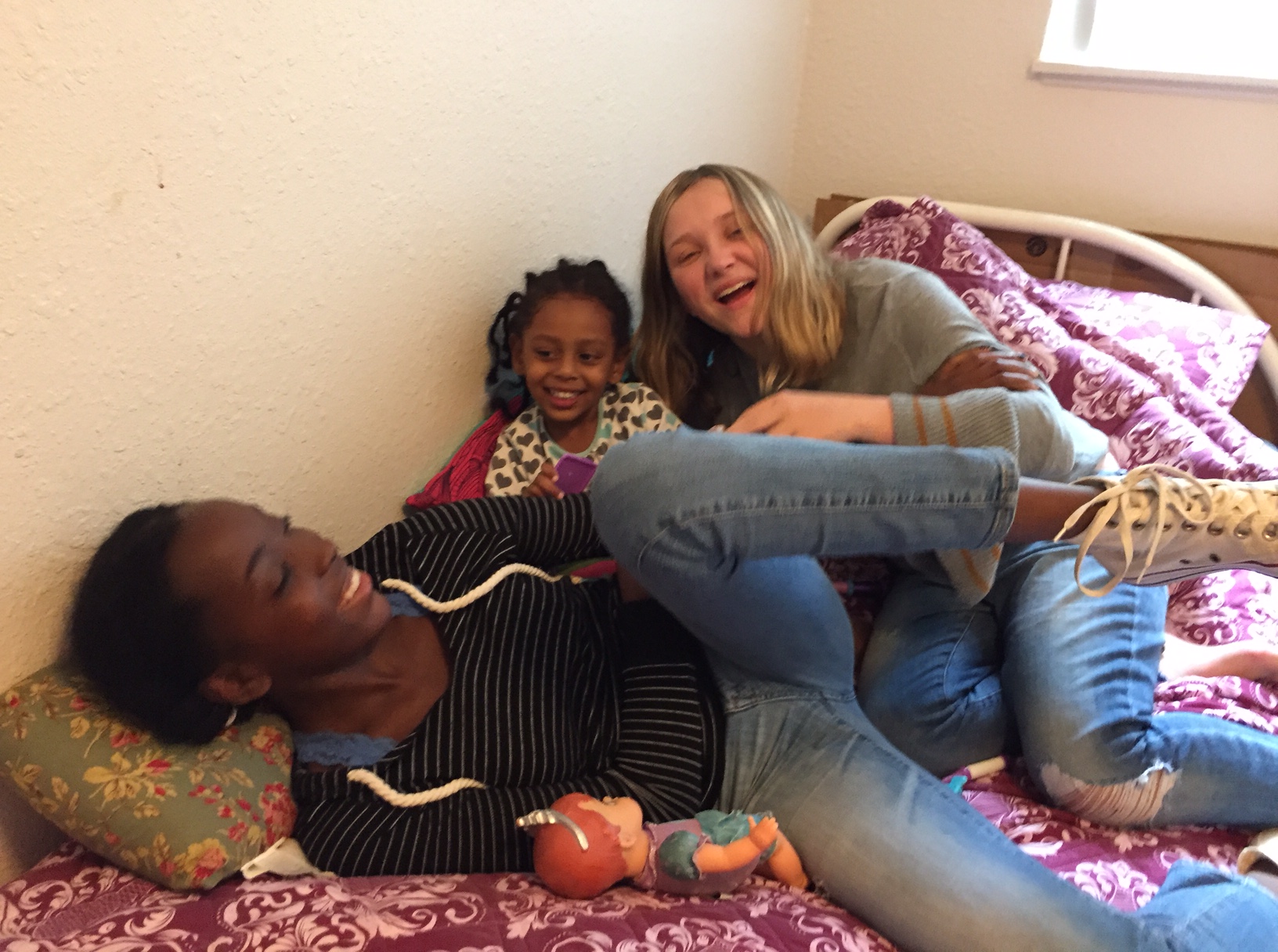 The big girls enjoyed a good tickle-fest with their little friend, Danait, who was "fixing" them up with her doctor kit when we went to visit this week.  We accomplished some important errands, and had a good visit. Of course this always includes the wonderful coffee Harnet makes.  She roasts the beans on the spot, grinds them, and makes the coffee.  I am not a coffee drinker, but what she makes is so good, I always enjoy having some.  It sure perks me up, no matter how tired I am:)  We were also treated with more genuine Eritrean food–red lentils cooked with peppers and tomatoes, beef stew with vegetables and spicy peppers, yellow rice, and injera bread for the girls.  Ja'Ana really likes that injera bread.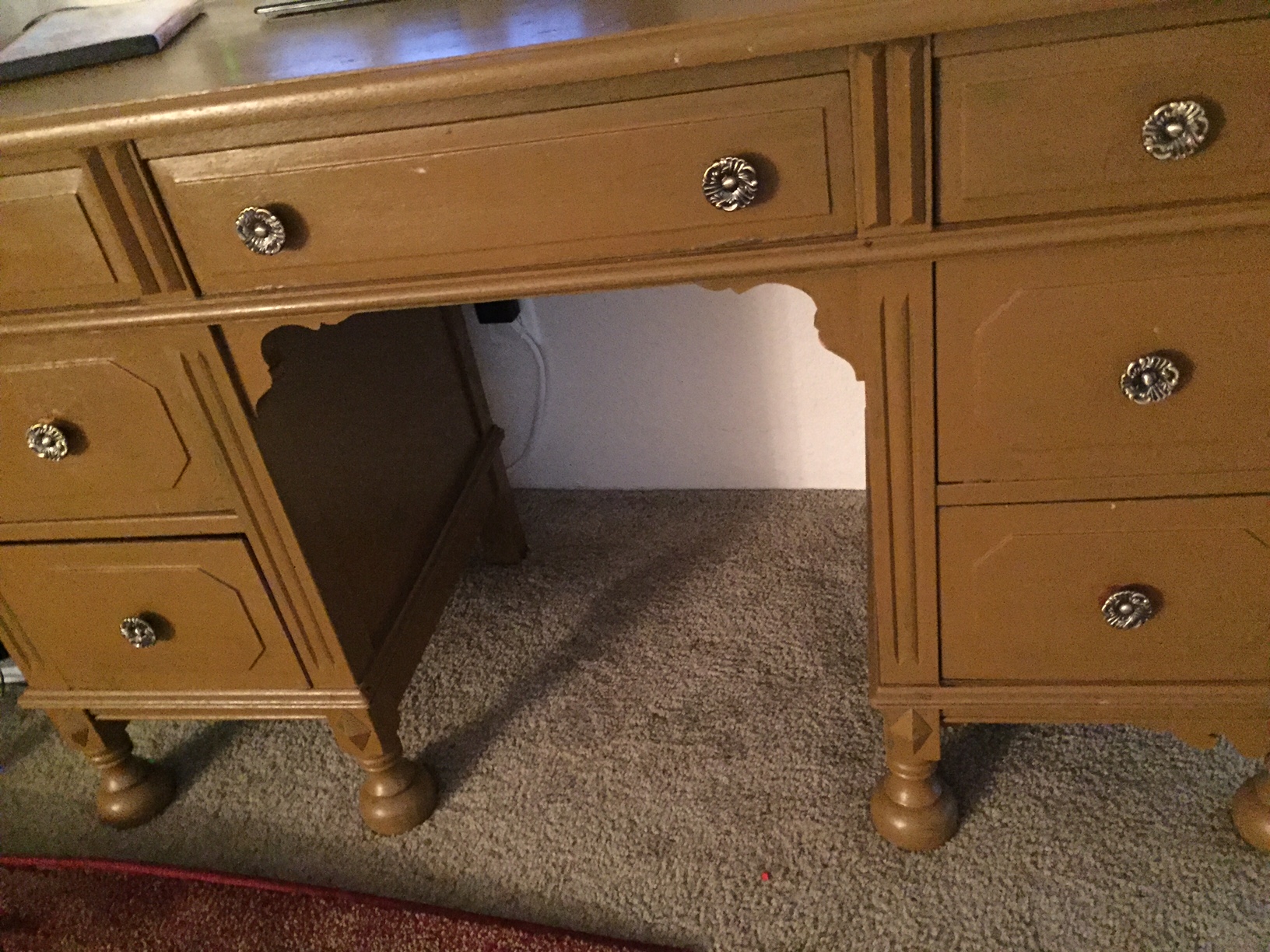 This dresser/desk had only 2 knobs.  Harnet could not get the drawers open without a great deal of trouble.   It was so hard to open them that she was not able to use the drawers except for seldem-used items.  She thought she would have to go to Goodwill and get a new one, not knowing it was possible to simply replace the knobs.  Rob got new knobs for very little, and provided me with the proper screwdrivers and instructions on how to fasten them on.  I, with a little help from Danait, removed the 2 remaining knobs, and put the new knobs on.  Harnet is so, so happy with how it looks, and so am I.  She was absolutely delighted to not have to purchase another one, and kept saying it was just like having a new one.  I agree.  The knobs make it much prettier than it was before.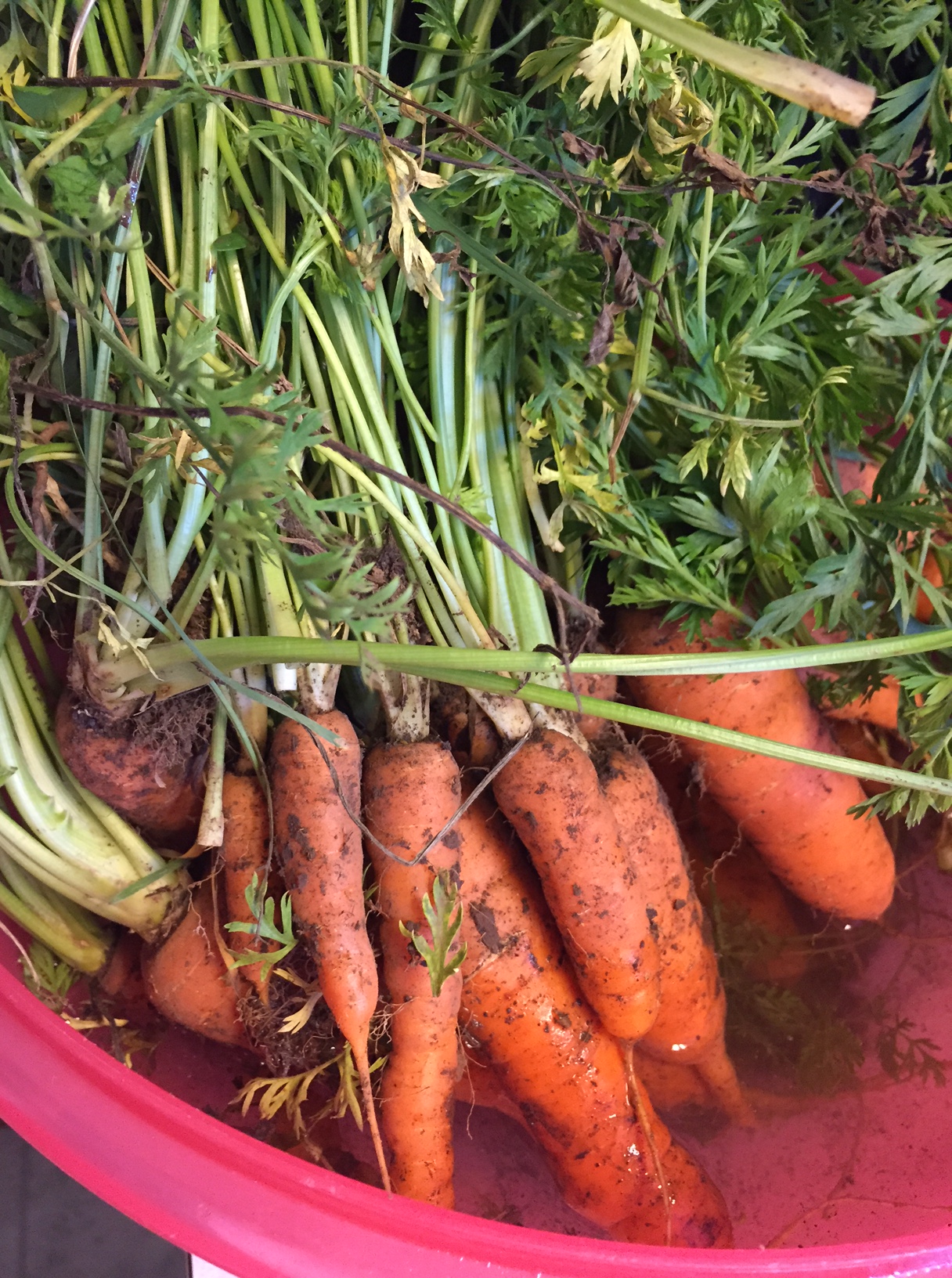 The garden perked up from the rain.  The zucchini and peppers look much better, although still not great.  I used 1 of my 5 gallon bags of carrots this week.  I targeted the smallest ones, peeled them and cut them into carrot sticks.  Some were pretty tiny so I didn't have to cut them much.  I sauted them in a little butter, salt, pepper and a tiny bit of brown sugar.  I made carrot sticks with the rest.
I picked more lettuce, snow peas, cucumbers, zucchini, cherry and pear tomatoes, broccoli and purple beans.  I got 3 quarts of raspberries to freeze.  The garden is winding down, but I picked enough to both eat, and share this week.
Ja'Ana had a friend over to spend the night Friday night.  Patsy had an all-night party at church and Lovana was gone as well, with friends.  So, the 2 girls wanted to go roller skating,  There is a place that J's friend knew about that is a basketball court most days, but they have skating on Friday nights for only $5.  They had a blast.
I am nearing the end of my project of re-stocking my pantry.  I recently read a post by another blogger about various ways people did pantry challenges.  Apparently, some people let their pantries go down to almost empty before they re-stock them.  I do it differently.  If I used absolutely everything up, I cannot imagine how much it would cost to replace it all, and I would no longer have a stockpile. I use up the oldest items that have been hanging around for a while, ends of packages that were opened at some point, things that are close to expiring, vegetables from the garden, freezer, etc.  I force myself to be creative with those targeted items and use them instead of new groceries, but I always re-stock things I run out of as soon as I can.  I like to buy things at the lowest prices possible, so have been doing a lot of buying on sale the last 3 weeks, going from store to store to get the best prices, and visiting specialty stores for items that can be bought no where else (such as some gluten-free items and the sunthenine-melatonin tablets Patsy takes before bed to help her sleep).  I also sent Rob to Costco, which I do every couple of months and he got the things I get there, such as Ziplock bags, t.p., and some other things.   I was able to get up to Bob's Red Mill on Saturday, and got some things there.  Their bulk bins are reasonable for the 1-1 gluten-free flour (almost $1/lb cheaper than in a package around here), but it is quite far from my house, so I only go if I am going to be in the area for another reason.  There are still a few items left to get, such as more coffee and butter, but I'm waiting until I find some for a good price.  Then, I'll be good to go for a while again without spending so much time and money at the store.
It has become almost comical how almost daily someone is letting me know we are out of another item.  Toilet paper, razors, deodorant, 1-1 gluten free flour, pasta, sugar, mayo, dish soap, laundry soap, and lots more are now back in stock, at least for now.  I wonder what they will tell me I need tomorrow:) Months like this make me glad I have a nice stockpile.  Without it, I would be buying all of these things PLUS our daily groceries.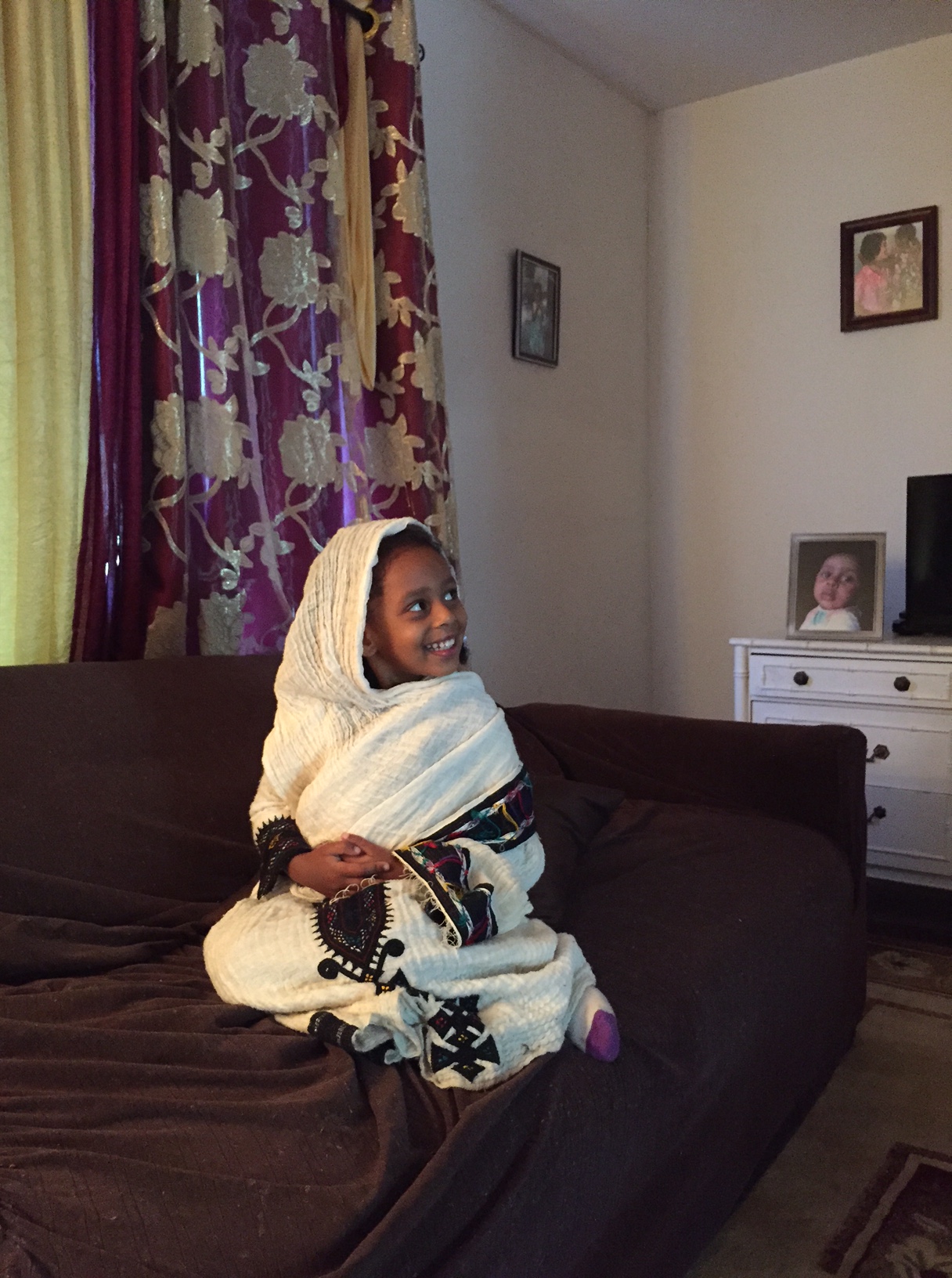 I enjoyed it so much when this happy little girl's mama dressed her up for me in her full African regalia.  She was so proud to show me, and I loved it, too!  A while back her mama had asked me to mend a small tear in the scarf, which I gladly took home to work on, and she wanted me to see how the whole outfit looked, when I returned the mended scarf this week.